This was the year that this team came closest to winning both the drivers and manufacturers. It didn't work out in the end though. The team led both championships at certain points, but ultimately fell short. Here's how the season went for this team in their fifth season.
Monte Carlo day one saw Thierry slide wide and lose a lot of time, finishing seventeen overall after Thursday. Andreas and Dani went well though and were second and third, less than 30 seconds from the leader. After Friday's stages, Dani was still in third, whilst Thierry had improved to ninth. Andreas had retired after a problem with his car after the first stage of the morning loop. On Saturday, Dani's good work came undone in stage nine when he slid wide into a ditch and had to retire from the event. Thierry had now climbed into seventh overall. Onto Sunday then and Thierry climbed a further two places by the end of the day's action, into fifth place. The team could count that as a good result, after their troubles earlier in the weekend, and I think it's fair to say that without his problems and subsequent pace, that Thierry would have made it onto the podium.
Moving onto Rally Sweden and with Thierry, Andreas and Hayden driving, the team had gone for its strongest line up. Boy, did it work! Thierry led a one-two-three, with Andreas in second and Hayden third at the end of day one. Thierry maintained a good lead at the end of Saturday's stages, with Andreas and Hayden having fallen to third and fourth. Sunday saw Thierry take victory for the team, their first victory in this event, whilst Andreas picked up third place and a spin for Hayden saw the Kiwi fall to fifth place. Thierry's victory moved him into the championship lead as well, eleven points ahead of Seb.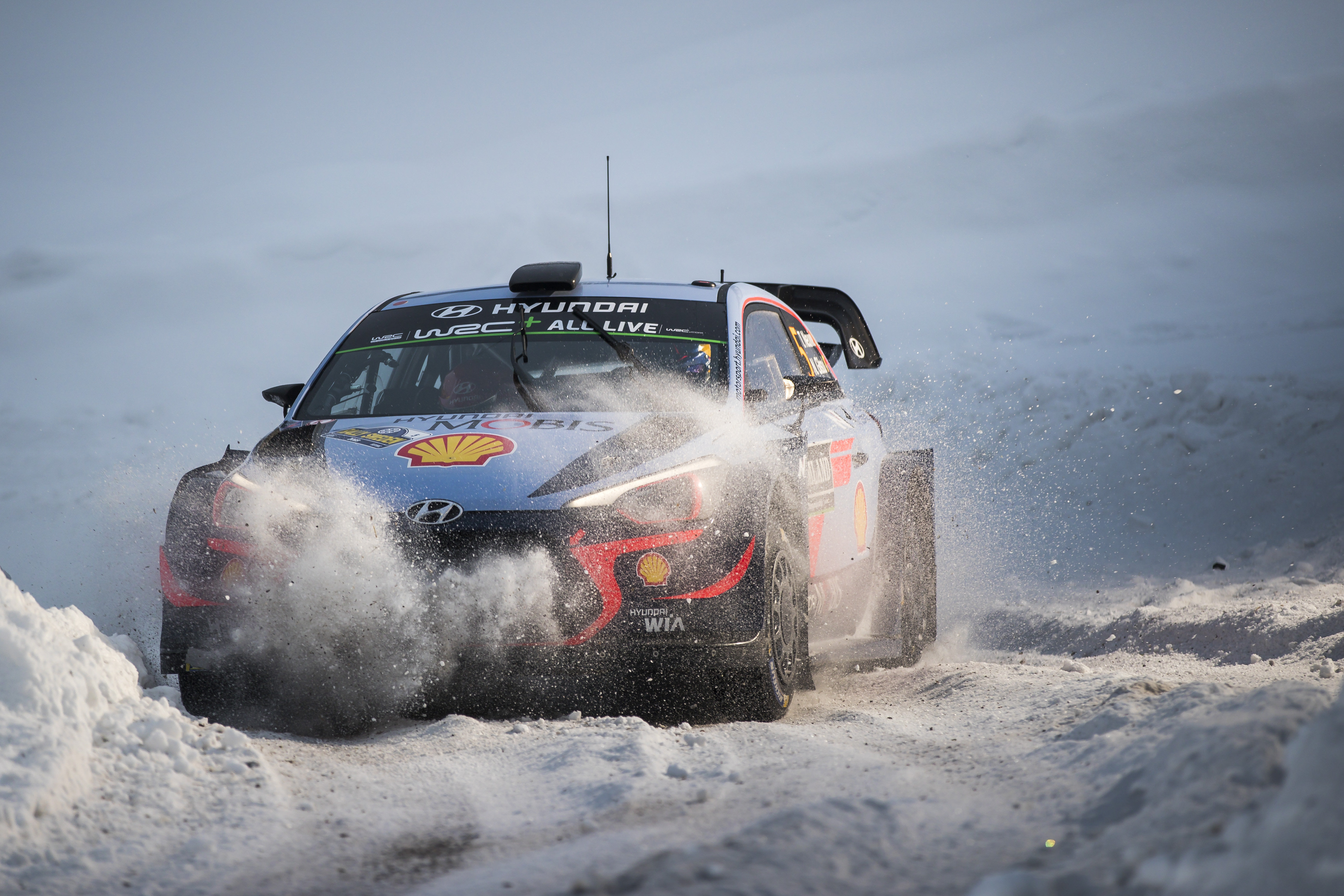 The following event, Rally Mexico, would be a completely different challenge of course! Joining Thierry and Andreas for this round would be Dani Sordo. He would be the early leader as well at the end of the Friday's stages, with Andreas and Thierry in sixth and seventh respectively. The Belgian crew suffered with some technical problems, restricting their ultimate pace as well as being the first car on the road because of the championship positions. At the end of Saturday, Dani had fallen to third place after getting a puncture, whilst Andreas had moved up to fourth and Thierry was sixth after a stall and two punctures. Sunday saw Dani complete a good drive to second overall, whilst Andreas and Thierry finished in fourth and sixth. Seb moved back into the championship lead, with Thierry now four points behind.
Next up was the twists and turns of Tour de Corse! Dani started his third event of the year, lining up with Thierry and Andreas. At the end of day one, Thierry held second overall, thirty seconds behind Seb. Dani held seventh, after struggling with the handling of the car, whilst Andreas suffered an off and a spin and held ninth. At the end of day two, Thierry had fallen behind a fast charging Ott, but remained in the hunt for second place. After making some changes to their cars, Dani and Andreas both improved their positions to fifth and eighth. On the final day Thierry couldn't catch Ott, and this meant he'd finish in third, whilst Dani was fourth and Andreas seventh. It was a troubling event for the Norwegian, where he was not on the pace.
With a starting line-up the same as the previous round, there was some consistency for the team for Rally Argentina, and after the first day Thierry, Dani and Andreas were in third, fourth and seventh. Andreas had led early on, but unfortunately a puncture put him out of the battle for the lead. After Saturday's stages, each driver had moved up the standings, with Thierry and Dani holding second and third, whilst Andreas had moved into fifth overall after making some changes to the car which helped give him confidence. On the final day, the team secured a double podium, the second in a row whilst Andreas finished in fifth after a battle with Ogier who finished a few seconds ahead. The team had increased it's lead in the manufacturer's championship, whilst Thierry had reduced Ogier's championship lead to just ten points.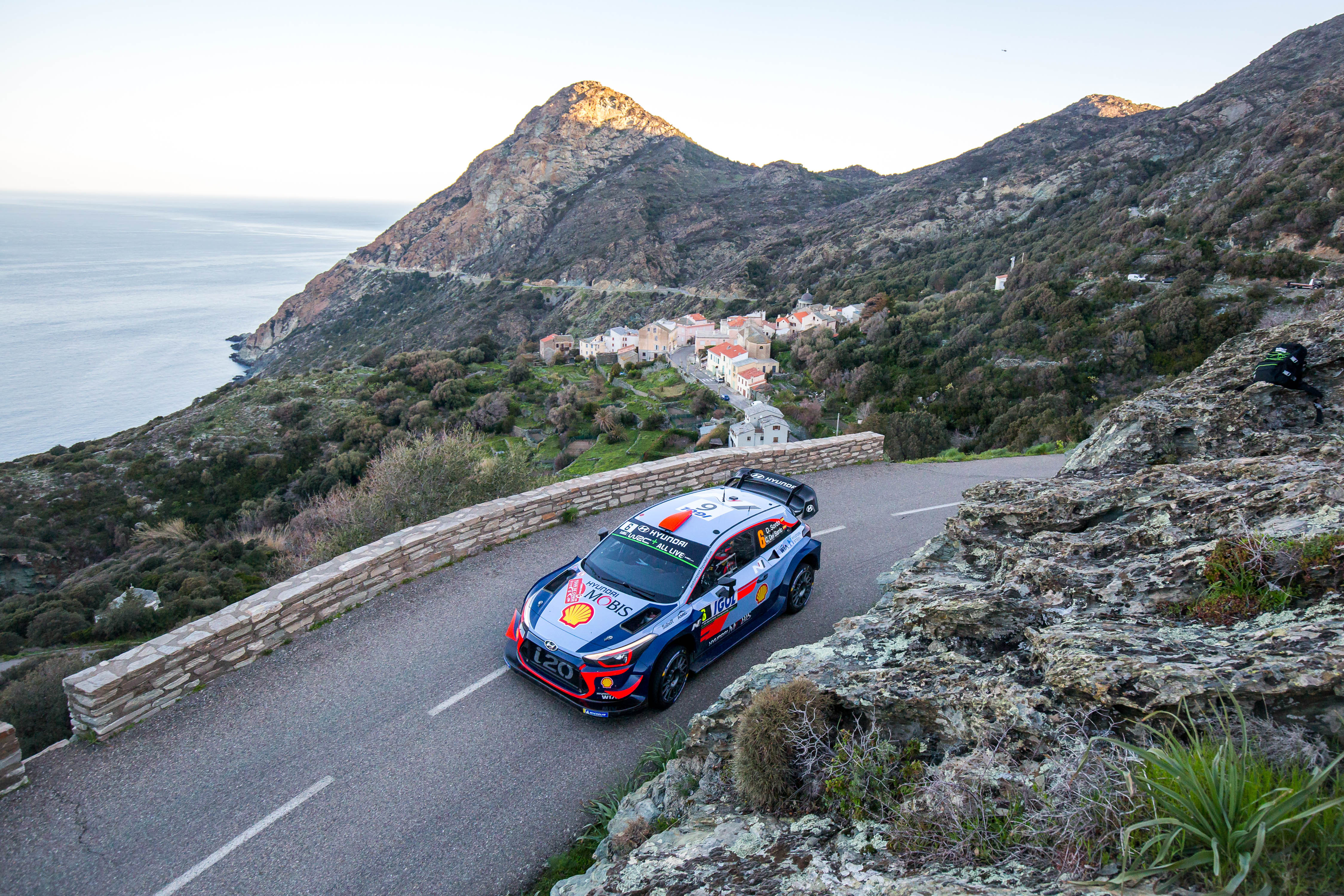 Three weeks later, it was time for Rally de Portugal! Alongside Thierry and Andreas and Dani, Hayden Paddon would return to the team for this event. After day one, when the team took six stage victories Thierry held an almost twenty second lead over Elfyn, and Dani was also doing well, holding third. Sadly, Hayden and Andreas they would not finish the day. Andreas suffered some technical problems firstly with his powersteering and then oil pressure problems. Hayden went off the road unfortunately, after avoiding a rock that was hidden. The Kiwi wouldn't restart as a precaution, after he and Seb were taken to hospital. Following Saturday's stages, Thierry was holding a thirty-nine second lead over Elfyn, with Dani holding third after another good day for the Spaniard. Thierry continued his consistent pace through Sunday's stages to take his second victory of the season and thus took the championship lead from Seb Ogier. Dani lost his third place due to a time penalty, which was gained after the final stage of Saturday, but fought back to within 13 seconds of third place, ultimately finishing in fifth. Andreas' problems on Friday kept him in the lower parts of the standings, finishing in sixteenth place.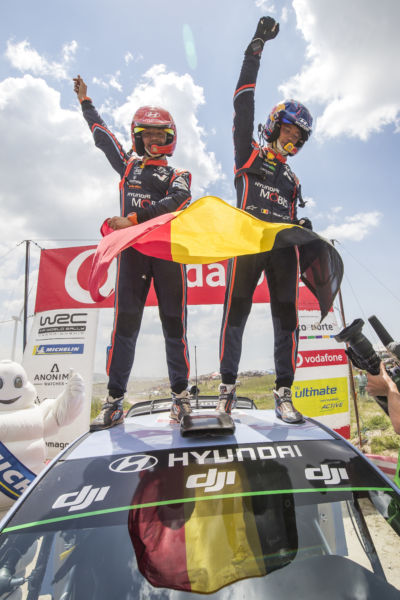 The following event, Rally Italia Sardegna saw Hayden, Thierry and Andreas line up, whilst Dani would sit this one out. Rain on day one helped championship leader Thierry, finish day one 18 seconds from Seb Ogier who led this event. Kiwi, Hayden tried lots of things to get on the pace, but just struggled, whilst Andreas saw his hopes for a good result disappear (he was the early leader), after his car developed a transmission issue, leaving it stuck in reverse. Day two saw Thierry close on the Frenchman for the lead after he took three stage victories, closing to just 3.9 seconds of the M-Sport driver, whilst Hayden improved to fourth overall. Andreas re-joined the action and set some good times, but was rueing the problems on Friday. The final day saw Thierry snatch victory from Seb in the final stage, winning by just seven tenths of a second and he also took the maximum power stage points too! Hayden completed the event in fourth place, having increased his lead over Mads throughout the day and Andreas took fourth in the power stage and two points.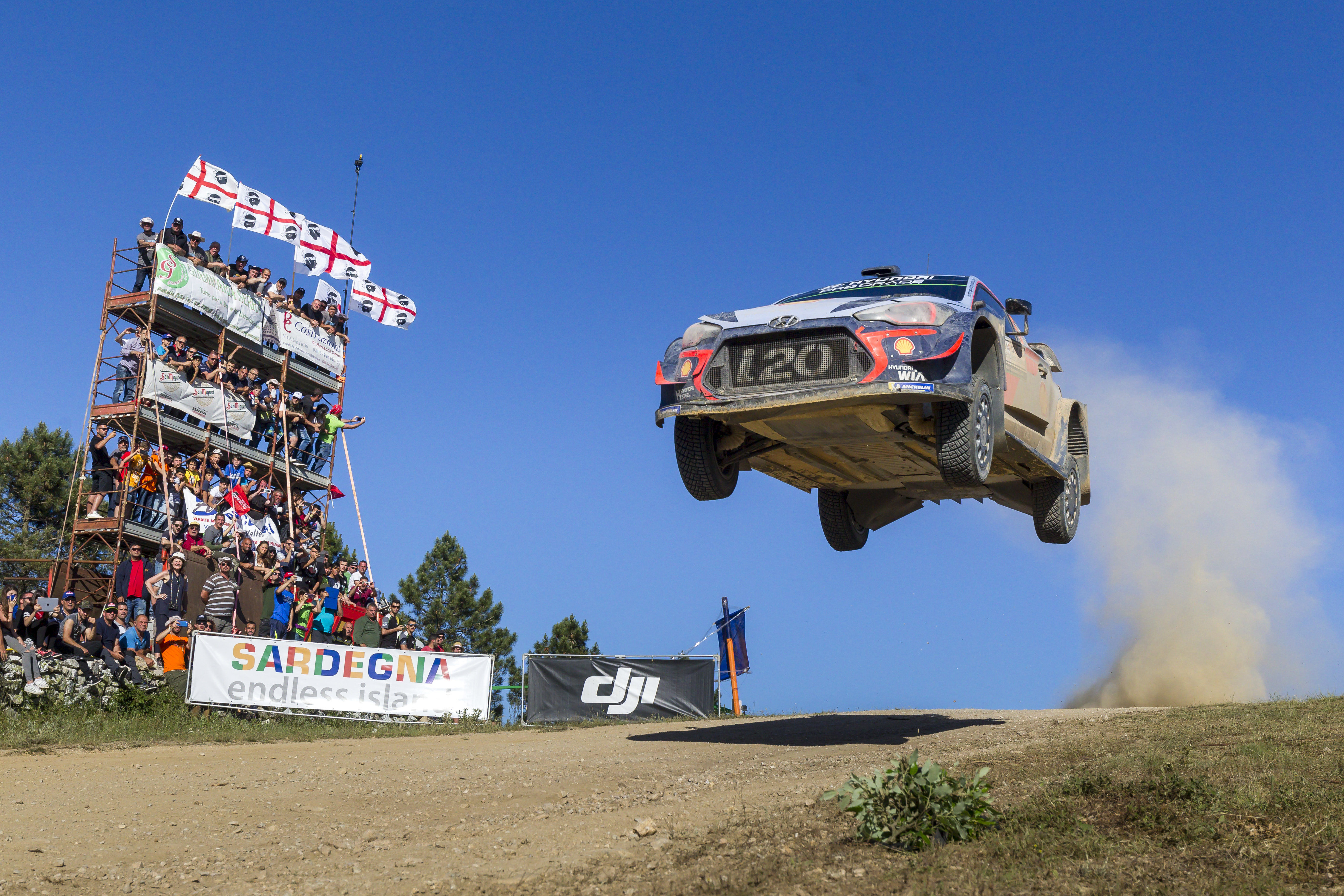 After the summer break, the team came to Rally Finland and were leading both championships for drivers/co-drivers and team by a big margin. The drivers lining up were Thierry, Andreas and Hayden. This event had not been kind to Hyundai in the past. It would prove to be the same again, after Thierry, who was opening the road, was struggling for grip and then went off into a ditch during stage five finishing the day in tenth. Andreas made a mistake too, after a misheard note sent him into a small low speed roll and also a penalty after checking in late after lunchtime service. Best placed driver was Hayden, who finished day one in fourth. After Saturday's stages, Hayden, who had driven consistently well, finished in fifth place, having been passed by 2017 winner Lappi. The Kiwi was just nine seconds from the Finn. Sadly, Thierry was still in tenth overall, after being second on the road, rueing the troubles from Friday and thus a poor starting position on Saturday. Andreas moved closer to the top ten, finishing in eleventh. The final day saw Hayden move into fourth, after Lappi went off the road. This also saw Thierry and Andreas move up a place, with the Belgian completing the event in ninth and Andreas getting tenth.
Next up was the all tarmac event of Rally Germany. Dani re-joined Thierry and Andreas. A good day one saw Thierry hold third overall behind his championship rivals, whilst Dani was sixth and Andreas ninth. The Norwegian was trying to change his driving style, but was struggling. Day two saw Dani take three stage victories and moved up into second, with Thierry now fourth after struggling with car handling and a better day for Andreas saw him move up into sixth. The last day saw Thierry finish in second, despite a mistake in the power stage. Dani's hopes of a good result ended when he went and crashed his car into the vineyards that line the stages. Meanwhile, Andreas finished in sixth.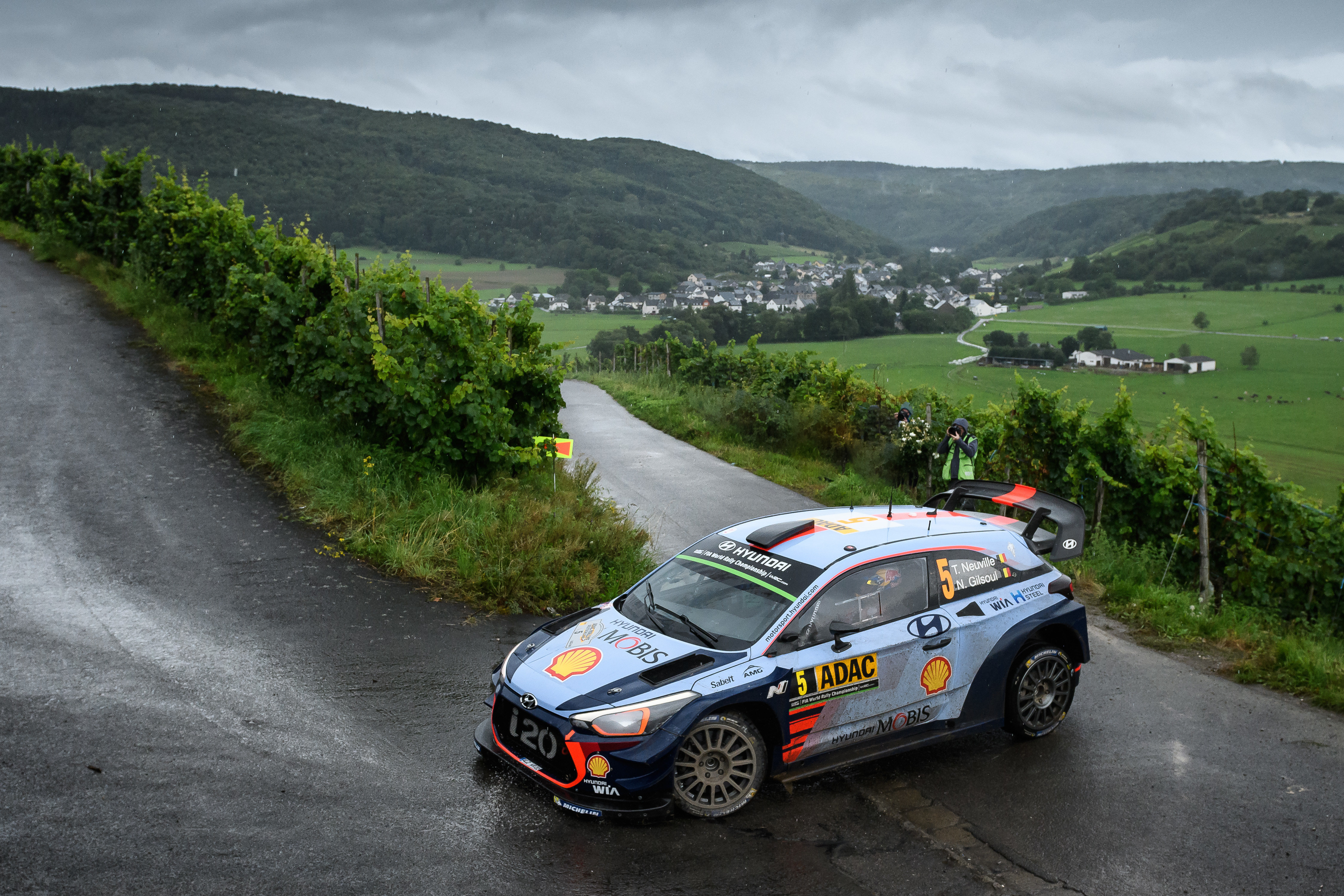 The return of Rally Turkey to the championship saw a completely new event for all the drivers. Hayden joined Thierry and Andreas. Day one saw Thierry hold an unexpected lead over Seb, despite opening the road. Andreas also had a good day too, holding third, just 2.6 from the lead, whilst Hayden was further back in sixth place. The stages got rougher, not smoother after each car. A dramatic Saturday saw Thierry retire from the lead, after his suspension broke and came through his bonnet! Then Andreas took the lead, only then the suffer from driveshaft failure, leaving him with only rear-wheel drive and struggling for pace therefore, but he was still in fifth place. Through all of this came Hayden finishing the day in third place after a considered drive in the exceptionally rough stages. The final day saw Hayden finish in third, taking his first podium of the year after a very good drive. Andreas finished in fifth, whilst Thierry struck back, taking the power stage win and was now holding a lead of 13 points from Ott who had passed Ogier in the championship.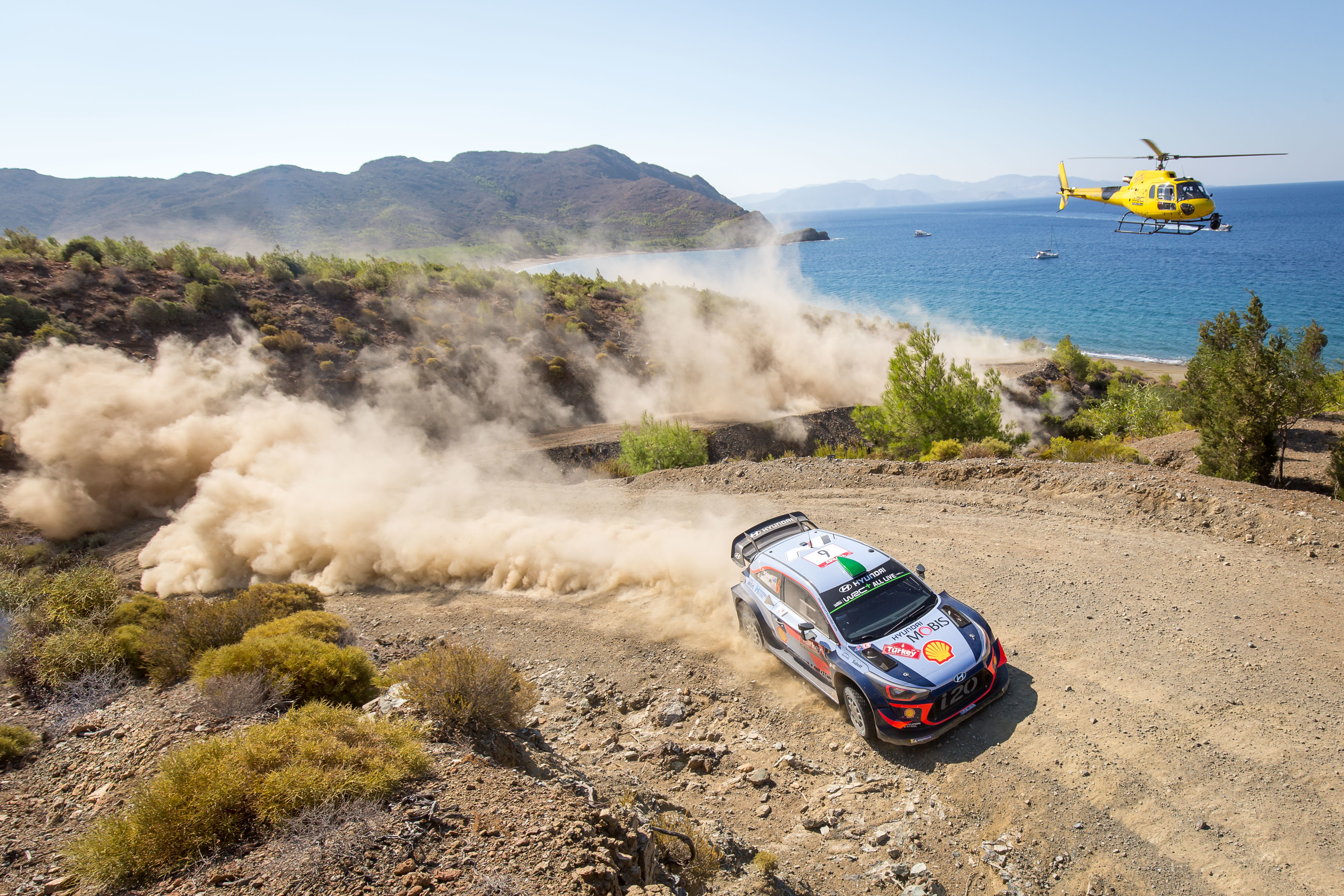 Wales Rally GB followed, and was much earlier in the championship. Hayden once again was in the line-up with Thierry and Andreas. After Friday, Thierry held second place, from Ott. The Belgian had found the morning stages tricky, what with opening the road and his car not giving him that much confidence, but things improved in the afternoon. Hayden held seventh place, after sliding off briefly in one of the morning stages, whilst Andreas was all at sea, struggling with his car, and unable to set any good times. Saturday, saw a big twist in the championship! Second placed Thierry lost control of his car in the second stage of the day, and lost loads of time and places, falling to ninth, whilst Andreas found some improvements and moved up to sixth after winning three stages. Hayden drove well too, and was seventh. Thierry did improve by the end of the day, finishing in eighth, but was rueing his mistake, as without it, he would have been leading the event. The final day saw the drivers secure fifth, sixth and seventh, with Thierry leading home Andreas and Hayden.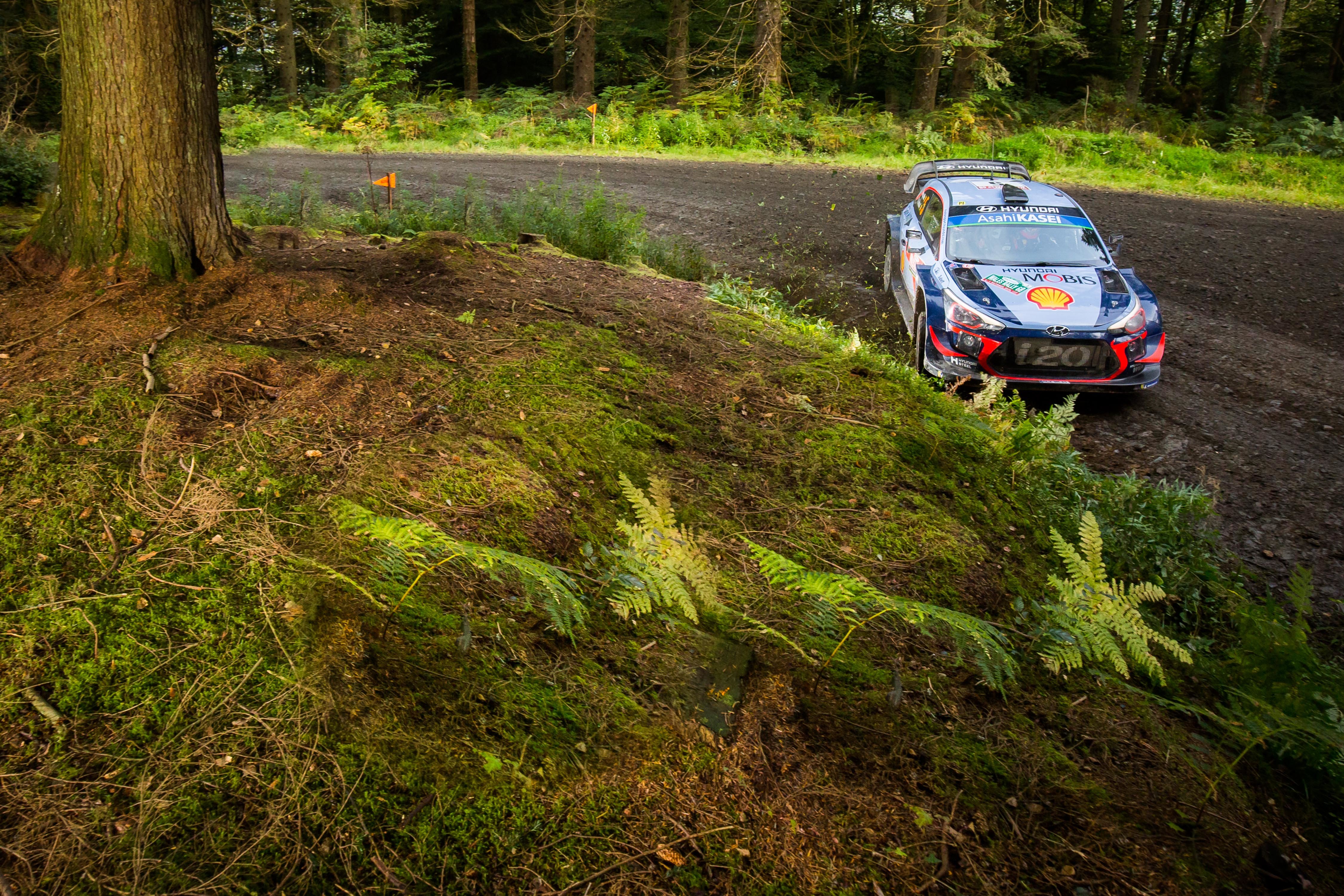 Rally Spain followed and Dani re-joined the team for his last event of the year. At the end of Friday, Dani held a very strong second overall, whilst Andreas was sixth. As championship leader, Thierry opened the road and struggled with the gravel stages, completing the day in ninth. After day two, Thierry moved up into fifth, courtesy of two fastest stage times. Dani took the lead briefly, before falling behind in trickier conditions in the afternoon, ultimately completing the day in sixth, but still in touch. Andreas had an even worse day though, dropping down the order to tenth. Rain on the final morning stages changed things a bit, but ultimately when the stages dried out in time for the rerun, the finishing positions were Thierry in fourth, Dani sixth and Andreas tenth. Thierry was only half a second behind finishing on the podium, and was now three points behind Ogier in their championship battle.
It was the last round and both championships were up for grabs. The gap between Seb and Thierry was very small, whilst the gap between Hyundai and Toyota was twelve points. Hayden would start as well, looking to support Thierry with his championship bid in this title decider! After day one, Hayden was the best placed of the three crews, despite tyre coming off the rim on a jump, completing the day in fourth, just a few seconds behind third. Thierry        had a mixed day, winning stage five and then also after a tyre came off having landed heavily from a jump in stage six and dropping to tenth. Andreas had another bad day, after having to avoid a tractor which was repositioning some bales for the chicane in stage six, he then went off and had to retire for the day. Hayden's weekend got better on Saturday, as he took two stage victories and moved up into third overall. With Thierry second on the road, he'd struggle to set the stages on fire, and completed the day in eighth, whilst Andreas who was opening the road continued to struggle, and was way down the order, after having to re-join under Rally2. The last day saw Hayden take the teams eleventh podium and his second of the year. Sadly, there was no championship success for either the team or Thierry, who retired from the event after clipping a tree, thus breaking his suspension. Andreas finished in eleventh place.
Summing up the year for this team, they took three victories and led both championships for long periods as well but fell short in the end. Looking at the season, I'd say their bid for the titles started to unravel at Rally Finland, where they just were not on the pace. Thierry made his best bid to be champion though, and for him, the bid ended in Wales, when he slid off the road, losing 40 seconds. As we know, Seb Ogier came through to win there and put him in a good position in the end.
Andreas Mikkelsen's season peaked in Rally Sweden and from there, what with reliability problems and lack of pace elsewhere he didn't really shine. He will be under pressure to deliver in 2019.
Dani Sordo and Hayden Paddon did well with their part-seasons. The Spaniard showed good pace even leading some events, and that is why he has a deal for 2019.
However, despite Hayden picking up two podiums, after good drives in Turkey and Australia, he was only offered a single event. Very odd, considering Thierry and him are the only drivers to have won for the team
In the off season, we've found out that Seb Loeb will be driving for the team, signed to do six rounds per year in the next two years. The other news is that Andrea Adamo has become Team Director, after Michel Nandan stepped down from the team and company.
What will 2019 bring? Not long to wait now!