As we carry on with the Red Bull Racing 2017 review…..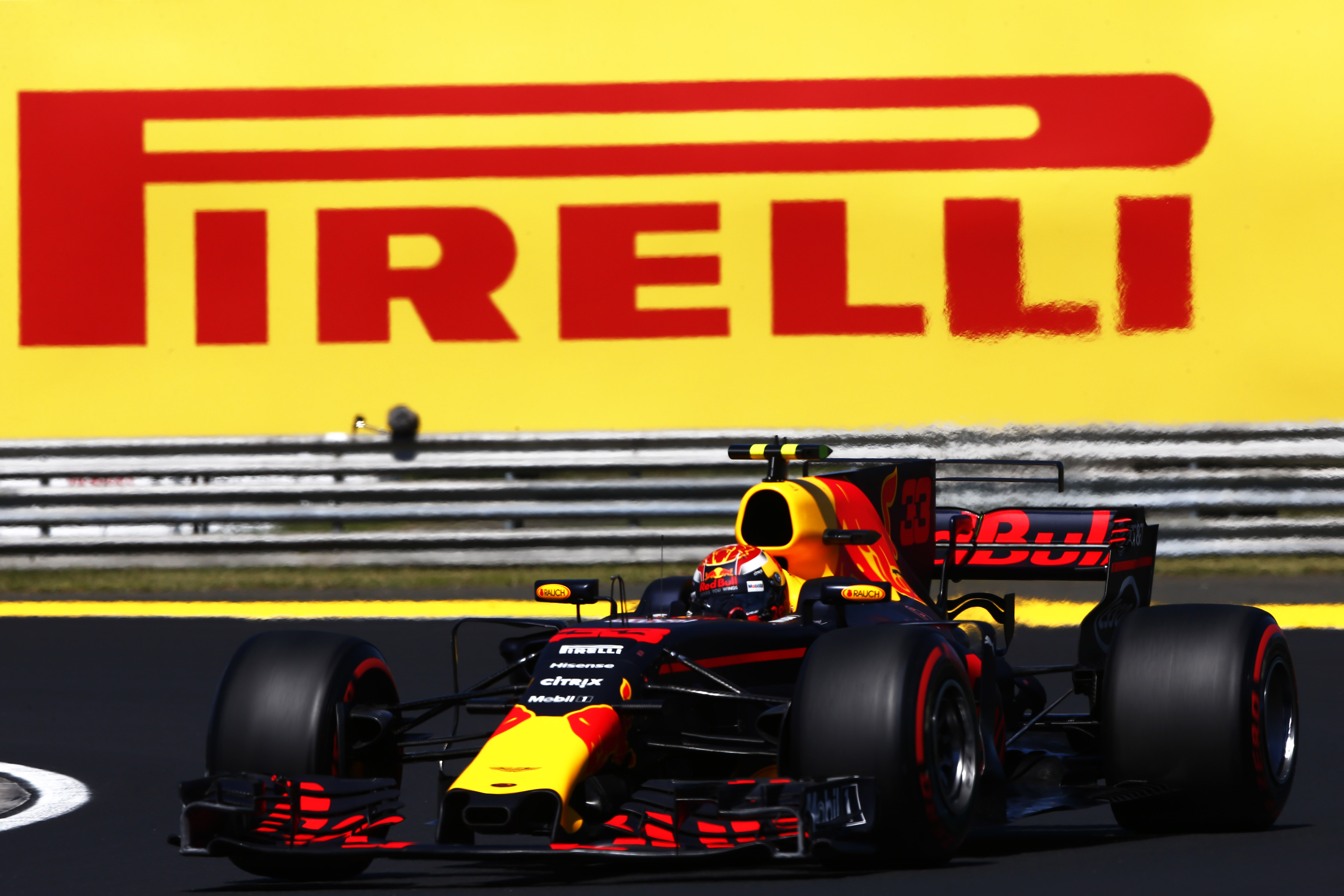 Azerbaijan, Baku
The European Grand Prix was once more taken off the calendar for 2017, but it was still in Baku, placed at Azerbaijan Grand Prix. Tight and twisty amongst the streets of Baku for the first two thirds, and then that mammoth straight in the final sector of track. The setup on this track is one of the tougher ones in the calendar. Practice looked good for the Red Bull boys as Verstappen was fastest in both sessions on Friday, with Ricciardo also having reasonable pace throughout.
It looked like Mercedes and Ferrari once more turned the power down in practice as they found 2.2 seconds between 3rd practice and the final qualifying positions, Verstappen was best of the rest in 5th. Ricciardo once more crashed when it mattered in Q3, he started 10th. It was the most chaotic start of the season, with Sainz clipping his team mate Kvyat and various drivers stopping with debris. Ricciardo was one of them and on lap 6 he pitted, he returned to track 17th. Verstappen was up in the thick of it but once again it was his car, and oil pressure problem made him ground to halt on the long front straight on lap 12.
Ricciardo then used the safety car periods and the red flag to full effect, as he jumped both Williams drivers at the restart on lap 24, latter on through Vettel's rage he was awarded a 10 second stop-go penalty for colliding with Hamilton, and Hamilton had to pit due to safety reasons his headrest came loose. This left Ricciardo to drive the closing laps on his own, Bottas was flying and managed to pip Stroll to the line for 2nd, but Ricciardo was just too far away.
Ricciardo with this amazing victory jumped Raikonnen to 4th in the driver's standings, whilst Verstappen was once more left frustrated with another race of opportunity thrown away with retirement due to mechanical issues.
Driver Points: Verstappen 43 – Ricciardo 92
Austria, Speilberg
The Red Bull Ring is the ninth round of the 2017 calendar of the season, the fast cars they are pushing closer and closer to being near under a minute. Qualifying was as per previous with the two teams leading up front with Red Bull best of the rest, albeit Hamilton due to a gearbox change he has now got a penalty. Ricciardo qualified 5th and Verstappen 6th, as a result of the penalty they start 4th and 5th respectively.
Lights out and away they went Ricciardo had a solid start, but Verstappen got clipped in the rear spinning him around and Alonso collecting him as a result. Verstappen had to retire due to terminal damage, another weekend to forget the Dutchman. Ricciardo was currently 3rd, following Bottas and Vettel. Hamilton was chasing up the field from his low start, Ricciardo pitted and got out just in front of the bit, and he managed to held on for another podium. Only 6 seconds behind eventually race winner of Bottas so much better for Red Bull.
Driver Points: Verstappen 43 – Ricciardo 107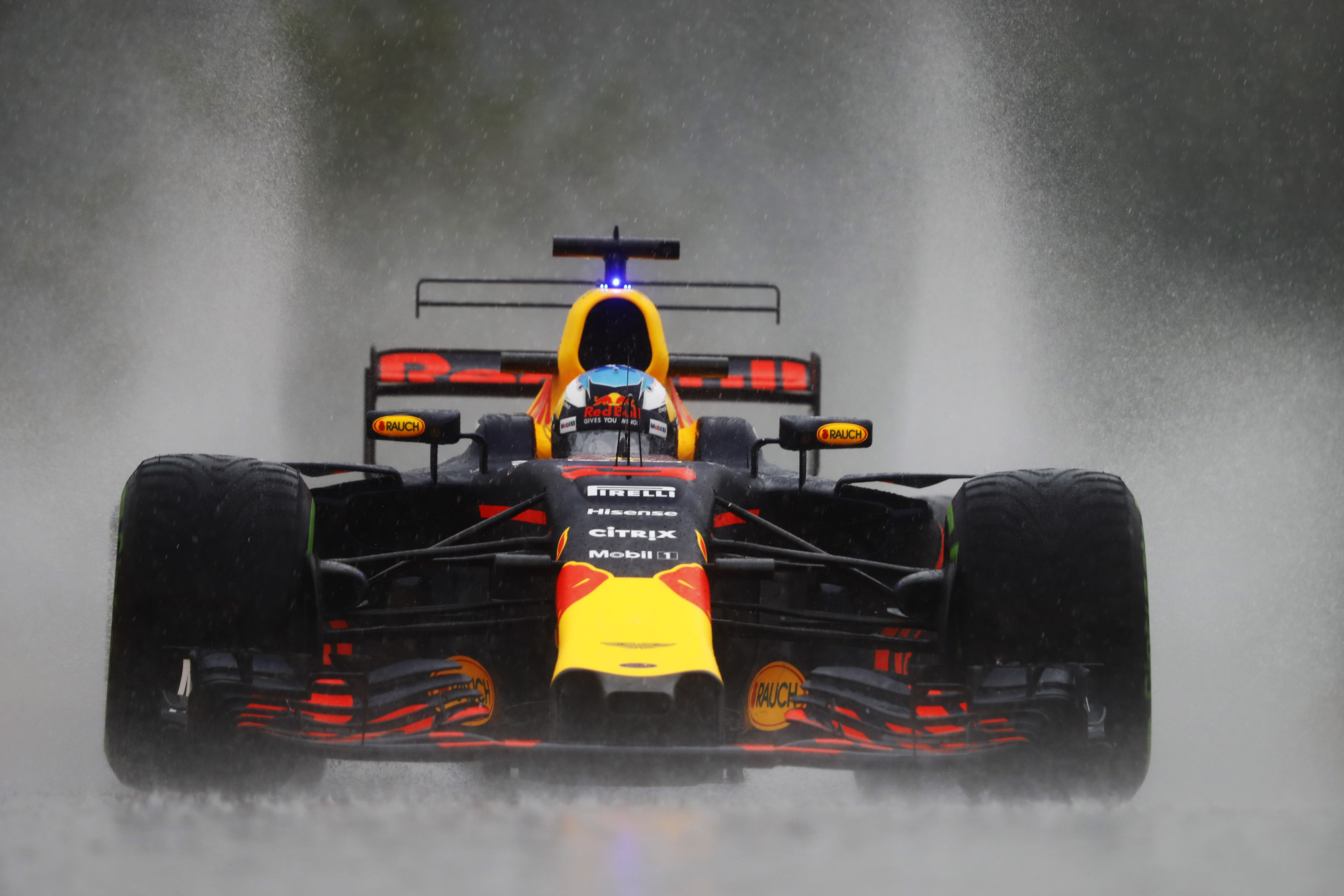 Britain, Silverstone
Silverstone in Northamptonshire in England is such an iconic track, the first race in the F1 world Championship history since it begun in 1950. The new cars this year show that copse, maggets and becketts are near enough all flat out now, which make the lap times so quick! Red Bull in their second home race now, following on from Austria, England where the team is based in Milton Keynes. A few new parts have been put onto the RB13, Adrian Newey was seen at the race this weekend. Verstappen did well on Friday, set the 3rd fastest overall, but Ricciardo was just doing his own thing getting the laps done.
Saturday qualifying was far from any of the weather we had on the Friday, it was wet and miserable, and all cars started the session where using the intermediate tyre. They both thrive in the wet, Ricciardo went out to set a lap and managed to go fastest, but the track was getting faster and faster. Ricciardo unfortunately halfway through Q1 stopped, resulting a series of engine penalties, Verstappen starts 5th.
A clean start for the Red Bull boys, Verstappen kept 5th place whilst Ricciardo closed up the field, avoiding the contact earlier on from the Toro Rosso collision. Ricciardo lap by lap moved up the field, eventually finishing an amazing 5th from great pit stop speed and skill from Christian Horner on the pit wall. Verstappen finished 4th, the punctures that Ferrari got did make Red Bull play itself with Verstappen to pit too, rather than risk it for the podium. First time in a while that the team has double points, Verstappen scores points for the first time in a long time.
Driver Points: Verstappen 55 – Ricciardo 117
Hungary, Budapest
Budapest is one of these tracks on the F1 calendar much like Monaco and Singapore is where you need downforce and run high wings. Red Bull as a resultlook strong this weekend, much closer to the front four drivers. Their race pace on the tyreswere close, if not on certain lengths, better than Mercedes. They locked out the 3rd row of the grid, only 9 hundreths behind Hamilton, Ferrari were 0.5 secs ahead of the team.
Lights out on the Sunday in perfect clear skies, Ricciardo got the better start than Verstappen for a change, and they both attacked Mercedes into turn 1, Ricciardo edged Verstappen on the outside into turn 2, drama though as a lock up from Verstappen resulted in the two Bulls hitting each other! Severe damage to Ricciardo's car unfortunately resulted in an early retirement but Verstappen continued, he received a 10 second penalty as a a result of the contact. Verstappen left it late to pit, was matching the likes of Vettel and Hamilton on their fresh rubber. He pit and then was on fire, closing the two Mercedes, who managed to swap on the last lap, but couldn't take advantage, so 5th place for him.
Raikonnen finished 2nd, so caught up to Ricciardo, he is now only 1 point behind the Austrailian, Red Bull currently 83 points ahead of nearest team Force India.
Driver Points: Verstappen 65 – Ricciardo 117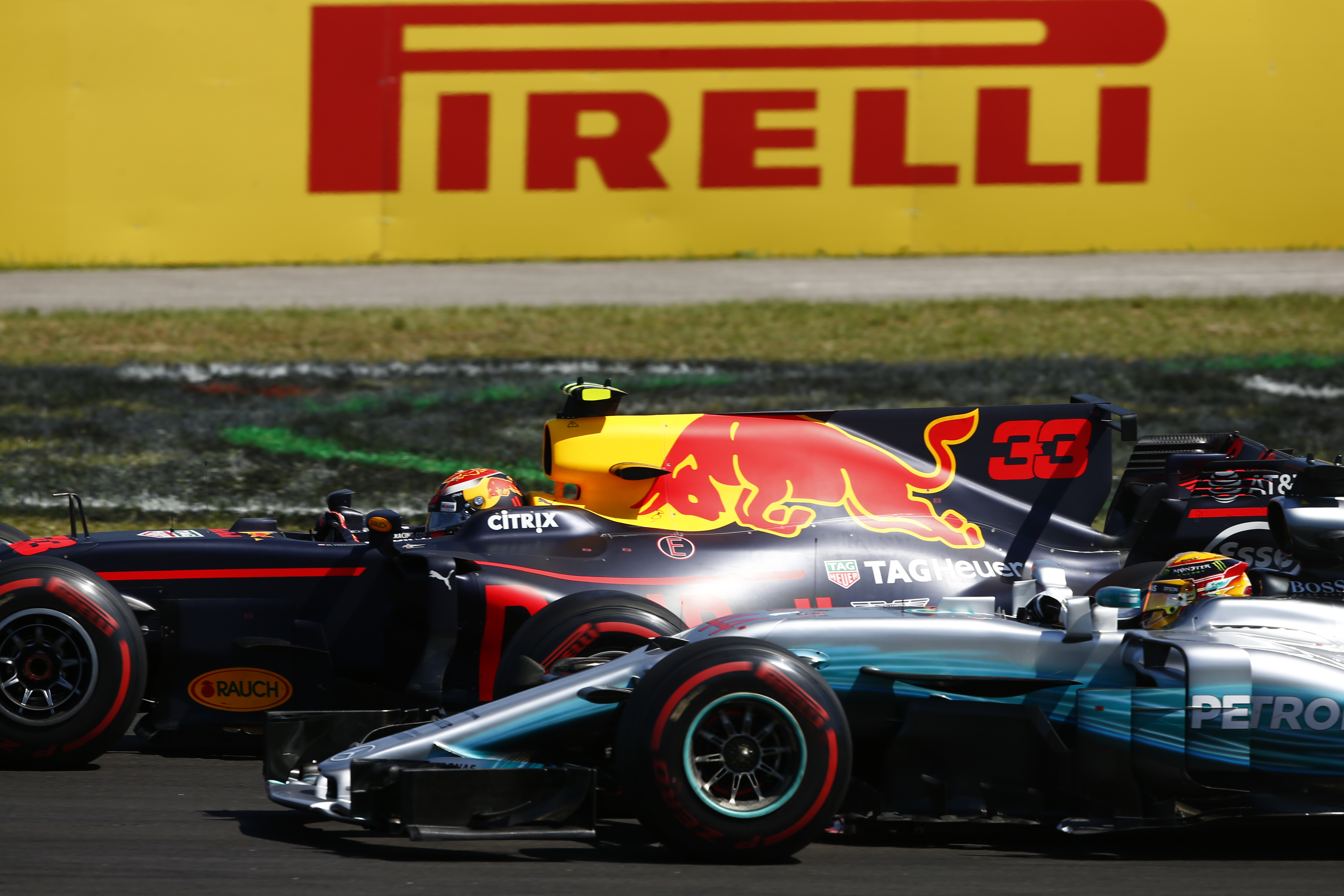 Belgium, Spa
The legendary Spa-Francorchamps, the track that most drivers love and feel to be their favourite, from the formidable Eau Rouge, and flat out corners of Pouhon and Blanchimont. Blanchimont is famous for Verstappen's outside manoeuvre in previous seasons. Red Bull seemed to take a bit more wing of the car than most to balance their less power down the straight, but still manage to produce enough downforce through the middle sector. Verstappen out qualified Ricciardo, both on the 3rd row of the grid, close to beating Raikonnen, missing out by a tenth.
This is the closest Verstappen will get to a home Grand Prix and the crowds were in bright orange, orange for Holland. He started off well, as like Ricciardo both keeping their positions. The Kemmel Straight was were overtaking could of been done via slipstream, Vettel couldn't get passed Hamilton and no one could pass Red Bull cars. Once more down the Kemmel Straight was when the next action happened, heart break for Verstappen as his car came to a stuttering halt. He was furious, but held it back and waved to the fans saying better luck next time. It did bring out a virtual safety car, and Raikonnen failed to lift which as a result he received a penalty which helped Ricciardo jump him in the pits.
Force India then collided once again, with a full course safety car out with the bodywork scattered across the track. Few laps remained and it went to green, Ricciardo jumped upon Bottas on the safety car restart, much like when he overtook the Williams at Baku. He then pulled away from Bottas, and Raikonnen eventually overtook his fellow Finn. Ricciardo had another podium finish to his name, much happier for the Honey Badger, but once more it was Verstappen left annoyed with mechanical failure.
Driver Points: Verstappen 65 – Ricciardo 132
Italy, Monza
The 13th round of the season is at the temple of speed, Monza. A track which of recent years hasn't been a happy hunting ground for the Red Bulls in recent years due to their lack of brute power on the straight hurts them. Red Bull as a result increase their rake, and they take more wing off than most which also hampers them around the Lemos and Ascari chicane. Tactically they decided to take penalties here, 45 between the two drivers.
Qualifying was literally torrential downpour, a dry tyre wasn't seen. Verstappen and Ricciardo were the second and third fastest drivers. They both drive so great in the wet, memories came back to fans of Brazil 2016 and that Verstappen's Dad put dry tyres on his kart on a soaking wet track and told him to go find the grip.
They love those conditions, through various penalties amongst 9 drivers, they started 12th & 16th. Ricciardo drove amazingly to finish 4th, hunting down Vettel for the podium late on. He started on the slower softs and managed to get up the field, Verstappen dug his own grave, a collision with Massa ended up with him pitting with right front puncture. He managed to get into the points and finish 10th place beating Magnussen who was a bit irate with his overtake on him. Ricciardo gained a further few points on Raikonnen.
Driver Points: Verstappen 66 – Ricciardo 144
Looking Ahead
Bit by bit Red Bull seem to be getting there, all in all, it seems its a case of Deja Vu for the Austrian outfit, close but take any opportunity if the car is reliable enough like Ricciardo in Baku, but unlike Verstappen in Canada. Asia is a much more happy hunting ground than the late European season, with the likes of Singapore and Suzuka on the horizon more dependant on the overall down force of the car. Red Bull seem to be more than secure of their 3rd place spot in the standings, with the drivers far clear of the midfield. Just need to hope their reliability is cured, as Verstappen has failed to finish on various occasions now from brakes through to multiple power unit issues. Newey has helped close the gap, am sure that he is most likely looking at 2018 now, when the halo is introduced and shark/t-wings are banned too to see if he can find something to put them back at the front again.
Chris Lord
04/09/2017