There are some partnerships in Formula One which are considered timeless. Senna and McLaren, Mansell and Williams, Clark and Lotus, but there's arguably none more iconic than Ferrari and Michael Schumacher.
The legendary German spent ten years at Ferrari, and went on to win 72 races for the Prancing Horse, along with five consecutive world drivers championships.
He joined the team from Benetton in 1996 after winning the title in the two previous years. He was one of the hottest properties on the grid, and Ferrari tied him down to a long term contract. He showed early signs of the domination to come as he won the 1996 Spanish Grand Prix in the pouring rain, lapping everyone up to third place.
He also endeared himself to the ever-loyal Tifosi as he won at Monza, and ending the season in third place.
Williams were dominant in 1997, with Villeneuve leading at the midpoint of the season. Schumacher fought back and won five races, with it all going down to the finale at Jerez. With the Ferrari developing a coolant leak failure, it looked like the enigmatic German wouldn't finish the race. As Villeneuve came up to pass him, Schumacher looked to cause a collision.
However it didn't come off and Schumacher retired from the race with accident damage while Villeneuve won the title. Schumacher was punished by being excluded from the championship.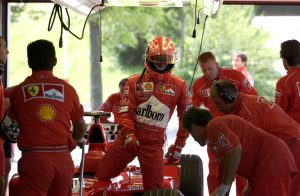 1998 saw Schumacher fight with new rival Mika Hakkinen in the McLaren. The mercurial Finn took the title after a strong fight with Schumacher. Controversially 1999 almost saw Schumacher join Hakkinen at McLaren, with Ron Dennis admitting he approached the German. However issues with sponsors and image rights meant Schumacher would remain at Ferrari.
It was at Silverstone where Schumacher's title challenge ended. He crashed at Stowe, breaking his leg, putting him out for most of the season. Hakkinen won the title again.
2000 was the year it came together, with Schumacher and Hakkinen fighting again, with Rubens Barrichello joining him at the Scuderia. At the Italian Grand Prix, Schumacher won his 41st race, equalling the record of Ayrton Senna, which saw Schumacher famously break down in tears in the press conference post race.
It all came down to Japan, and after a stunning pit-stop strategy, Schumacher got past Hakkinen and sealed Schumacher's third title and Ferrari's first since Jody Scheckter in 1979.
2001 was dominant for Schumacher as no one came close to him and the Prancing Horse. He sealed the title with four races to go, and at the Belgian Grand Prix he broke the record for most wins, surpassing Alain Prost's 51 wins.
2002 was an incredible year for Schumacher and Ferrari. 11 wins in 17 races, with Ferrari winning 15. However it wasn't without controversy. At the Austrian Grand Prix, Barrichello was leading and looked set for the win, before being asked to move aside for Schumacher to win in his bid for the title. He moved aside, but not until the finish line, with the incredibly unpopular decision falling into farce as Schumacher made Barrichello stand on the top of the podium.
He equalled Juan Manuel Fangio's five title wins as the records continued to tumble. However his sixth would be one of his hardest to win. McLaren's new Finn Kimi Raikkonen emerged as a title contender.
It all came down to the decider in Japan, with Raikkonen or Schumacher able to win the title. All Schumacher had to do was finish eighth and the title was his. He stumbled to eighth place, and took his sixth title, by a single point from Raikkonen.
2004 was again, dominant. Breaking his own records and winning 13 races that season, winning his seventh and final title of his career.
2005 saw Fernando Alonso and Renault surge to the title, and Schumacher's only win came at the farcical US Grand Prix in which only six cars started due to a tyre dispute. He would fight Alonso in 2006, winning seven races, with his 91st and final win coming in China.
He was mooted to come back to Formula One in 2009 after a couple of years out for the injured Felipe Massa, but a motorbike accident earlier in the year put pay to the romantic rumours.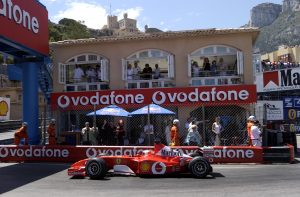 While Schumacher's career with the Scuderia was incredible, it had its moments of controversy. His most controversial moment came in 2006 round the streets of Monaco. During qualifying he tried to stop Alonso from securing pole by 'parking his car' at the Rascasse corner. He was demoted to the back of the grid as punishment of the incident.
However his controversial moments were easily outweighed by his magical moments. His fights with Mika Hakkinen were stuff of legend, as he was involved in fights race after race. Hakkinen is known as one of the only drivers Schumacher truly respected and feared, which was quite the accolade.
Though while his achievements are plentiful, Ferrari's own version of the fab four is what Schumacher should also be remembered by. As Schumacher, Ross Brawn, Jean Todt and Rory Byrne helped resurrect the Prancing Horse and return them to their rightful place at the top step of the podium.
The quartet put Ferrari back at the top, and sealed their place in history as one of the most successful partnerships in the history of Formula One. While we have dominance nowadays with Lewis Hamilton in the Mercedes, I feel it'll be a long time before we see a driver of the quality of Schumacher again.
#KeepFightingMichael