Ashley Sutton did his British Touring Car Championship aspirations no harm by taking two wins at Snetterton this weekend.
The Subaru driver closed in on title leader Gordon Shedden and proved his car has the potential to secure an unlikely title win.
It was Honda who took pole position with Eurotech backed driver Jack Goff taking the top spot. Colin Turkington in the BMW was second with Sutton taking third.
There was drama however as BTCC legend Matt Neal's time was removed due to a failed ride height test. However due to some stipulations regarding the stewarding, his time was reinstated and he started fourth.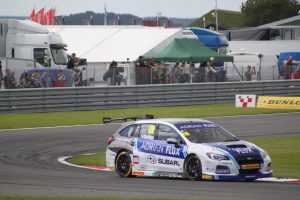 Turkington jumped Goff at the start and took the lead, with Sutton following behind in the Subaru. There were a few bumps and scrapes throughout the race as Ford's Mat Jackson was almost spun round by Chevrolet driver Dave Newsham at Agostini.
The drama didn't end there however as at the very same bend, Rob Austin dove down the inside of Tom Ingram, with the pair colliding and Austin's Toyota suffering a puncture. He limped back to the pits but the damage was already done.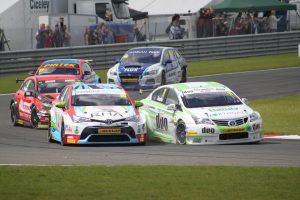 Back at the front Turkington lost the lead as he went off track, handing Goff the lead. Sutton was closing in on Goff, with the pair fighting hard, but on the exit of Agostini in to the following chicane, Sutton got past Goff and took yet another win in his Subaru. Goff took second with Neal rounding off the podium.
Race two was a much calmer affair after the opener, with Sutton taking a lights to flag win, pulling away from the chasing pack. The real fight was between BMW pair Turkington and Rob Collard. The pair were battling all race for second place, with Goff joining in the action.
Turkington managed to edge out Collard by just seven tenths, with Mat Jackson in the Shredded Wheat Ford in fourth and Goff in fifth.
Race three was unsolicited carnage, as the last race of the day burst into life, Ash Sutton, winner of the last two races, was hit off the track and suffered race ending damage, losing his hopes of a Snetterton hat trick.
Other notable crashes included Josh Cook in the MG being punted in the rear and retiring, as well as Matt Neal running wide and sliding into the wall.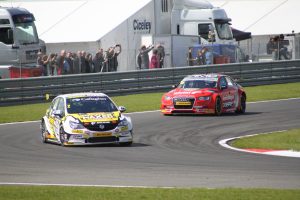 Neal's team mate Gordon Shedden took the win to preserve his title lead, with Collard and Turkington in second and third respectively. There was cause for celebration in the Power Maxed Racing garage as rookie Senna Proctor finished a career best ninth after starting 23rd.
With Shedden leading the championship lead by just two points from Rob Collard, and 11 points separating the top four, there will be a few twists and turns before the end of the season.