There are few stories quite like Niki Lauda's time at Ferrari during the mid-1970s.
From title wins to fireballs to disagreements over driver selection, the four-season relationship had an array of highs and lows. Lauda had paid for his previous drives at March and then BRM before joining Ferrari on the recommendation of new Ferrari recruit Clay Regazzoni in 1974, the duo working together at BRM.
The Austrian showed his potential early on with a second place at Round One in Argentina before taking Ferrari's first victory in two years at the Spanish Grand Prix three races later. He would remain a challenger through the year on his way to fourth place in standings and picking up another win in Holland before the season was out. Lauda also gained a reputation during his first year at Ferrari for being studious of engineering and car setup and would work tirelessly to improve the car during his time in Maranello.
1975 would start slowly as the first four races would yield finishes no higher than fifth, but Ferrari's updates put him back on track. He would win four of the next five races to put himself clear at the top of the title standings. Further points finishes in Germany and Austria would give him a chance to clinch a World Drivers' Championship for Ferrari on their home soil. Third place gave him his first career World Championship and Ferrari's first Constructors' win since 1964 as teammate Regazzoni won the race at Monza.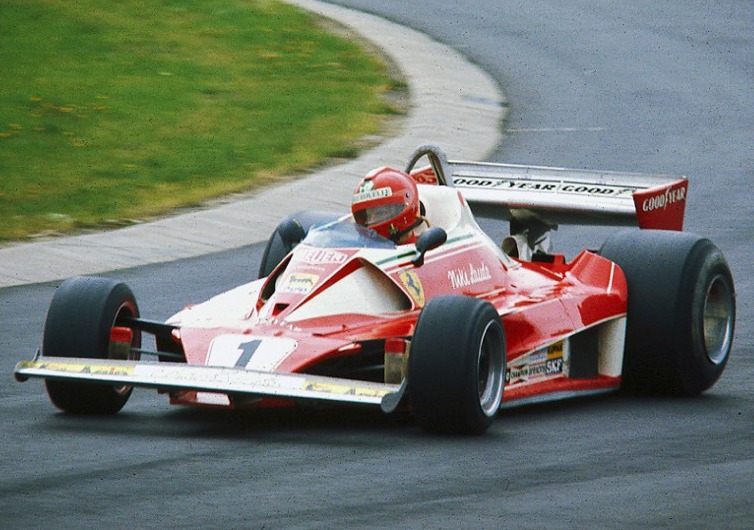 Lauda started 1976 in dominant fashion and swept all before him in the first six races – his worst finish being second twice during that period. Title rival James Hunt had shown flashes of brilliance in the early part of the year, but his McLaren was often unpredictable and also struggled with reliability during the early part of the season.
Round ten was the now infamous German Grand Prix. Lauda lobbied with other drivers to boycott the rain-soaked Grand Prix but was outnumbered. In a tragic irony he then crashed, and his Ferrari ignited. He was pulled eventually from the burning wreckage but extensive damage was done. He had suffered burns to his face and arms including losing most of his right ear, lost his eyelids and damaged his tear ducts which would affect him in further races and lost his scalp. That was supposed to be that. For his championship, for his career and possibly for his life.
Lauda didn't follow the script and unexpected to almost everyone in the paddock, he returned – bandages and all – at the Italian Grand Prix just four races later. He took fourth, unable to blink with his skin-grafted eyelids and in obvious pain while Hunt had reduced his arrears during Lauda's lay-off.
The Canadian Grand Prix went Hunt's way as the maverick Briton won while Lauda finished out of the points in eighth, while in the USA Hunt won again but was joined his friend and rival. The 1976 Japanese Grand Prix was a race as wet as the fateful German Grand Prix and Lauda, still affected by his injuries, withdrew on safety grounds. That left Hunt needing third place to snatch the title away from Lauda, and after pitting from the lead he eventually worked his way back up to take the World Drivers' Championship by a point. His decision to retire from that race didn't sit well with Ferrari and his relationship with the team became more strained going into what would turn out to be his last year with the team.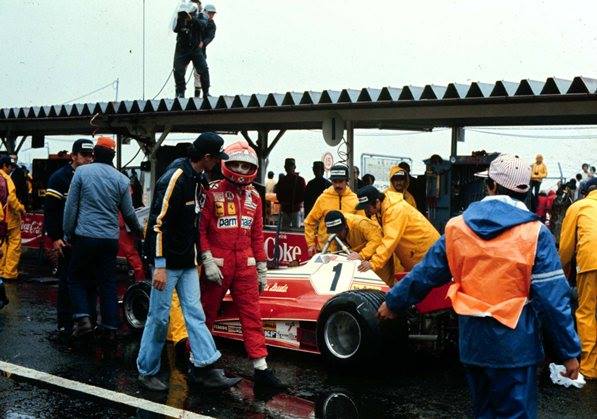 Despite taking just three wins in 1977 Lauda's consistency against his rivals made his third title straightforward, but he announced his decision to join Brabham anyway. The Austrian was irked by his team's decision to replace Regazzoni with Carlos Reutemann, with whom he did not enjoy a friendship as with Regazzoni. But he didn't even make the end of the season. Upset with the team fielding a third car with then-unknown Gilles Villeneuve, Lauda walked out at the Canadian Grand Prix two races from the end of the season.
Lauda won 15 races and two World Drivers' Championships at Ferrari, but his time there will be remembered for so much more than just his accolades. It will also be remembered for his sheer bravery and battle to return against the odds.