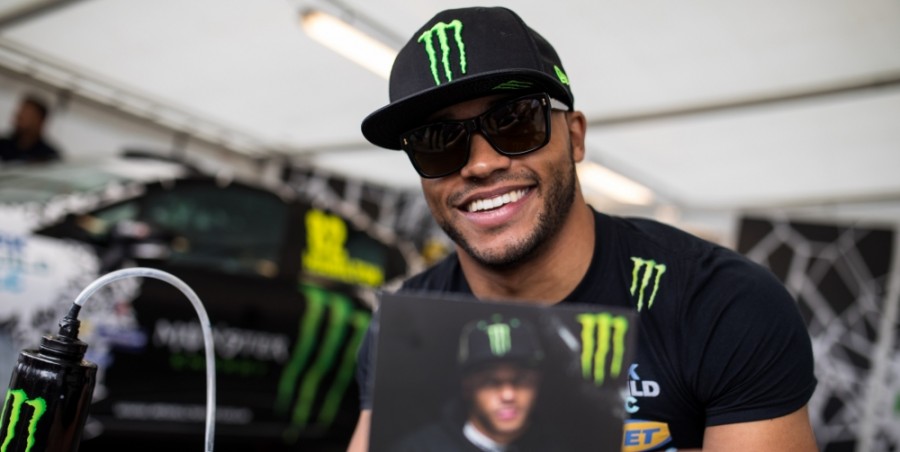 Rising motorsport stars Nic Hamilton and Oliver Solberg will compete in the supporting categories at the Canadian round of the FIA World Rallycross Championship presented by Monster Energy at Trois-Rivieres next week.
Hamilton, the younger brother of three-time Formula 1 World Champion Lewis Hamilton, is currently competing in the British Renault Clio Cup series and will make his rallycross-circuit debut on sealed and unsealed surfaces driving a Canadian side-by-side Can-Am Maverick X3 at Trois-Rivieres, prepared by Fuca Racing.
"I'm very honoured to have been chosen to compete. For me it's always been a dream to be part of a World Rallycross weekend. Being an on-road driver myself, I'm really looking forward to doing some off-road stuff, to drift and control the car on different terrains," said Hamilton. "I'm just going to go out and have fun – I've got a lot to learn but I'm really looking forward to it and I'm definitely up for the challenge."
Oliver Solberg, son of two-time World RX Champion Petter, is racing his father's title-winning Citroen DS3 Supercar in the RallyX Nordic Championship this season (and won round two in Sweden), and is also rallying in Latvia. The 15-year-old will compete in the four-wheel drive CXE national rallycross category at Trois-Rivieres, while his father races in the main event for the PSRX Volkswagen Sweden team.
"It's a cool track, I always love going to it," said Solberg Jnr. "It's like a rally stage with big jumps and big gravel. It's a bit of a different car than I'm used to, but it will be very good fun."
The World RX weekend in Canada will being with the traditional down-town parade of World RX cars on Friday evening.
Neil Simmons – @world_racing