"I always say, you can't get nine women pregnant and hope you have a baby in a month."
That was the bizarre quote from the now former Alpine Team Principal Otmar Szafnauer, with the American removed from the team following a bruising 12-month period.
He leaves alongside stalwart Alan Permane, with Sporting Director also out after 34 years and numerous roles with the team.
Alpine's new motorsport director, Bruno Famin, will be acting team principal during this period, and is assessing the team's F1 operations.
Famin said at the Belgian Grand Prix on Friday that the moves had been made with "the aim of reaching faster the level of performance we are waiting for" with Szafnauer and Permane being "not on the same line on the timeline" and that "we have a different view of the way of doing it".
The duo's departure was hastily announced on the Saturday of the Belgian Grand Prix, and all seems rather sudden in keeping with an often messy period for Alpine and Renault's most recent F1 project
Chief Technical Officer Pat Fry also departs, to take a similar with Williams from November, although this is unrelated to the departures of Permane and Szafnauer.
All of this comes two weeks after the Team's CEO Laurent Rossi, a divisive and fiery character, was moved on to work on other "special projects" with Alpine and parent company Renault.
That leaves the team needing to fill its four most senior positions at the same time.
Why did Alpine hire Szafnauer?
Szafnauer was poached from Racing Point for the 2021 season following the sacking of Cyril Abiteboul, with the passionate Frenchman ditched after heading the Renault factory programme following their return as a team in 2016.
Abiteboul had overseen genuine progress from an awful 2016 after the French marque had re-bought the ailing Lotus team after selling up in 2010, with the team on the podium twice in 2020.
He had a habit of getting into public spats, most notably with the equally spiky Christian Horner at Red Bull following Renault's still unsolved engine woes and the signing of Daniel Ricciardo from Red Bull for 2019. That Ricciardo saw fit to ditch the Renault project after one year signalled the beginning of the end and a search for a new Team Principal.
Having worked with BAR and later the Honda F1 team for ten years from 1998 before a 12-year stint at Racing Point in its various guises from 2009, Szafnauer was seen as an experienced and shrewd operator.
He oversaw the rise of the Silverstone team from perennial back markers through to solid midfield runners and occasional podium finishers, culminating in Sergio Perez's Sakhir GP win, garnering great respect as the team consistently punched above its weight.
He was ultimately tasked at Renault with implementing their "100 race plan" to get back to the front, a plan which save for Esteban Ocon's shock – and fortuitous – win in Hungary that year – looks as far away as ever as the Enstone outfit languish in sixth, over 100 points behind a stated aim of fourth.
A chastening 12 months
Cracks in Alpine's leadership can be traced back to the Hungarian Grand Prix last year.
Alpine were playing hardball with Fernando Alonso when negotiating a new contract beyond 2021, the team mistakenly believed that the Spaniard, who won two World Drivers' Championships with the team in their mid-noughties heyday between 2005-06, had no other options.
Alonso's move to Aston Martin announced the Monday after a race that saw him clash with Ocon came as a surprise right up to raceday in Budapest, and to rub salt into the wound has worked out for him.
He was for the first third of the season the only driver to even resemble a challenge to Red Bull and still lies third in the standings despite Aston Martin's recent lull, the team having made great progress since a dreadful start to 2022.
Alpine then rushed to announce then junior driver Oscar Piastri as his replacement with a press release issued that day, curiously with no quotes from their supposed new driver.
Piastri would then issue a humiliating rebuke later that evening as he was in talks with McLaren, and the FIA's Contract Recognition Board found against Alpine – criticising the team in the process.
Alpine went on to sign Pierre Gasly, who has done well for a team not operating at the level in previous years, but the damage to Alpine's reputation, and particularly those of Rossi and Szafnauer, following the saga was significant.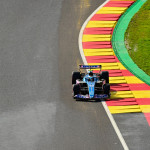 A poor start of 2022 was brought to a head by Rossi's scathing criticism of the team's performance, accusing it of "a performance deficit and an execution deficit" before stating, that it was "not worthy of of our resources" and going to accuse the team of "dilettantism (amatuerishness)" after a poor Bahrain Grand Prix where Ocon served three penalties, one for not serving an initial penalty correctly.
The one high point prior to Spa was an excellent podium for Ocon in Monaco and an excellent showing overall, and Gasly's podium in the Belgian sprint ensured a positive weekend for the team.
They are currently sixth in the Constructors' Championship on 57 points, as close to a rejuvenated McLaren in fifth as they are Williams in seventh.
What next?
The question of what next is impossible to answer with any certainty.
To fill one role at short notice is difficult but Alpine at least have the summer break to begin the process of filling those four roles, with the next race not until the Dutch Grand Prix at Zandvoort at the end of August.
Famin is for now the interim team principal while Julian Rouse, head of the team's young driver academy, temporarily fills the void left by Permane as interim sporting director.
Famin's time will likely be taken up with  conducting an audit of the team's Formula 1 operations but he cannot afford to dither.
At present the team are rudderless and with a lack of immediate options, may have to promote from within.
The team have faced accusations from former Renault driver and senior advisor Alain Prost, of a variety of faults ranging from corporate interference, a lack of structure and in the case of Rossi arrogance.
The four-time World Champion drew comparisons with Jean Todt, Ross Brawn and Michael Schumacher at Ferrari, Toto Wolff and Niki Lauda with Lewis Hamilton,  and Christian Horner, Adrian Newey with Sebastian Vettel and Max Verstappen at Red Bull.
Prost, who left the team in 2021, then highlighted that the team's only successful period this century was with Flavio Briatore and Fernando Alonso as a partnership with the point being that works teams perform better if the team is separate from the company.
The team have a lot of issues to fix from arguably their lowest ebb since that 2016 nadir. They have shown in the past that they can turn things around but the job, and pressure, is bigger now.
Whether Alpine take Prost's advice remains to be seen, at the most critical point in the team's journey since a return to factory status.
Images courtesy of Pirelli F1