The second day of Rally Spain saw the crews tackle 118km's of competitive over seven stages.
First up was SS9 Savallà 1 – 13.93 km and Thierry was fastest from Seb and Kalle. Only 1.5 seconds covered the top three. The overall gap now between Thierry and Kalle in their battle for second place was just 6.2 seconds. Could the Belgian close the gap any further in the following stages? Meanwhile Craig felt a lot better, with the changes made to his Puma making the car really good and he was only eight tenths slower than Ott who was fourth fastest.
Next up was SS10 Querol – Les Pobles 1 – 20.19 km and Seb once again set the fastest time from Thierry and Kalle. There was quite a big-time gap between the 2021 and 2022 champions with the young Finn now almost 10 seconds from the leader. Also Thierry closed a little bit more to the second placed Kalle, bringing the gap down to less than five seconds.
The first run of SS11 El Montmell 1 – 24.18 km and the only drivers to complete were Pierre-Louis and Jourdan in their Puma's. Unfortunately, as Gus, who was the next car into the stage, came to the end on the stage, he slid wide on a right-hander and in an attempt to turn the Puma into the corner using his handbrake, the car then slid sideways into the barrier on the outside and was spun around so that the car was facing the opposite direct back the way it had come. With the car blocking the stage, first the red flag was shown and the later the decision was made to cancel the stage. All the crews were given a notional time that matched Pierre-Louis' time.
After lunchtime service SS12 Savallà 2 – 13.93 km, Seb was fastest from Ott and Kalle, with Thierry fourth quickest. Kalle was now five seconds away from Thierry in their battle for second overall, but this battle was not over. Meanwhile, Seb was now 12 seconds ahead of Kalle.
Into SS13 Querol – Les Pobles 2 – 20.19 km and Seb was really into the groove now, going fastest again from Ott and Kalle. Thierry was again fourth, and Kalle was taking a few tenths of a second out of the Belgian.
The rerun of SS14 El Montmell 2 – 24.18 km went better than earlier in the day as all the crews made it through this time. Dani took his first stage win of the rally as well, with Thierry and Seb second and third fastest.
Finally, the short SS15 Salou – 2.15 km and Hyundai teammates Ott and Thierry shared the fastest time and Seb was third. Meanwhile Kalle was only fifth fastest and actually fell to third place behind Thierry and the gap was now 1.4 seconds between them.
Let's take a look at the standings and hear from the drivers.
Classification after Day Two
| | | | | |
| --- | --- | --- | --- | --- |
| 1 | S. Ogier | B. Veillas | Toyota GR Yaris Rally1 | 2:10:18.5 |
| 2 | T. Neuville | M. Wydaeghe | Hyundai i20 N Rally1 | +20.7 |
| 3 | K. Rovanperä | J. Halttunen | Toyota GR Yaris Rally1 | +22.1 |
| 4 | O. Tänak | M. Järveoja | Hyundai i20 N Rally1 | +36.6 |
| 5 | D. Sordo | C. Carrera | Hyundai i20 N Rally1 | +1:13.2 |
| 6 | E. Evans | S. Martin | Toyota GR Yaris Rally1 | +1:27.6 |
| 7 | C. Breen | P. Nagle | Ford Puma Rally1 | +1:39.7 |
| 8 | T. Katsuta | A. Johnston | Toyota GR Yaris Rally1 | +1:58.6 |
| 9 | A. Fourmaux | A. Coria | Ford Puma Rally1 | +2:13.7 |
| 10 | P. L. Loubet | V. Landais | Ford Puma Rally1 | +2:59.2 |
Toyota Gazoo Racing WRT
Sébastien Ogier (1st)
"It's been another good day today. It's a nice feeling to have this kind of speed and to be able to increase the gap on almost every stage like we did today. It's what you dream for coming to a rally. I'm really enjoying driving the GR YARIS this weekend, and today with a comparable road position to our nearest competitors we were able to make more of a lead. It would be nice to get a win and now we have to finish the job. Normally this should be a decent gap but there are still some kilometres to go, so the target is to stay out of trouble until the end."
Kalle Rovanperä (3rd)
"It has been a nice day overall. Of course, Seb was faster all the time, he was pushing hard and driving really well and we couldn't really match him, but we were not taking all the risks that we could have done. This afternoon in the first two stages we still had consistent and quite nice pace, but then on the next one we had a small issue with some settings which were wrong on the startline. It meant we were losing time with the hybrid system and we had to try and fix it during the stage. Thierry is now ahead of us but it's still really close and hopefully tomorrow we will score a good result either way."
Elfyn Evans (6th)
"Today we were consistently a bit off the pace unfortunately. We already had some struggles yesterday and we couldn't really overcome that today and find that last bit of feeling and confidence needed to fight at the front where we want to be. The car is clearly competitive and working well in the hands of my team-mates, but it's just not suiting me perfectly at the moment. So, it's a bit of a frustrating situation but of course we're trying to improve all the time and see what we can do, and again we'll explore what we can tomorrow."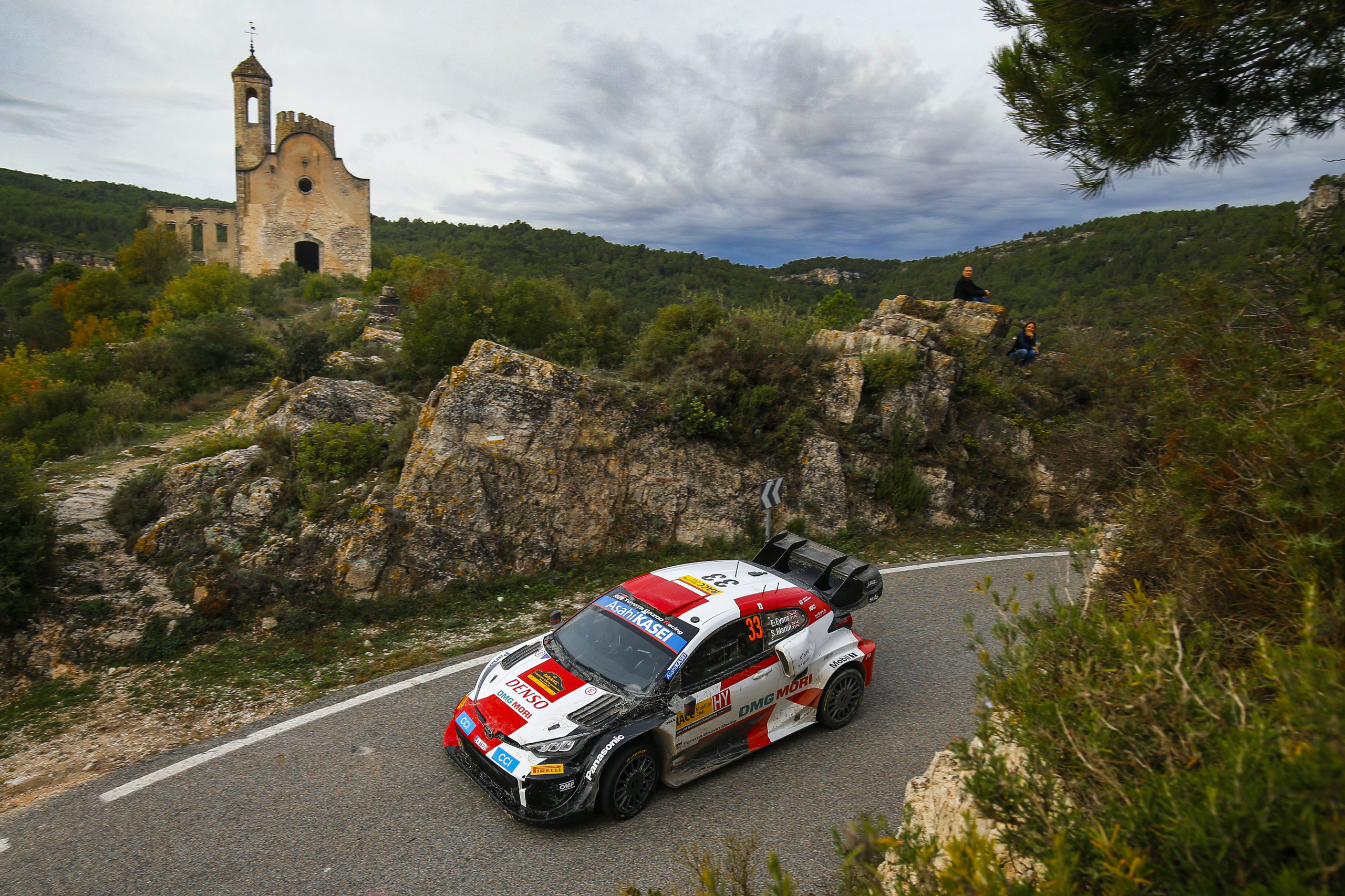 Hyundai Motorsport
Thierry Neuville (2nd)
"It was a tough day, but we had some speed in the morning. We won the first stage, but the longest sector of the loop was cancelled, so we held our third place. We wanted to keep pushing in front of the fans; it's been great to see so many spectators. We had less speed in the afternoon, but we were just hoping to stay in the fight for the lead. There wasn't much more we could do. All three of our crews struggled to find that little bit extra to match the frontrunner. Some stages we were there, but others we weren't. We're going to see what happens tomorrow; it could be tricky in the dark early morning conditions."
Ott Tänak (4th)
"It was an OK day for us. Technical wise, we had no issues, but we were just missing a bit of pace and lacking a general feeling in the car. This afternoon, I was pushing quite a bit, actually outside of my comfort zone. We had a moment, well it was actually more of an off, but we got back on the road. It was a bit of a miracle. Other than that, it has been a challenging day. The roads have been nice to drive, so we have tried to enjoy ourselves as much as we can. Tomorrow morning in the dark on tarmac could be fun."
Dani Sordo (5th)
"We made some important set-up changes during the day, and we seem to have unlocked some performance and confidence from the car. Things were much better, and we could show that in the El Montmell stage. My friend said that I had to do a fastest time today, and not just the short one at Salou, so I knew it would have to be this stage. I know the people living in the area; they wait for me to come through. It's really fast in the middle and you just want to push hard. The car was working well, so I could just enjoy it. I gave it everything I had, and it was an amazing time. This was the feeling I've been looking for all weekend. We've not been doing badly, but the times were not there. Tomorrow, there are more stages like this one so I will try again to find that confidence to push, especially for all these fans we have cheering us on."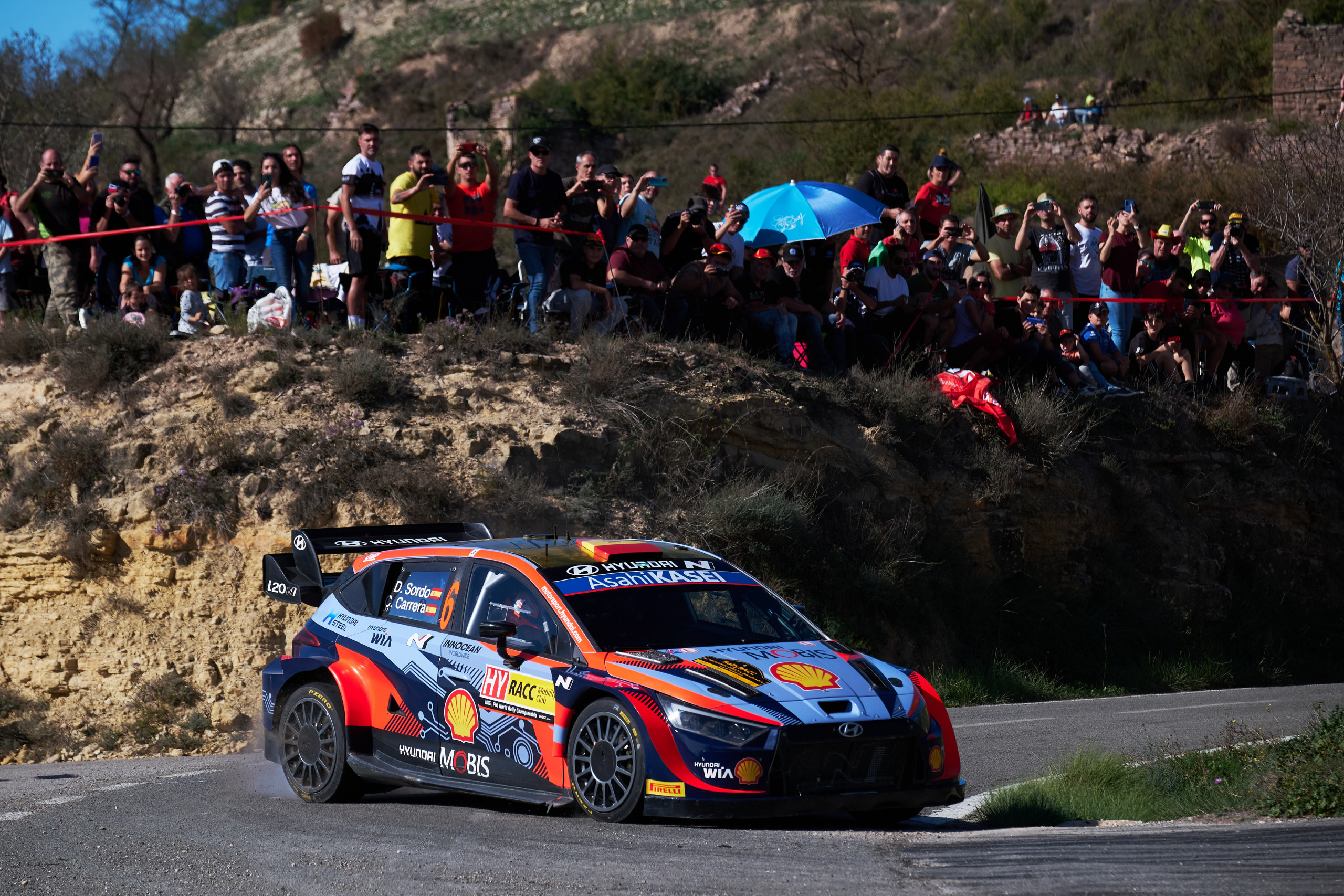 Tomorrow (Sunday 23rd October)
The final day sees the crews tackle 56km's over four stages. Can Seb hold on and take his fourth victory, or will Thierry join the Frenchman with three wins? Look out for my report tomorrow evening.