We are getting closer to the end of the season, and M-Sport driver Seb is 17 points ahead of Thierry and there are just three rounds left. Rally Spain takes place from the 5th to the 8th of October.
It's the only round to feature gravel and tarmac stages as well, with Friday being all gravel, with the teams getting extra service time to convert the cars into tarmac spec for the smooth fast stages that follow on Saturday and Sunday. A total of 19 stages, covering 312km makes Rally Catalunya a very tricky event.
Here's the stage information for you.
RALLY DE ESPAÑA SCHEDULE (GMT+2)
THURSDAY 5 OCTOBER
8.00am: Shakedown – Salou (2.97km)
8.00pm: Ceremonial start (Salou)
FRIDAY 6 OCTOBER
8.15am: Start
9.53am: SS1 – Caseres 1 (12.50km)
10.21am: SS2 – Bot 1 (6.50km)
10.56am: SS3 – Terra Alta 1 (38.95km)
1.11pm: Service A (PortAventura – 30 mins)
3.19pm: SS4 – Caseres 2 (12.50km)
3.47pm: SS5 – Bot 2 (6.50km)
4.22pm: SS6 – Terra Alta 2 (38.95km)
6.32pm: Flexi Service B (PortAventura – 75 mins)
SATURDAY 7 OCTOBER
6.45am: Service C (PortAventura – 15 mins)
8.00am: SS7 – El Montmell 1 (24..40km)
9.07am: SS8 – El Pont d'Armentera 1 (21.29km)
9.54am: SS9 – Savalla 1 (14.12km)
11.35am: Service D (PortAventura – 30 mins)
1.08pm: SS10 – El Montmell 2 (24.40km)
2.15pm: SS11 – El Pont d'Armentera 2 (21.29km)
3.02pm: SS12 – Savalla 2 (14.12km)
5.00pm: SS13 – Salou (2.24km)
5.30pm: Flexi Service E (PortAventura – 45 mins)
SUNDAY 8 OCTOBER
6.00am: Service F (PortAventura – 15 mins)
7.00am: SS14 – L'Albiol 1 (6.28km)
7.38am: SS15 – Riudecanyes 1 (16.35km)
8.38am: SS16 – Santa Marina 1 (14.50km)
10.14am: SS17 – L'Albiol 2 (6.28km)
10.53am: SS18 – Riudecanyes 2 (16.35km)
12.18pm: SS19 – Santa Marina 2 – Power Stage (14.50km)
1.41pm: Service G (PortAventura – 10 mins)
3.00pm: Podium (Salou)
Let's hear from the top two in the championship.
Sébastien Ogier said:
"We're feeling fully refreshed after the break and ready to get back to business. Spain is always an enjoyable event. Its mixed surface makes it truly unique and the fans are so enthusiastic. I have a lot of special memories here, and it would be nice to add to them next week.
"Opening the road is a good thing in one sense as it means that we are back in the lead of the championship. But if it's dry the championship lead also comes with its challenges and we'll need to work hard to minimise the time loss through the opening gravel stages.
"Then, it's onto the fast, smooth asphalt that this event is famed for. We had a one-day test to get used to this circuit-like asphalt and the car felt pretty good. We completed a lot of kilometres for a one-day test, and that sees us well prepared to deliver our best.
"With the championships so close, that's exactly what we will have to deliver. We have a 17 point lead, but with 90 points still available there remains all to play for and we all need to work together to maximise our potential – starting with Rally Spain."
Thierry Neuville said:
"Entering this crucial part of the season for the championship, we must stay focused and look to target the podium, if not victory, in all rounds. Things are delicately positioned in the Drivers' Championship between Ogier, myself and Tanak, so anything can still happen."
"Spain is going to be a huge challenge, as it always is with the change of surface. It is a rally that all crews enjoy, with a good atmosphere and, usually, great weather. We are rested after the long break and determined to put in our strongest fight for the title."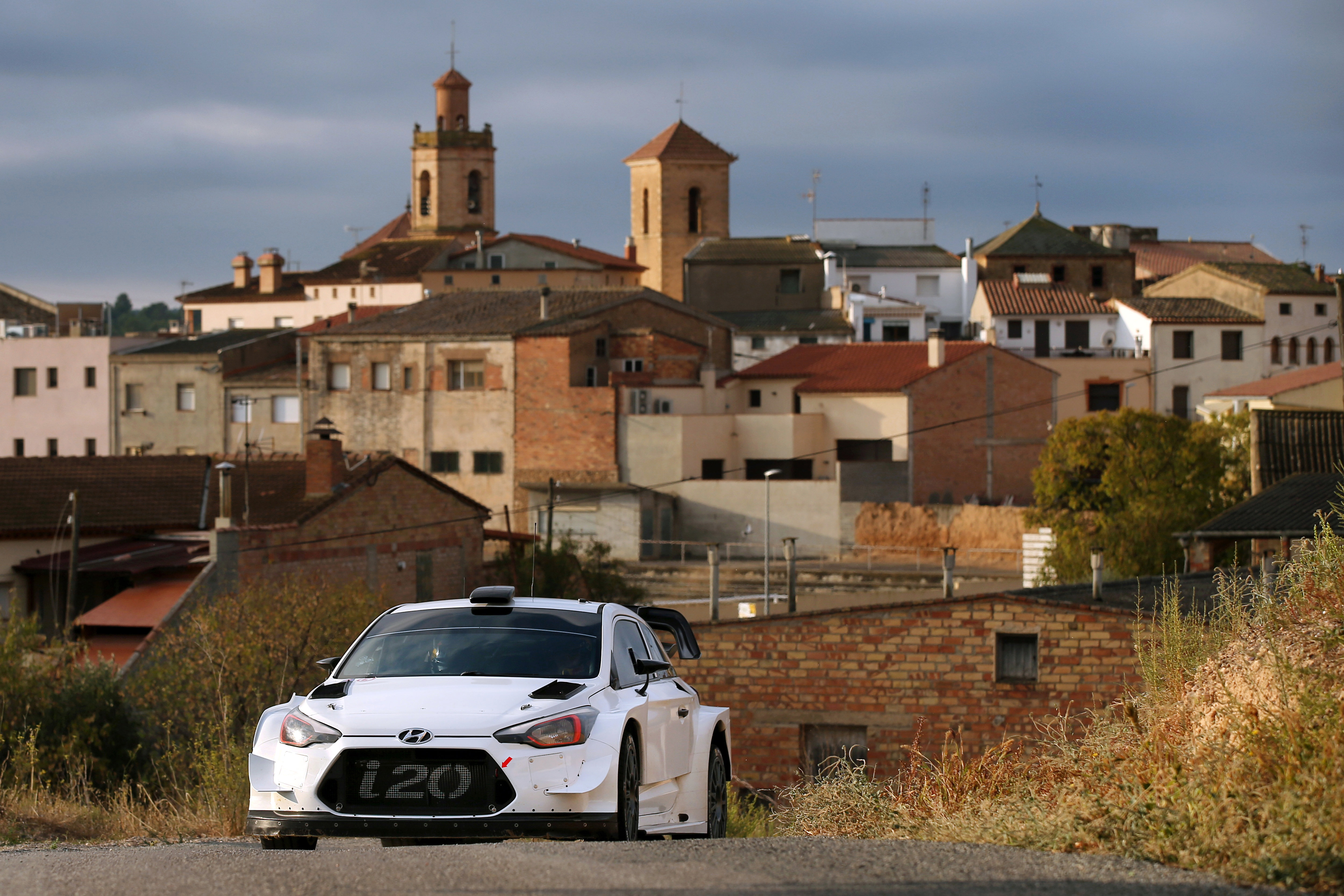 Here's the thoughts of the rest of the drivers.
Andreas Mikkelsen signed to Hyundai Motorsport for the next two years during this past week. He took his first WRC victory in this event two years ago when Seb crashed out in the final stage.
Here's his thought's….
"I am really pleased to be making my debut as a Hyundai Motorsport driver. Since the announcement, Anders and I have had the opportunity to test the car on both tarmac and gravel; I have been very impressed with what we've experienced."
"The car has already shown itself to be versatile, and there's nowhere better than Spain to showcase those characteristics. It's a special rally for me, as I took my first win in Spain in 2015, so it has fantastic memories. The changes in surface can be demanding, particularly with the quick switch from gravel to tarmac. It is a challenging, but highly enjoyable event, and I hope to be able to fight at the front in my first WRC event with the team."
Dani Sordo said:
"It is always a pleasure to return to Spain for my home rally, and to have the chance to compete in front of so many enthusiastic supporters. We definitely want to give them something to cheer. I think our road position will be beneficial on the opening gravel stages on Friday. We then move onto tarmac for the final two days, where we push to secure our third podium of the season – and our third in a row in Catalunya for Hyundai Motorsport. That's the aim."
M-Sport WRT
Ott Tänak said:
"I can't wait to get back behind the wheel. It was really nice to have some time at home with the family, but I have to admit that I was also starting to miss the thrill of competition!
"We've proved that we can be competitive on both gravel and asphalt, so I'm not daunted by the mixed surface of Spain. Going from one surface to the next in the same weekend can be a little strange at first, but we all get up to speed pretty quickly.
"The gravel roads are really nice with a mix of fast and technical sections and we had a Tarmac test in Spain last week which reminded me just how amazing those roads are. They're so smooth and it really is like driving on a circuit in some places.
"With both championships so close at the moment, I think we're in for an interesting weekend and we'll certainly be aiming to deliver our best for both the manufacturers' and the drivers'."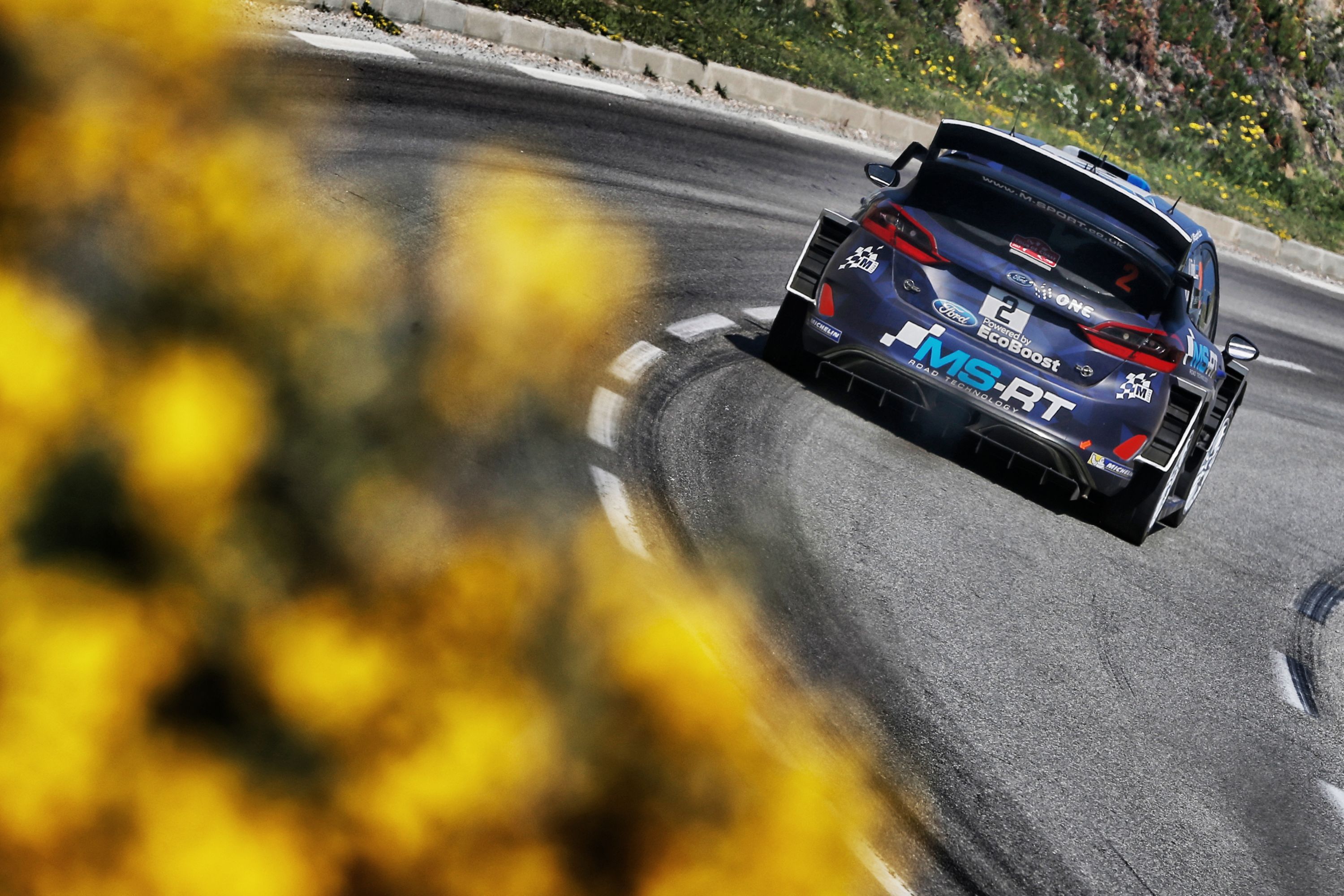 Elfyn Evans said:
"As the only mixed-surface event on the calendar, Rally Spain is really unique. I've not had the best of luck there in the past, but we'll be hoping to put that right this year.
"The gravel stages can be quite technical and on the Terra Alta stage we have long sections of asphalt in amongst the gravel. That can make the car move around quite a lot and you have to drive with the whole stage in mind.
"It's quite a strategic rally in that sense and you have to think about the long game with a day and a half of pure Tarmac to follow the gravel. The weather could also prove a deciding factor so it'll be interesting to see what the Spanish forecasts have to offer us this year.
"With the championship so close, this event could be really crucial and we're all determined to deliver our best."
Citroen Abu Dhabi WRT
Kris Meeke said:
"We had a good test session and it was interesting to work with Seb [Loeb]. There is always room for improvement, but I think we are moving in the right direction. I'm looking forward to being back in a competitive environment again after a frustrating Rallye Deutschland and this long break. I have to say, though, that I can't quite believe that this is going to be my tenth appearance in Catalonia! Potentially, we have a good starting position, but that'll depend on the level of dust or whether it rains. For the last two legs, we know all about performance level of the C3 on tarmac. The main thing is that I want to enjoy myself in the car. If I do that, then we can aim for a good result and that'd be good news for the entire team."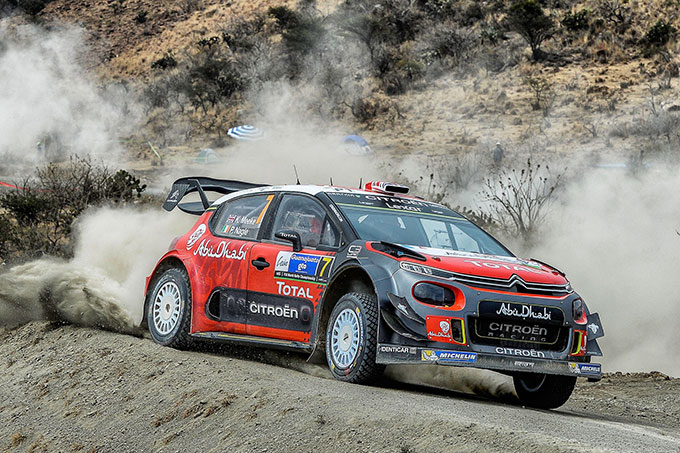 Stephane Lefebvre said:
"I'm very pleased to be back behind the wheel of the Citroën C3 WRC. It has been three months since we finished fifth overall in Poland and I'm going to have to find the right pace on stages that I am relatively unfamiliar with. We have to bear in mind that I am undoubtedly the least experienced driver in the field at this event. I'm pleased with how testing went last week. I had the opportunity to try the new front-to-rear wheel torque distribution for the first time. This upgrade matches my driving style really well and it was therefore a very positive experience. If the conditions are favourable, we'll try to make the most of our position in the running order on day one."
Kalid Al Qassimi said:
"This will be my tenth appearance in Spain! This round is one of my favourites on the WRC calendar. I love the challenge provided by the mixed surface route, and especially the fact that switching from gravel to tarmac during a stage encourages you to drive more quickly. I really like the atmosphere here; the supporters are incredible and the organisation is absolutely fantastic. That's why I like to keep coming back to compete in Catalonia every year. We'll try to find a good pace depending on the stages, pushing whenever I feel comfortable. I wish Kris and Stéphane all the best."
Toyota Gazoo Racing WRT
Jari-Matti Latvala said:
"I like the combination in Spain of having the first day on gravel and then two days on asphalt. They are the best asphalt roads in the championship – as close to a race circuit as is possible – and the gravel stages are also quite good. I did two days of testing for Spain this week: on the asphalt, we were focused on the suspension, and on gravel we concentrated on the differential. The change of surface creates extra work for the mechanics and the engineers, and as drivers we need to adapt our driving style overnight. Our car showed winning speed on gravel in Finland and the performance was also there on asphalt in Germany, so I believe we should be very competitive."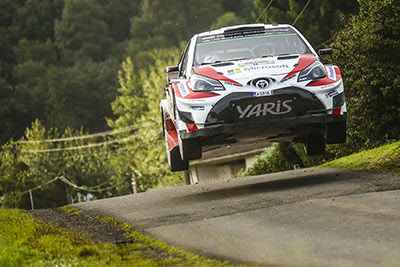 Juho Hänninen said:
"The car has felt good in testing, just like it did in Germany. We plan to continue in the same way in Spain. Friday will be challenging for me because the stages are exactly the same as recent years and I haven't done this rally for a while, so I will need to push a lot on Friday in order to be in the fight. But unless it rains like last year, I don't think the time differences will be too big. Then there will be some new stages on Saturday and Sunday, which should help."
Esapekka Lappi said:
"Spain is a really challenging rally with the mix of gravel and asphalt. It's a completely different type of rally to what we are used to. The gravel part is similar to Portugal in my opinion, and then the asphalt stages are quite unique: I think they're the best stages on asphalt in the world. They are pretty clean and smooth, and are not as twisty as Corsica and not as narrow as Germany, so really enjoyable to drive. I'm really looking forward to it. There were some ups and downs in Germany but in the end, we could match the speed of the others and our performance should be good on both surfaces."
Onebet Adapta WRT
Mads Østberg is back after missing Rally Germany. His co-driver will be Torstein Eriksen. He's been keeping busy though. Its two months since the last WRC event for Mads, but he has had competitive outings in the meantime. Three weeks ago, he did a couple of races as a guest driver in the Swedish Porsche Carrera Championship, and with good results. Last weekend he drove the last round of the Norwegian Championship with his Fiesta WRC and Emil Axelsson as codriver. As expected he won the rally with a clear margin.
Mads explains, "The Porsche drive in Sweden obviously couldn`t compare with rallying, but it was valuable driving experience on tarmac. And I wasn`t too bad as a tarmac racer, really! The rally in Norway was used as a gravel test, and we had very good progression trying different set-ups during the day. The rally also gave me the chance to have Emil Axelsson in the car with me, as we are still evaluating different co-driver choices for next year"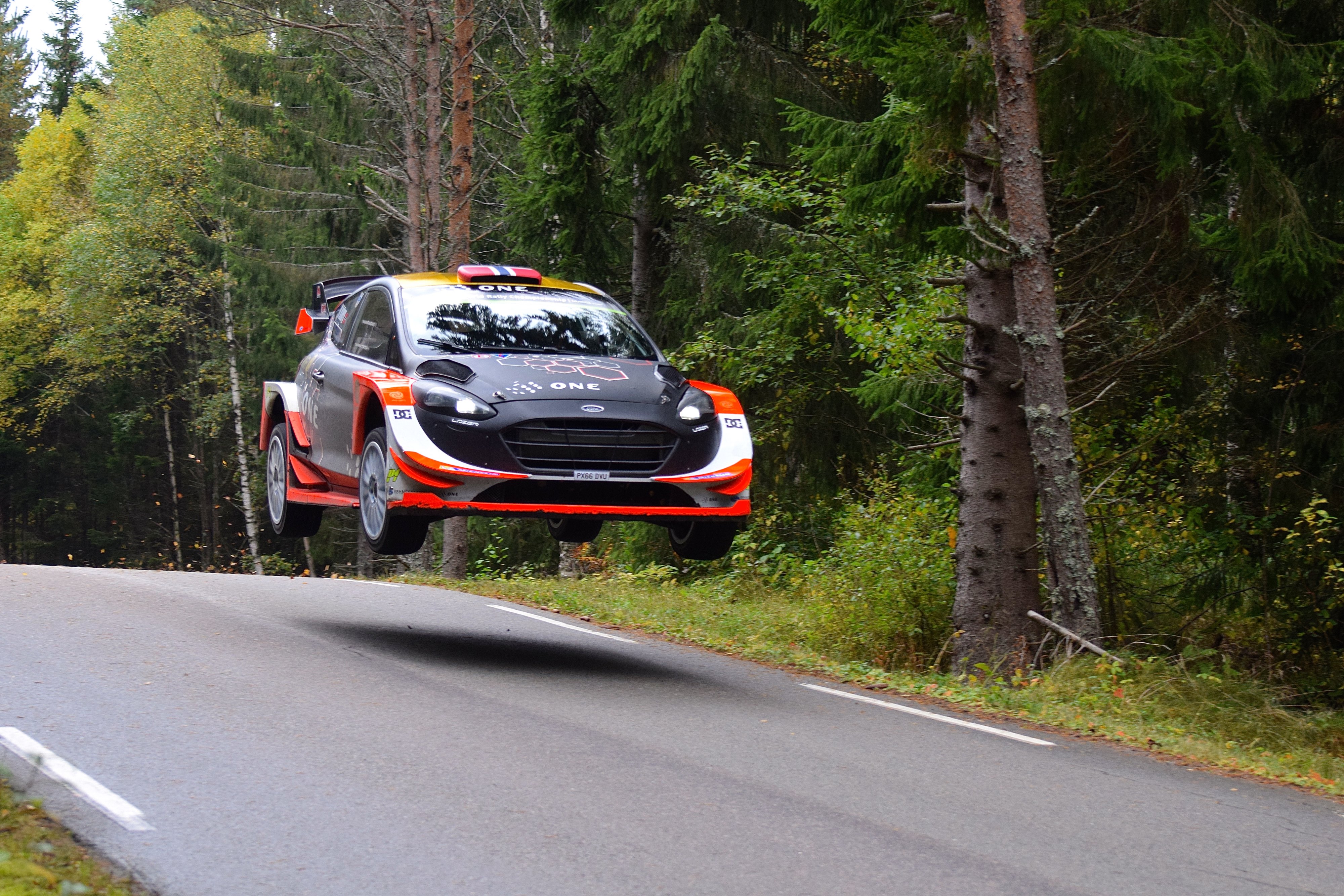 Final words to the Team Principal's.
M-Sport WRT Team Principal, Malcolm Wilson OBE, said:
"We've had a fantastic season to date, and we're now entering the decisive final phase. The competition could not be closer and the next three rallies will be crucial – Rally Spain in particular.
"With its mix of gravel and asphalt, this event is truly unique and the teams will have to master both surfaces in their pursuit of victory. Having secured a podium on every event this season, the Fiesta has proven competitive on every surface and we hope to see that continue next week.
"Sébastien certainly knows what it takes to win here, and Ott and Elfyn will both be determined to settle a few scores. A strong result will be imperative to the outcome of the championship, and that is exactly what we aim to deliver.
"It won't be easy by any stretch of the imagination, and the competition will be extremely tough, but I have confidence in the team who are working their hardest to deliver our best."
Hyundai Team Principal Michel Nandan said:
"We have had a long summer break but we have used the time wisely to try and turn around our recent misfortunes. Finland and Germany were both frustrating, and saw us lose ground in the championship. From Spain, and in the final rounds of the season, we are determined to do all we can to catch up. We welcome Andreas and Anders into the team from Spain, an event they won memorably in 2015, alongside Thierry and Dani, who have both had podiums at this rally. For Dani, it will be extra special, as his home event, so we are in optimistic and hopeful mood. With an upgraded Hyundai i20 Coupe WRC, our primary target is to get back onto the podium."
Enjoy the event, and let's see who comes out our winner!