The foundations for Kris Meeke and Paul Nagle's victory were laid on Friday's gravel stages. After just two stages, Kris was in the lead and despite some mistakes in the afternoon, at the end of that first day's action, he was just three seconds from the lead.
Overnight leader was Andreas Mikkelsen on his first outing for Hyundai. His fellow teammates, Dani and Championship challenger Thierry were in sixth and seventh position. The wrong tyre choices and hotter than expected conditions on the stages had meant that there was little that Thierry could do other than get through the day and see what he and Nicolas could do on the smooth wide tarmac on Saturday.
It was an impressive Friday for Seb Ogier that despite running at the front of the field on the loose gravel, he was just 1.4 seconds from the lead. Ott Tanak was also driving very well. Third on the road, he maintained top ten pace in each of the six stages and holding fourth overall.
Also setting a great pace in his Fiesta was Mads, although in the final stage of the day the heater in his car got stuck on! What with the high temperatures outside, plus the heater on, it quickly became unbearably hot inside the Fiesta WRC. The two Norwegians therefore did well to make in to the end of the stage, just five seconds from the lead.
The first retirement of the event was Jari-Matti in his Toyota. After a very solid start in the morning, he won the first stage of the afternoon, but later in stage five he noticed that the car was starting to lose oil. This was the result of a strong impact under the car which made the lubrication system fail. He would not start the final stage of the day, and the damage to the engine would prove to be too severe. The team would be looking to Juho and Esapekka to bring the team some good results.
Elfyn Evans, running on D-Mack tyres, would start well, but after struggling in the afternoon, it was a case of get around and see what he could do on Saturday.
Here's the driver quotes for day one.
Andreas Mikkelsen said: (1st)
"We could not have asked for a better start to our Hyundai Motorsport career. It has been a good day and I have been pleased with our approach. We started this morning carefully, to understand the car's behaviour and generally just finding our feet."
"A few changes to the settings allowed us to gain some time through the first Terra Alta run. The car felt very stable and there were no surprises. In the afternoon, we became more and more confident in the car. The final stage wasn't ideal; we thought we had a puncture so took it a bit easier. We made it to the end safely and it's nice to be fighting at the very top. It's really close but it has definitely been a positive start for Anders and myself."
Sébastien Ogier (2nd) said:
"I'm really happy with our day. It wasn't easy, but our position this evening is really amazing. Being so close to the lead after a full day opening the road is not something we expected, but it's a very nice surprise.
"The gaps are all so close so we're all going to have to keep pushing tomorrow. For sure Andreas [Mikkelsen] and Kris [Meeke] will push hard, but I've always had a good feeling with the Fiesta on Tarmac so hopefully we can stay in the fight for the victory.
"But the most important thing for us was to stay ahead of Ott [Tänak] and Thierry [Neuville], which we have managed to do so far. Our target is clear, and we will keep our main focus on Ott, Thierry and the Championship fight."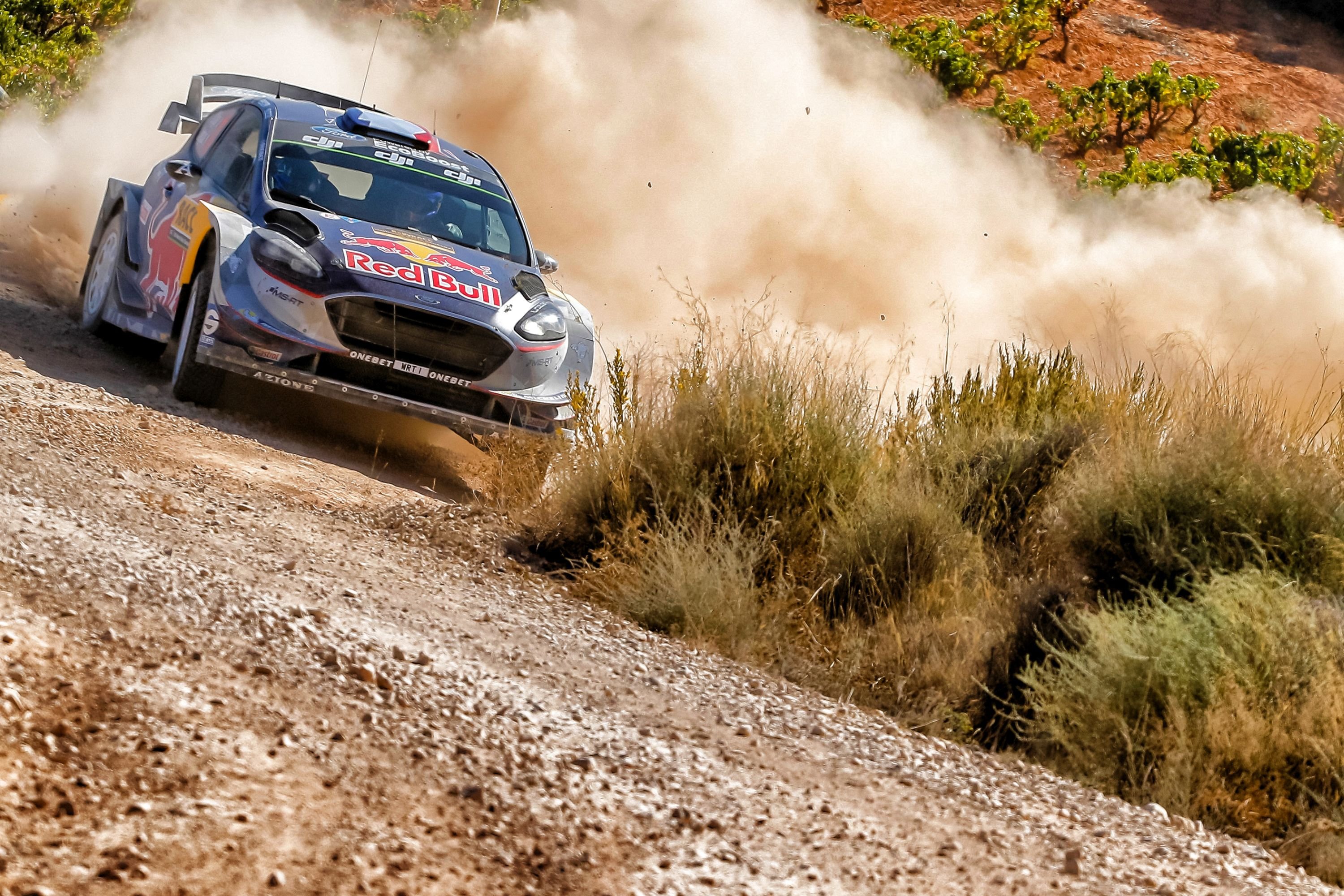 Kris Meeke (3rd) said:
"This morning, we didn't make the right tyre choice. The soft tyres went off on Terra Alta, so I had to manage my pace a little and drop some time. It didn't matter that much, because the gaps remained pretty small. On hard tyres, I was able to push almost from start to finish and I really enjoyed driving the C3 WRC. It's a bit frustrating to have made a mistake on SS4; if it weren't for that, I'd be leading. But in any case, I'm in a good position and am pleased with the day."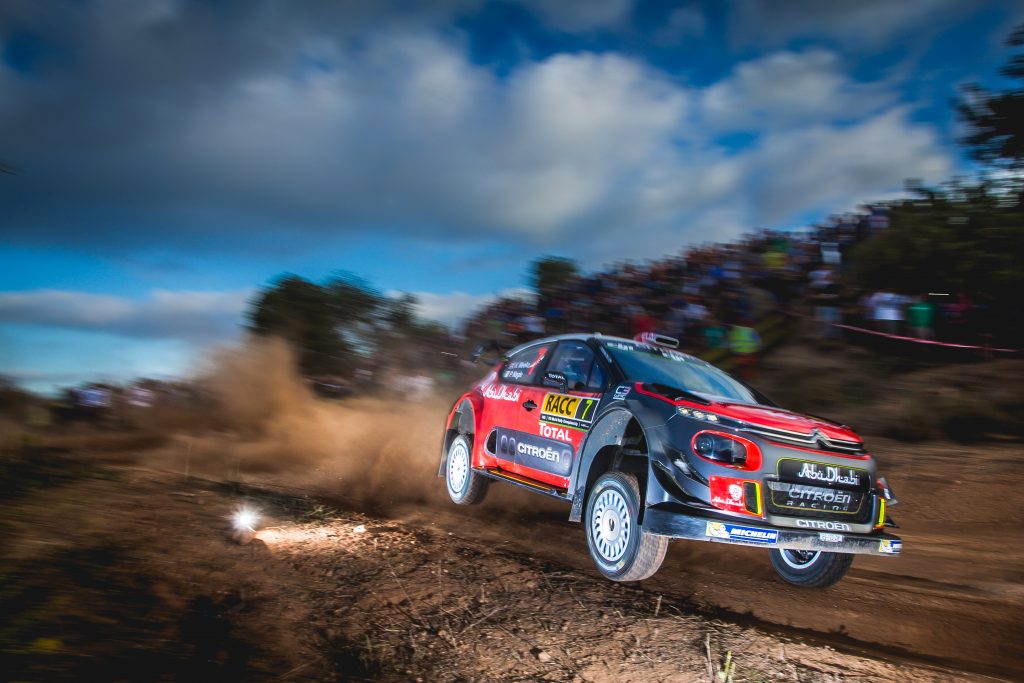 Ott Tänak (4th) said:
"Overall I think the performance has been very good today. We expected to lose quite a lot with the loose gravel but actually the gaps are very small at the end of the day.
"It will definitely still be interesting tomorrow. It looks promising for the moment so let's see how it goes in the morning and if we can find a good rhythm. These Tarmac roads are very unique but also very enjoyable, so we'll try to find a good set-up with the car and see what we can do."
Mads Østberg (5th) said:
"Really disappointing with the heater, and extremely hot and uncomfortable for us both with nearly 100 degrees Celsius inside the car. It`s hot enough inside these cars without hot air blowing into it, but we didn`t manage to turn it off."
"As it was a very long stage we lost a bit of concentration and focus and of course we lost some time. Still I am happy with our performance this Friday, without the problems on the last stage we could have been in the lead. We also had some issues with dust coming into the, but that we could cope with."
"In the preparation for the rally we have concentrated mainly on the tarmac set-up and driving. This will be the first time I drive the Fiesta "in anger" on tarmac, and we have much less experience with this than our competitors. A special challenge for me will be the much more advanced aerodynamics on the 2017-car than the car I have driven before. The aerodynamics plays a much bigger role on fast tarmac roads than on the loose."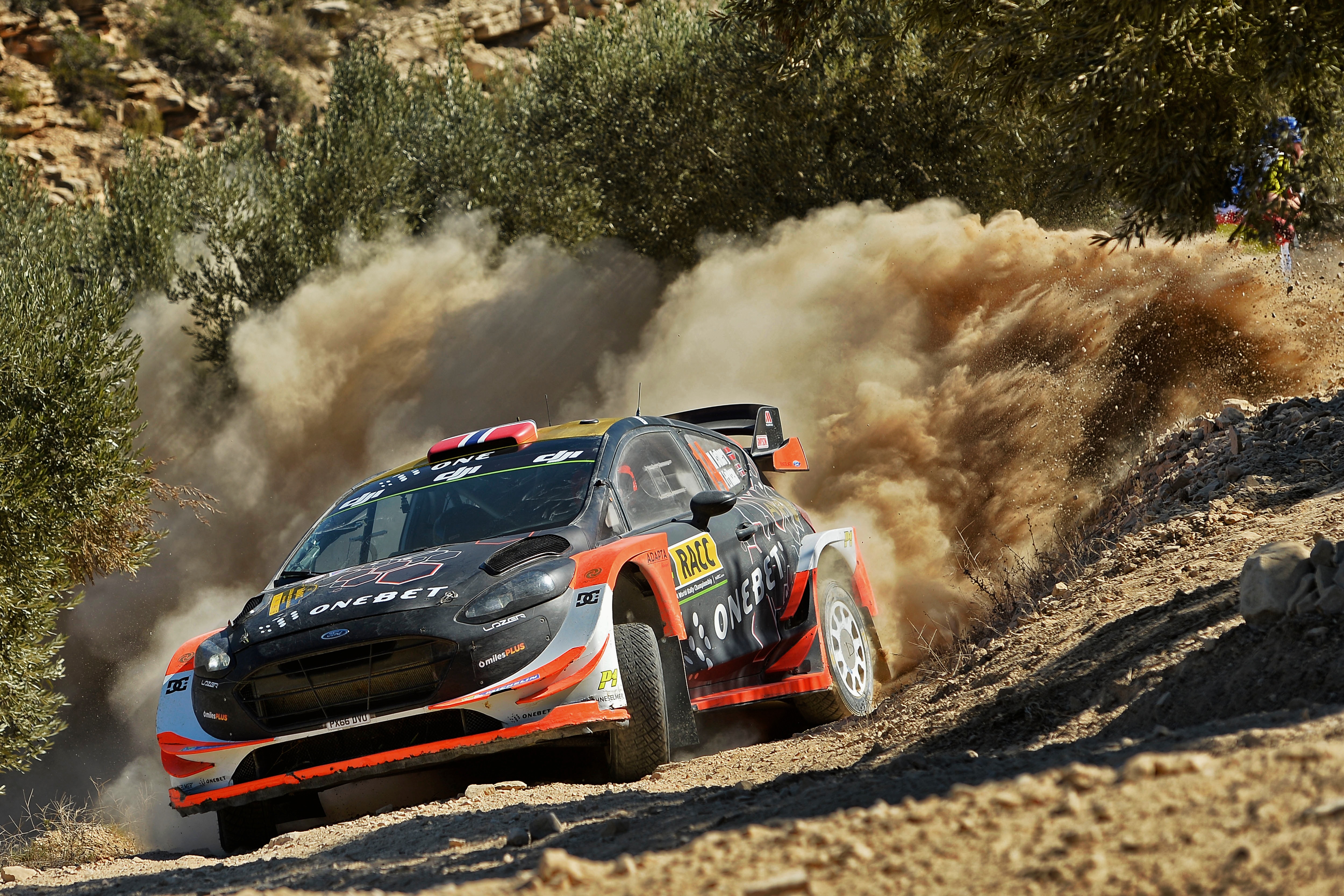 Dani Sordo (6th) said:
"It is great being back rallying at home, and I am so thrilled with the support of the fantastic spectators. We had a solid start today. The morning loop was tough for tyre selection, as the softs were a bit too soft, and the hard compounds were a bit too hard. However, we found a good compromise and it was a very close fight at the front. The grip levels were better in the opening afternoon stages, and I was pretty happy with the car. The repeat of Terra Alta was more slippery with not much traction, but we made it through the opening day in a respectable position – and with only ten seconds to the lead, I think it will be an exciting battle this weekend."
Thierry Neuville (7th) said:
"We know what we need to do this weekend, and our sights are firmly set on achieving that. It wasn't the easiest of starts after we opted for soft tyres on the opening loop. The temperatures were higher than we expected compared to our data from testing. We started to lose grip quite early in the long Terra Alta stage. It was a real pity because we had a good feeling in the car and we were pushing hard. In the afternoon, we were carrying six tyres, which slowed us a bit too much, particularly in the repeat of the long stage. It is very close on the timesheets, so although we are not in the position we would want to be, we are definitely in striking distance."
Jari-Matti Latvala (ret) said:
"In the morning it was difficult and the car was oversteering a lot, but we made some changes and things were starting to get better. We won stage four. I made a couple of mistakes in stage five and then we noticed we were losing oil, and before we got to stage six the engine stopped and wouldn't start again. At the time we didn't know whether anything was damaged but sadly it will not be possible to restart tomorrow."
Juho Hänninen (8th) said:
"Today was not as good as I had hoped; I lost too much time to the top guys. I wasn't fully confident, I was hesitating in some places, and you can easily start to lose time with that. I was struggling a little with the rhythm when the grip was changing. Tomorrow we need to make it better. There are some really nice stages coming up so I'm looking forward to that."
Esapekka Lappi (10th) said:
"This morning I was happy with the balance of the car but then on the last stage I overheated the brakes and lost them completely towards the end. In service we made some changes to the suspension and on the first stage this afternoon, which was really smooth, it helped us to set a good time. But I really struggled on the last one with the dampers in these settings. We were a bit unlucky today but at least we have done the stages twice, which is good experience, and tomorrow will be a new start for everybody on asphalt."
Stéphane Lefebvre (9th) said:
"After a long break, it was difficult to come back and compete at event that is almost unknown to me. I took it easy in the trickier sections and pushed when I felt more confident. We didn't make any mistakes and I managed to add to my experience. The two passes on Terra Alta showed that you really need time to understand this type of stage. We'll have to reset in order to tackle tomorrow's leg on tarmac in the best possible shape."
Elfyn Evans (11th) said:
"The feeling in the first two stages was okay but it's fair to say that we struggled after that. This just wasn't our day, but we made it through and tomorrow is a completely new day with a completely new surface so let's see what we can do.
Khalid Al Qassimi (19th) said:
"I had a good feeling this morning, although I felt the car lacked precision on occasions. I was cautious, especially on the tarmac section on Terra Alta. We made quite a lot of progress with the set-up during service and I was happy with the handling. I think the upgrades on the dampers are a definite improvement."
Saturday morning dawned warm and sunny. The cars had been switched into tarmac spec and were ready for the day's action.
Kris Meeke took the lead from overnight leader, Andreas, in the first stage of the day and then proceeded to pull away from his closest challengers.
The Hyundai's all experienced problems throughout the day with Andreas and Dani both hitting rocks hidden at the edge of the road in stage 12. Thierry's rally wasn't going so well either, suffering hydraulics problems which affected his handling of the car. This lead to a spin before stage nine which resulted in damage to the rear of the car. The team did a good job to get the car fixed before the afternoon stages and this lead to a better afternoon for the Belgian driver.
M-Sport duo Seb and Ott were both driving well, with just minor issues holding them back through the morning, mainly being setup. With some tweaks, they Seb was able to push much harder and won all three afternoon stages. Ott heard a strange noise from the gearbox, so the team decided to change it during the midday service break.
The remaining Toyota drivers, Juho and Esapekka both enjoyed a very good day on the unique Spanish roads. Juho was third fastest on the opening stage before winning stage eight and nine. Lappi was focused on understanding the level of grip available, and with an imperfect setup on the car, struggled for confidence. However, after making a few changes in the service break, he felt more confident and this lead to a better afternoon.
Mads Østberg had a good day too. Despite hitting the same rock in stage twelve, that had put Andreas and Dani out, he got some luck and was able to finish. There were further technical issues with the car, but Mads made great progress throughout Saturday and completed the day in sixth.
Let's hear from the drivers then.
Kris Meeke (1st) said:
"Today couldn't have gone any better, to be honest. We've known about the potential of the C3 WRC on tarmac since the rounds in Corsica and Germany, but I was nonetheless a bit apprehensive because we hadn't done any pre-event testing on this surface. The first stage looked like it would be tricky with the rain, but everything went well. The rest of day went much the same way, although it was pretty close with the other drivers. I'm very pleased to be leading and I obviously want to convert this first place into a win tomorrow. There are still six stages to go before we get there, the first of which will be contested in the dark. So, we won't get ahead of ourselves: one step at a time!"
Sébastien Ogier (2nd) said:
"The general picture is a positive one for us at the moment and, if we can secure this podium at the end of tomorrow, it will be another good step towards the championship.
"Of course, I always want to fight for the victory but, realistically, I think Kris [Meeke] is probably a bit too far ahead. We lost quite a lot of time to him this morning when I wasn't super confident with the car. When you're not perfectly committed you lose tenths everywhere and that can easily amount to ten seconds at the end of the stage.
"We worked hard on the set-up throughout the day and I had a much better feeling this afternoon. Hopefully we can start tomorrow morning with that same feeling as we will for sure still have to push."
Ott Tänak (3rd) said:
"The podium is always the target, and we're in a good position to secure that at the moment so it has been a good day. We weren't so happy with the feeling in the car first thing [this morning], but we soon found a good balance and improved the times after that.
"The goal is to secure as many points as possible but, as we have already seen, everyone is pushing very hard and it's difficult to make the difference. Even if you have the perfect stage, you can still miss out on the fastest time by a couple of tenths.
"Kris is very strong so it's going to be hard to compete with him, but we're still in a very competitive position and it will be important to get to the end and secure these points for the team and for ourselves. We'll certainly keep the pressure on, so let's keep it going and see what happens."
Juho Hänninen (4th)
"It has been a really good day. I was a bit disappointed after yesterday but I knew that the asphalt would be better for me. Even still, I was a bit surprised with how good the stage times were this morning. I was really, really happy with the car and I didn't need to change anything in service. I drove the afternoon the same as in the morning and it felt good. I haven't really been looking at the overall classification and it could be difficult to catch the guys ahead, but I haven't given up and I will push tomorrow for sure."
Thierry Neuville (5th) said:
"I honestly think we deserved far better than we got today. We experienced hydraulic problems at the end of SS8, which we worked on at stage-end to keep the car going. Suddenly, the car wouldn't start, and when we finally got going we had to move quickly to get to the next stage. Without hydraulics under braking we spun the car, which caused some rear damage. We checked into SS9 three minutes late, so we were given a time penalty. The team did an incredible job to get the car repaired at service in time for the repeat loop, where we were able to show good pace again. The rally is not over but it was another frustrating day and not representative of what we know we can achieve. We set some of the quickest times in the afternoon stages, and were much happier and confident with the car. It's hard to keep up the fight when you lose so much time, but others can have problems, especially with a longer than usual Sunday with six stages. We won't give up."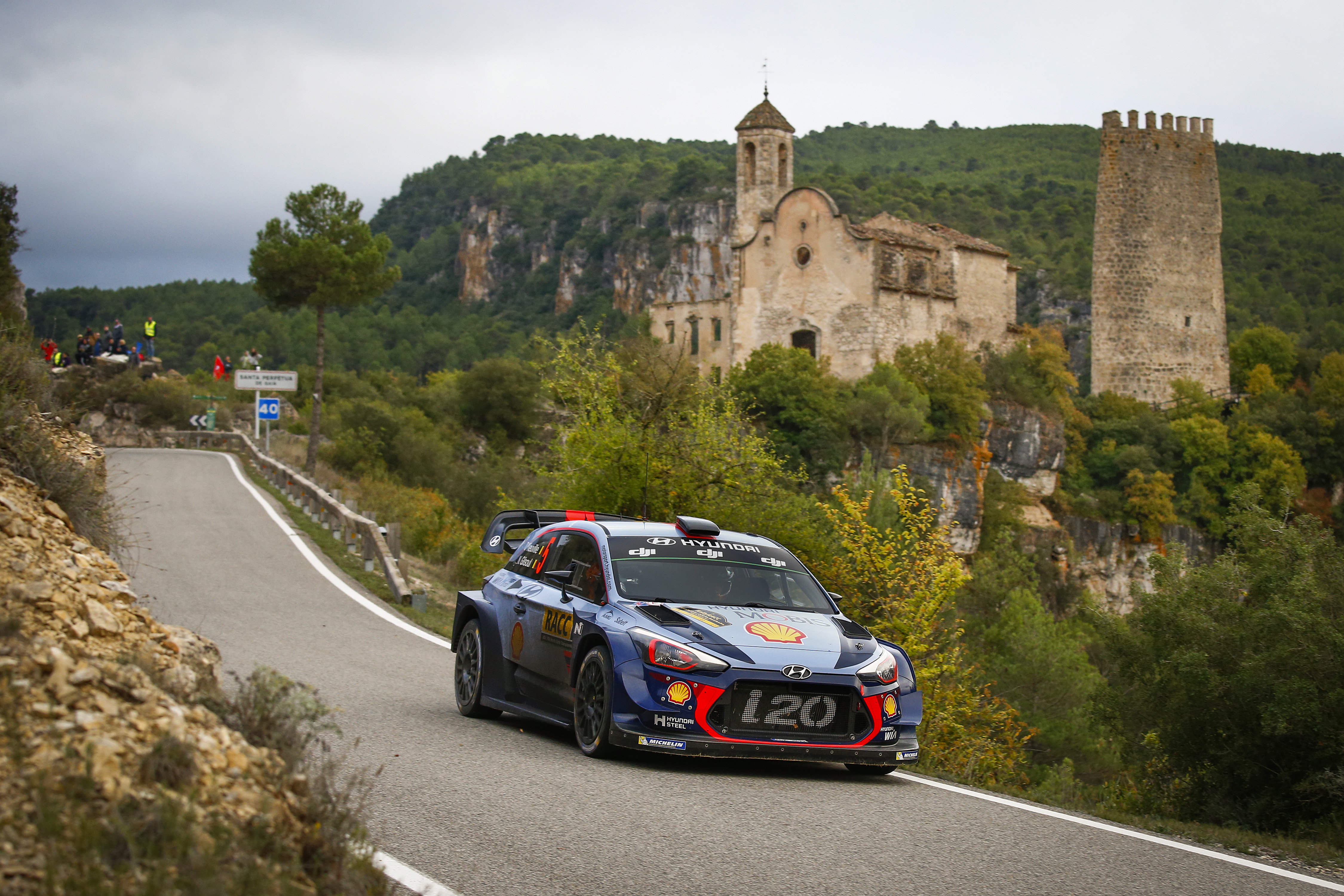 Esapekka Lappi (6th) said:
"On the first stage this morning I was not confident enough, as the grip was much higher than in my test, but step-by-step during the morning I found the confidence. I wasn't completely happy with the set-up but we managed to improve it during service and the car felt even better in the afternoon, especially on the penultimate stage: it was the best that the car has ever been on asphalt. So I'm really looking forward to tomorrow. We will try to carry on in the same way and maybe get some points on the Power Stage."
Mads Østberg (7th) said:
"It really has been the best day at school ever! This is my first proper tarmac experience with the 2017 spec car, and I was very uncertain how we would manage and how fast we could expect to be. Yesterday we led the rally after four stages, but that was on gravel. Today we have lost some time to the leaders, but that was expected. I am learning on every stage and the progression from the start of the day, not to mention my understanding of the car, has been enormous. We started the day 1 second per km slower than the fastest guys, now we are down to 0.3 seconds".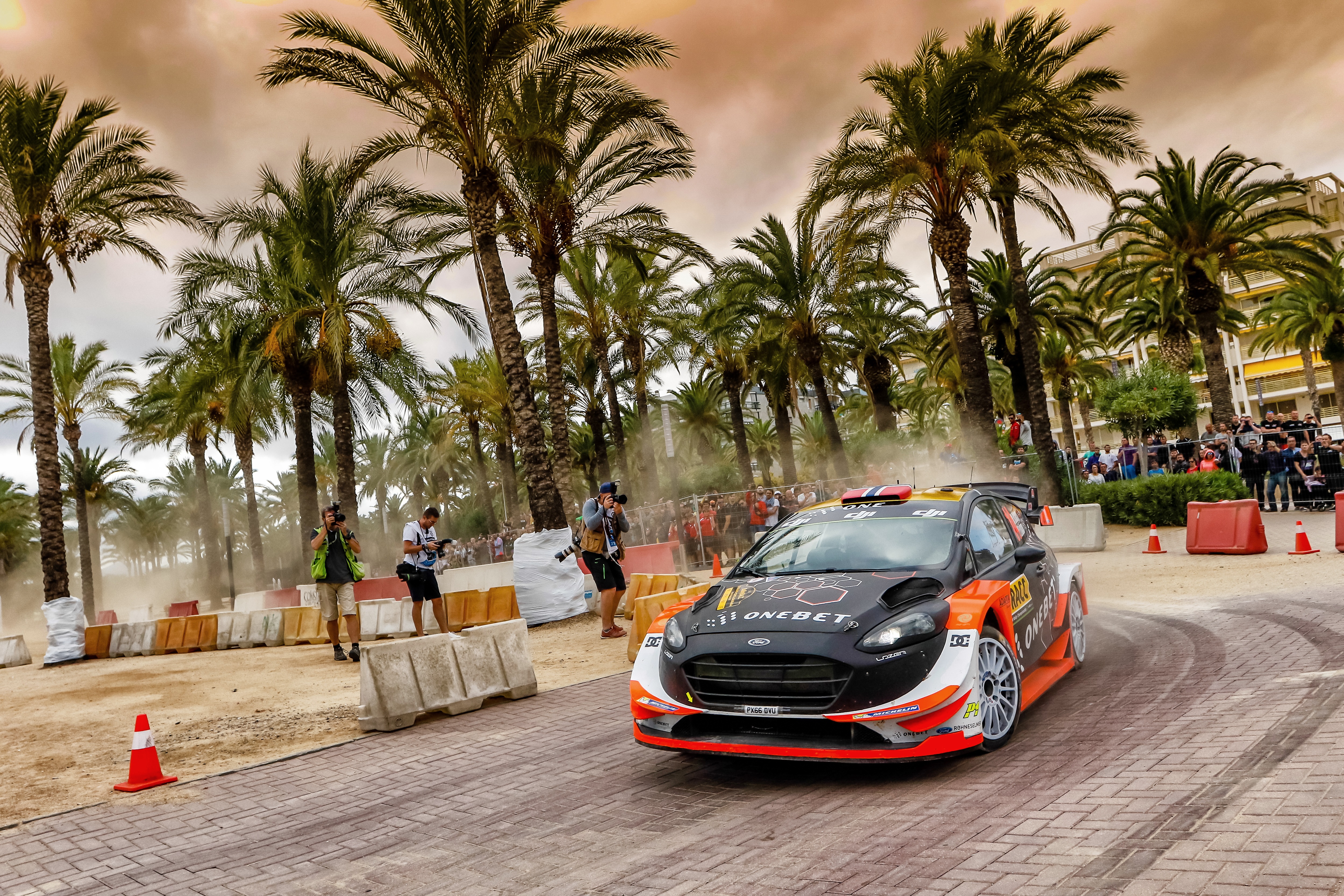 Speaking about the rock that he hit…
"There was a massive rock right on the driving line in a corner where we were cutting. I hit it hard, but for once I had some luck. The steering and a wheel was damaged, but I could continue and finish the stage without much loss."
In the final stage, Mads suffered an additional problem with the hydraulics.
"The car became nearly impossible in the very tight corners. It was frustrating, but as it was a short stage the time loss wasn`t extensive."
Finally, he explained how much fun the car was to drive on these roads.
"I feel we are getting more and more competitive, which hasn`t really been the case for some time on tarmac. The split-times on several stages shows that I am closing in on the fastest tarmac guys. I am also enjoying every moment as the driving experience with the 2017 Fiesta on these roads really is awesome."
Stéphane Lefebvre (8th) said:
"The switch from gravel to tarmac between the first and second day is not easy at all, especially as this is the first time I have experienced this situation. I feel like I made progress throughout the day, without making any mistakes. The handling of the C3 WRC helped to give me confidence. On SS10, for example, I pushed and my time was about 2/10ths per kilometre off the pace of the stage-winning driver. I'll be able to build on this experience to try and finish on positive note tomorrow."
Elfyn Evans (9th) said:
"It's been another pretty tough day for us. The pace isn't there and we've just been struggling for grip. That's the way it is and we need to focus on getting all the kilometres under our belts and collecting as much information as we can for the future."
Khalid Al Qassimi (18th) said:
"This was my first competitive outing with the C3 WRC on tarmac. And I hadn't driven on this surface for a year! I'm pleased with the day, I had a good feeling in the car. However, I opted to take it easier on the second pass, because the roads were very dirty. I preferred to stick to the lines."
Sunday morning was much like Saturday- warm and sunny.
Could Kris take his and Citroen's second victory of the year? Could Thierry score some points to stop Seb opening a big lead in the championship?
Six stages awaited the crews and no service break either. They all took spare tyres in their cars. One puncture could destroy all the hard work.
The first stage was held in darkness, but it didn't trouble Kris. He took the first stage of the day and then added the other two, thus increasing his lead to almost 25 seconds over the M-Sport duo of Seb and Ott.
Stephane Lefebvre was also pushing hard through these stages, bringing him closer to Mads. Stage 16 would see Thierry retire from the event after hitting something out of sight and damaging his right front suspension. Esapekka would also retire after sliding on some slippery tarmac and hitting a barrier.
Setting some good times as usual were Seb and Ott, ultimately bringing their Fiesta's to a double podium behind Spanish master Kris. Juho would also have a very Sunday morning, guiding his Yaris into fourth place overall- pretty impressive given that he'd not driven this event for six years!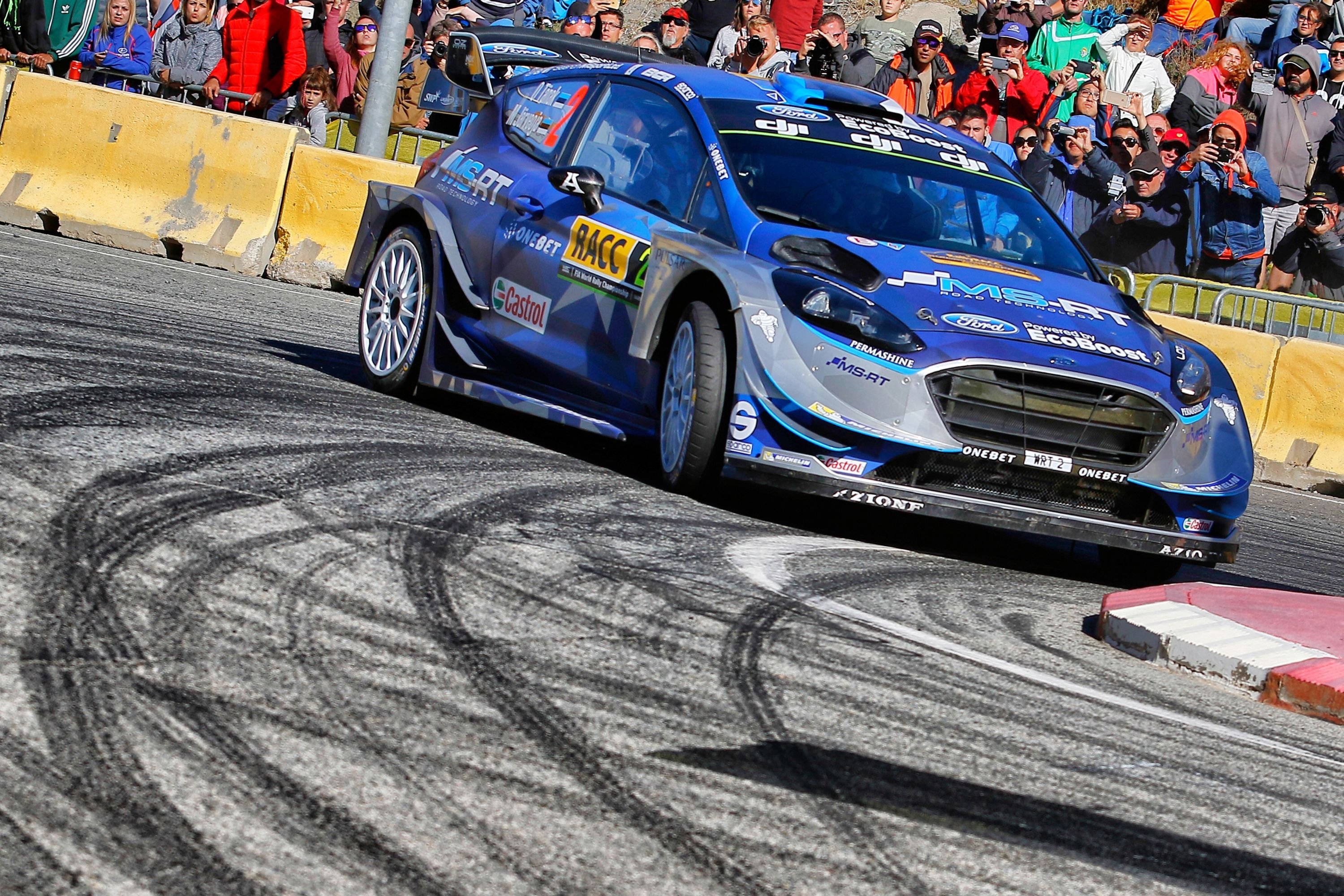 Fifth place fell to privateer Mads in his Adapta Motorsport Fiesta. With Torstein Eriksen alongside him through the weekend, they found good consistency, even leading on Friday for a short while. The pre- event testing, they did on the tarmac clearly paid in off in spades.
Dani Sordo and Andreas Mikkelsen both had an up and down event, but Dani came through and won the power stage. Andreas would suffer a broken windscreen after his bonnet came loose and flipped up in front of him! It was all good learning for next year though, having never driven the i20 on these surfaces.
Elfyn Evans in his D-Mack shod Fiesta drove as best he could to seventh place, as his tyres couldn't give him the consistent grip on the tarmac he needed. However, there were positives and it was the best result he'd scored in this event.
Rally Spain 2017 result
1 Kris Meeke/Paul Nagle (Citroen C3 WRC) 3h01m21.1s
2 Sebastien Ogier/Julien Ingrassia (Ford Fiesta WRC) +28.0s
3 Ott Tanak/Martin Jarveoja (Ford Fiesta WRC) +33.0s
4 Juho Hänninen/Kaj Lindström (Toyota Yaris WRC) +54.1s
5 Mads Ostberg/Torstein Eriksen (Ford Fiesta WRC) +2m26.2s
6 Stephane Lefebvre/Gabin Moreau (Citroen C3 WRC): +2m43.0s
7 Elfyn Evans/Daniel Barritt (Ford Fiesta WRC) +4m37.4s
8 Teemu Suninen/Mikko Markkula (Ford Fiesta R5) +8m22.7s
9 Jan Kopecky/Pavel Dresler (Skoda Fabia R5) +8m54.5s
10 Ole Christian Veiby/Stig Rune Skjaermoen (Skoda Fabia R5) +9m04.8s
Here's what the drivers had to say.
Kris Meeke (1st) said:
"This completes an exceptional weekend for me. Since our win at Rally Mexico, we've had some tough moments, but we've picked ourselves up each time by working hard. We always knew this car was terrific on asphalt and I think that we have demonstrated that since yesterday! This win shows the quality of the work done by the entire team and it gives us all a huge confidence boost for the rest of the season."
Sébastien Ogier (2nd) said:
"We've taken a really positive step towards the championship this weekend. I think we were on course to extend the lead anyway, but with Thierry's mistake that changed the picture completely and we've been able to extend the gap even more.
"We were never really in a position where we had to take all the risks, but we still had to keep a good rhythm. There was no chance to fight with Kris [Meeke] as he was just on another level on the Tarmac, but we had a clean drive and it's definitely been a positive weekend.
"It's been good news for the team too as the manufacturers' championship is now pretty much done and we can start to plan a bit of a party for their home event in a couple of weeks' time."
Ott Tänak (3rd) said:
"We feel good at the end of this one. This result was more or less the maximum we could do this weekend so a great result overall.
"I think our first day was particularly good. We were quite early in the running order and still managed to stay close to the lead. Then on Tarmac we had a couple of small issues but generally a good run and a good feeling with the car.
"For sure there will be a big fight for second place in the drivers' championship now. Sébastien is pretty safe, but there is still something to fight for and two more exciting events ahead."
Juho Hänninen (4th) said:
"I'm very happy with this result. Yesterday and today have been two of the most enjoyable days of rallying I've ever had. Yesterday was really good and today I tried to keep it quite steady because there was a big gap behind. On asphalt we have had a really, really good car. I have felt really confident with it and I haven't had to take any big risks. It's really important for me to see that I am able to fight for the leading positions even though I haven't been here for a long time."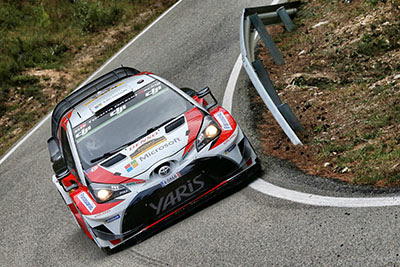 Mads Østberg (5th) said:
"The team performed brilliantly. Its five years since we did a WRC rally with our own Adapta Motorsport crew, but it`s like they haven`t been away at all. I would also like to thank Torstein Eriksen, who did only his second WRC-event and really did a professional and great job."
"The tarmac experience from Spain will be put to good use later, but not until next season as the championship finishes with gravel events. Already in less than three weeks the stage is set for fog, mud and possibly sleet and snow in Wales."
"It`s one of my favourite rallies where I have been very competitive before. The gravel stages here in Spain gave us the answer that we are right on the mark on the loose stuff. My goal for Wales is to fight for a possible victory."
Stéphane Lefebvre (6th) said:
"We tried to push and managed to claw back some time on Mads Østberg in the first loop. After that, it became more difficult with some hydraulics problems and then we lost the intercom. From that point onwards, I was just making sure I held position. Sixth place is pretty good, considering my limited knowledge of this event. I would say this result was more or less comparable with my top-five finish in Poland. Little by little, as I gain more experience, I'm improving and I hope to be able to confirm my progress in the future. Congratulations to Kris and Paul on winning again – it's a morale-boosting result for everyone in the team!"
Elfyn Evans (7th) said:
"Everyone knows that this was a tough weekend for us, but we kept our heads down and got the job done. It's not been easy, but we managed to get a lot of information from all of the kilometres and now we can start to focus on Wales Rally GB."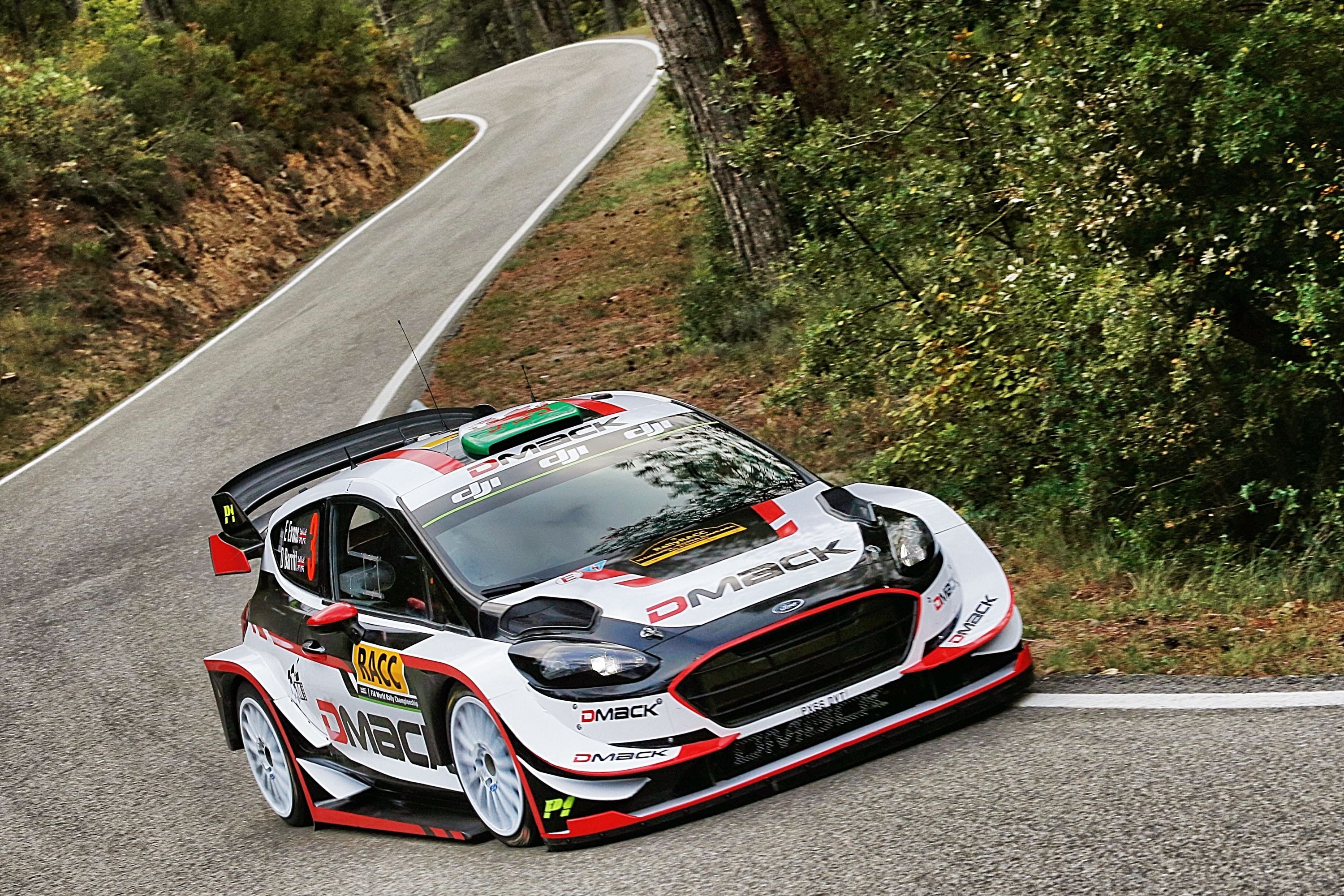 Teemu Suninen (Fiesta R5) (8th) said:
"This has been a really good weekend for us and I think we have made a big improvement on Tarmac. We've had good pace on both surfaces and I think I can be really happy with the rally and what we have done."
Khalid Al Qassimi (17th) said:
"It was a very good day. As the day wore on, I enjoyed driving the car more and more and I'm very pleased with the progress made by the Citroën C3 WRC. But I'm most pleased of all about Kris Meeke winning the rally. He had a fantastic race this weekend, it's a great moment for us all and I'm very proud to see Abu Dhabi promoted by these performances."
Well, there you go…. Two rounds left and M-Sport have almost secured the manufacturers championship. Also, it's looking very likely that Seb will win the drivers crown after Thierry failed to score any points in Spain.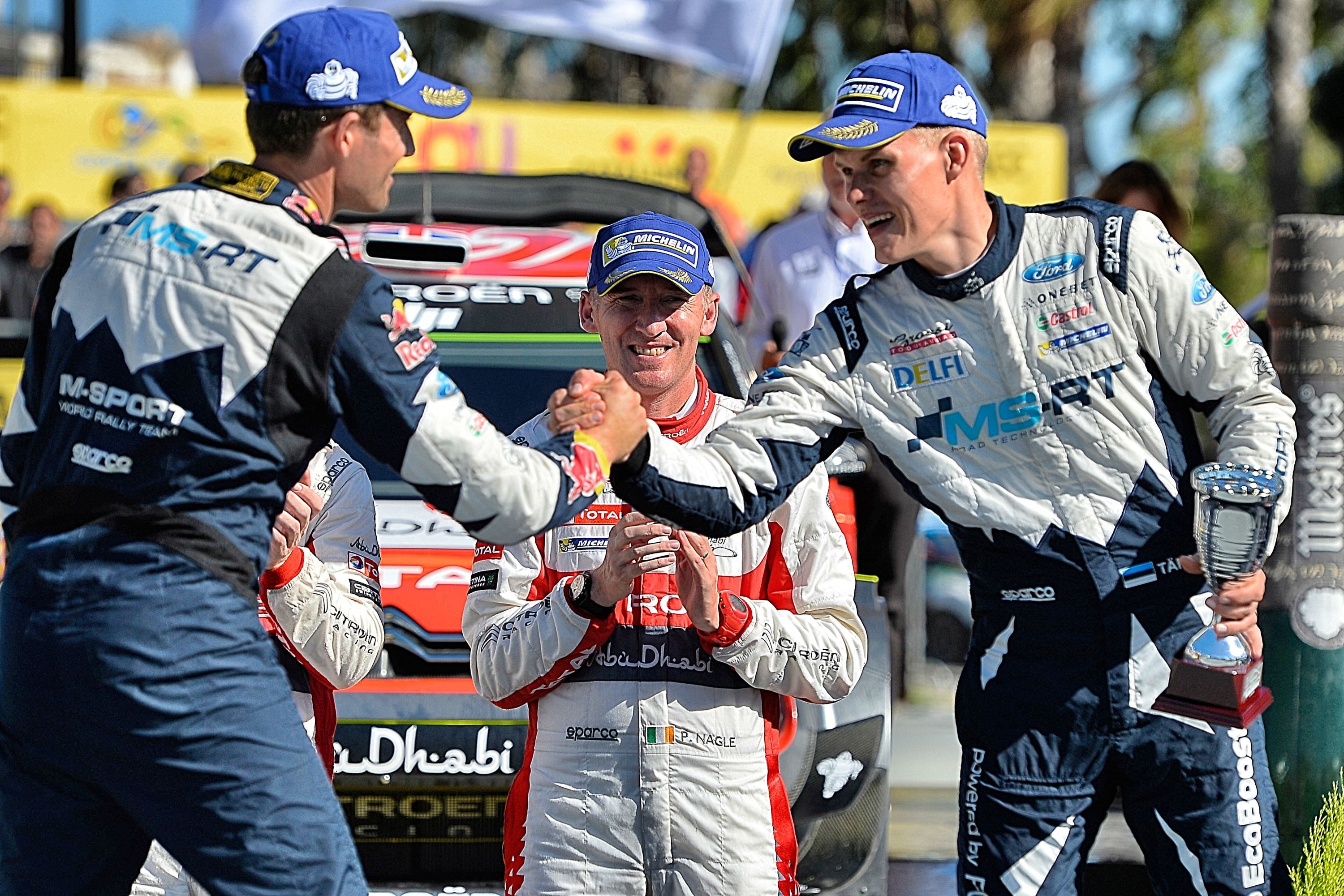 A great drive from Kris and Paul in the number 7 C3 WRC for Citroen's 98 WRC victory and his fifth as well, puts to bed any worries about his abilities behind the wheel.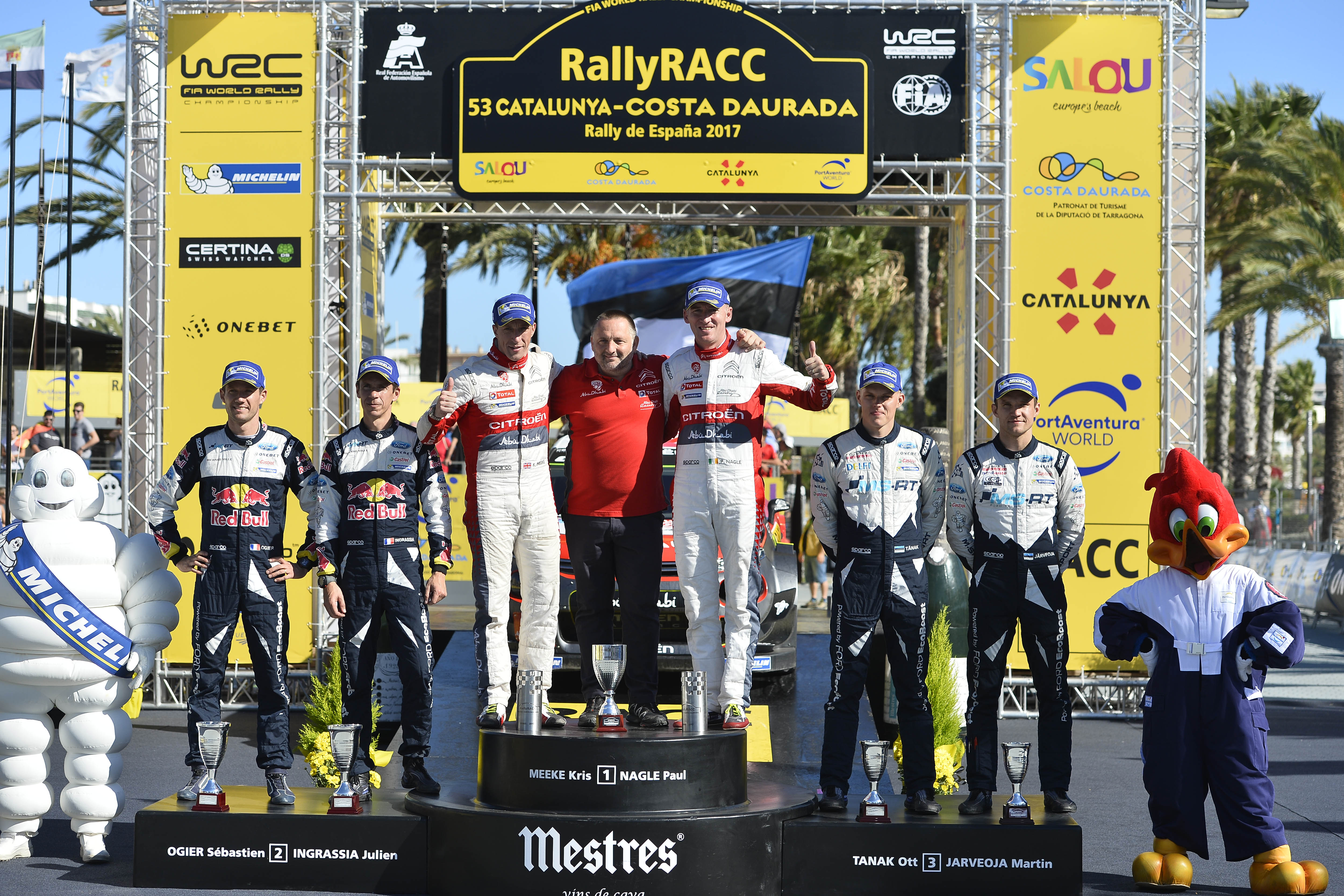 2017 FIA World Rally Championship for drivers after round 11:
1 Sebastien Ogier 198
2 Ott Tanak 161
3 Thierry Neuville 160
4 Jari-Matti Latvala 123
5 Dani Sordo 94
6 Elfyn Evans 93
7 Juho Hänninen 71
8 Craig Breen 64
9 Kris Meeke 60
10 Hayden Paddon 55
11 Esapekka Lappi 49
2017 FIA World Rally Championship for manufacturers after round 11:
1 M-Sport World Rally Team 358
2 Hyundai Motorsport 275
3 TOYOTA GAZOO Racing WRT 225
4 Citroen Total Abu Dhabi World Rally Team 198