The earlier Superpole race saw Alvaro Bautista (Aruba.it Racing Ducati) claim his second win of the weekend, after the race was red flagged with only 3 laps remaining. Toprak Razgatlioglu (Pata Yamaha Prometeon WorldSBK) finished 2nd, with Rinaldi (Aruba.it Racing Ducati) rounding out the podium.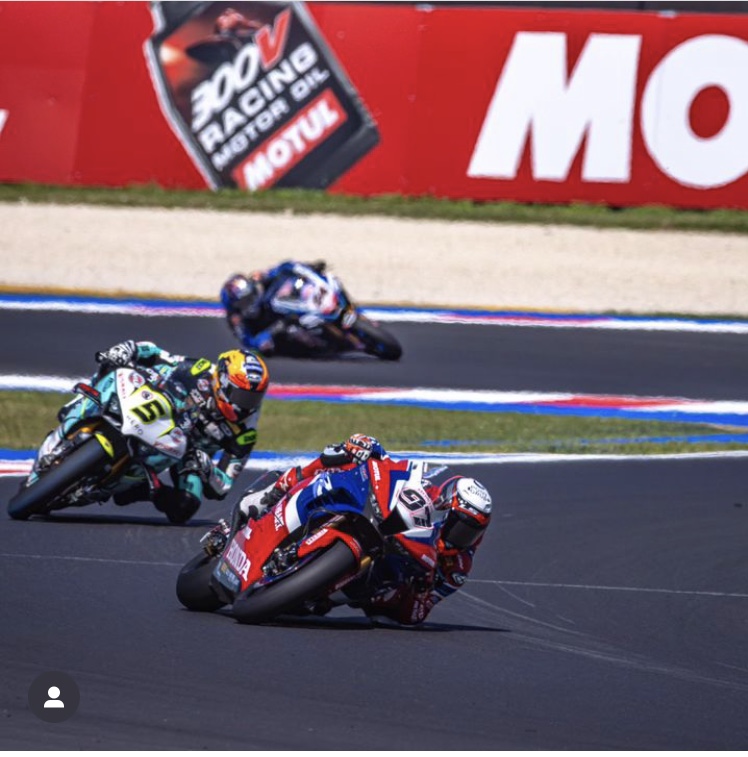 Conditions were again ideal for racing, and Bautista was looking to make it 14 wins out of 15 races so far this season. Doing so would cement his name in the history books as the first rider to achieve it. Iker Lecuona (Honda HRC) was declared unfit to race due to a leg injury sustained in the Superpole race.
Lights out then for race 2, and it was Toprak with the hole shot into turn 1 looking to make life difficult early on for Bautista. Bautista was in 2nd, Rinaldi 3rd, Bassani (Motocorsa Ducati) 4th, Rea (Kawasaki Racing Team WorldSBK) 5th, Lowes (Kawasaki Racing Team WorldSBK) 6th. Both Kawasaki's then got through on Bassani, moving Rea and Lowes into 4th, and 5th respectively. Vierge (Honda HRC) 7th, Locatelli (Pata Yamaha Prometeon WorlsSBK) 8th, Redding (Rokit BMW Motorrad WorldSBK Team) 9th, and Danilo Petrucci (Barni Spark Racing Team) 10th.
Next lap of 21 laps and Bautista takes the lead for the first time using all the top end speed of the yellow Ducati to scream past Toprak down the straight.
With 19 laps to go, Toprak now had the other Ducati to worry about with Rinaldi sizing him up for the pass. He made the move stick and Rinaldi moved up into 2nd. Meanwhile Bassani got back past both factory Kawasaki's and into 4th.
Next lap and Bautista had pulled out his lead to 1.6s. Further back it was Redding 10th, Oettl (Team GoEleven) 11th, and Gerloff (Bonovo Action BMW) 12th.
With 16 laps to go, and a stark warning for the other riders, Bautista put in the new fastest lap a 1:33.936, and extended his lead to 2.7s in the process. Meanwhile further back Vierge had now caught the back of the factory Kawasaki team mates, and was also looking for the pass. In 3rd place Toprak held a gap of 2.6s over Bassani in 4th.
Then with 14 laps to go, drama for Alex Lowes who crashed out of the race, losing control of his Kawasaki before it plunged into the gravel. He looked unhurt, and was able to walk away.
Next lap and Redding got mugged by both the GYTR Yamahas, as first Gardner, and then Aegerter got past, 11th and 12th respectively. That dropped Redding down to 14th, and then Brad Ray (MotoxRacing Yamaha) seized the opportunity and dived through. Redding now in 15th, lost 3 places in a few corners, another disappointing race for the factory BMWs.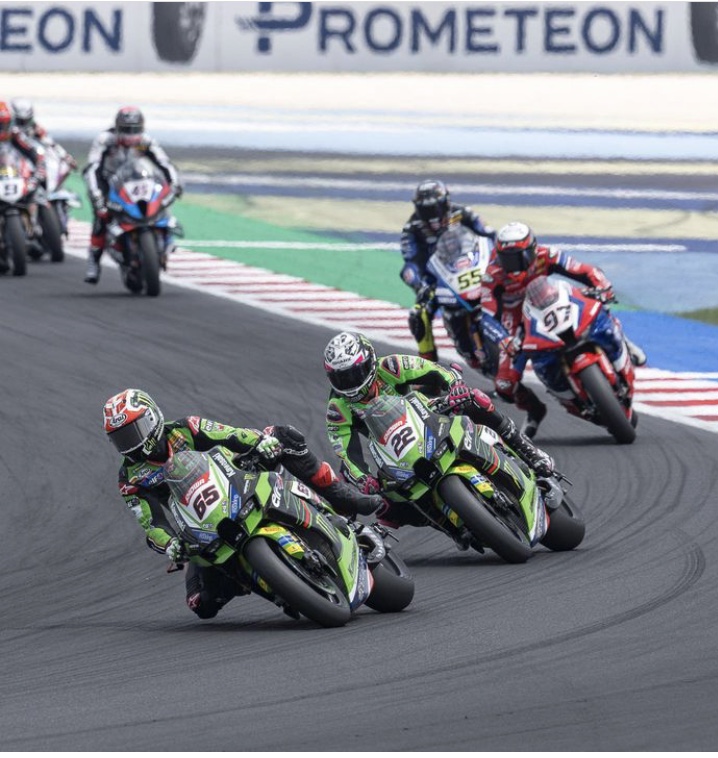 Just over half race distance and Redding had now dropped down to 17th, he seemed furious and could be seen shaking his head as he came past his pit board. Meanwhile at the front, Toprak was slowly reeling Rinaldi in and the gap was cut down to 0.2s.
With 8 laps remaining the factory BMWs were now in 16th and 17th, with the two satellite bikes of Gerloff and Baz ahead of them. The Texan, Gerloff, was best placed in 10th.
Next lap and Bautista had a commanding lead of 5.0s and was looking as comfortable as he had all season long. Meanwhile having caught Rinaldi, Toprak dived up the inside of the Italian to move into 2nd. The Turkish rider held a gap of 7.8s over Bassani in 4th. Bassani then held a gap of 1.0s over Rea, with Rea holding a gap of 1.9s over Vierge in 6th.
Not willing to concede his place to Toprak in front of his home fans, Rinaldi then ran into turn 1 too hot, collected the rear of Toprak in the process and crashed out. Toprak stayed upright and held onto his position, while Bassani was now in podium contention.
With only 5 laps remaining, Petrucci had now caught the back of Locatelli in 6th and was looking for the pass. Further back it was Oetll in 8th, Gerloff 9th, and Gardner in 10th. Drama for Baldassarri (GMT94 Yamaha) who went down into turn 3, his race was over.
With 3 laps to go, reigning BSB champion Brad Ray, seemed to suffer a mechanical issue and went back to the pits his race over. That allowed both Rokit BMWs of Sykes, and Redding to move up into 13th and 14th respectively.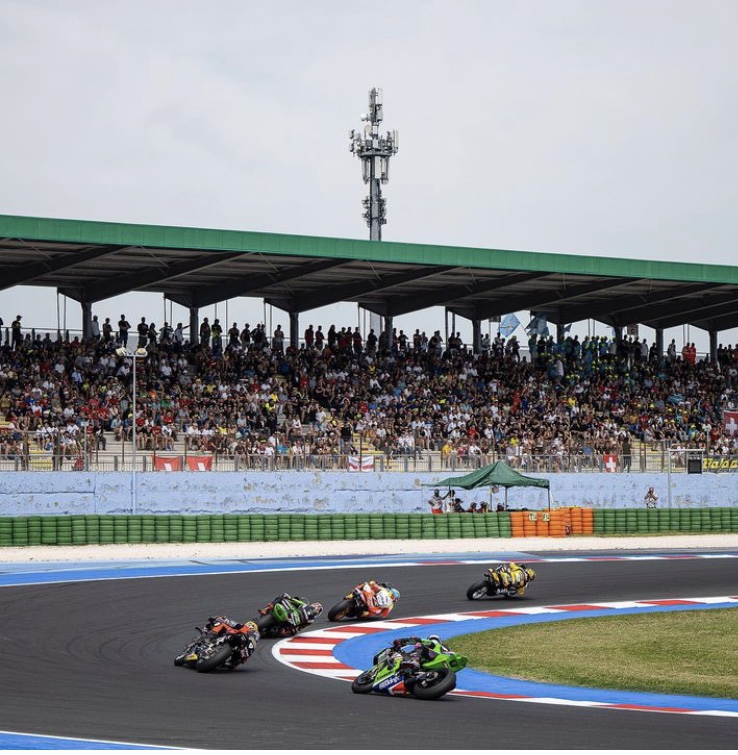 Last lap, and Bautista crossed the line with a gap of 8.4s over Toprak in 2nd. That made it 14 wins of the first 15 races in a season, and moved him into the history books. Bassani 3rd, Rea 4th, Vierge 5th, Locatelli 6th, Petrucci 7th, Gerloff 8th, Oetll 9th, and Gardner 10th.
Result top 5:
Bautista (Aruba.it Racing Ducati)
Razgatlioglu (Pata Yamaha Prometeon WorldSBK)
Bassani (Motocorsa Ducati)
Rea (Kawasaki Racing Team WorldSBK)
Vierge (Honda HRC)
Championship top 3:
Bautista – 298
Razgatlioglu – 212
Locatelli – 150