The earlier Superpole saw Jonathan Rea (Kawasaki Racing Team WorldSBK) claim the new outright lap record with a blistering 1:47.973, a time that couldn't be matched by either Alvaro Bautista (Aruba.it Racing Ducati), or Toprak Razgatlioglu (Pata Yamaha Prometeon WorldSBK) in 2nd and 3rd respectively.
Ahead of race 1, Alex Lowes (Kawasaki Racing Team WorldSBK) was declared unfit to race after undergoing knee surgery.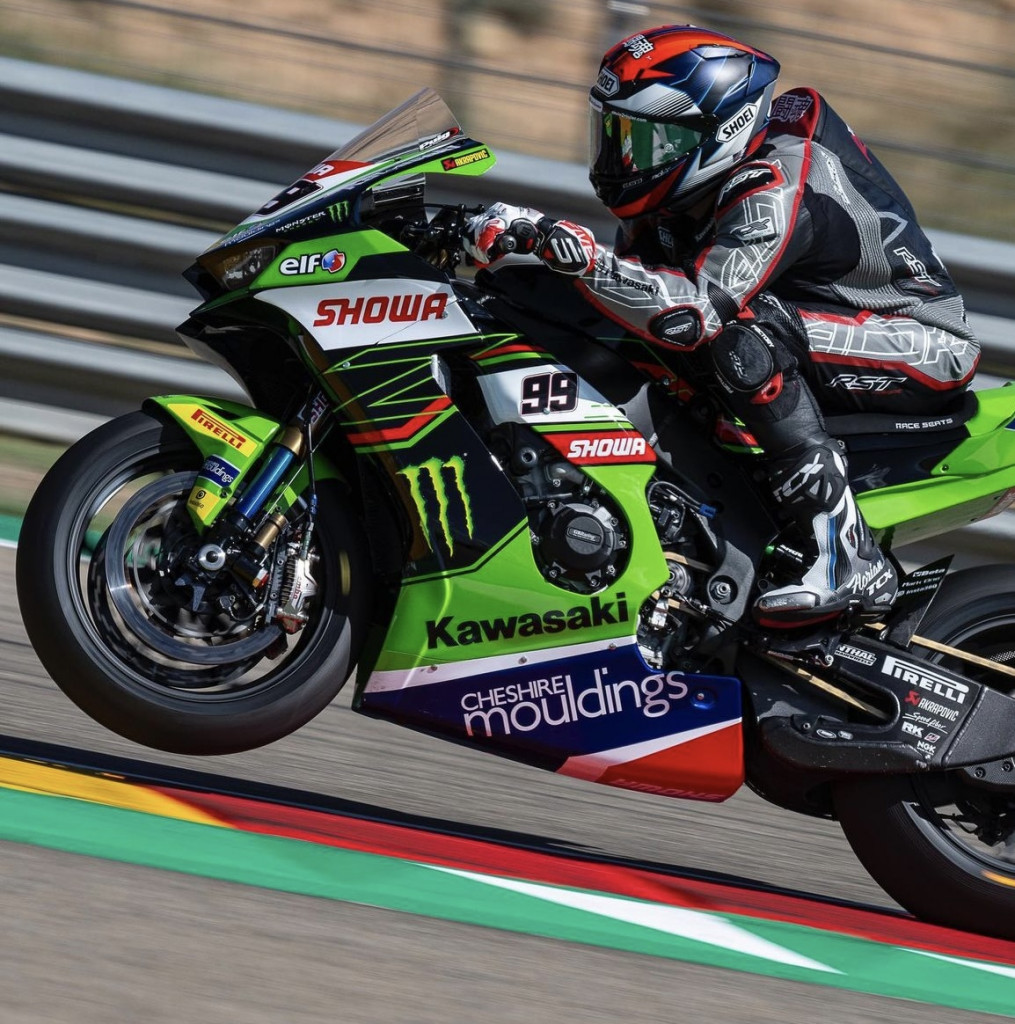 Lights out then for Race 1 and it was Bautista who took the hole shot into turn 1 under perfect conditions. Rea 2nd, Toprak 3rd, Rinaldi (Aruba.it Racing Ducati) 4th, and Locatelli (Pata Yamaha Prometeon WorldSBK) 5th.
Next lap of the 18 lap race, and positions were as follows: 1. Bautista 2. Rea 3. Toprak 4. Rinaldi 5. Locatelli 6. Oettl (GoEleven Ducati) 7. Lecuona (Honda HRC) 8. Bassani (Motocorsa Racing) 9. Vierge (Honda HRC) 10. Gardner (GRT GYRT Yamaha WorldSBK Team).
With 16 laps remaining, Bautista eager to get away from Rea, put in a new fastest lap with a 1:49.5. As had happened very often all season this trio began pulling away from the rest. Toprak held a gap of 1.5s to Rinaldi in 4th. Meanwhile further back it was 12. Petrucci (Barni Spark Racing), 13. Vd mark (Rokit BMW Motorrad WorldSBK), 14. Gerloff (Bonovo Action BMW) 15. Redding (Rokit BMWMotorrad WorldSBK).
With 14 laps left, Lecuona received a double long lap penalty, and dropped down to 15th. Petrucci was up to 10th, having started from the back of the grid after crashing in qualifying.
On lap 6 of 18, massive drama as championship, and race leader, Alvaro Bautista crashed out of the race into turn 9, losing the front end down into the corkscrew, and sliding into the gravel. He got the bike back up and rejoined at the back of the field. Toprak seized the moment and dived through on Rea to briefly take the lead, before Rea snapped straight back into turn 5 to take back the lead.
With 12 laps to go positions were as follows: 1. Rea 2. Toprak 3. Rinaldi 4. Locatelli 5. Oettl 6. Petrucci 7. Bassani 8. Gardner 9. Vierge 10. Vd Mark.
Just over half race distance and Rea was still controlling the lead with a narrow gap of 0.1s over Toprak. Toprak held a gap of 0.8s to Rinaldi in 3rd who was on a charge, and was looking good. Meanwhile at the back of the field Bautista was in 19th.
With 7 laps remaining Rinaldi had now caught the back of Toprak, joining the leading duo, and was setting faster lap times than either of them.
Next lap and Rinaldi cut up the inside of Toprak into turn 5, with an incredibly tight line to take 2nd. Toprak had by no means "left the door open", but could not defend the move.
With 5 laps left, Danilo Petrucci continued his remarkable charge from last place, and was now up to 5th, after getting through on the German, Oettl. Gardner was up to 7th.
Next lap and Rinaldi attacked Rea, briefly taking the lead before Rea fought back to keep it. Coming down the long back straight there was only ever going to be one winner, and Rinaldi powered past Rea and into the lead. Toprak then dived up the inside of Rea to take 2nd, Rea from 1st to 3rd. Meanwhile further back Bautista was up to 16th.
Penultimate lap, and after getting into the lead, Rinaldi was now stretching away from Toprak, and held a gap of 0.7s, and was looking on for the race win.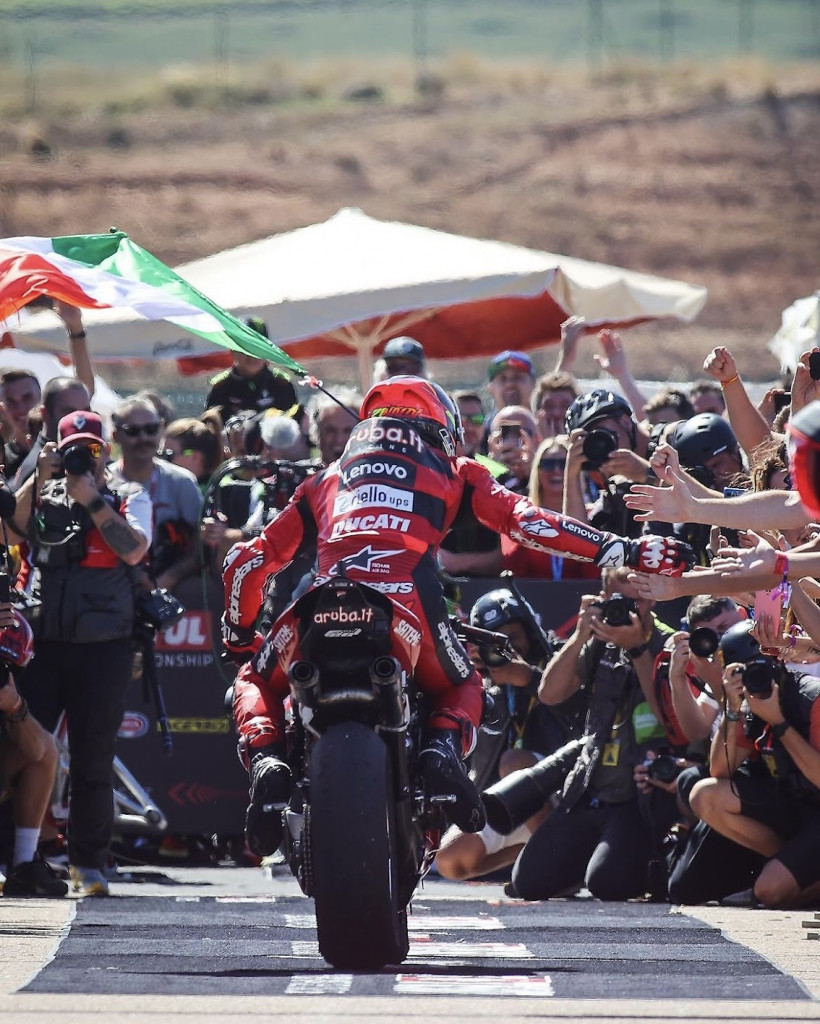 Last lap and Rinaldi crossed the line to take the win, followed by Toprak in 2nd, and Rea in 3rd. Locatelli 4th, Petrucci 5th, Oettl 6th, Gardner 7th, Gerloff 8th, Bassani 9th, Lecuona 10th. Meanwhile Bautista crashed for the 2nd time going too hot into a corner, and lost the front end. Not a good race for the championship leader.
Result top 5:
Rinaldi (Aruba.it Racing Ducati)
Razgatlioglu (Pata Yamaha Prometeon WorldSBK)
Rea (Kawasaki Racing Team WorldSBK)
Locatelli (Pata Yamaha Prometeon WorldSBK)
Petrucci (Barni Spark Racing)
Championship top 3:
Bautista – 467
Razgatlioglu – 430
Rea – 306