It's the penultimate round of the 2023 championship, and there are only two riders capable of lifting the trophy. Reigning champion, Alvaro Bautista (Aruba.it Racing Ducati), and 2021 champion, Toprak Razgatloglu (Pata Yamaha Prometeon WorldSBK).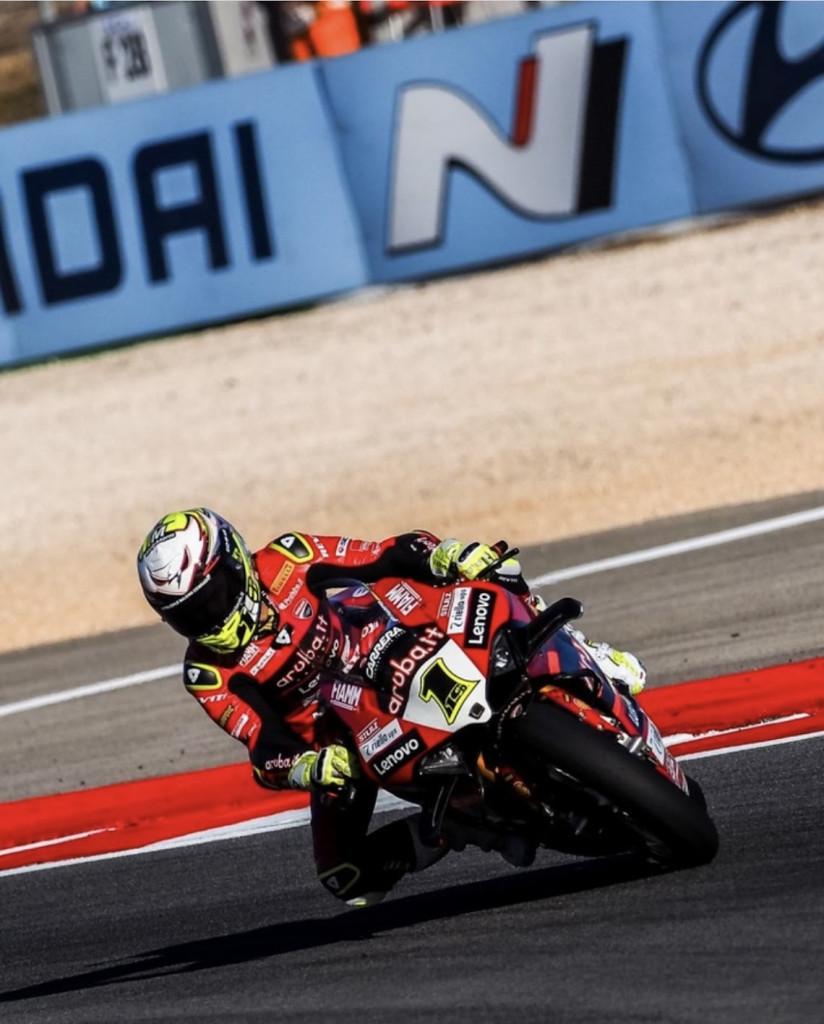 The earlier Superpole saw Jonathan Rea (Kawasaki Racing Team WorldSBK) take top spot with an unmatched lap of 1:39.620, followed by team mate Alex Lowes, and Andrea Locatelli (Pata Yamaha Prometeon WorldSBK) in 2nd, and 3rd respectively. Toprak 4th, Bautista 5th. Locatelli was subsequently penalised for not heeding a flag, and demoted to the back of the grid for race 1.
Conditions for race 1 were near enough perfect, with air temperature of 29 degrees Celsius, and track temperature of 40 degrees Celsius, with clear skies under bright Algarve sun.
Lights out for race 1 and it was Toprak with the hole shot into turn 1, Rea made contact with Bautista and dropped down to 4th, Bautista moved into 3rd, behind Lowes in 2nd, Vd Mark (Rokit BMW Motorrad WorldSBK Team) was up to 4th.
Next lap and Lowes was looking quick, and moved through on Toprak to take the lead. Positions were as follows: 1. Lowes 2. Toprak 3. Bautista 4. Vd Mark 5. Rea 6. Gardner (GYRT GRT Yamaha WorldSBK Team) 7. Lecuona (Honda HRC) 8. Rinaldi (Aruba.it Racing Ducati) 9. Petrucci (Barni Spark Racing) 10. Bassani (Motocorsa Racing)
With 18 laps of 20 left, Rea put in the new fastest lap a 1:40.743, and moved through on Vd Mark into 4th, before cutting under Bautista to move into 3rd. The leading 5 riders had now pulled away from the rest of the field.
Next lap and Lowes got mugged going into turn 1, as first Toprak dive bombed him to take the lead, followed swiftly by Bautista, Rea, and VD Mark. Lowes dropped down to 5th. Bautista then got through on Rea into turn 5 to take 2nd. Meanwhile further back, after having briefly lost contact with the group ahead, Remi Gardner was in 6th, and closing in.
With 15 laps remaining, Bautista got into Toprak's slip stream and briefly took the lead, before Toprak was able to fight back and maintain the position. Meanwhile further back it was, 7. Rinaldi 8. Gerloff (Bonovo Action BMW) 9. Lecuona 10. Bassani.
Next lap and Bautista attacked once more into turn 1, before Toprak was yet again able to snap back and retain position.
With 13 laps to go, Bautista lined up the move into turn 1 again, and this time the move stuck, and Toprak was unable to respond. Bautista now in the lead. Meanwhile further back, drama for Rinaldi who was forced to retire due to a mechanical issue. At the front Bautista put in a new fastest lap a 1:40.489, and was pulling away.
Just at the halfway point of the race, and Bautista held a lead of 0.8s. Vd Mark had now caught Lowes in 4th, the Dutchman was all over the back of him and was looking for the pass. Meanwhile further back, Gerloff was up to 6th.
Next lap and Vd Mark made a pass on Lowes into turn 1 and moved into 4th, Lowes down to 5th. Meanwhile, after having started at the back of the grid, Locatelli was up to 11th.
Next lap and Locatelli was now up to 10th, having got past Xavi Vierge (Honda HRC). Meanwhile at the front, Bautista could not shake off a stubborn Toprak, and his lead was only 0.5s. In 3rd place Rea had lost contact with the two ahead of him.
With 6 laps left, Locatelli was having a strong race and moved through on Bassani to take 9th. Further back there was a 3 way fight for 13th between, Petrucci 13th, Redding (Rokit BMW Motorrad WorldSBK Team) 14th, and Domi Aegerter (GYRT GRT Yamaha WorldSBK Team).
With 4 laps remaining, Gerloff had caught Lowes and made a pass on him into turn 1 to move into 5th. Meanwhile at the front Bautista had increased his lead to 1.0s. Toprak held a gap of 3.3s to Rea in 3rd, and Rea held a gap of 4.5s to Vd Mark in 4th.
Next lap and Gerloff had now caught Vd Mark, and attacked the Dutchman to move into 4th. The Texan was having a great race. Next up for Vd Mark was Lowes, and Gardner who both attacked him and subsequently moved up positions. Vd Mark dropped down to 7th.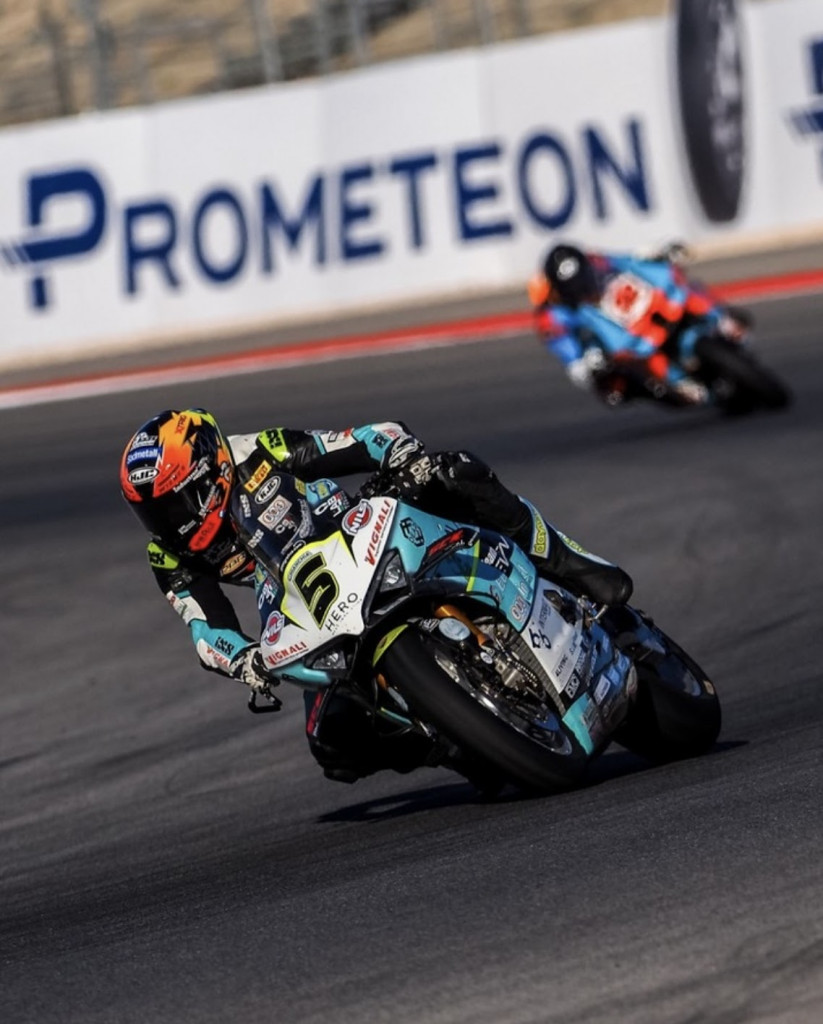 Penultimate lap and Bautista had extended his lead to 2.0s, and now looked comfortable for the race win.
Last lap and Bautista crossed the line to take the win, as well as the constructors championship for Ducati. Toprak 2nd, Rea 3rd, Gerloff 4th, Lowes 5th, Gardner 6th, Vd Mark 7th, Lecuona 8th, Locatelli 9th, Vierge 10th.
Result top 5:
Bautista (Aruba.it Racing Ducati)
Razgatlioglu (Pata Yamaha Prometeon WorldSBK)
Rea (Kawasaki Racing Team WorldSBK)
Gerloff (Bonovo Action BMW)
Lowes (Kawasaki Racing Team WorldSBK)
Championship top 3:
Bautista – 529
Razgatlioglu – 477
Rea – 344