Last round of the 2023 championship, will Alvaro Bautista (Aruba.it Racing Ducati) be able to clinch his 2nd title, or could Toprak Razgatlioglu (Pata Prometeon Yamaha WorldSBK) snatch a dramatic comeback?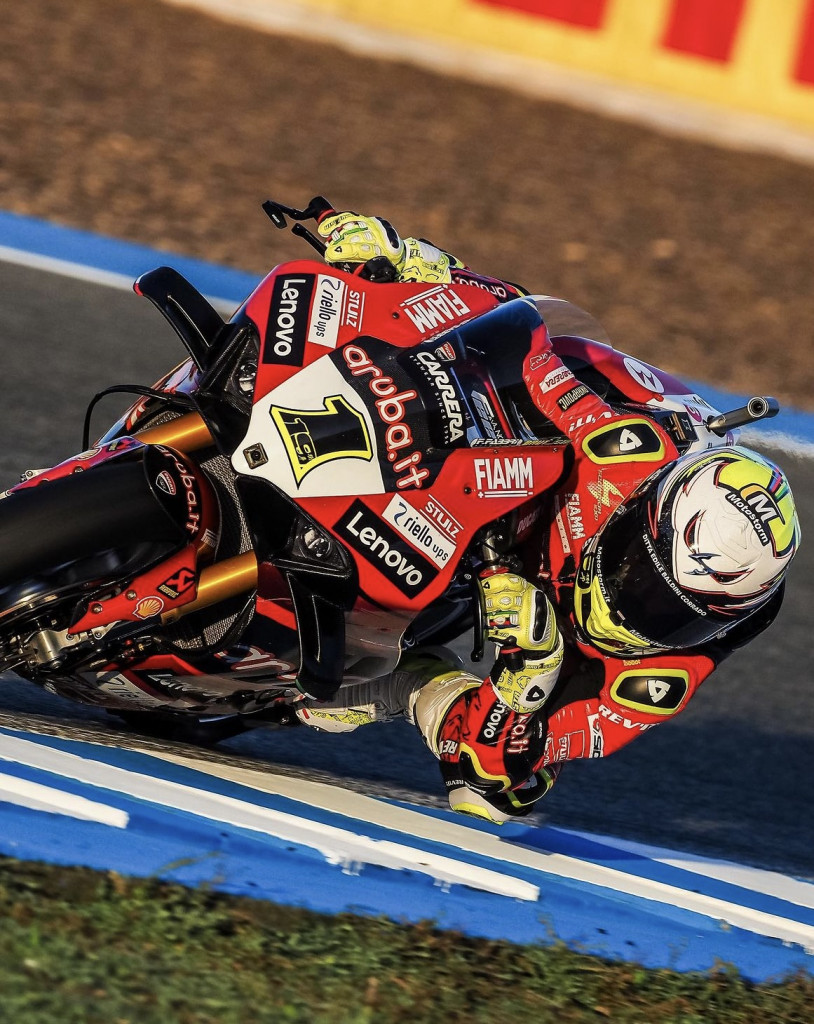 The earlier Superpole saw Bautista claim top spot, followed by Domi Aegerter (GRT GYRT Yamaha WorldSBK Team), and Sam Lowes (Kawasaki Racing Team WorldSBK), in 2nd and 3rd respectively.
Lights out for Race 1 and it was Bautista with the hole shot into turn 1, followed by the Kawasaki team mates of Lowes, and Rea in 2nd, and 3rd respectively, followed by the GRT GYRT Yamaha team mates of Aegerter, and Gardner in 4th, and 5th respectively. Rea then charged through on Lowes to take 3rd, while Toprak burst up to 4th, after only starting from 7th on the grid.
Next lap and Toprak was charging, he cut under Lowes into turn 1 to take 3rd. Positions on lap 2 were as follows: 1. Bautista 2. Rea 3. Toprak 4. Lowes 5. Locatelli (Pata Prometeon Yamaha WorldSBK) 6. Gardner 7. Bassani (Motocorsa Ducati) 8. Oettl (GoEleven Ducati) 9. Rinaldi (Aruba.it Racing Ducati) 10. Petrucci (Barni Spark Racing). Toprak then burst through on Rea to take 2nd.
With 18 laps of 20 remaining, it was Bautista who put in the new fastest lap with a 1:40.3, and held a gap of 0.4s to Toprak behind in 2nd.
Next lap and Toprak was out to upset the rhythm of Bautista, and was piling the pressure on from behind. The pressure told and Bautista made a slight mistake which allowed Toprak to close the gap down to 0.3s.
With 17 laps to go, Gardner crashed out into turn 8 after running into the back of Bassani. The Italian managed to stay upright, while the Aussie was sent cartwheeling into the gravel, with pieces of faring flying off the bike.
Next lap and Toprak responded with a new fastest time of 1:40.351, the lap times were virtually identical between Alvaro, and Toprak. Meanwhile a bad day for GRT GYRT Yamaha got worse, with Domi Aegerter plunging down the order after starting from 2nd on the grid, he was now in 21st.
With 13 laps to go, Oettl dived up the inside of Bassani to take 6th.
Next lap of the 20 lap race and Bautista held a lead of 0.1s.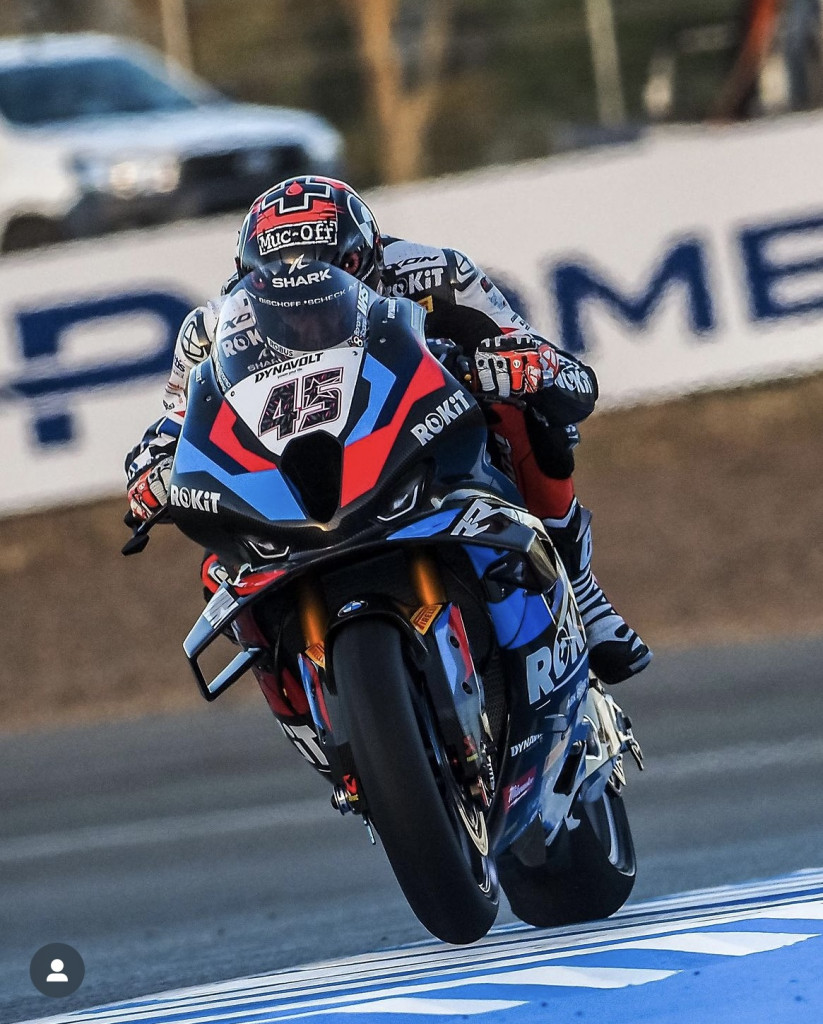 Half race distance and Bautista had pulled away from Toprak, with the  gap between them now up to 0.9s. Positions were as follows: 1. Bautista 2. Toprak 3. Rea 4. Lowes 5. Locatelli 6. Oettl 7. Petrucci 8. Bassani 9. Rinaldi 10. Vierge.
With 8 laps to go, Locatelli cut up the inside of Lowes to take 4th, swiftly followed by charging through on Rea into the final corner to take 3rd. Locatelli was finding great late race pace.
With 7 laps remaining the gap between Bautista, and Toprak had now increased to 2.9s.
Next lap and Bassani crashed out into turn 9, after Rinaldi seemed to clip the back of his Ducati. Bassani was not at all happy.
With only 5 laps left, both Oettl, and Petrucci had now caught a slowing Sam Lowes, who seemed to be struggling with grip. Meanwhile Rinaldi was given a long lap penalty for his contact with Bassani.
Next lap and both Oettl, and Petrucci did get through on Lowes, Lowes dropped to 7th. Meanwhile out in the lead, Bautista was showing no signs of slowing down, and had extended his lead to 3.8s. Toprak held a gap of 6.1s to Rea in 3rd.
Final 3 laps to go, and Locatelli continued his late charge getting through on Rea to take 3rd, Rea dropped to 4th.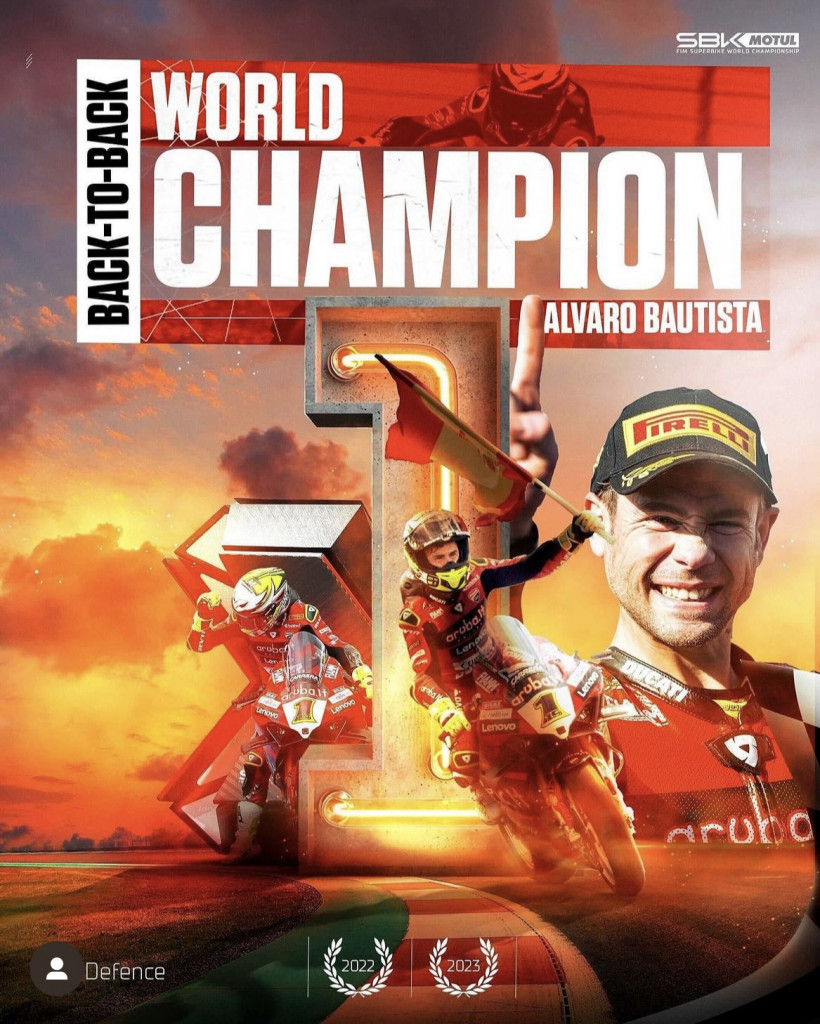 Last lap and Alvaro Bautista crossed the line to take the win, and with it his 2nd world championship title; 2. Toprak 3. Locatelli 4. Rea 5. Petrucci 6. Oettl 7. Lowes 8. Rinaldi 9. Lecuona (Honda HRC) 10. Vierge (Honda HRC)
Result top 5:
Bautista (Aruba.it Racing Ducati)
Razgatlioglu (Pata Prometeon Yamaha WorldSBK)
Locatelli (Pata Prometeon Yamaha WorldSBK)
Rea (Kawasaki Racing Team WorldSBK)
Petrucci (Barni Spark Racing)
Championship top 3:
Bautista – 591
Razgatlioglu – 526
Rea – 363