The earlier Superpole race saw Alvaro Bautista (Aruba.it Racing Ducati), recover from a disappointing race 1, and claim his first win of the weekend, followed by Jonathan Rea (Kawasaki Racing Team WorldSBK), and Toprak Razgatlioglu (Pata Yamaha Prometeon WorldSBK), in 2nd, and 3rd respectively. Could the reigning champion claim a double in race 2 ?
Perfect conditions again for race 2 with air temperature in the mid 20's, and bright sunshine.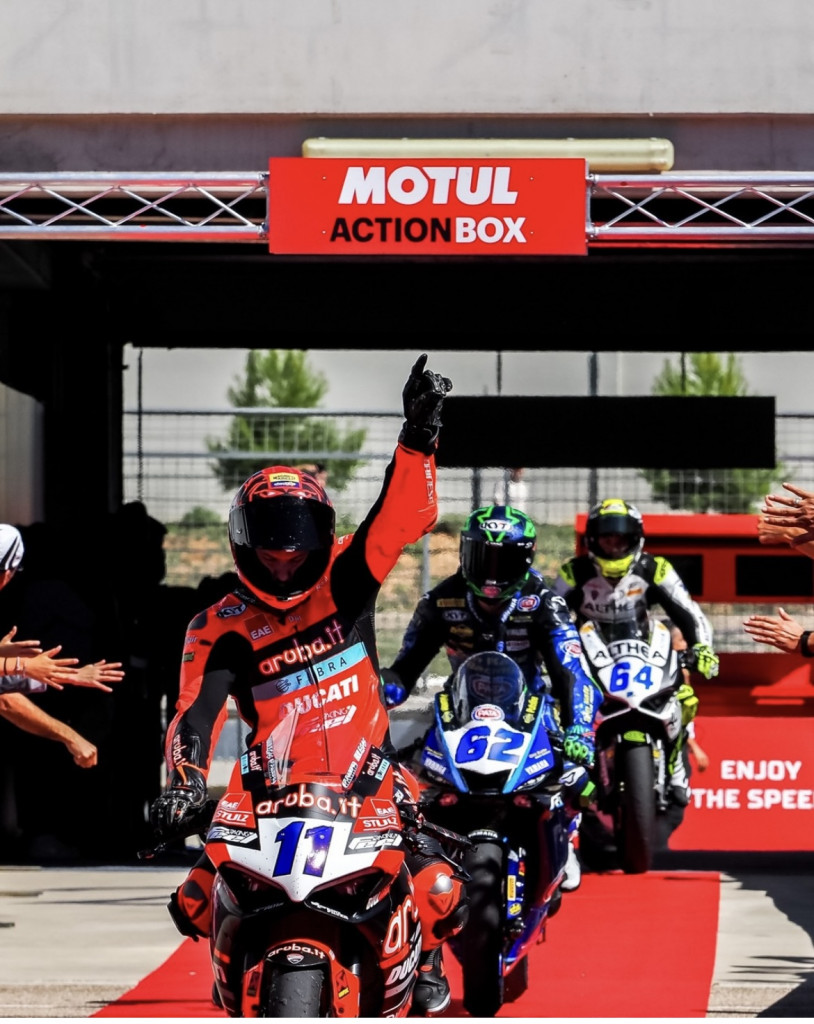 Lights out for race 2, and Bautista claimed the hole shot into turn 1, followed by an aggressive looking Rea, and Locatelli (Pata Yamaha Prometeon WorldSBK). Rea dived up the inside of Bautista to take the lead, and Locatelli swiftly followed getting into 2nd. Bautista was now 3rd, with Toprak 4th, and Rinaldi (Aruba.it Racing Ducati) 5th.
Next lap of the 18 lap race, and positions were as follows; 1. Bautista 2. Locatelli 3. Rea 4. Toprak 5. Rinaldi 6. Vierge (Honda HRC) 7. Bassani (Motocorsa Ducati) 8. Lecuona (Honda HRC) 9. Vd Mark (Rokit BMW Motorrad WorldSBK Team) 10. Oettl (GoEleven Ducati).
Toprak took Rea up the inside to move into 3rd. The Pata Yamaha team mates were now 2nd, and 3rd.
Next lap and Bassani moved into 6th, getting past Vierge. Meanwhile at the front it was Bautista with the new fastest lap a 1:50.5, and he held a gap of 0.5s to Locatelli behind in 2nd.
With 15 laps left, and showing no ill effects from race 1, it was Bautista with yet another fastest lap, this time a 1:50.206. Behind it looked like Locatelli was holding up his team mate, with Toprak desperate to get through and catch Bautista. Further back Rea held a gap of 0.5s to Rinaldi in 5th.
With 13 laps of 18 remaining, Bautista had now extended his lead to 1.6s. Further back Rinaldi held a gap of 1.5s to Bassani in 6th. And yet again having another superb ride, Danilo Petrucci (Barni Spark Racing), was up to 11th after starting from 24th on the grid.
With 11 laps left, drama for Petrucci after all the hard work he put in, his Ducati blew up with blue smoke pouring out the exhaust, and his race is over. Meanwhile at the front, undaunted, Bautista continued to extend his lead, now at 2.8s. Further back in 3rd, Toprak held a gap of 1.2s to Rinaldi, who had just got through on Rea, Rea now down to 5th.
Just over half race distance, and Locatelli was still frustrating his team mate, while the Yamaha R1 of Toprak looked down on power, and unable to get past. Out in the lead Bautista now held a gap of 4s, his team mate in 4th, Rinaldi was 1.2s adrift from Toprak.
With 7 laps remaining, it was Rinaldi who was setting quicker lap times then the Yamahas ahead of him, with the gap being cut down to 0.6s. Meanwhile further back it was 10. Vd Mark 11. Gardner (GRT GYRT Yamaha WorldSBK Team), and 12. Gerloff (Bonovo Action BMW).
Next lap and Rea was now adrift, and out of contact with the group ahead of him in 5th, his tyres seemingly having fallen off a cliff in terms of grip.
With only 4 laps left, Toprak finally got through on his team mate into the corkscrew, just as Locatelli's engine blew up with smoke spluttering out the R1's exhaust. A frustrated Locatelli was forced to retire back to the pits. Rinaldi was now up to 3rd, in contention for another podium place.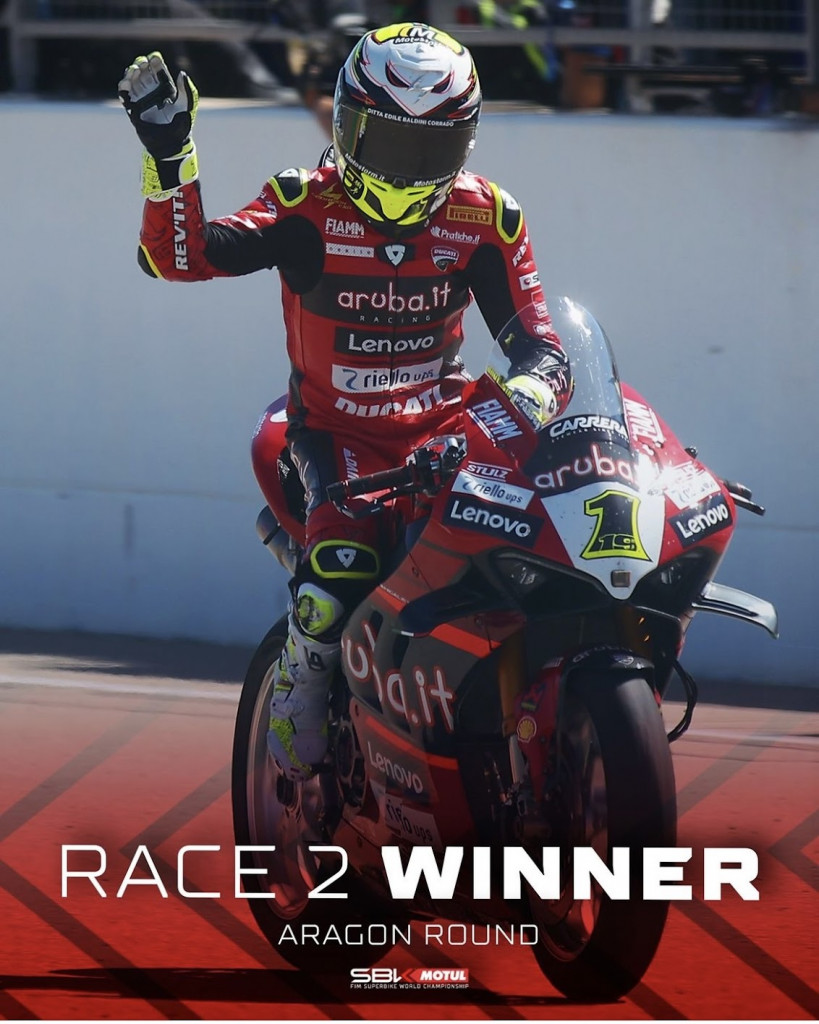 Penultimate lap, and Gerloff had caught Vd Mark, and was looking for a way past the Dutchman.
Last lap and Bautista crossed the line to make it a double, Toprak 2nd, Rinaldi 3rd, Rea 4th, Bassani 5th, Lecuona 6th, Oettl 7th, Vierge 8th, Gardner 9th, and Gerloff 10th.
Result top 5:
Bautista (Aruba.it Racing Ducati)
Razgatlioglu (Pata Yamaha Prometeon WorldSBK)
Rinaldi (Aruba.it Racing Ducati)
Rea (Kawasaki Racing Team WorldSBK)
Bassani (Motocorsa Ducati)
Championship top 3:
Bautista – 504
Razgatlioglu – 457
Rea – 328