The earlier Superpole race saw Alvaro Bautista (Aruba.it Racing Ducati), claim his 2nd win of the weekend, could the newly crowned champion make it a treble to close out the season in style?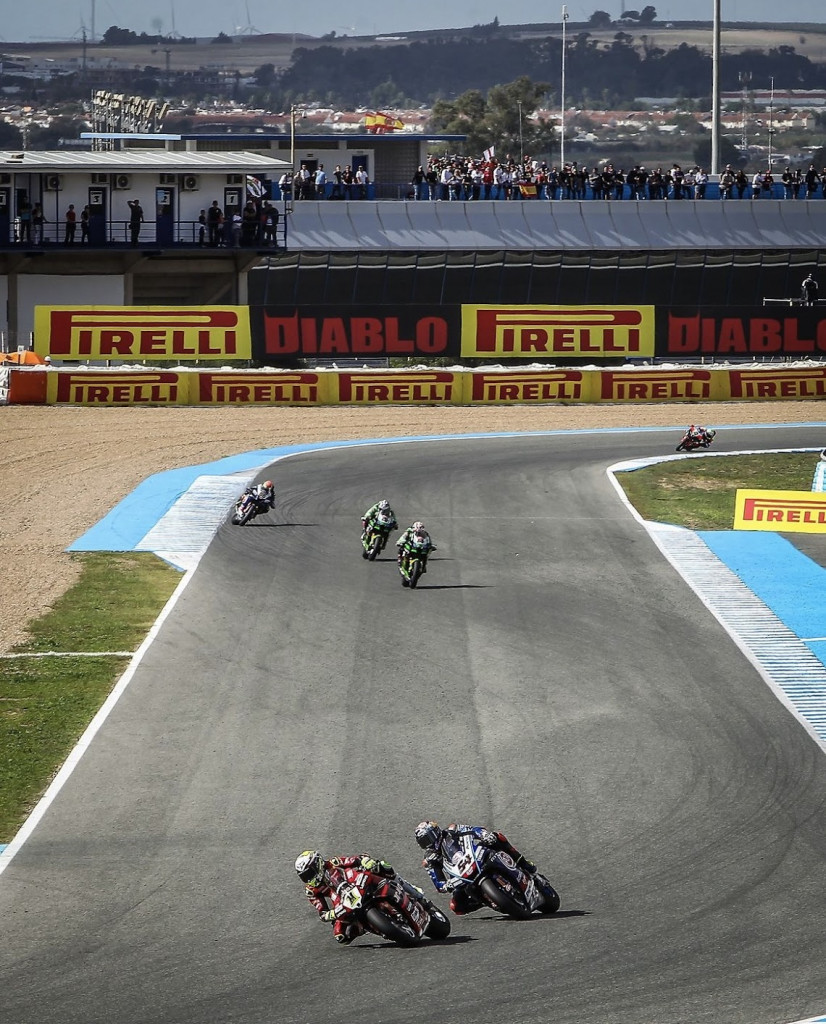 Lights out for the last time this season and its Bautista with the hole shot into turn 1, followed by Rea (Kawasaki Racing Team WorldSBK) who immediately attacked and passed to take over the lead. Bautista 2nd,  Toprak (Pata Yamaha Prometeon WorldSBK) 3rd, Aegerter (GYRT GRT Yamaha WorldSBK Team) 4th, and Locatelli (Pata Yamaha Prometeon WorldSBK) 5th.
Next lap of the 20 lap race and positions were as follows: 1. Rea 2. Toprak 3. Bautista 4. Aegerter 5. Locatelli 6. Rinaldi (Aruba.it Racing Ducati) 7. Gardner (GYRT GRT Yamaha WorldSBK Team) 8. Redding (Rokit BMW Motorrad WorldSBK Team) 9. Petrucci (Barni Spark Racing) 10. Bassani (Motocorsa Racing).
With 18 laps remaining, Rea was looking quick out in the lead, and was trying to end his Kawasaki career on a high, he held a gap of 0.7s to Toprak who then posted the new fastest lap with a 1:39.871.
Next lap and both Rea, and Toprak had got away from the rest, with Bautista in 3rd barely just hanging onto the back, such was the pace being set by Rea, who went on to set the new fastest lap with a 1:39.744. Further back Remi Gardner went through on Locatelli into turn 9 to move up to 6th.
With 16 laps to go, drama for Rea who lost the front end into the tight turn 2, it was a slow enough crash, and he was able to pick the bike up and rejoin at the back of the field. A disappointing way to end his 9 year career with Kawasaki, as he had been looking so good up until that point. Positions were as follows: 1. Toprak 2. Bautista 3. Aegerter.
With 14 laps left, Toprak was making the most of his newly acquired lead and held a gap of 0.9s to Bautista behind.
Approaching half race distance and as has been the story all season long, once the fuel levels have reduced, and his tyres have been managed, Bautista starts to post faster lap times. This was the case again, and he was reeling in Toprak lap by lap, with the gap cut down to 0.3s.
Just at half race distance and Bautista lined up a move on Toprak out of the straight, and into turn 1, Toprak successfully defended. Meanwhile the battle up front had allowed both Aegerter, and Rinaldi to close in on the leading pair.
Next lap of the 20 lap race and positions were as follows: 1. Toprak 2. Bautista 3. Aegerter 4. Rinaldi 5. Gardner 6. Petrucci 7. Locatelli 8. Redding 9. Oettl (GoEleven Ducati) 10. Bassani.
Meanwhile at the front, Bautista continued his assault on the Yamaha R1, this time with a rehearsed block pass into the final corner, but could not make it stick, and Toprak retained the lead.
Next lap and this time Bautista does take the lead with a superb cut pass under Toprak.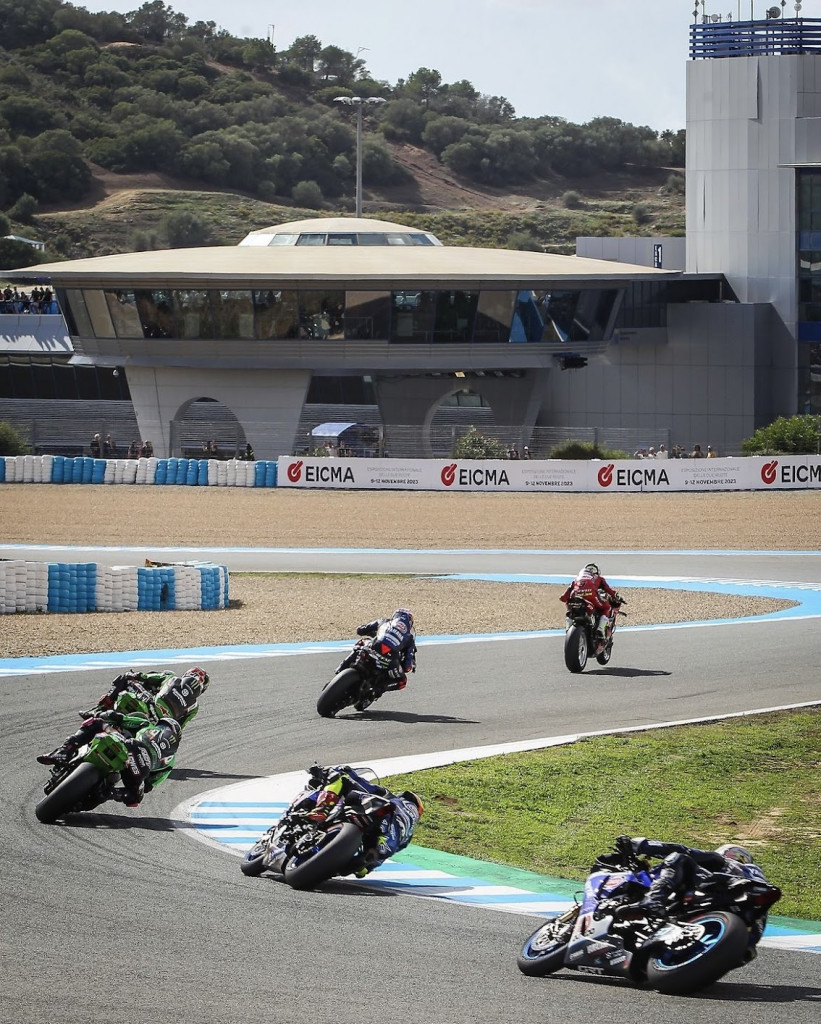 With 7 laps remaining, and with shades of the amazing battle between the two at Portimao, the lead was once again being swapped multiple times, this was shaping up to be another intense fight to victory between the two champions.
Next lap and Toprak ripped the lead back, before Bautista cut under Toprak into turn 5 to retake the lead. The intense battle for the lead had now allowed both Gardner, and Petrucci to join the melee, and the group at the front was now made up of 6 quality riders. Toprak back into the lead before the start of lap 5.
With only 4 laps left Toprak was still defending his lead. Meanwhile further back a mistake from Rinaldi, meant he dropped several positions down to 6th. Bautista 2nd, Aegerter 3rd, Gardner 4th, Petrucci 5th.
Onto the final 3 laps and Gardner was now losing contact with the trio ahead of him, such was the scorching pace being set. Toprak held a lead of 0.3s.
Next lap and Bautista, becoming ever more desperate, once again attacked Toprak into turn 1, the Turkish rider was able to defend to hold onto the lead.
Onto the final lap and Toprak was in the lead, followed by Bautista in 2nd, and Aegerter in 3rd. Approaching the final corner Bautista tried the block pass, infamously used by Valentino Rossi against Sete Gibernau in a MotoGP race there. Bautista slammed hard on the brakes, dived up the inside of Toprak, but Toprak knew it was coming, and squared the corner off accelerating hard out of the corner and narrowly beat Bautista to the line in a drag race. The Turkish rider's elation however would be short lived, as race direction subsequently demoted him one position, for exceeding track limits on the final corner.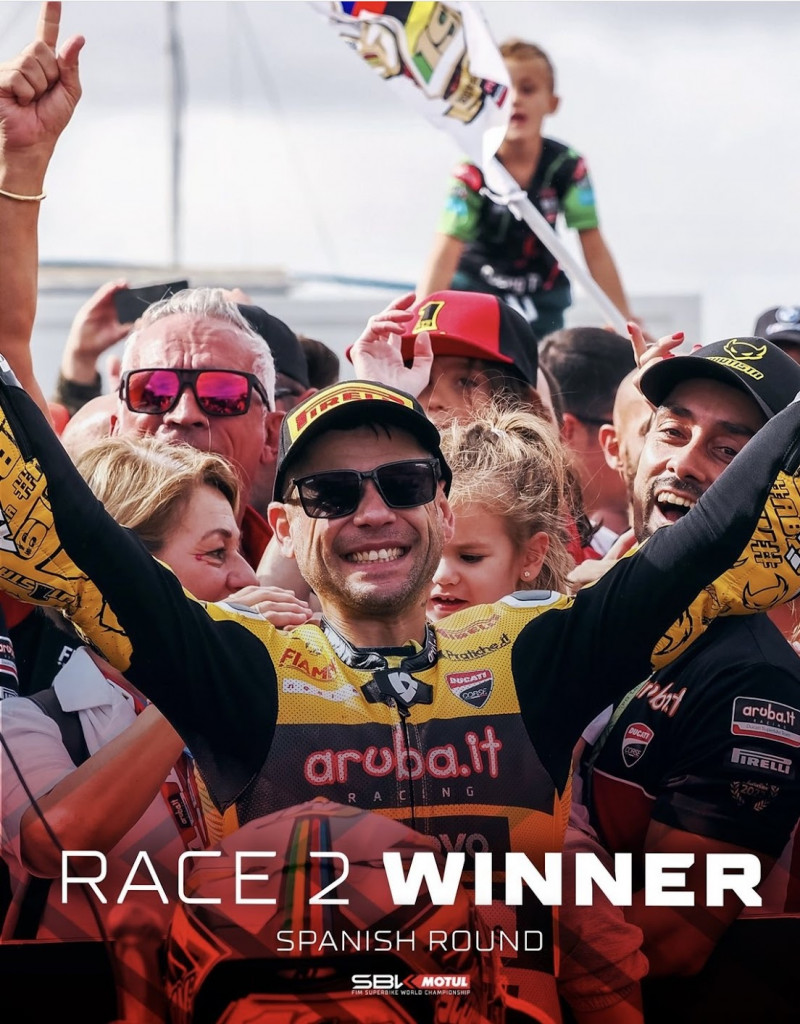 That meant that it was indeed a treble for the newly crowned champion Alvaro Bautista, and what a season he had. Toprak 2nd, Aegerter 3rd, Gardner 4th, Petrucci 5th, Rinaldi 6th, Oettl 7th, Redding 8th, Locatelli 9th, Gerloff 10th.
Result top 5:
Bautista (Aruba.it Racing Ducati)
Razgatlioglu (Pata Yamaha Prometeon WorldSBK)
Aegerter (GYRT GRT Yamaha WorldSBK Team)
Gardner (GYRT GRT Yamaha WorldSBK Team)
Petrucci (Barni Spark Racing)
Championship top 3:
Bautista – 628
Razgatlioglu – 552
Rea – 370