The earlier Superpole race saw Toprak Razgatlioglu (Pata Yamaha Prometeon WorldSBK) claim his first win of the weekend, followed by Jonathan Rea (Kawasaki Racing Team WorldSBK), and Alvaro Bautista (Aruba.it Racing Ducati), in 2nd and 3rd respectively.
With warm and dry conditions for race 2, as well as the fact that it would be the last race before the summer break, it was all to play for.
Lights out then for race 2 and it was Bautista with the hole shot, closely followed by Bassani (Motocorsa Racing), who was aggressive from the off as always, Rea 3rd, and Toprak in 4th. Early drama yet again for Gerloff (GYRT GRT Yamaha WorldSBK Team), who ran off into turn 1 going down into the gravel. He rejoined at the back of the field.
Next lap and it was Bassani who over shot into the tight turn 1, he managed to "motocross" his way back on track but lost several places. Positions were as follows: 1. Bautista 2. Rea 3. Toprak 4. Rinaldi (Aruba.it Racing Ducati) 5. Gardner (GYRT GRT Yamaha WorldSBK Team) 6. Lowes (Kawasaki Racing Team WorldSBK) 7. Locatelli (Pata Yamaha Prometeon WorldSBK) 8. Baz (Bonovo Action BMW) 9. Petrucci (Barni Spark Racing Team) 10. Vierge (Honda HRC). Drama for Eric Granado (Petronas MIE Racing Honda Team) who crashed out, his race was over.
With 19 laps of 22 remaining, Toprak dived up the inside of Rea into turn 1 to take 2nd. The poor weekend for Baldassarri (GMT94 Yamaha) continued as he crashed yet again, this time into turn 1, and his race was over. Meanwhile further back it was 10th Vierge, 11th Aegerter (GYRT GRT Yamaha WorldSBK Team), 12th Redding (Rokit BMW Motorrad WorldSBKTeam).
With 17 laps to go, it was Toprak with the new fastest lap a 1:31.951. Bautista was coming under increasing pressure from the Turkish rider, who was aiming for his 2nd win of the weekend. Further back in 5th place, Gardner held a gap of 2s to Locatelli in 6th.
Next lap, and after getting great drive out of the previous corner, Toprak blasts under Bautista into turn 13 to take the lead, Bautista had no response, super move. Meanwhile further back it was 12. Lecuona (Honda HRC) 13. Aegerter 14. Lowes.
With 15 laps left, local rider Oliver Konig (Orelac Racing Movisio) looked to have a mechanical issue and retired to the pits.
Next lap and in 3rd place, Rea had a gap of 1.0s to bridge across to Bautista. While he held a gap of 1.4s to Rinaldi in 4th. Gardner held a gap of 1.6s to Petrucci in 6th. At the front the Yamaha R1 looked good, and was right at home with the twisty flowing nature of the racetrack and Toprak was looking as determined as ever. Bautista had his work cut out for him, with the lap times between them very similar.
With 12 laps to go, Scott Redding got past Loris Baz up into 9th.
Next lap and Bautista attacked around the outside of Toprak, the Turkish rider defended his position. Absolutely nothing in it between these two, it was shaping up to be a cracking race.
Just over half race distance, and after his failed attempt to pass Toprak into the twisty sections of the track, the only real option left was the tight turn 1. Bautista got great drive down the straight and lined up a pass on the R1, only to have the door well and truly slammed in his face. Toprak a demon on the brakes as ever. Rea was just about hanging onto the back of these two in 3rd.
Next lap and positions were as follows: 1. Toprak 2. Bautista 3. Rea 4. Rinaldi 5. Petrucci 6. Gardner 7. Bassani 8. Locatelli 9. Redding 10. Baz.
Then with only 6 laps remaining, massive drama as the race leader Toprak Razgatlioglu high sided out of the chicane, in a very uncharacteristic mistake. He flew over the handlebars, and into the gravel, with his bike narrowly missing him. He got to his feet, with his arms held outstretched in utter disbelief.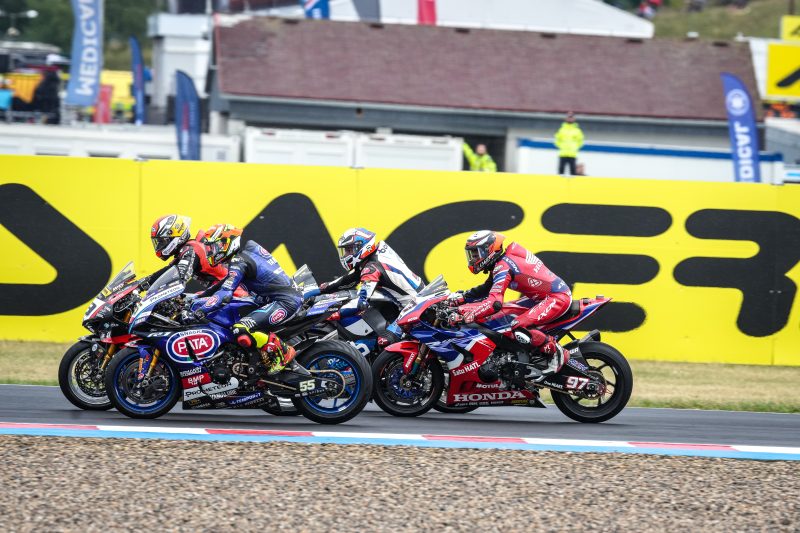 A grateful Bautista took over the lead with enough of a gap back to Rea to ensure he wouldn't get any immediate attacks. It was Rea 2nd, Rinaldi 3rd, and Danilo Petrucci in 4th, again showing great late race pace, and was reeling in Rinaldi.
With only 3 laps left, Petrucci made his move on Rinaldi, and took 3rd. Rinaldi next had to deal with Bassani who was gaining on him.
Penultimate lap, and Bassani had now caught his fellow countryman, and moved through on him into 4th. Petrucci was flying, and was closing in on Rea, looking like he had more pace. Petrucci caught Rea and attacked, Rea however, was able to defend his position.
Last lap, and Petrucci got great drive out of the last corner to pip Rea to the line to take 2nd. However it was his 18th win of the season, and a new record in WorldSBK, and it went to Alvaro Bautista. Petrucci 2nd, Rea 3rd, Bassani 4th, Rinaldi 5th, Gardner 6th, Locatelli 7th, Redding 8th, Vierge 9th, Baz 10th.
Result top 5:
Bautista (Aruba.it Racing Ducati)
Petrucci (Barni Spark Racing Team)
Rea (Kawasaki Racing Team WorldSBK)
Bassani (Motocorsa Racing Team)
Rinaldi (Aruba.it Racing Ducati)
Championship top 3:
Bautista – 427
Razgatlioglu – 353
Rea – 251