The earlier Superpole saw Toprak Razgatlioglu (Pata Yamaha Prometeon WorldSBK), claim top spot with an unbeaten time of 1:30.801, followed by Danilo Petrucci (Barni Spark Racing), and Remi Gardner (GYRT GRT Yamaha WorldSBK Team), in 2nd and 3rd respectively. A mix up for the Aruba.it Racing team saw both Rinaldi and Bautista penalised for passing under the yellow flag, riders were docked grid positions with Bautista dropping down to 14th and Rinaldi down to 8th.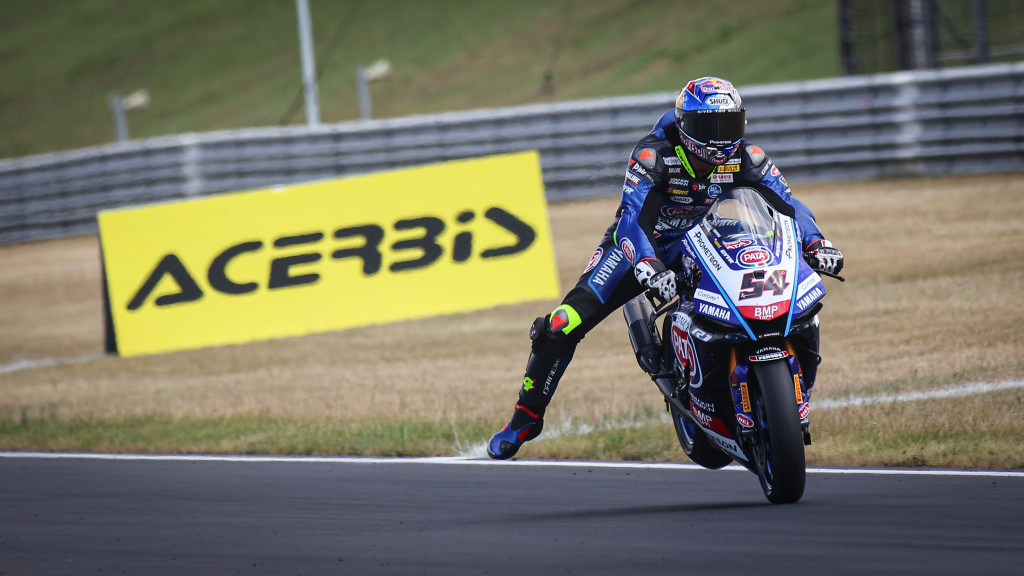 The usually blazing hot Most track was cool and wet for race 1, with a mixed prediction of weather across the weekend. With the race declared wet, riders would be free to change bikes at any stage during the race.
Lights out then for race 1 and it was Bassani (Motocorsa Racing), with a great start and the hole shot into the tight turn 1. Gardner was in 2nd, followed by Rea (Kawasaki Racing Team WorldSBK) 3rd, Toprak 4th, and Locatelli (Pata Yamaha Prometeon WorldSBK Team) 5th. Meanwhile with a blistering start Bautista was now up to 7th, and then swiftly took both Vierge (Honda HRC) and Rea to move into 3rd, making up 11 places on lap 1.
Next lap of the 22 lap race and positions were as follows: 1. Bassani 2. Gardner 3. Bautista 4. Vierge 5. Rea 6. Rinaldi 7. Vd Mark (Rokit BMW Motorrad WorldSBK Team) 8. Gerloff (Bonovo Action BMW) 9. Out in front Bassani wasn't hanging around, and had already increased his lead to 5.2s. In 2nd the Aussie had a gap of 2.2s to Bautista. Meanwhile Toprak, who had opted for intermediate tyres, was struggling for grip on the wet track and had dropped down to 13th.
With 20 laps remaining, Bassani had the bit between his teeth, and put in the new fastest lap with a 1:46.5, and extended the gap to 7.5s.
With 18 laps left, Rea who had also opted for the intermediates, took both Bautista, and Gardner to move into 2nd. The track was drying rapidly now, and combined with an abrasive surface, the wet tyres were getting shredded. It was now Bassani in the lead followed by Rea in 2nd, and Bautista in 3rd. Drama for Gerloff, the Texan crashed out into turn 15 and his race was over.
Next lap and it was Rea with the new fastest lap, a 1:40.3, and he was steadily reeling in Bassani, with the lead cut down to only 2.9s. Meanwhile the drying track was also helping Toprak who was up to 4th now, after carving through riders, most of whom were on full wet tyres. Bassani pulled into the pits for a change to slick tyres, and that meant Rea was the new race leader.
With 16 laps to go positions were as follows: 1. Rea 2. Redding (Rokit BMW Motorrad WorldSBK Team) 3. Petrucci 4. Locatelli 5. Toprak 6. Baldassarri (GMT94 Yamaha) 7. Lecuona (Honda HRC) 8. Baz (Bonovo Action BMW) 9. Lowes (Kawasaki Racing Team WorldSBK) 10. Aegerter (GYRT GRT Yamaha WorldSBK Team).
Bassani exited pit lane and rejoined in 14th, while Bautista who did likewise ended up in 18th, with plenty of work ahead for both riders. Meanwhile Toprak got ahead of his team mate and was back to 4th.
With 15 laps left Rea had pulled out a massive gap of 13.3s. Redding was still behind in 2nd.
Bautista was clawing back time and put in the new fastest lap, a 1:34.925, and moved up to 11th ahead of Gardner in 12th. Meanwhile in 9th place Aegerter held a gap of 20.5s to Oettl (Team GoEleven) in 10th.
With 13 laps remaining, Petrucci put in a hard move on Redding, diving up the inside of the BMW to take 2nd, Toprak did likewise and took 3rd. Redding lost two places and ended up in 4th.
At the halfway point of the race it was Bautista with another fastest lap, this time a 1:33.368, although he had dropped two positions after previously running wide into a corner, and was now in 13th. Meanwhile out in the lead, and commanding a comfortable lead of 11s, was the Northern Irishman, Jonathan Rea.
Just over half race distance now and the positions were as follows: 1. Rea 2. Toprak 3. Petrucci 4. Redding 5. Locatelli 6. Lecuona 7. Baz 8. Aegerter 9. Lowes 10. Bassani.
With 9 laps left Locatelli had caught Redding, and made a clean pass up the inside of the BMW into turn 20 to take 4th.
Next lap and in 9th position, Lowes held a gap of 16.3s to Bassani in 10th.
With 7 laps to go, Rea's lead had been getting cut down lap by lap, although he still held a sizeable lead of 8.2s. In 3rd place Petrucci held a gap of 4.4s to Locatelli in 4th.
Next lap and the Swiss rider, Domi Aegerter, made a nice pass on the brakes into turn 1 to take Loris Baz, and move up into 7th. He now had to bridge a gap of 6.4s to Lecuona ahead in 6th. Meanwhile Redding responded to the earlier move, and retook 4th getting past Locatelli.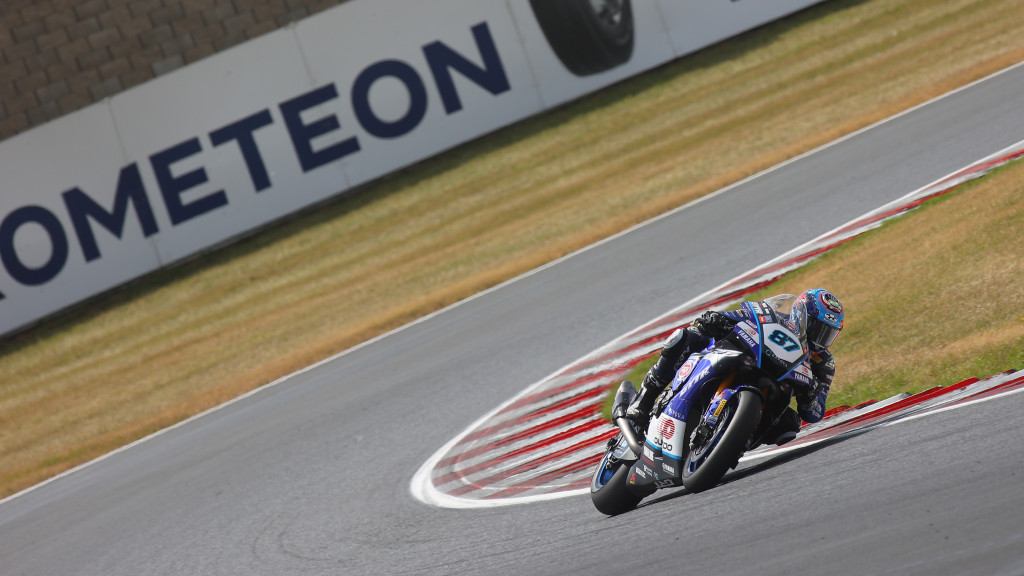 With only 4 laps left, the stand in rider for Syahrin on the Petronas MIE Honda, Soomer, crashed out. Meanwhile at the front, Rea still held a lead of 6.3s. Bautista had moved up a position to 12th.
With 3 laps to go, Lecuona had now caught the group of Redding, and Locatelli ahead, and was looking like he had more pace. Bautista had not given up, and put in yet another fastest lap a 1:32.4, but you felt it was all too late for him.
Penultimate lap, and Lecuona took Locatelli down the straight after getting a good slip stream to move up into 5th.
Last lap and on his 399th start, Rea took his first win of the season. Toprak 2nd, Petrucci 3rd, Redding 4th, Lecuona 5th, Locatelli 6th, Bassani 7th, Aegerter 8th, Lowes 9th, Baz 10th, Bautista 12th.
Result top 5:
Rea (Kawasaki Racing Team WorldSBK)
Razgatlioglu (Pata Yamaha Prometeon WorldSBK)
Petrucci (Barni Spark Racing Team)
Redding (Rokit BMW Motorrad WorldSBK Team)
Lecuona (Honda HRC)
Championship top 3:
Bautista – 395
Razgatlioglu – 341
Rea – 226