Augusto Fernandez has taken back-to-back wins after taking victory in Assen. Ai Ogura enjoyed a phenomenal race as he fought his way back from 16th to 2nd. The final podium position was taken by our pole sitter, Jake Dixon, enjoying only his second ever Moto2 podium.
This year's Dutch GP in Assen was a true spectacle with 24 laps full of action. For much of the race, we had a 7-way battle for the lead with no idea who would cross the line in the podium positions.
Augusto Fernandez eventually came out on top, enjoying back-to-back wins for only the second time in his career. With a clinical performance and well-timed moves, he took the lead on lap 17 and never looked back.
Second place went to Ai Ogura who was, arguably, the rider of the day. He faced two scary moments in the opening stages of the race, causing him to drop back to 16th.
The final podium spot went to this weekend's polesitter, Jake Dixon. After struggling in the early stages, he found his rhythm in the latter stages and secured his second career podium.
It was a difficult day for Marcel Schrotter and Albert Arenas who had been part of the leading pack for most of the race. On lap 12, Schrotter crashed out from the lead, missing the opportunity for his maiden Moto2 win. Two laps before the checkered flag fell, Arenas also crashed out, missing out on his maiden Moto2 podium.
Despite starting on the front row, Sam Lowes also faced a difficult race. He was forced out wide on the first corner of the first lap, meaning he tumbled down to the back of the grid, before then crashing on lap 4.
Our championship leader Celestino Vietti, having started the race in 11th, was able to capitalise on these misfortunes to come home in 4th. He brought with him the home hero, Bo Bendsneyder, who crossed the line in with a career-best 5th.
Alonso Lopez, after flying off the line at the start of the race and enjoying a strong battle with the leading pack, slipped back down the grid in the latter stages of the race and ended the day in 6th.
Rounding out the top 10 was Tony Arbolino, Joe Roberts, Manuel Gonzalez and Filip Salac who all enjoyed a relatively quiet race in comparison to the leading group.
The weekend's action was missing Aron Canet, who is still struggling with consistent nose bleeds after a car crash a few weeks ago, and Pedro Acosta, who is recovering from surgery after a training crash a few days ago.
As we head into the 5-week summer break, momentum is clearly with Fernandez. However, the battle will be hot when the grid returns in Silverstone, as the top three championship contenders are covered by just 1 point.
As It Happened
As the lights went out, Dixon and Lowes got a brilliant start, flying off the line. Lowes came up alongside Arenas and looked set to steal 2nd from him. However, as Lopez switched to the inside of Turn 1, he pushed Lowes wide and sent him tumbling down the order. It was a late and aggressive move from Lopez which saw Lowes sent to the back of the grid. A few corners later and Lopez was back at it again, making another aggressive move past Arenas to take 2nd.
Dixon, who had maintained the lead after his pole position start, was next on Lopez's list. In a move that seemed to come from nowhere, Lopez snatched the lead away from the Brit rider and was leading the pack for the first time in his Moto2 career. As the grid crosses the line for the first time, Lopez was 1st, ahead of the Aspar duo of Dixon in 2nd and Arenas in 3rd. Schrotter was just behind in 4th, having started in 10th, with Ogura in 5th.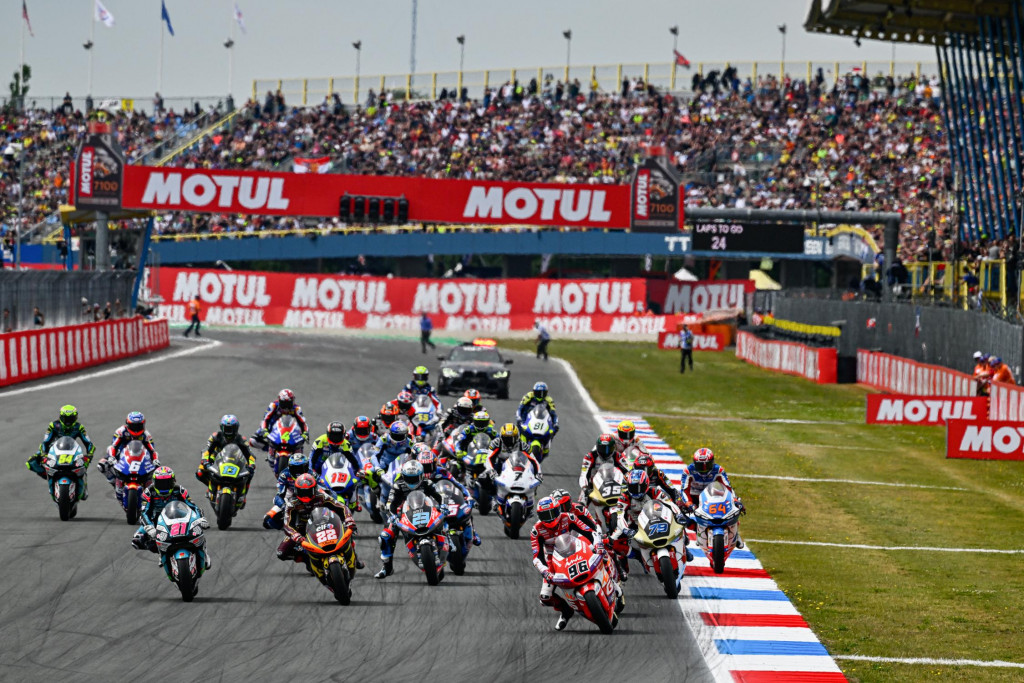 On the second lap, Ogura faced the first of two scary moments which forced him up and out of his seat as the bike wobbled beneath him. He dropped down to 9th before a similar issue on the following lap then caused him to drop further down to 16th. It appeared that his tires were not quite where he needed them to be.
On lap three, British rider Sam Lowes went down from the back of the grid to end a terrible race in the worst possible way. He will be undeniably disappointed after his strong qualifying performance.
Meanwhile, at the front of the grid, Schrotter was closing in on Lopez and looking like he wanted to challenge for the lead. On the following lap, Arenas made a move past his team mate, taking 3rd from Dixon. On lap nine, Dixon then loses 4th place to Fernandez. He thinks about fighting back and eventually makes a move a few corners later, only to move too late and almost lose 5th place to Bendsneyder. Dixon quickly swaps to defence mode and is able to remain in 5th.
On the following lap, Arenas makes a move past Lopez to take second place. Shortly after, Fernandez is also past Lopez, as the Spanish rider loses two places in as many corners.
At this point in the race, with 10 laps completed, the top five places were held by Schrotter in 1st, Arenas and Fernandez in 2nd and 3rd, followed by Lopez and Dixon in 4th and 5th. Just behind them, home hero Bendsneyder was able to squeeze past Arbolino in the final sector to take 6th. All this fighting allowed our championship leader, Vietti who was back in 8th, to catch up to the leading pack of seven and join in the fun. In the space of one lap, the gap ahead of Vietti dropped by half a second.
On lap 11, Schrotter crashed out of the lead, losing the opportunity to claim his maiden win. He went wide at Turn 5 which put him off the racing line. As he tried to correct the error, the bike dropped from underneath him. Meanwhile, Lopez and Fernandez were battling hard for second place, which they had inherited from Schrotter's crash. The pair were swapping positions for most of lap 12 before Lopez came out on top.
Ss they started lap 13, it was Arenas in the lead, ahead of Lopez in 2nd and Fernandez in 3rd. Dixon was just behind in 4th with home hero Bendsneyder in 5th. Vietti was still in 8th with Ogura, his nearest championship rival, quickly catching up to him in 9th.
The battle for 8th was quickly hotting up with Vietti and Ogura swapping positions at every corner. Eventually, it is Ogura who comes out on top. Lopez's struggles continue as he was forced to sit up at turn 1 of lap 16, sending him tumbling down the grid from 2nd to 6th. He is soon caught by Ogura whose pace was rapid.
On lap 17, we had another change at the front of the grid as Fernandez takes the lead from Arenas. With numerous battles going on behind them, the leading pair quickly find themselves with a 0.9-second lead.
With just four laps remaining, and plenty of on-track action going on, Fernandez is still leading the race, with Dixon now up to 2nd and Ogura in 3rd. Arenas had now slipped back to 4th but was still fighting for his maiden podium finish. Vietti was up to 5th, just ahead of Bendsneyder and Lopez. On the following lap, Ogura makes it past Dixon and into 2nd. The battle gifted Fernandez a 0.4-second, and a seemingly unbeatable, lead.
With just two laps remaining, Arenas cracks under the pressure and crashes at Turn 9. That first podium finish remains elusive for the Spaniard.
On the final lap, Fernandez had a 0.5-second lead ahead of Ogura and Dixon. With Vietti now in 4th, he made a late lunge, attempting to steal 3rd from Dixon. The pair met the checkered flag side-by-side but it was Dixon who came out on top.
Feature Image Credit: MotoGP