Well, Saturday's action had everything. With 150km's over six stages it would be a big challenge for the crews. The startlist looked like this – Loeb, Fourmaux, Breen, Greensmith, Serderidis, Solberg, Ogier, Neuville, Tänak, Evans, Katsuta, Rovanperä.
First up was SS8 Soysambu 1 – 29.32 km, a very long stage to get Saturday underway, and Elfyn won the stage from Thierry and Kalle. The Welshman's pace moved him ahead of Takamoto and closer to Kalle, the gap now down to 16.1 seconds. Seb Loeb opened the road, but still set a very good time good enough for fifth fastest. His teammate, Craig went well as well and passed Kajetan for eighth overall, but the Pole remained firmly in the lead of WRC2.
The much shorter SS9 Elmenteita 1 – 15.08 km was won by Theirry from Seb Loeb and Ott. Elfyn was faster than Kalle but by only 1.1 seconds. Craig remained the highest placed M-Sport driver, holding eighth place, and just driving very carefully. Unfortunately, Gus rolled his car in the stage but he got the car back onto its wheels with some help and completed the stage. His teammate Adrien retired though with broken suspension.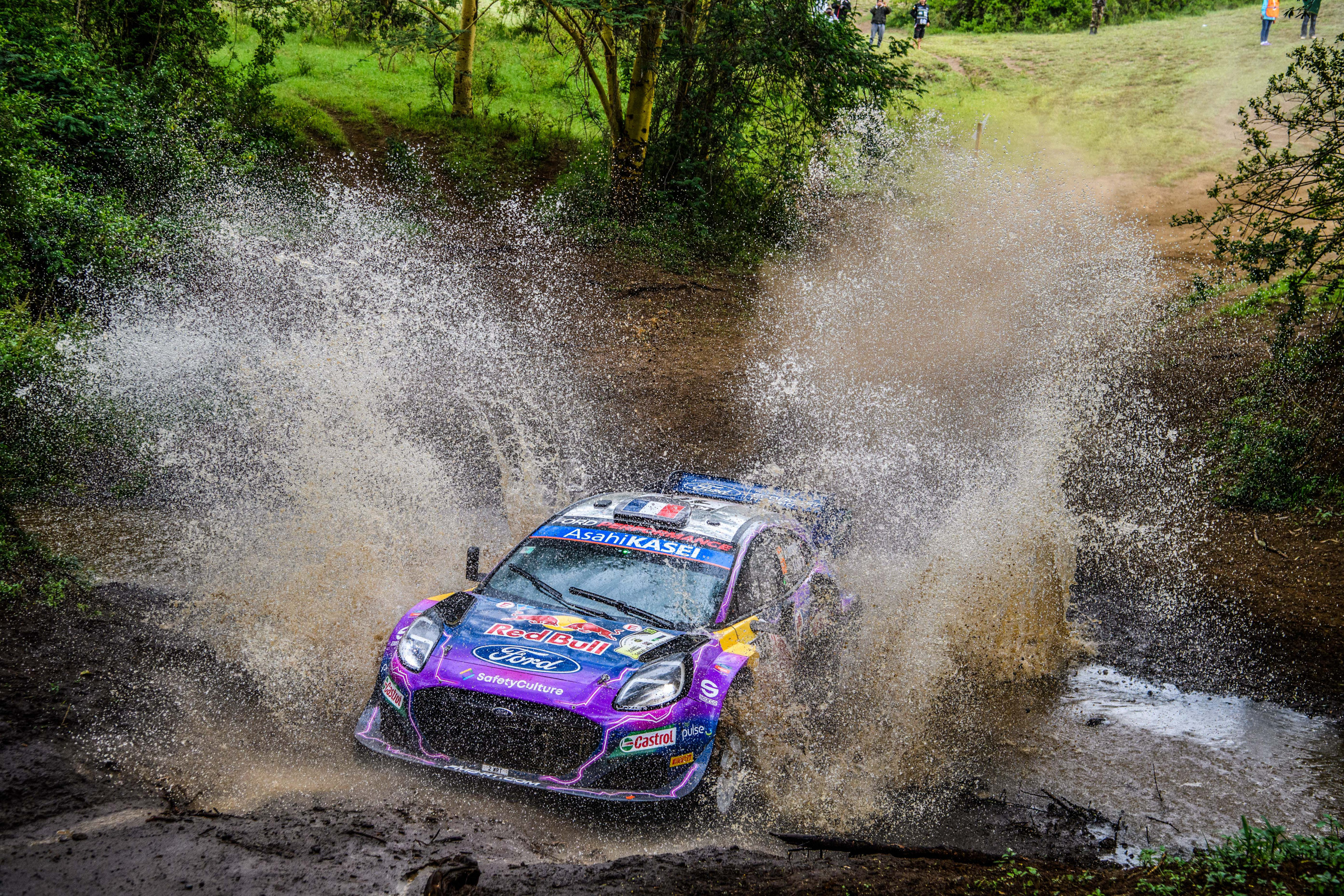 The first run of SS10 Sleeping Warrior 1 – 31.04 km, a spectacular run across the plains saw Thierry win a second stage in a row from Kalle and Elfyn. Sadly, there was drama with the Belgians teammate suffering a mechanical problem with his i20 and he pulled over with just about two kilometres left and retired for the day from fourth overall. Gus went on to finish this stage, but retired at the end, the engine having suffered with the low-speed roll.
Elfyn won the second run of SS11 Soysambu 2 – 29.32 km as well, with Kalle second fastest, 3.6 seconds slower and Takamoto third. The Japanese driver now had a good gap over Thierry, and was holding third place. The demise of Ott meant that Craig was now up to seventh overall, despite getting a puncture in the stage.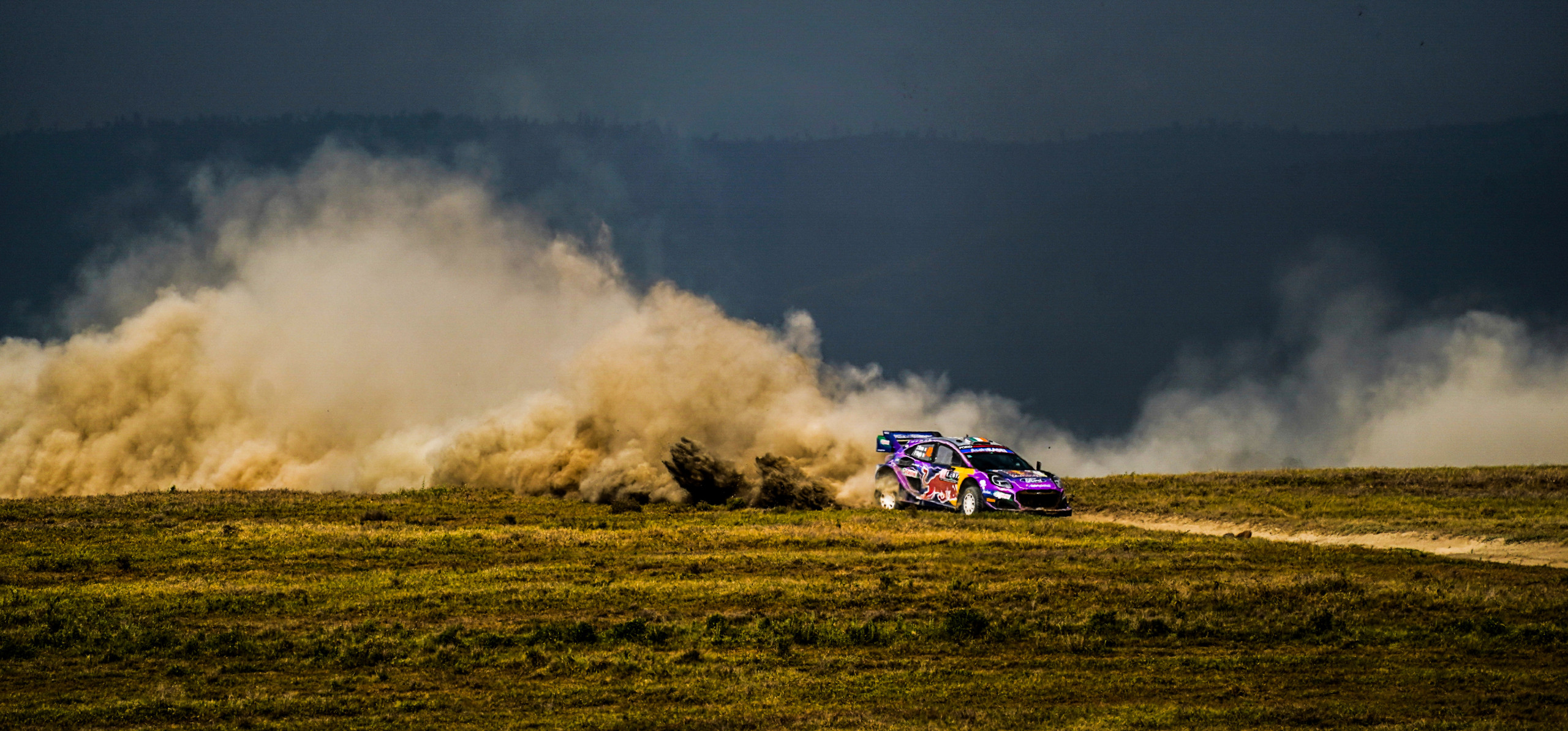 The following stage, SS12 Elmenteita 2 – 15.08 km was hit by heavy rain at least an hour before it started, and the last five kilometres were affected. Kalle won the stage from Thierry and Elfyn. The Belgian passed Takamoto for third place overall as well after the Japanese driver could only manage the sixth best time. Elfyn said that he could not see anything, so just had a safe run through as best he could. Kalle now had a 27.1 second lead. The end part of the stage was starting to dry, so he had the best possible conditions to drive.
On to the final stage of the day then, SS13 Sleeping Warrior 2 – 31.04 km and this stage had also had some of the rain dropped onto it, with the wet conditions starting at around ten kilometres. Seb Ogier set the best time from Kalle and Takamoto. The drive by the Japanese was great, when you consider that he had a puncture as well. Elfyn's speed was also affected as his windscreen got covered in mud and he could not see. There were worse problems for Thierry, Oliver and also Seb Loeb. The Belgian had the worse of it and crashed into a tree, whilst his teammate Oliver's engine cut out twice. He managed to finish though. Seb Loeb had a huge problem as his front left suspension broke at around half distance in the stage. The whole assembly was moving around and the tyre touching the wheel arch, making for some interesting sounds in the car. Still, he managed to finish the stage and was now in tenth overall.
Let's take a look at the standings and hear from the drivers.
 Classification after Day Two
| | | | | |
| --- | --- | --- | --- | --- |
| 1 | K. Rovanperä | J. Halttunen | Toyota GR Yaris Rally1 | 2:52:39.7 |
| 2 | E. Evans | S. Martin | Toyota GR Yaris Rally1 | +40.3 |
| 3 | T. Katsuta | A. Johnston | Toyota GR Yaris Rally1 | +1:25.6 |
| 4 | S. Ogier | B. Veillas | Toyota GR Yaris Rally1 | +2:38.3 |
| 5 | T. Neuville | M. Wydaeghe | Hyundai i20 N Rally1 | +10:59.3 |
| 6 | O. Solberg | E. Edmondson | Hyundai i20 N Rally1 | +12:19.1 |
| 7 | C. Breen | P. Nagle | Ford Puma Rally1 | +18:56.1 |
Toyota Gazoo Racing WRT
Kalle Rovanperä (1st)
"It has been another tough day like we expected. Today the stages were not so soft but with the rocks and ruts it was still hard for the cars. In our position it was not so easy to try to avoid all the stones and bad places but still try to push. The conditions that came in the afternoon were really tricky. It was my first time driving here in the rain because I didn't experience that last year and it was quite a surprise with no grip at all and so much standing water. I tried to keep it clean and find the grip from somewhere. Tomorrow is much longer than a normal Sunday so there is still a proper day of driving ahead. We need to stay sharp because still anything can happen."
Elfyn Evans (2nd)
"I wasn't giving too much thought to the times of anyone else today, I was mostly just trying to pick my way through the conditions. The morning was quite nice, and a bit more predictable than yesterday in terms of where it was going to be rough, but it was still difficult to judge the speed correctly all of the time. Then in the muddy conditions this afternoon it was pretty difficult, as I had a small issue cleaning the screen. I decided to try and keep the risk down but it's impossible not to have the odd slide in conditions like that. As a team we're in a great position but tomorrow will still be challenging with two passes of all the stages, and the second loop especially could be very interesting."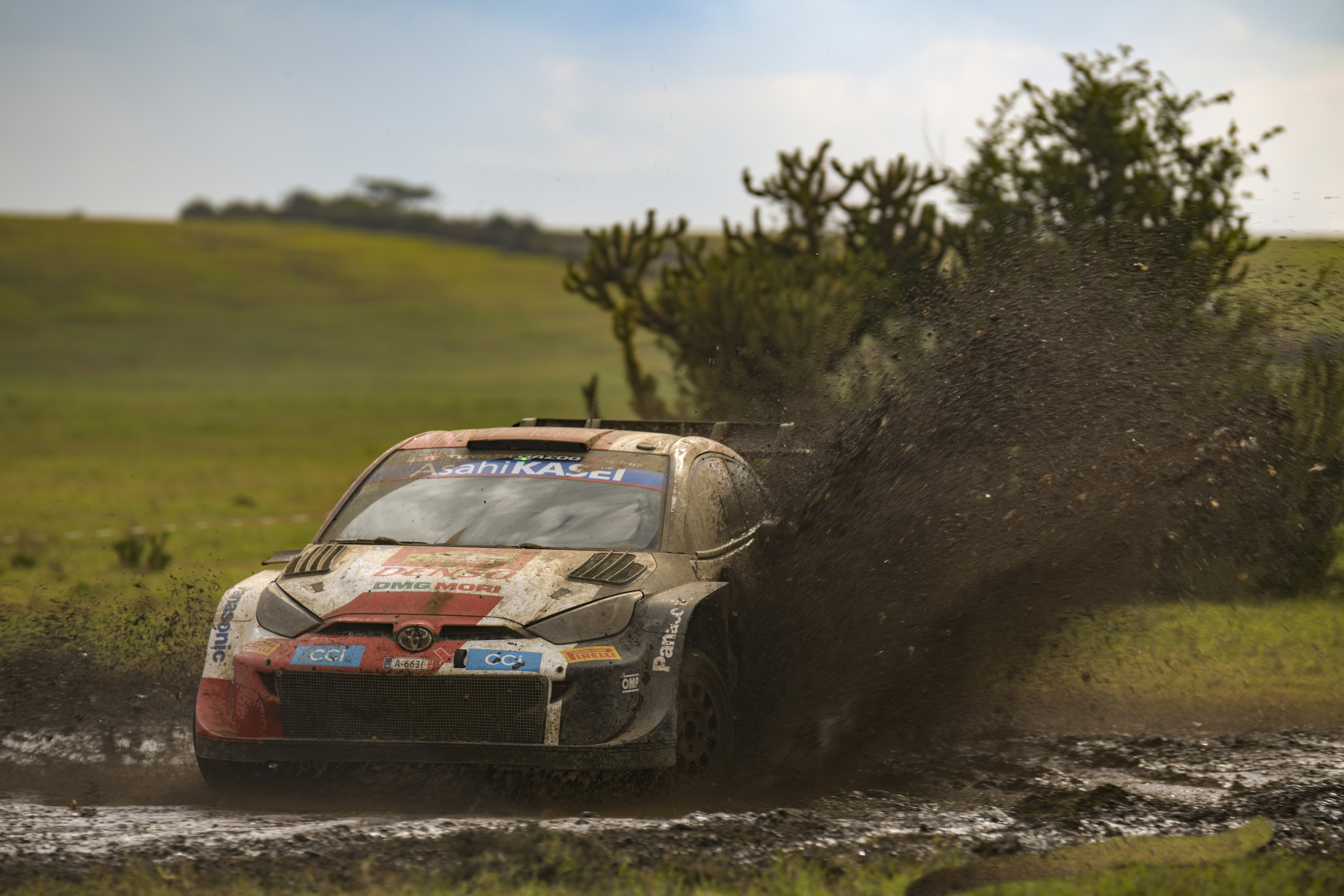 Sébastien Ogier (4th)
"Today I knew I couldn't catch any positions from speed alone so there was no point in pushing like crazy – I just tried to stay out of trouble and reach the end. This morning the conditions were a bit more controllable than yesterday and I could keep a good rhythm without pushing the car too much, because it was still very rough. Then this afternoon after the rain there were many tricky sections and a lot of rhythm changes. In some places the ruts were full of water and we knew we had to be careful. With the conditions getting better I just tried to get through cleanly. Now it's only my team-mates in front and I don't wish them any bad luck, because if we can bring it home like this it's an amazing result for Toyota."
Hyundai Motorsport
Thierry Neuville (5th)
"A challenging afternoon after a trouble-free morning in which we set two fastest stage times in Elmenteita and Sleeping Warrior. We were able to climb back to fourth position in the classification, 7.4 seconds from the podium. In the second loop, we lost some bodywork in the bumpy section of SS11. We then got hit by some electrical issues at the end of SS12 as the alternator belt went. Somehow Martijn and I made the impossible possible by fixing the car to get to the last stage just in time. A couple of kilometres in, a huge water puddle sucked water into the engine and the car stopped. It took us four minutes to get restarted but with bad visibility caused by mud on the screen, 200 metres further on we went straight into a tree. The overall classification has not been too greatly affected, we keep fifth place, and we will continue tomorrow to try and grab some points at least."
Oliver Solberg (6th)
"The only way I can summarise today is crazy. We have been very lucky to make it to the end. We had a hectic start to the day after I clipped a big rock in the opening stage, which bent an arm. I had to take it easy to get through. For the second one, I changed it, but I made a mistake, so it was wobbling around a bit. Then, the final stage of the loop was just really rough. We had nothing to gain today, either ahead of us or behind, so we wanted to keep on the road and maintain our position. We made some changes at lunchtime which improved the feeling; the start of the second loop was a night and day difference. Then the rain came which made things even crazier. The final stage was one of the coolest things I've ever done, and even if it was far from easy and trouble-free, we survived to face another day."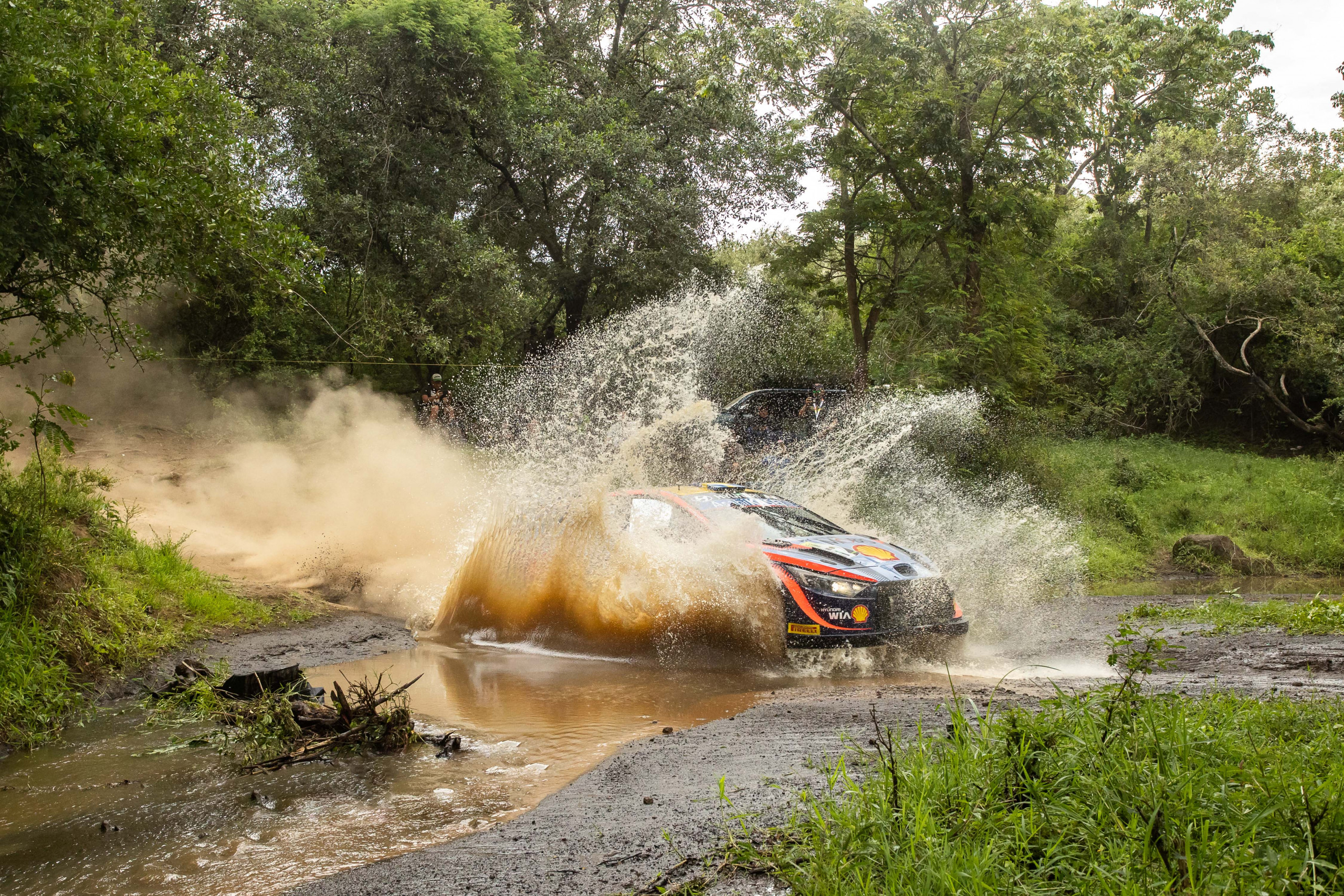 Ott Tänak (SuperRally)
"Suddenly, we heard some noise and immediately had fire in the car, so we stopped to check. It was somewhere in the transmission and the underbody of the car is closed, so we couldn't really see what was wrong. We tried to continue but even going slowly it was catching fire so we would have burned the car. It's frustrating but looking overall the rally has been quite good in some ways, very demanding and challenging. Yesterday we were playing in the sand, and today it was rocks and general roughness. I started the day safely, checking things out to make sure there were no surprises, but unfortunately the prop shaft ended our day."
Sunday
The final day features a very long day with 83km's over six stages. A proper day of rallying for sure. Kalle may have a good lead, but we've seen that anything is possible with this rally. Pop back tomorrow for my final day report.