Brit rider Jake Dixon has taken a fantastic pole ahead of tomorrow's Dutch GP. He is joined on the front row by his teammate, Albert Arenas, and fellow Brit, Sam Lowes.
Tomorrow's Dutch GP will see an Aspar 1-2 for the start of the race. Brit rider, Jake Dixon, secured pole with a time of 1.36.736 – his final lap of the session. His team mate, Albert Arenas, was just 0.01-seconds off the pace and will start tomorrow's race from second.
A second Brit will also be on the front row, as Sam Lowes takes third for tomorrow's face start. Just behind Lowes with be Ai Ogura in 4th and Alonso Lopez in a brilliant 5th. Home hero, Bo Bendsneyder will start the race from a strong 8th.
Further down the grid, Celestino Vietti, our championship leader, faced a challenging day. He crashed out during Q2 and was forced to settle with 11th for tomorrow's race.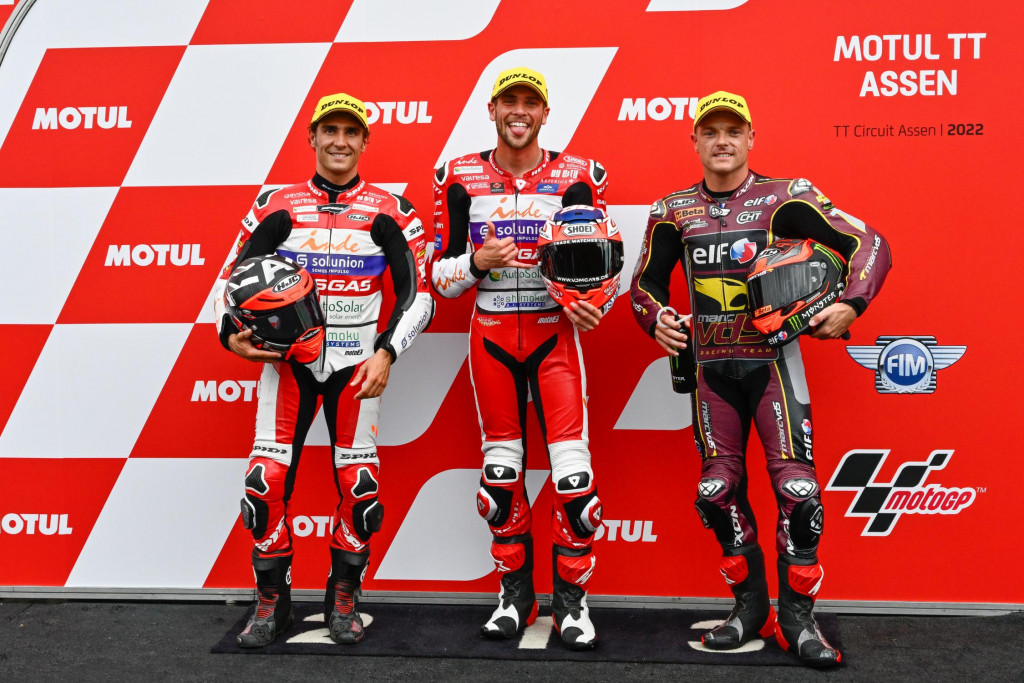 Qualifying 1
As the session started, Fermin Aldguer quickly faced an issue and was forced to head back to the pits. Having enjoyed a strong weekend so far, it was clear he was keen to get back on to the track as soon as possible.
As the first flying laps were completed, it was Jorge Navarro who topped the timing sheets with a 1.37.670. Manuel Gonzalez, Marcos Ramirez and Lorenzo Dalla Porta slotted in behind him, taking the provisional Q2-progression places. However, it should have been Barry Baltus at the top of the timing sheets – after taking a shortcut at the end of his outlap, his first flying lap was cancelled due to track limits. He cut the final chicane as a shortcut to give him extra speed at the start of the next lap.
With just less than 10 minutes left on the clock, Navarro improves, staying at the top of the timing sheets, with a 1.37.285. Ramirez jumped up to second and Dalla Porta leapt up to third, meaning that Gonzalez was shuffled down to fourth. Baltus, who was able to keep his next lap time on the board, was only able to slot in to 12th.
Aldeguer was back on the track and clearly pushing the bike to its very limits – the machine was twitching underneath him at the end of Sector 2. It took him a good few laps to get back on the pace, with his first lap only putting him in ninth.
With just over seven minutes to go, Dalla Porta improved on his time again. However, it wasn't quite enough and he was soon shuffled down by Alessandro Zaccone, Gonzalez and Baltus who put themselves in 2nd, 3rd and 4th respectively.
With 5 minutes left on the clock, Aldeguer temporarily leaps up to 2nd, only to have his lap time deleted for a track limits violation. He is clearly pushing as hard as he can after the mishap he faced at the start of the session. He keeps pushing and, with just over 3 minutes left of the session, he is able to jump to 2nd again – and this time it sticks! He pushes Baltus out of the top 4. Dalla Porta is the next to improve, jumping up to 3rd and pushing Gonzalez out of the top 4.
As the session draws to a close, Gonzalez makes up time in the final sector to jump up to 3rd. This pushes Aldeguer down to 5th with no opportunity left to improve. Finally, Baltus is able to steal 4th away from Dalla Porta in the final moments of the session.
Those progressing to Q2 are Navarro, Zaccone, Gonzalez and Baltus.
Qualifying 2
As the session starts, Baltus is the first out on track, clearly feeling in good form after his Q1 performance.
Bo Bendsneyder was also feeling in good form as he quickly went up to 2nd, with a 1.36.986. He sat just 0.1-seconds behind our early leader, Navarro. Dixon then slots in to third with his fastest lap of the weekend so far.
With 8 minutes left on the clock, championship leader Celestino Vietti crashes at turn 3. He locked the front, spun around and ended up in the kitty litter. He briefly considered getting back on the bike but the damage ended his session early. When his session ends, he is currently set for a second row start in tomorrow's race. But just 1 minute later, he is shuffled back to the third row, leaving Vietti with a nervous wait in his pit box.
5 minutes are left on the clock when Joe Roberts leaps up to 2nd. Moments later, he is shuffled down to 3rd when Lowes takes provisional pole with a 1.36.767.
Augusto Fernandez then makes a risky move as he comes into the pits to change his tires with just 4 minutes remaining. With such little time on the board, he may struggle to get the tires up to temperature and into their sweet spot.
As the session draws to a close, Arenas takes pole away from Lowes, despite hitting traffic at the end of his lap. Ogura slots in to provisional third before Dixon crosses the line to leapfrog them all and snatch pole. Fernandez and his new tires are unable to secure a spot higher than 8th.
Feature Image Credit: MotoGP