The first day had everything, so here's what happened in the first full day of competition. The startlist looked like this – Rovanperä, Neuville, Tänak, Breen, Katsuta, Evans, Loeb, Greensmith, Ogier, Solberg, Fourmaux, Serderidis.
Seb Loeb won the first stage, SS2 Loldia 1 – 19.17 km from Elfyn and Seb Ogier. Thierry who did hold second overall after SS1 fell six places to eighth. Our new top three was Ogier, Evans and Loeb. Meanwhile, Ott in his Hyundai had a big problem with his gear lever having broken, so he could only use it when changing down, but the thing broke off completely before the end of the stage, meaning he was having to lean forwards to use the selector at the bottom of his seat. The championship leader was down in ninth overall at this point.
Next up was SS3 Geothermal 1 – 11.68 km, a new stage for this year. This was interesting as Kalle was fastest from Takamoto and Elfyn. The stage was getting slower with each passing car which was crazy really. Ott had used a wheel brace as a temporary gear change lever, but was still having trouble. Never the less he still managed the fifth best time.
Onto the longest stage then of the day, SS4 Kedong 1 – 31.25 km and chaos ruled! Once again Kalle took the stage win from Ott and Takamoto. Incredibly the championship leader was now up to third overall, just 11 seconds from the leader, who was now Elfyn. Both Seb's fell down the leaderboard, with Ogier now in second and Loeb in fifth.
After the lunchtime break and service Ogier won SS5 Loldia 2 – 19.17 km from Takamoto and Kalle. Elfyn fell down from the lead to third after getting a puncture in the stage, whist Kalle was now holding fourth. Takamoto was now second overall.
The second run of SS6 Geothermal 2 – 11.68 km saw Ogier take the stage win from Takamoto and Kalle. Elfyn fell behind Kalle into fourth overall. Just 14 seconds covered the top four at this point.
The final stage then of the day, SS7 Kedong 2 – 31.25 km and Kalle won it again from Thierry and Ott. The championship leaders pace meant that he moved into the lead of the rally again as the former leader Ogier suffered a puncture and he stopped to change it, losing a minute. He was now in sixth place. Others also having trouble were Thierry with a puncture and Craig who went off and broke his steering.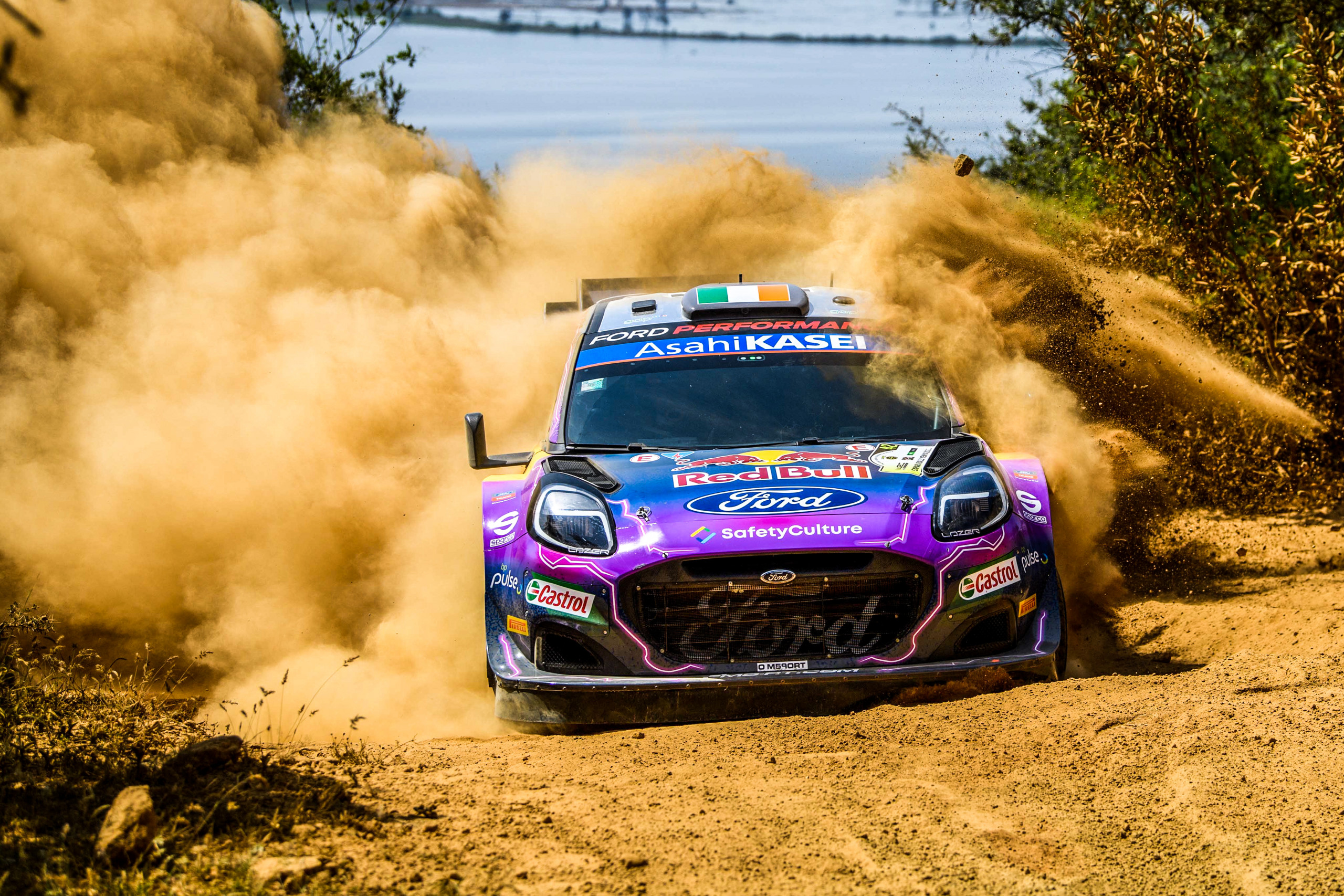 Well, what an amazing first day in the wilds of Kenya. Let's take a look at the top ten and hear from the drivers.
Classification after Day One
| | | | | |
| --- | --- | --- | --- | --- |
| 1 | K. Rovanperä | J. Halttunen | Toyota GR Yaris Rally1 | 1:20:58.1 |
| 2 | T. Katsuta | A. Johnston | Toyota GR Yaris Rally1 | +14.6 |
| 3 | E. Evans | S. Martin | Toyota GR Yaris Rally1 | +22.4 |
| 4 | O. Tänak | M. Järveoja | Hyundai i20 N Rally1 | +25.3 |
| 5 | T. Neuville | M. Wydaeghe | Hyundai i20 N Rally1 | +57.5 |
| 6 | S. Ogier | B. Veillas | Toyota GR Yaris Rally1 | +2:08.2 |
| 7 | O. Solberg | E. Edmondson | Hyundai i20 N Rally1 | +4:27.1 |
Toyota Gazoo Racing WRT
Kalle Rovanperä (1st)
"It has been quite a good day for us. The conditions were very tricky in the last stage of the loop on both passes with the deep sand and I'm really happy to have made it through. The other two stages were not so bad – there was some cleaning to do for us, even on the second pass, but they were quite enjoyable to drive. I think we did a good job and we're in a nice position now. Tomorrow will be another challenge and the plan will be the same: to try and drive at the same pace and avoid any issues."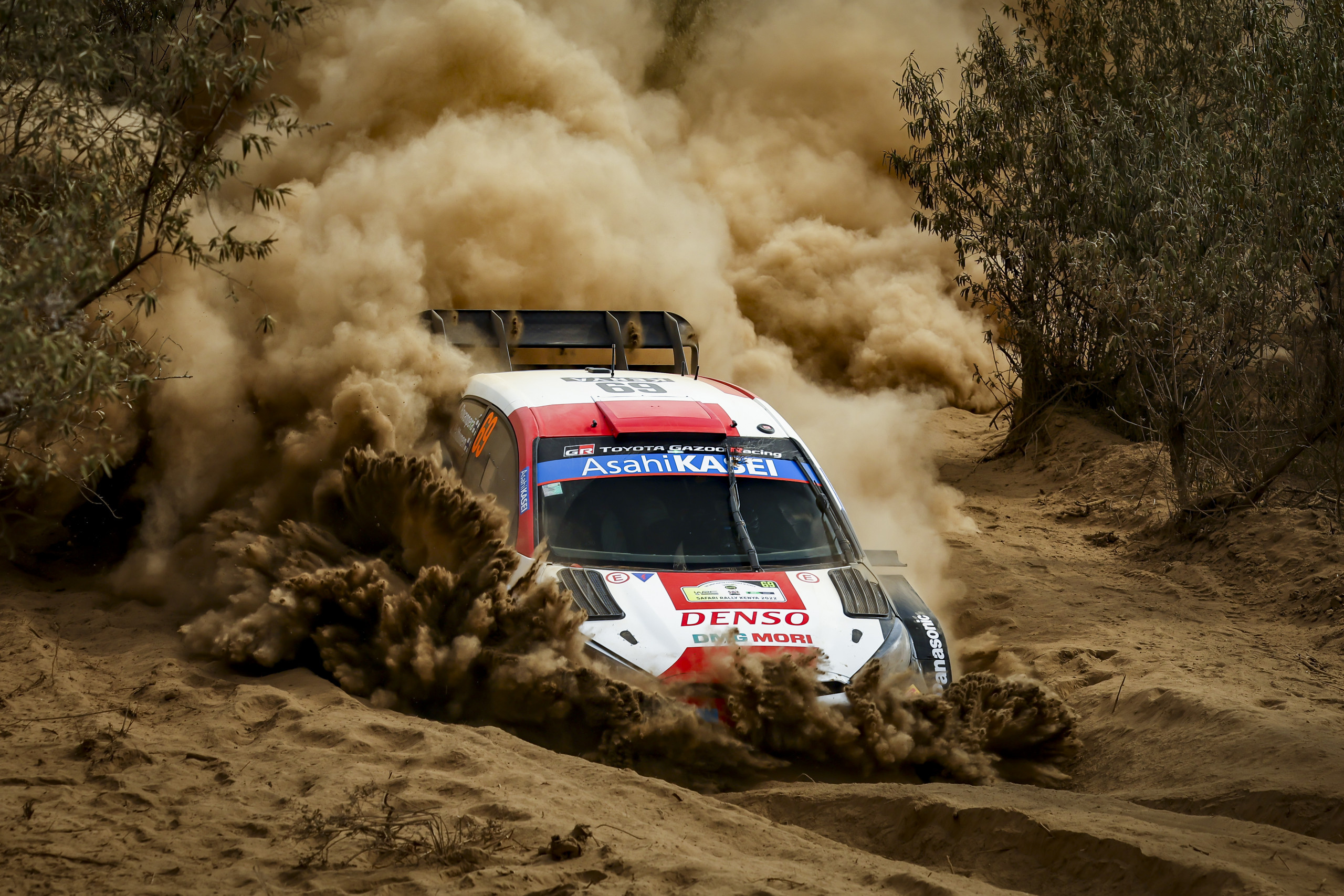 Elfyn Evans (3rd)
"It's been tough out there and a bit of an up-and-down day to be honest. The first stage of the loop today was really quite a nice stage and I had a good rhythm there, but on the longest stage the conditions were quite rough, and when it gets extreme like that it's so hard to know how hard to push and it looks like I haven't pushed hard enough. But we're still here and that's the positive thing. The car has been working really well but we know the rally could keep getting tougher."
Sébastien Ogier (6th)
"Up until the last stage it was a good day. The rhythm was good and I tried not to attack too much because we know that it's important to manage things on this rally. The last stage was the one we all feared the most today because we knew there were some rough and rocky sections. With 10 kilometres still to go we had no choice but to stop and change the tyre, because it would not have been possible to get through the 'fesh-fesh' near the end on three wheels. It's never good to lose two minutes, but there are still two days to go and many things can still happen. We just need our luck to turn."
Hyundai Motorsport
Ott Tänak (4th)
"At the beginning of the rally, we thought this would be the easiest day, but we've already been playing on the limit. It's been a challenging survival day, and we've been fighting more with the rally itself than with our competitors. The first two stages of the loop were quite fun, and it was down to pure performance, but the final one was something else. In the first 20km, it's rocky and difficult to avoid the stones. We knew if we had a puncture there, we'd have no chance, so we just tried to get through cleanly. After that came 5-10km of fesh-fesh, you must keep full throttle through there despite not seeing anything, otherwise you get stuck. We need a vacuum cleaner on our lungs because it's difficult to breathe. It's important to keep going."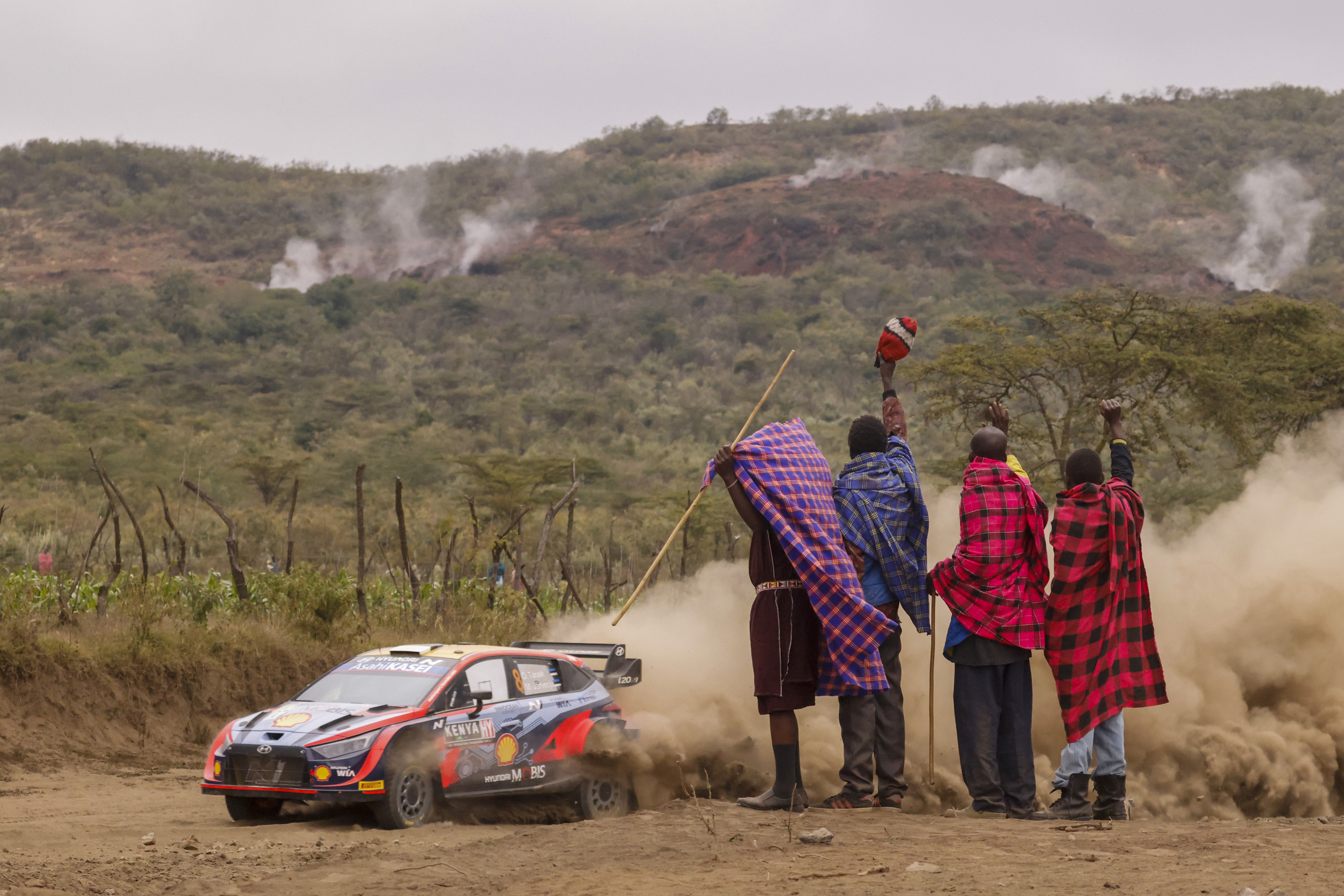 Thierry Neuville (5th)
"A very challenging day for us; we obviously knew it would be hard but unfortunately, we got hit by some trouble on the first pass on the long stage, Kedong. We lost power as the air filter became blocked with sand and dust. We dropped almost one minute of time with that, and down to ninth place. The target for the afternoon was to have a cleaner run, which we managed, and as a result we've moved back up to fifth. The gap to the lead is just under a minute and getting closer. I've not been 100% happy with the handling of the car so far, which has limited us in the bumpy sections. I haven't been able to go as fast as last year, but we'll make some changes to try and improve. Tomorrow is the hardest, roughest day so we'll have to be clever and avoid problems."
Oliver Solberg (7th)
I am very happy to get the car back to service at the end of this incredibly tough day. I would go as far as to say this last stage is the craziest one that I've ever driven in my entire life. I've struggled a lot today, to be honest. The car hasn't felt good for me, but we survived with no mistakes, which remains the aim for this weekend. The driving itself feels OK when it's nice and flowing, and you can push a bit, but when it's rocky it's something else. This is still a very long event, and tomorrow looks set to be even more demanding in a different way. Seventh place is nothing when we have so much ahead; we hope to climb further up the leader board."
Saturday
Tomorrow sees the crew tackle 150km over six more stages. It will be another challenging day on the plains of Kenya! Be sure to pop back and check out my day two report.