Qualifying:
Very hot conditions greeted the Moto GP paddock at the ring on Saturday. 
Francesco Bagnaia (Ducati) claimed an all-time lap record along with pole position for Sunday (1:19.765). Fabio Quartararo (Yamaha) took 2nd and finishing the front row was Johann Zarco (Ducati) in 3rd.
Jack Miller (Ducati) was given a long-lap penalty for crashing under yellow flags, which had to be completed during the race and Marc Marquez (Honda) will again not be competing in this weekend's race.
Race:
Battling with an illness over the weekend, Quartararo's team confirms he will be riding, hoping it won't hamper his performance too much. The sunny conditions remained but it was even hotter for race day with temperatures rising to 35 degrees and track temperature being a scorching 52 degrees.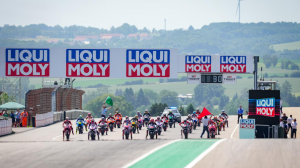 Lights out. By turn one Fabio decided to take the lead straight away from Bagania and by the end of the lap Maverick Vinales (Aprilia) passed Luca Marini (VR46) for 7th place just behind Miller.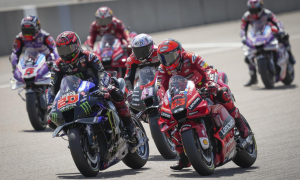 On the start of the 2nd lap, Bagnaia passed Quartararo to take the lead but Fabio passed right back, just touching Bagnaia's Ducati on his way through. While Miller passed Fabio Di Giannantonio (Ducati) for 5th.
Lap 3 saw Zarco make a great pass on Aleix Espargaro (Aprilia) for 3rd place, while Fabio put in another fastest lap, making two in a row.
The next lap – turn 1: Bagnaia crashed out from 2nd place, leaving people to wonder if he can handle riding under pressure? Seconds later, Joan Mir (Suzuki) also crashed out of the race at the same corner, from 13th. Darryn Binder (Yamaha) ended his race early, on the same lap (turn 13) and Miller took his long-lap penalty, rejoining the race in 7th behind Jorge Martin (Ducati).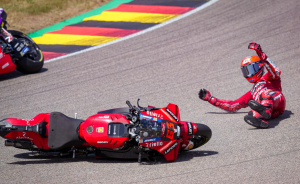 With 25 laps to go Quartararo started to put a gap between himself and Zarco (1.382 seconds) and with 24 laps to go he set another fastest lap.
Takaaki Nakagami (Honda) collided into the gravel on lap 7, turn 8 and Alex Marquez (Honda) retired from his race. Meanwhile, 5th place went back to Miller, from DiGi.
Vinales was having a great race and with 19 laps to go he was up to 4th place behind his teammate (the highest he has been since joining the Aprilia team), but he was being held up by Aleix in-front of him. Would he risk passing his fellow Spaniard? – knowing he is fighting for the championship.
In 2nd place Zarco was pushing hard to bridge the gap that was growing between himself and Fabio, which was 1.554 seconds. Another rider who was pushing hard was Miller, who by lap 17 was right behind the two Aprilia's.
Then heartbreak for Vinales on lap 20 of 30. He seemingly made a mistake which took him wide, gifting 4th to Miller but as he kept falling down the order, it became apparent that his ride-height device had failed, leaving him unable to control the bike. Meaning he was forced to retire from his best place so far in 2022.
With 10 laps to go Quartararo remained steady in the lead, ahead of Zarco and Espargaro, with Miller hot on his heels behind.
DiGi and Martin tussled to see who would claim 5th spot. Martin won the battle but it was Marini who took full advantage, also passing DiGi to take 6th.
Lap 23 – Jack attempted to pass Aleix but couldn't make it stick, making it an easy move to pass back for the number 41. While his brother (Pol Espargaro (Honda)) retired from the race on the same lap.
Marini was in good form and continued his charge, managing to pass fellow Ducati rider, Martin for another position (5th).
Three laps later and Miller tried once again to make the pass on Espargaro, but with the same result. With only 4 laps to go would he manage to finish on the podium? Time would soon tell: Aleix made a small mistake and went wide, but it was all the Australian needed. He went past the Aprilia to take 3rd.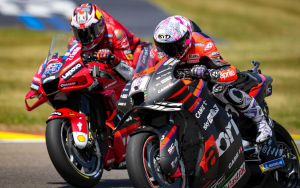 Last lap – Fabio's lead had extended to 5.371 seconds ahead of Zarco and Miller. Fabio cruised over the line to claim the first Yamaha win at Sachsenring since Rossi's victory in 2009.
Top ten race finishers:
| | |
| --- | --- |
| 1st | F. Quartararo |
| 2nd | J. Zarco |
| 3rd | J. Miller |
| 4th | A. Espargaro |
| 5th | L. Marini |
| 6th | J. Martin |
| 7th | B. Binder |
| 8th | F. Di Giannantonio |
| 9th | M. Oliveira |
| 10th | E. Bastianini |
Not even a long-lap penalty could hold Miller back nor could an illness for Quartararo.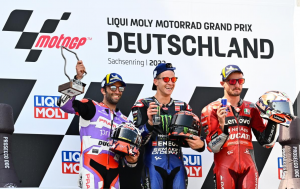 Top four championship standings:
| | | |
| --- | --- | --- |
| 1st | F. Quartararo | 172 points |
| 2nd | A. Espargaro | 138 points |
| 3rd | J. Zarco | 111 points |
| 4th | E. Bastianini | 100 points |
With only one week to go for the legendary track – Assen, will Fabio continue his winning streak? Or will there be another rider to stand on the top step? Not long to wait to find out.
Featured image – Courtesy of: Moto GP website.
#HappyFathersDay