Round 2 at Jeddah this weekend and after the reliability issues last time out all eyes are on Red Bull to come back stronger.
Red Bull Reliability
If you haven't seen the drama of the double Red Bull retirement, Red Bull have said initial investigations seem to suggest a fuel pump/system issue which means that the final few litres of fuel for the end of the race didn't make it into the engine despite having enough fuel in the tank.
Interestingly this year the fuel systems are comprised of parts made by the teams, the power unit manufacturer and a third party who won FIA tenders to supply standard parts. However, it is not known which part was at fault and therefore who supplied it.
In any case Red Bull get a chance to redeem themselves this weekend at the very high speed circuit in Saudi Arabia.
Last time in Jeddah
When we last raced here the championship was really hotting up and the rivalry between the leaders was getting ugly. The on track battle was epic and summed up the season long battle between Lewis Hamilton and Verstappen.
However, this wasn't the only talking point from that race. This is where the steward's room and race director came under scrutiny as they were becoming more dominant in each race. They had begun to tell the narrative here at the newest and fastest street track.
Qualifying was thrilling but the race was incident back and the longevity of the circuit came under fire. Changes would need to be made to make this a viable race in the future.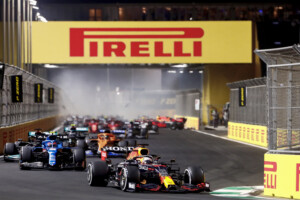 Both in 2021 and 2022 the human rights conversation surrounding this race is important and getting louder. It is important to keep talking about it especially now with current events in the area. Formula 1 say they are monitoring the situation, but this will continue to be a big part of the race weekend.
The Fast Ferrari's
In Bahrain Ferrari delivered on the pre-season rumours being the fastest on race day. All Ferrari engine powered cars had great performances with only Mick Schumacher finishing outside the points in P11.
This could mean Ferrari have the advantage at the high speed track in Jeddah. However, as seen last weekend, consistency is very important and Charles Leclerc dos not have the best relationship with street circuits.
In Monaco last year he pulled out a great lap to take pole in the first runs of Q3 but crashed on the final runs meaning he couldn't start the race with gear box issues. In Baku 2019 he crashed heavily and producing the now infamous line "I am Stupid".
Despite this, last year he finished P6, ahead of Sainz so will be looking to capitalise on his momentum from last weekend and improve on this result.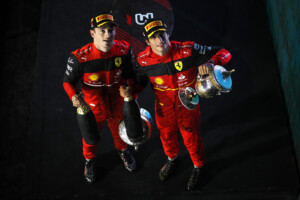 Qualifying is 5pm GMT and the race starts at 6pm GMT.