Hamilton wins the inaugural Qatar GP with Verstappen in P2 to bring the gap down in the championship. Alonso back on the podium since Hungry 2014 with a very solid performance. Tyre drama in the closing stages of the race meant the one stop strategy didn't work for most that tried it, Russell, Latifi and Bottas suffering from punctures.
After another night waiting for the stewards to make a decision, Max Verstappen and Valtteri Bottas got a 5 place and 3 place penalty respectively. This meant that Verstappen would start P7, Bottas P6 but importantly Gasly started on the front row with Alonso starting P3. All set to add to the drama of the 2021 Formula 1 championship!
Lights out and Hamilton immediately covered the inside from a very quick Alonso and Gasly. Verstappen made up 3 places in the first few corners with Alonso making a great move down the inside of Gasly. Bottas meanwhile had an awful start, losing 5 places in the first lap. Vettel was another driver who lost 7 places after a going very wide in turn 1.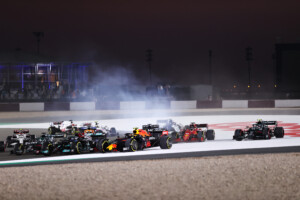 Lap 3 and the call came through from Verstappen that he was "stuck" behind Gasly. Told to let Verstappen past, Gasly went wide in the final corner on lap 4, allowing Verstappen to get through. Just 1 lap later Verstappen made an easy DRS move past Alonso, meaning normal business was resumed by lap 5 with Hamilton P1 and Verstappen P2.
Perez making good progress 10 laps in, resulting in Toto Wolff encouraging Bottas to overtake the cars in front because he hadn't gained any places since the start. Lance Stroll went wide in 2nd to last corner, allowing Bottas to gain DRS. However, the battle was between Stroll, Bottas and Tsunoda with the Japanese driver in front at the start of the main straight but behind both drivers by the end. It was 1 lap later that Bottas managed to get past Stroll.
It seems encouragement is all Bottas needed, making up a further 2 places by lap 15. The race was now on between Perez and Bottas for the final podium place. With a full pitstop over P3 and flying out front, it looked like this would be Hamilton's race to lose. Verstappen appeared to be struggling with damage and couldn't keep up with Lewis.
Lap 18 and Verstappen was the first to pit. Hoping that the new set of hard tyres would help him close the gap. Mercedes immediately responded stopping Hamilton for hard tyres, comfortably coming out ahead of the RedBull. With a pitstop over P3 both drivers came back out in their own positions. RedBull then pitted Perez in an attempt to get Bottas to stop as well. However, Mercedes strategist's saw more opportunities for Bottas with a one stop strategy so left him out for a longer stint on the mediums.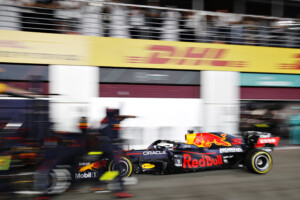 A lock up from Leclerc into turn 1 on lap 27 meant that Alonso could overtake on the inside, but Perez attempted to go through on the outside, ending up on the green tarmac. Into turns 2 and 3 Perez had the inside line and managed to get past Leclerc. Just 2 laps later Alonso was within his sights, pulling an almost identical move to get past the 2-time champion. Alonso did fight back but Perez had the pace to get through drama free.
Lap 34 and disaster for Mercedes as Bottas got a front left puncture halfway around the circuit on his way back to the pit he sprinkled gravel onto the track. A replacement nose and new hard tyres he made it back out in P14. Pirelli said before the race that the mediums would do about 30 laps, Bottas completed 33 before the tyre began to delaminate. This had major consequences in the constructor's championship with the gap only 5 points.
The call of vibrations were coming through from both front runners on lap 40. 2 laps later and RedBull pit Verstappen for medium tyres who had over a 50 second gap to his teammate who pitted the following lap. Mercedes responded again putting scrubbed mediums on Hamilton's car, who maintained the 8.5 second gap comfortably coming out ahead of Verstappen.
Having come out in P7, Perez was back on the charge and Alonso was in the final podium position. 3 cars between Perez and Alonso with 10 laps to go, one being the other Alpine of Ocon. Alonso encouraging his teammate all the way to tell him to "defend like a lion". However, the pace advantage of the RedBull was too much for the Alpine and Perez went around the outside of turn 1. The fight wasn't over as in turns 5 and 6 Ocon came back but ran out of road and Perez made the move stick.
The tyres didn't seem to be coping with the track. As Mercedes retired Bottas, Russell got a front left puncture after 31 laps with his hard tyres. Norris pitted just 1 lap before, the McLaren seeing the potential danger. Latifi went just 1 lap after Russell, front left tyre failure again. Unfortunately for Latifi it began to go on the main straight so decided to pull over on a service road around turn 10. This caused concern for Alonso who was on a 1 stop strategy and needed to complete 32 laps on his tyres. Alonso told to stay off the curbs.
Virtual safety car was deployed so that the marshals could recover the Williams of Latifi. Verstappen pitted for softs to try and retain fastest lap if he got the chance to go again. Despite the fact that the VSC ended halfway through the final lap, Verstappen maintain fastest lap to take that point away from Hamilton.
Hamilton won having led from start to finish, Verstappen finished P2, and Fernando Alonso finished P3 for the first time in 104 races! There are now 8 points between the championship rivals heading into the final race of the season. If Hamilton wins and takes fastest lap with Verstappen P2 in the next race they will be level on points for the finale.