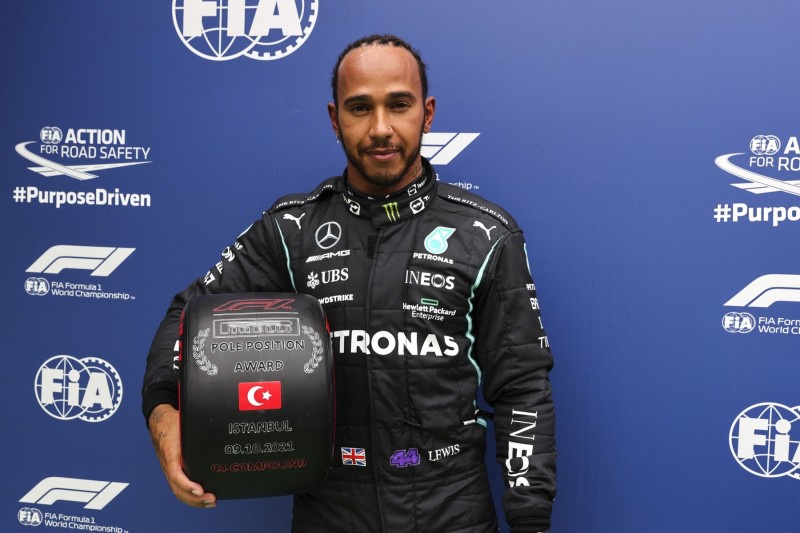 image courtesy of Pirelli Motorsports
Lewis Hamilton breezed past competition in Istanbul Park on Saturday afternoon to set the fastest lap in qualifying. Unfortunately he will be starting P11 thanks to an ICE change on his Mercedes, which resulted in a 10-place grid penalty.
Hamilton's teammate Bottas is set to start from pole position after he finished P2 in qualifying and crucially for Mercedes, he will be starting ahead of Max Verstappen in the Redbull, who is set to start P2 on the grid after his P3 finish in qualifying. This could be an interesting line up in the grand scheme of things leading up to the WDC title fight between Verstappen and Hamilton. While Bottas is up there with Max Verstappen on the front row, Verstappen's teammate Sergio Perez in the other Redbull will only be starting P6 tomorrow for the race.
The Ferrari of Charles Leclerc will line up at P3 on the grid tomorrow after the Italian team showed signs of pace in the free practice sessions on Friday. Leclerc's teammate Carlos Sainz is set to start from the back of the grid thanks to a complete power unit change. The 2nd row will see a back in form Pierre Gasly line up at P3 after the French driver looked really fast throughout the weekend .Gasly's teammate Tsunoda managed to make it to Q3 but could not make any major inroads and he will be starting P9 for the race tomorrow.
McLaren will have their work cut out for the race come Sunday, as Lando Norris could only manage a lap fast enough for P8 in qualifying, which means P7 for the race. The English driver would be looking forward to quickly put the disappointment in Sochi behind him by delivering a strong finish for McLaren tomorrow. Daniel Ricciardo had a qualifying session to forget, especially after coming to Turkey with very strong results in the last two races, a P4 in Sochi and a race win in Monza. The Australian driver will start P15 on the grid, thanks to grid penalties for Carlos Sainz.
Fernando Alonso has proven yet again this season that class is permanent, after he finished P6 in qualifying and making it look easy while other drivers were struggling for tyre temperatures and grip on a relatively damp track. The Spaniard will start P5 on the grid for the race tomorrow and his teammate Esteban Ocon in the other Alpine will only be starting P12 alongisde Lewis Hamilton at P11.
It was a relatively good day at the office for Aston Martin on Saturday, as Lance Stroll finished P9 in qualifying, which means a P8 start on the grid for the race tomorrow. The Canadian driver has had his moments in Q2 where he ran wide and was at the mercy of other drivers' lap times. Fortunately he lived to fight another day and will be looking for some good points in the race tomorrow. His teammate Sebastian Vettel missed out on Q3 but will start P10, which is not all bad for the German driver as he will have free tyre choice for the race on Sunday, despite starting in P10.
George Russell in the Williams was so close to making it to yet another Q3 in the season but the English driver ran wide in the very last corner in the final run of Q2, undoing all the good work he has put in during the lap. which will serve as a A gentle reminder of how cruel F1 can be as a sport. He is set to start the race from P13 on the grid while his teammate Latifi will start from P16.
Haas finally had a moment that they could savour this season as Mick Schumacher made it to Q2 for the second time this season but unlike the previous time, participated in it and put in a lap that was good enough for P14. His teammate Mazepin had yet another qualifying session to forget where he would be just happy to have kept the car in one piece, after spinning multiple times during the course of Q1 and he is set to start P19 on the grid. Both the Alfa Romeo cars failed to get out of Q1 in changing track conditions and they are set to start with Giovinazzi in P18 and Raikkonen in P19.
Valtteri Bottas might not yet be done playing his part in the title race but unfortunately for the Finn, it will not be for his own sake. With his teammate Hamilton starting from P11, it is his job to battle Verstappen and prevent the Dutchman from taking a win, which would minimize the damage for Lewis Hamilton. It is set to be an exciting 9th world championship Turkish Grandprix as the championship fight for both constructors and drivers enters the final phase with 7 races remaining on the calendar.