Day two then and the crews faced 151km over nine stages. The start list looked like this – Fourmaux, Greensmith, Katsuta, Ogier, Neuville, Rovanperä, Lappi, Evans, Tänak, Breen. Super Saturday is how it was described and with some long stages throughout the day. There would be a service break as well.
First up then, SS7 Kakaristo – Hassi 1 – 18.17 km, and Elfyn was fastest from Craig by two tenths, with Ott a further second or so back. These three were our leaders, with the Irishman still a good chunk ahead of Ott and Elfyn. Kalle moved ahead of Esapekka and the gap between them was just 1.6 seconds. Oliver rolled out of the rally on this stage.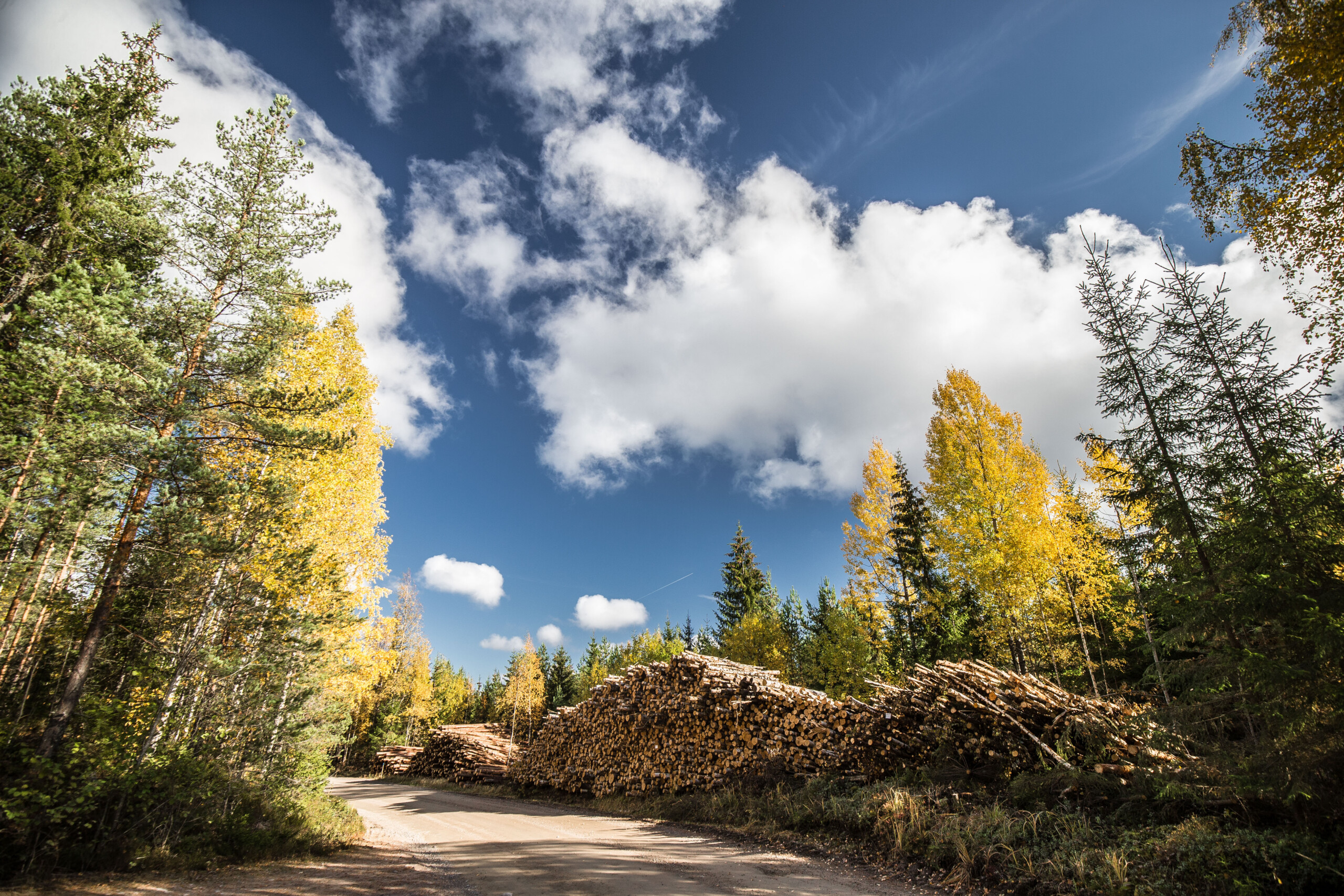 The following stage, SS8 Päijälä 1 – 22.61 km, saw Elfyn take another stage win, but it was such a great time, that it took him from third into the lead! Ott was 4.2 off the Welshman's pace and Craig 6.8 off and he now held a lead of nine tenths over Craig, with Ott 2.3 seconds back. The battle for fourth between the young Finns continued, with Kalle keeping EP behind him. Unfortunately, we lost Takamoto after he went off the road and couldn't continue. The demise of the Japanese driver meant that Teemu who was leading WRC2 in his Polo moved into the top ten.
Elfyn made it three in a row, winning SS9 Arvaja 1 – 13.49 km from Kalle and Craig. His lead over Craig was now four seconds, with Ott a further two seconds back. Thierry remained ahead of Seb despite losing 1.6 to the Frenchman as they battled over sixth place. Gus and Adrien remained seventh and eight just gaining good experience for the future.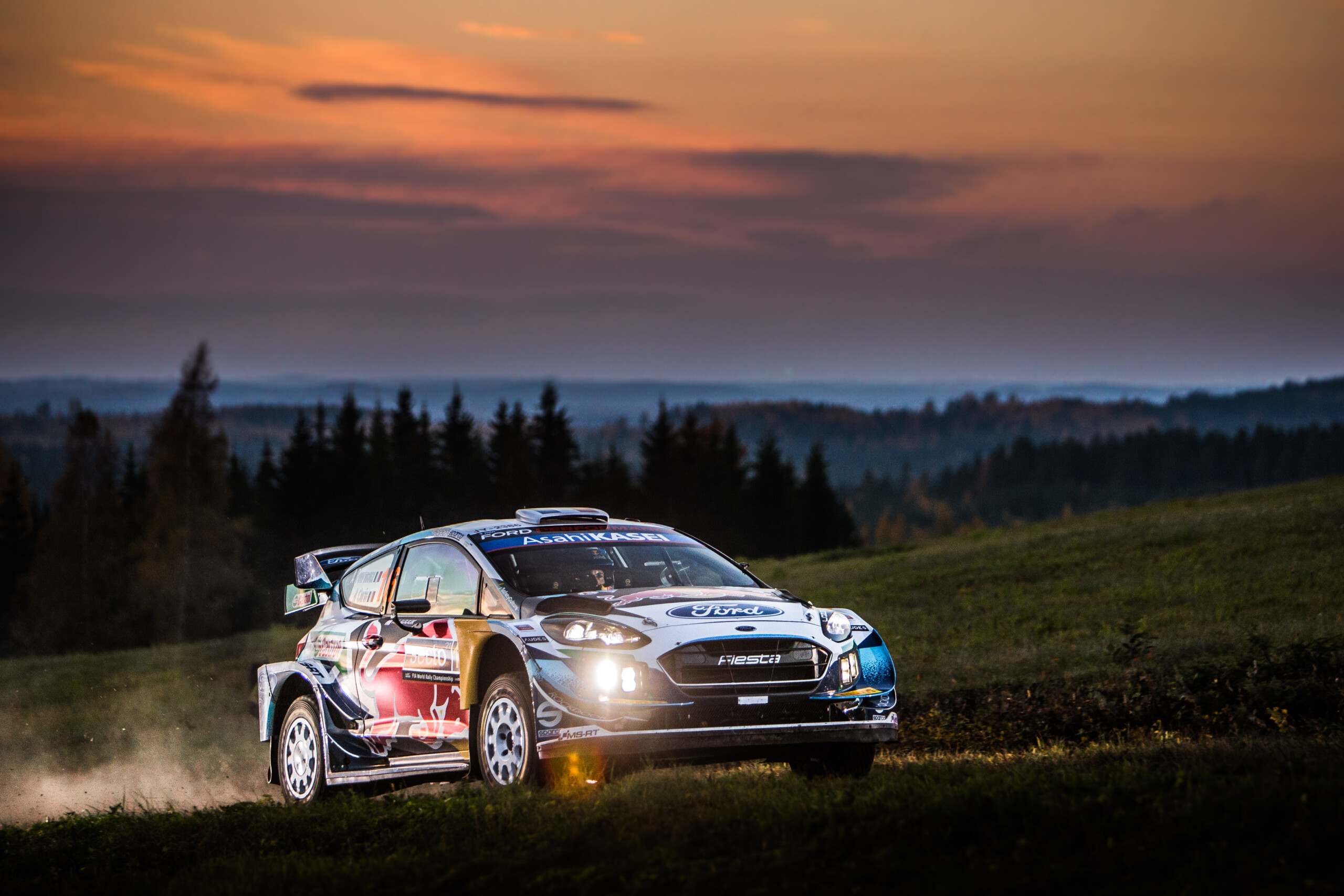 The last stage then before service, SS10 Patajoki 1 – 20.55 km and Elfyn was fastest again, 1.6 seconds ahead of Craig again with Ott, who was not comfortable with the stage conditions a further 2.1 behind Craig. It was a brilliant set of stage wins for the Welshman as he looked to take a first Rally Finland win as well. Unfortunately, we lost Kalle who lost control of his car on a lefthander and went of the road into a pile of dirt on the right. It was game over for him.
After the break, SS11 Kakaristo – Hassi 2 – 18.17 km was Ott's though from Elfyn and Craig. Elfyn was only six tenths slower than the Estonian though and the gap between them remained 9.1 seconds, and Craig was still holding second overall with a reduced time difference to his teammate.
Into SS12 Päijälä 2 – 22.61 km and Ott was fastest from Elfyn and Craig and this meant that the Estonian had now passed his teammate for second place. The gap to Elfyn remained a very healthy 7.9 seconds. In the WRC2 category, Mads was fastest from Teemu, but the Finn remained 10 seconds ahead of the Citroen driver.
Well, it was another stage win for Ott in SS13 Arvaja 2 – 13.49 km as he continued to find good pace, but he was only two tenths faster than the leader, so Elfyn's lead was barely touched. Esapekka was third fastest and was making fourth place his. Mads continued to reduce the gap to Teemu in their fight over the category lead.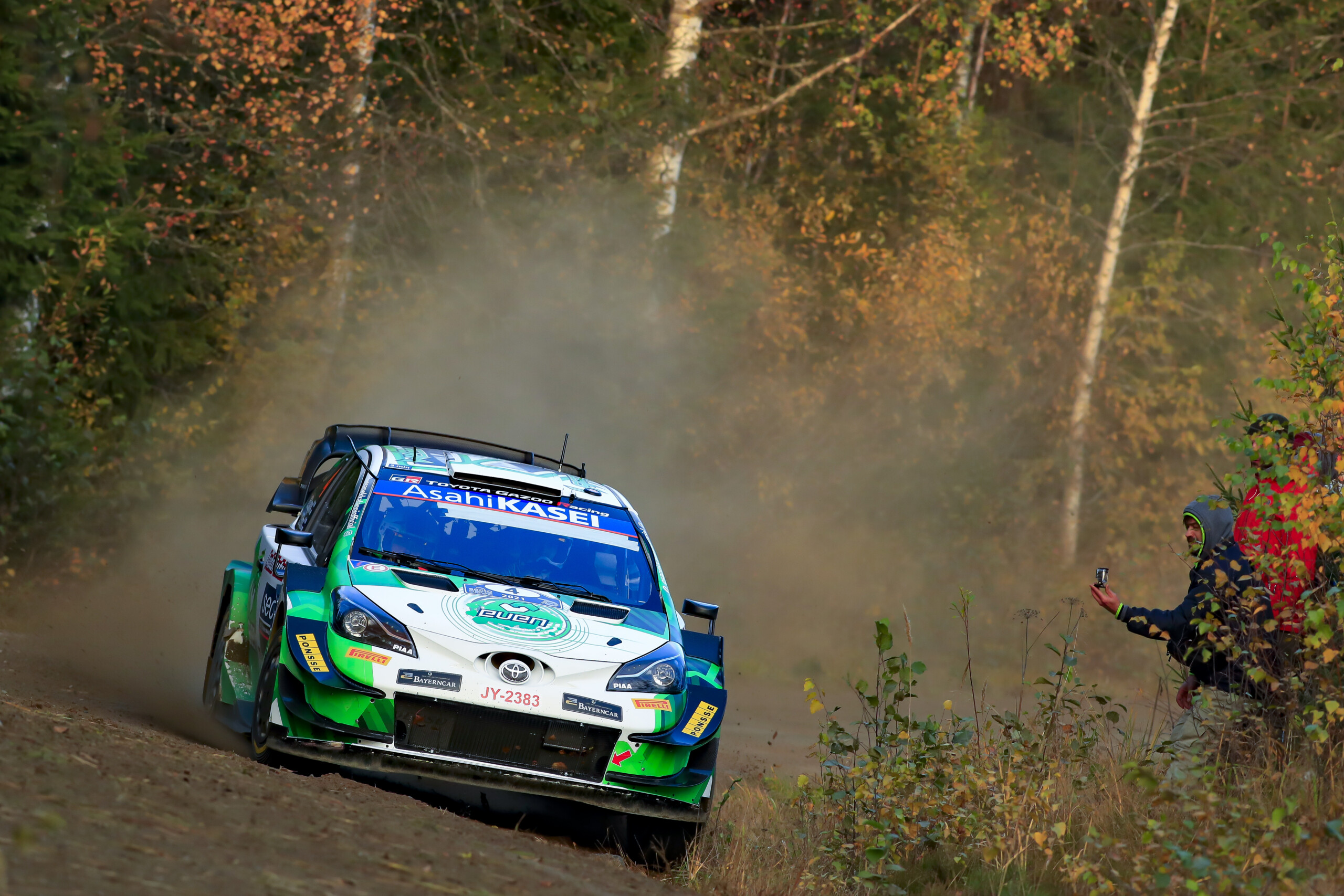 The light was starting to fade as SS14 Patajoki 2 – 20.55 km and Elfyn broke early-stage pacesetters Seb's time, and then Craig and Ott came through and were not able to beat his time. The Welshman had increased his lead over former M-Sport teammate to 9.1 seconds. However, there was drama for Thierry as he landed heavily and he lost his light pods from the front of his car. There was other damage, mainly to his cooling system, and he pulled over in an access road. He was out and any hopes of this year's title have gone with this result.
The final stage of the day, SS15 Harju 2 – 2.31 km and there was a slight change in the running order with Elfyn going last. Ott eclipsed early pace setter Seb's time, but it was great to see Elfyn match Ott time as they set identical times.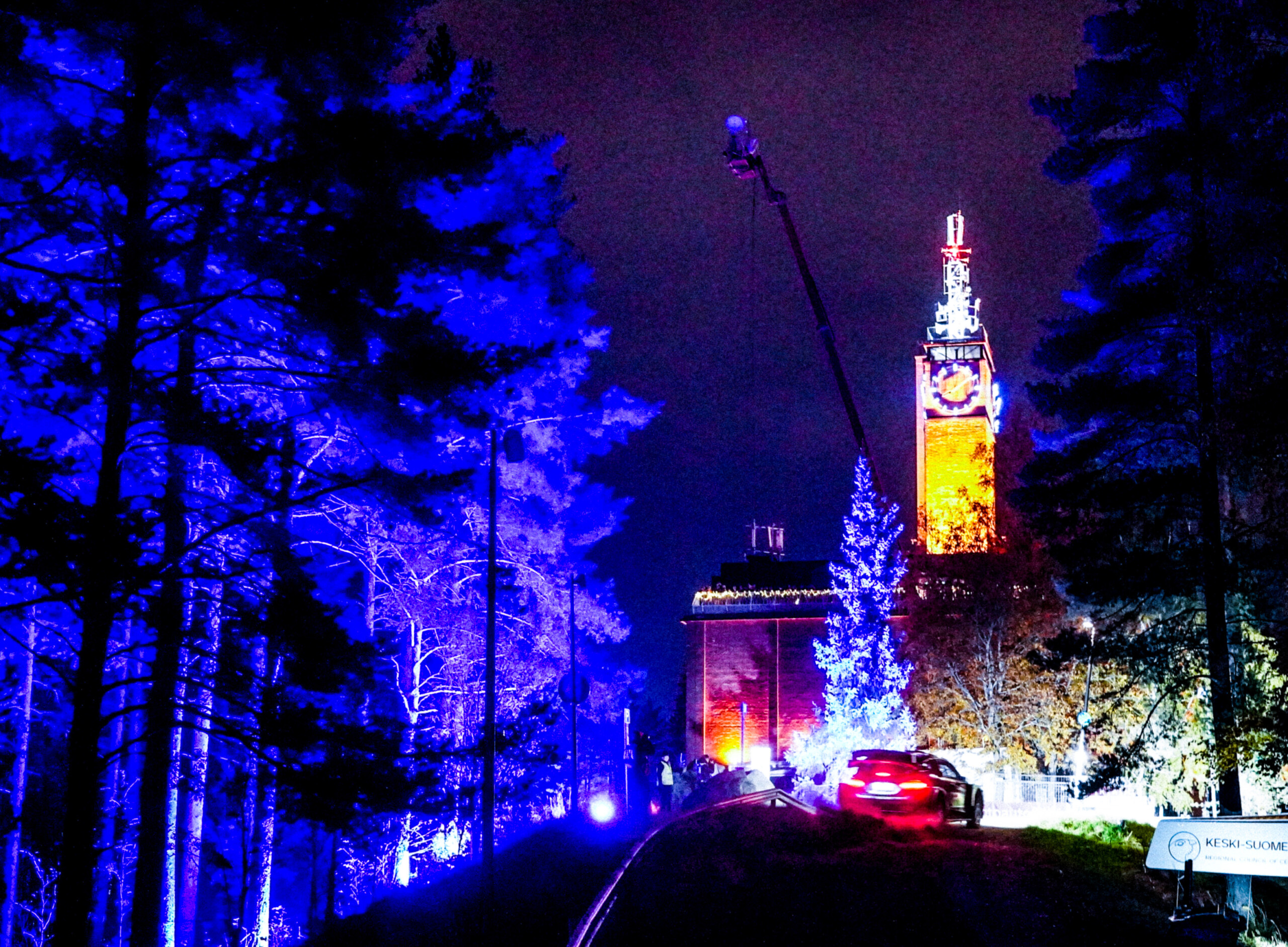 Classification after Day Two
| | | | | |
| --- | --- | --- | --- | --- |
| 1 | E. Evans | S. Martin | Toyota Yaris WRC | 1:57:46.7 |
| 2 | O. Tänak | M. Järveoja | Hyundai i20 Coupe WRC | +9.1 |
| 3 | C. Breen | P. Nagle | Hyundai i20 Coupe WRC | +19.5 |
| 4 | E. Lappi | J. Ferm | Toyota Yaris WRC | +44.8 |
| 5 | S. Ogier | J. Ingrassia | Toyota Yaris WRC | +1:23.7 |
| 6 | G. Greensmith | C. Patterson | Ford Fiesta WRC | +4:16.9 |
| 7 | A. Fourmaux | A. Coria | Ford Fiesta WRC | +5:31.5 |
Let's hear from the drivers
Toyota Gazoo Racing WRT
Elfyn Evans (1st)
"I'm pretty happy tonight, it's been a strong day. It was a good morning for us, the car was working well and I just tried to keep a good rhythm. We made some minor changes last night to improve a few areas that weren't working quite so well yesterday, and now I have a car that gives quite a lot of confidence, which helps a lot here and makes it easier to push like we have. There was a little bit of time dropped in some of the stages this afternoon but overall, we can be happy with the day. There's still quite a way to go tomorrow, so we just have to focus stage-by-stage and keep doing what we've been doing."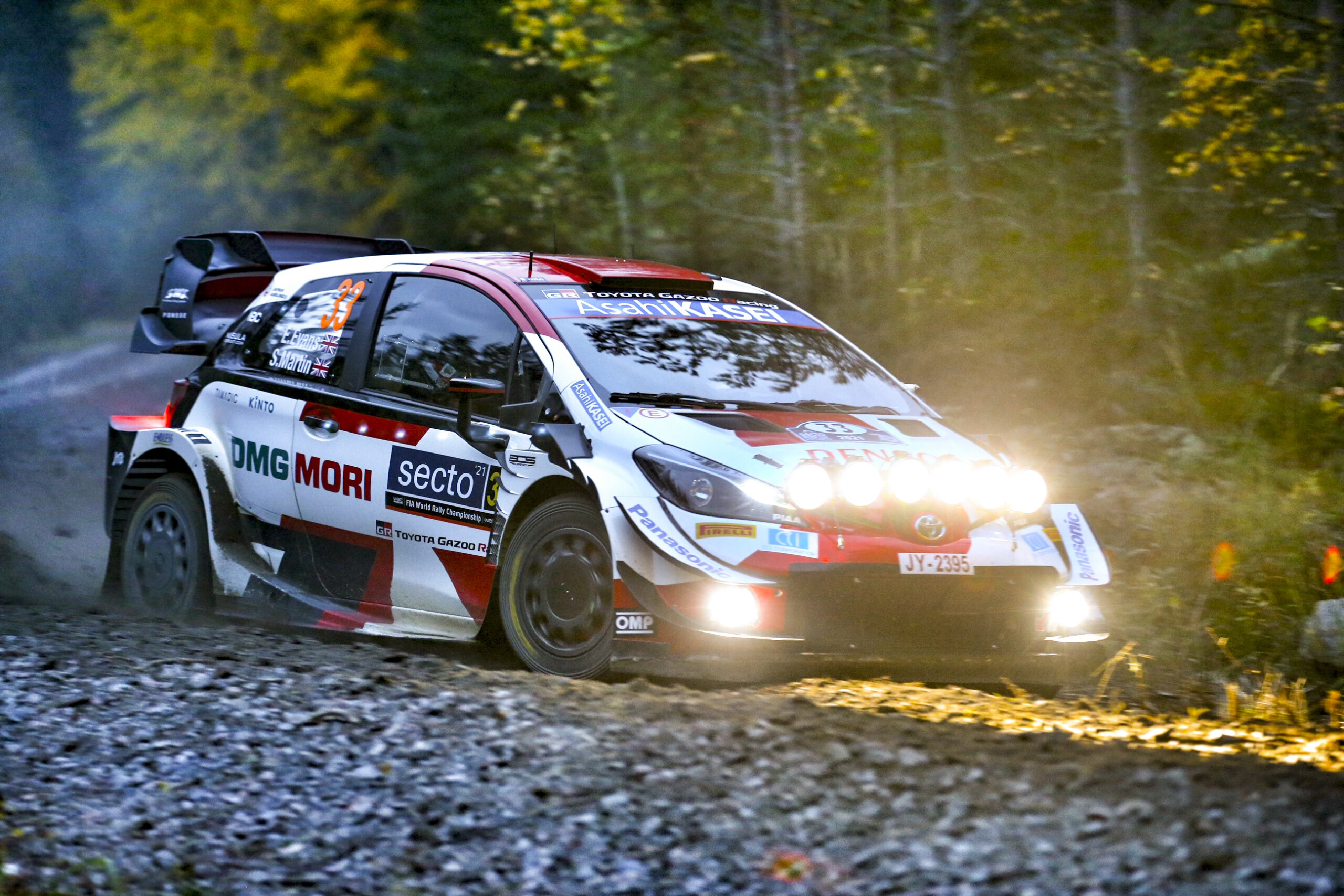 Sébastien Ogier (5th)
"This morning it was still difficult for me, the speed was pretty much the same as yesterday. The championship has been too much in the back of my head and I was not daring enough. But at lunchtime we made a setup change which made the car much more enjoyable to drive. It gave me more confidence and the times were quite good if you consider that we were still running quite early on the road. So this is a positive: At least I have some answers now for my lack of pace at the start of the rally and we could find a solution. Elfyn is doing a really strong rally and can close up in the championship, but I still have the Power Stage tomorrow to try and recover some more points."
Kalle Rovanperä (38th)
"The first couple of stages this morning were again quite tricky on the bigger roads, the grip level was really low and it was not suiting my setup and driving so well. On the third stage which was more technical and with more grip, straight away the feeling was really good and we could set quite a good time. Then on the next stage I made a mistake in a really simple corner: The cut was deeper than I expected, and it pulled us sideways towards the inside. I tried to save it from spinning but there wasn't enough space and when we came back to the road, we went into this pile of sand on the other side. It has been a tricky weekend for me but hopefully we can restart tomorrow."
Hyundai Motorsport
Ott Tänak (2nd)
"The pace has been quite good today; I was trying hard on every stage. In the afternoon, the grip was higher so it was easier to manage the car and I could push a bit more. I tried to put as much pressure as possible on Elfyn and push him hard, so that if he is able to win then it will be because he deserves it. But from first thing tomorrow morning we will try our best to battle for the victory."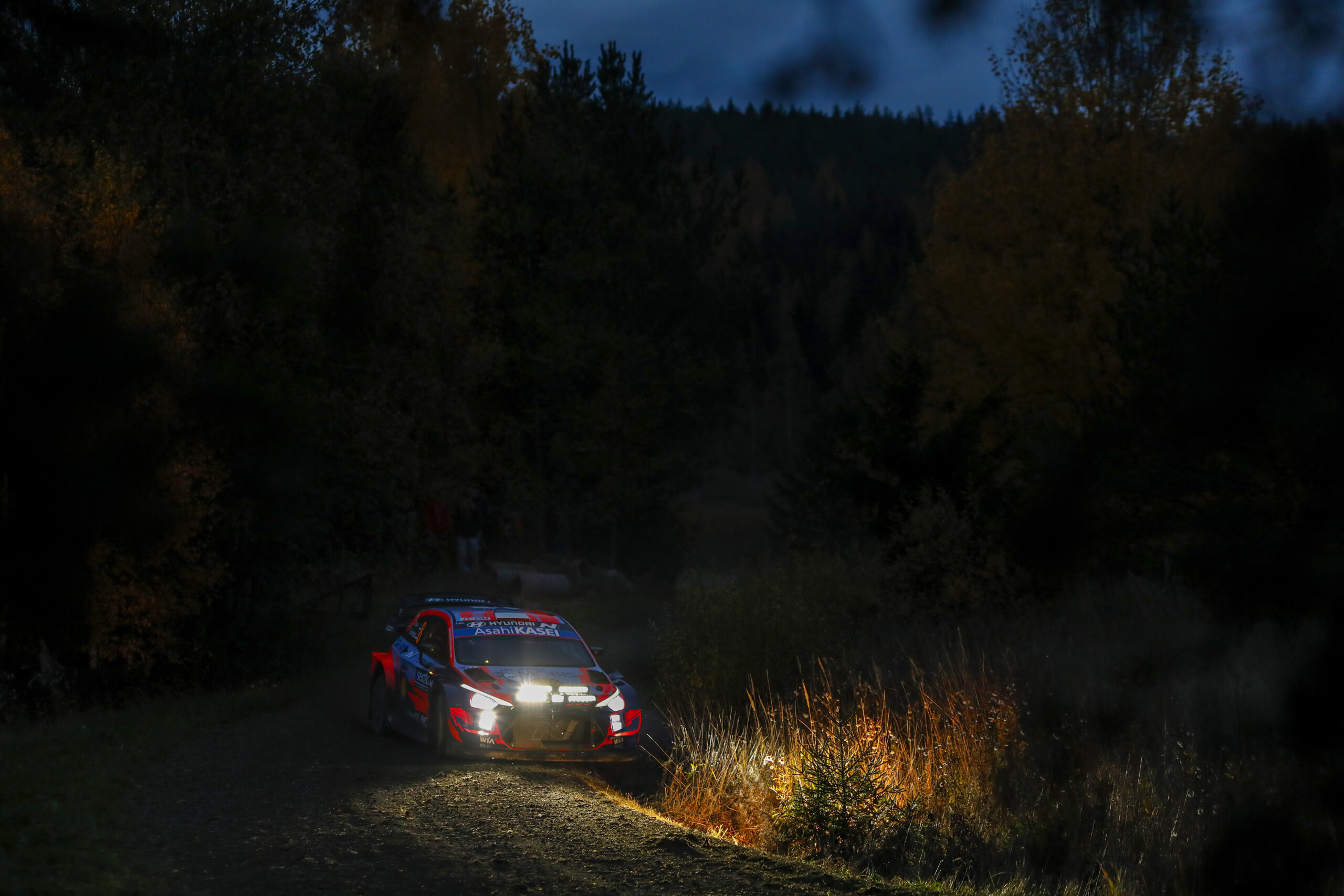 Craig Breen (3rd)
"I'm really proud of what we've done so far, managing to do these two full days without making any mistakes and staying consistent, so we have to be happy with that. It's slightly frustrating to lose some time to the top two, but it's just the case of them having that little bit extra today. It's a short day tomorrow, but it's one that still needs to be treated with respect. I would love to get another podium and make it three in a row, as that would be amazing for me and Paul. I'm looking forward to it."
Thierry Neuville (DNF)
"Everything was going well, but a couple of kilometres into the stage on a fast left corner there was a compression which damaged the radiator. We immediately got a water pressure alarm and then three corners later I saw that the temperature was getting higher and higher, so we knew that it would be difficult to go to the end. We tried our best to solve the issue, but the leak was too big and we had to retire the car. It is a shame as it had been a good day, but unfortunately there was nothing we could do."
Oliver Solberg (DNF)
"I am so sorry and disappointed with what happened. This is not at all what we needed and I am gutted for everyone in the team.
"Everyone in Hyundai Motorsport and RedGrey have worked so hard to prepare a very good car and the test we had was perfect. So, it's just a big disappointment!" The accident happened on the first run through Kakaristo-Hassi. "The accident came in quite a fast corner."
"Over a small jump the car bottomed out and sent us in the ditch, then we rolled.  Like I said, this is just such a disappointment – especially after such a positive result in Finland at the start of the season [on Arctic Rally Finland]. I came to make some experience of this event and I can't do that now. I am sorry for this for this."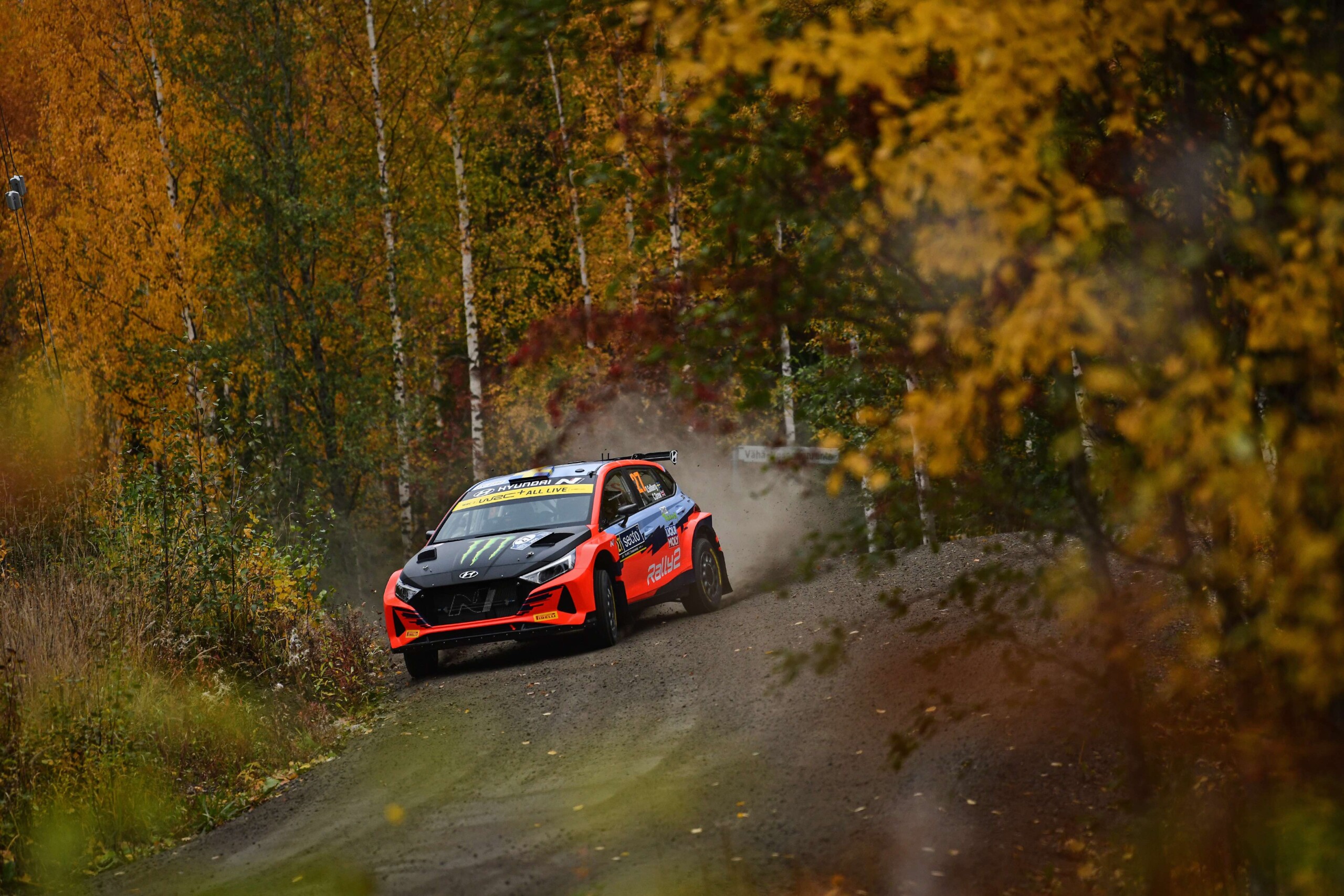 Sunday
One more day then with 45.7km's over four stages, including the Power Stage. Can Elfyn and Scott hold on for a famous victory? Only four non-Scandinavian drivers have won this rally in the past. Elfyn could become the first Welshman to win? We'll find out tomorrow!