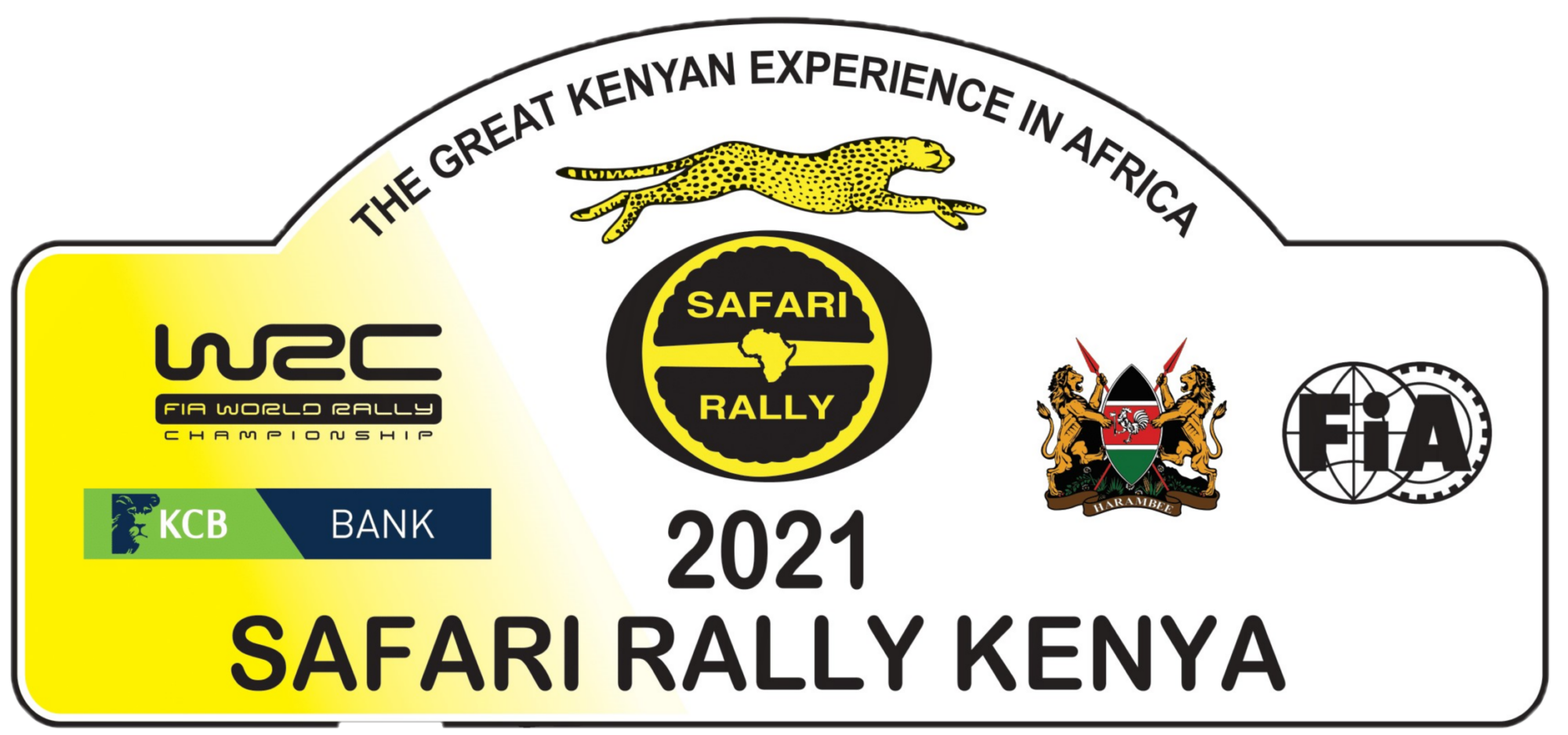 Well, this is going to be very special. The long-awaited return of the World Rally Championship to Kenya and the African continent is here! After nineteen long years we will get to see the most spectacular cars and crews at speed in the wilds of Africa.
The event last played a part in the championship from the 12th to the 14th of July 2002 and fan favourite Colin Mcrae took victory for Ford with Harri Rovanperä and Thomas Radstrom taking second and third for Peugeot and Citroen respectively. Richard Burns was the world champion driving a Peugeot 206 WRC, having won the championship in a Subaru Impreza the year before.
Well, moving onto this year's rally, which has a total of 320 km's of stages over eighteen stages. Let's take a look at those now.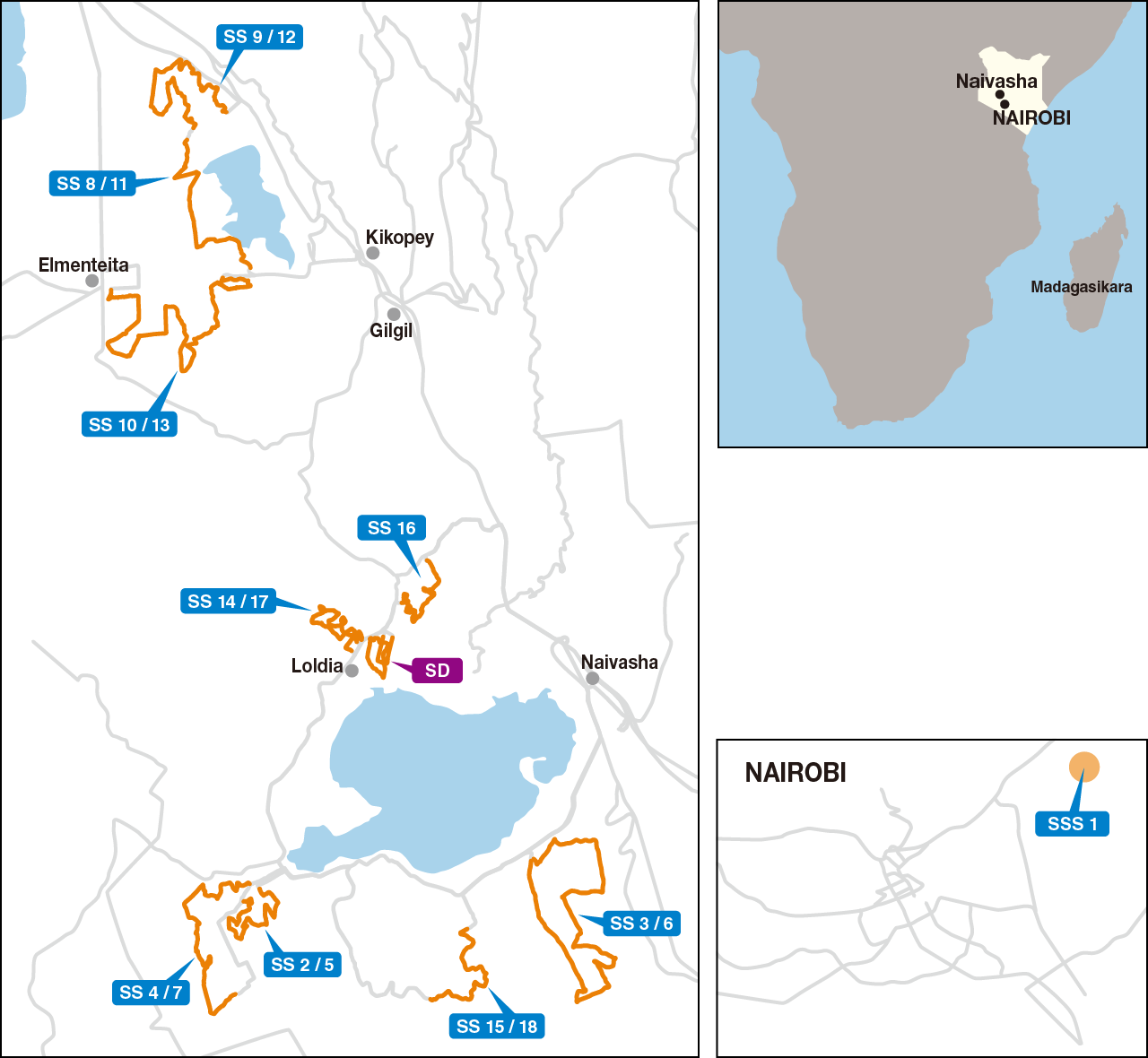 Safari Rally Kenya itinerary:
Wednesday June 23
Shakedown Loldia 5.40km (3.35 miles) 1301
Thursday June 24
SS1 Super Special Kasarani 4.84km (3.0 miles) 1408
Friday June 25
SS2 Chui Lodge 1 13.34km (8.28 miles) 0809
SS3 Kedong 1 32.68km (20.30 miles) 0905
SS4 Oserian 1 18.87km (11.22 miles) 1018
Service KWS Naivasha 1142
SS5 Chui Lodge 2 13.34km (8.28 miles) 1346
SS6 Kedong 2 32.68km (20.30 miles) 1442
SS7 Oserian 2 18.87km (11.22 miles) 1555
Service KWS Naivasha 1719
Saturday June 26
SS8 Elmenteita 1 14.67km (9.11 miles) 0808
SS9 Soysambu 1 20.33km (12.63 miles) 0908
SS10 Sleeping Warrior 1 31.04km (19.28 miles) 1022
Service KWS Naivasha 1157
SS11 Elmenteita 2 14.67km (9.11 miles) 1405
SS12 Soysambu 2 20.33km (12.63 miles) 1508
SS13 Sleeping Warrior 2 31.04km (19.28 miles) 1622
Service KWS Naivasha 1757
Sunday June 27
SS14 Loldia 1 11.33km (7.04 miles) 0726
SS15 Hells Gate 1 10.56km (6.56 miles) 0838
SS16 Malewa 9.71km (6.03 miles) 1045
SS17 Loldia 2 11.33km (7.04 miles) 1125
SS18 Hells Gate 2 10.56km (6.56 miles) 1318
Let's hear from the drivers.
Toyota Gazoo Racing WRT
Sébastien Ogier
"I am always excited to discover a new challenge in my career, and I believe this rally will be very different from anything I have done before. We've heard a lot that we are going to have to set our targets a little differently: The way we drive nowadays in the WRC is by really pushing the limits all of the time, but when we go to Kenya it will be much more about trying to survive the rally without trouble. I think it can be interesting to have a challenge like this during the year. It has been hard to know what is the right way to prepare, so I think the drivers will probably have to adapt a bit during the rally, but the recce will certainly be important to understand what is ahead of us."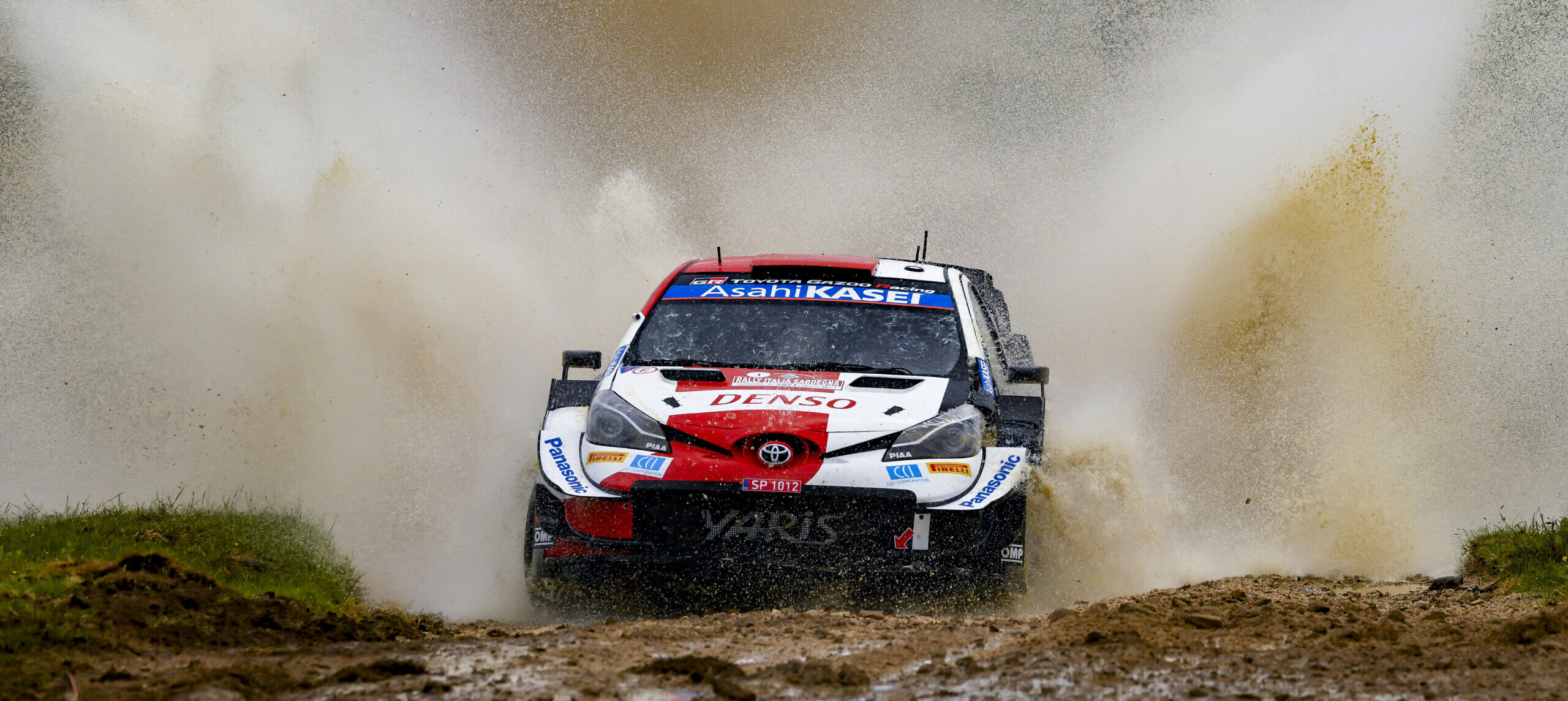 Elfyn Evans
"Obviously, Kenya is a big unknown as none of the current drivers have been there to do an event before. Of course, I've seen a lot of the classic footage from the past and it all looks very spectacular. It's not going to be exactly the same this time, as we'll have a more controlled loop of stages, but I am nonetheless excited to go there and rally in a completely different environment. I suspect it's not going to be the smoothest event on the calendar, and it could be a big test for the car and maybe for the crew as well. From what we've seen it's quite an open landscape, so reading the road could be quite difficult, but until we get out there and have a look for ourselves on the recce, it's very hard to judge what the biggest challenges will be."
Kalle Rovanperä
"Kenya is going to be really interesting. It's a new event for everybody and at the same time it's also a really classic event from the past. The WRC was last there in the early 2000s when my father was competing, and I've seen all the old videos from then and he has been telling a lot of stories. Rallying as a sport is quite different now, so it's going to be interesting to see how we will do those stages with the cars that we have these days. We know that it's not exactly the same concept – we won't drive such long stages, for instance – but it will still be nice to see if the conditions will be just as rough and as tricky in some places. Everything is going to be different but I'm excited for it."
Hyundai Motorsport
Thierry Neuville
"I think everyone is excited to have Safari Rally Kenya on the calendar. I have heard stories from drivers who have had the chance to go there in the past, who have described the adventure they lived at the time. It will be a different experience for us, as the rallying has evolved over time. I don't know what is waiting for us, but I hope to come back with a big trophy. We'll be seeing zebras, elephants and giraffes; it is going to be fun!"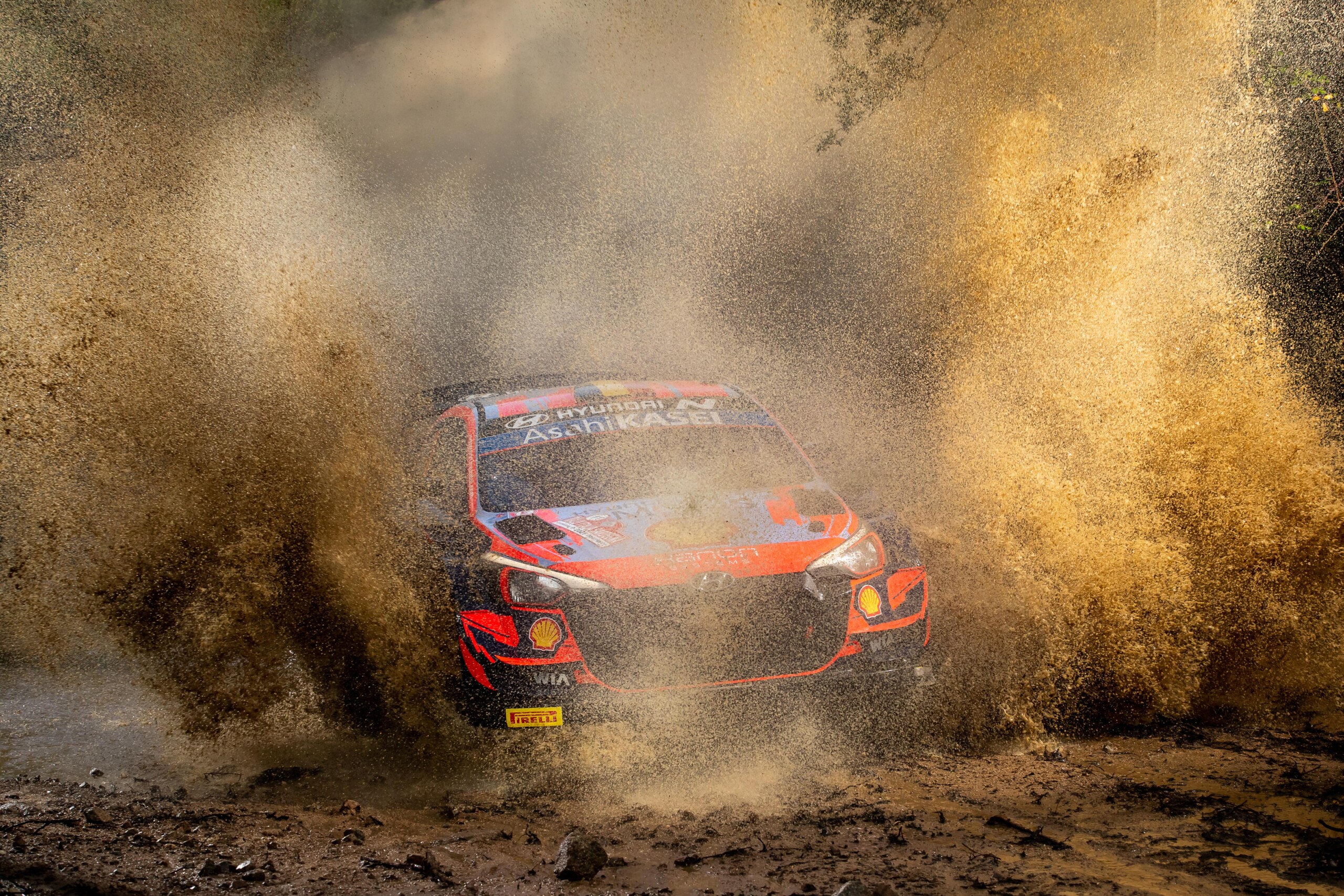 Ott Tänak
"Safari Rally Kenya is a new event for me, and Africa is a place where I've never been. I am looking forward to it, although I expect it to a bit of an adventure. I have seen some footage from previous rallies; it is one of those events where to finish first, first you have to finish. It seems to be a wild, wild place – and it will definitely be different to anything else on the calendar, something special. Hopefully everything will work out in our favour."
Dani Sordo
"We left Sardinia feeling unfulfilled with our weekend because we knew we were capable of much more. The car was fast and showed its potential on tough gravel roads. Kenya will be another challenge, but it is going to be an incredible experience. Safari Rally is like nothing else, it's an event that we have never contested, with really unique stage profiles. I like to drive in these sorts of conditions; it's going to be a hard rally like in the past, so let's see how we get on. We're hoping to score a good result for the team, who have been working non-stop to prepare for these events."
Oliver Solberg
"I think you can believe me when I say I am excited about every rally I start. But this one is different. This is Safari Rally Kenya. I was eight months old last time the World Rally Championship was in Africa, so it's pretty safe to say I don't remember much about it – but I have grown up listening to my papa talking about the stories from this incredible place.
The Safari is really one of the total special ones. It might be different, I guess it's going to be rough and tough and quite hard work, but isn't it just fantastic to be going back to this place and this landscape. This is really what a world championship is about – going to these amazing places which provide some real adventure to the sport. Not that I want to be so adventurous… I already told Aaron [Johnston, co-driver] that he can do all of the tyre pressures this time. Somebody asked me if I was afraid of the lions? Of course, I am!
Seriously though, this rally is so different to Arctic and Alba, the two events I have done in the Hyundai i20 Coupe WRC. I don't have any experience of the car on gravel; OK it will be a little bit, sort of similar to the snow in Lapland, but the roads are so different. The recce is going to be incredibly important on this one. From the onboards we've already seen there are going to be some very, very high-speed sections slowing down into tight junctions. It can be easy to miss these places, so we have to be super-careful on the recce. Once we get into the event, I will be sensible. There's some danger in every stage, this isn't one to try to be a hero. I want the experience of this incredible rally."
M-Sport Ford WRT
Adrien Fourmaux
"It's really good that the WRC is going back to Kenya. It will be a really big challenge and we know from the past how difficult this rally was. Okay, it's a shorter event this time compared to the old WRC event, but it will still be hard and completely different to what we know.
"I'm a bit too young to remember watching the Safari Rally when it used to be in the WRC, but I have seen some videos and it was amazing to see the Ford Focus with the extra bars at the front. We will not have this protection but I am sure we will find some giraffes and elephants on the stages so it will be really interesting and for sure we will have to be careful!
"I have watched the video of the organiser. In some places we will have to almost stop because it's really rough, but this is when we have to be smart enough to say, 'okay this section we have to be slow but this section we can be fast'.
"It's really nice to know the last driver to win the Safari in the WRC was Colin McRae in the M-Sport Focus. It will be really difficult to do exactly the same result although you never know because a lot of things can happen. But I want to stay quite humble. It's an honour for me to do this rally and I can only say thanks to M-Sport for this opportunity. To go to Kenya is really good but with the WRC car it's a dream and I can't wait discover not only the rally but the humanity and the landscape."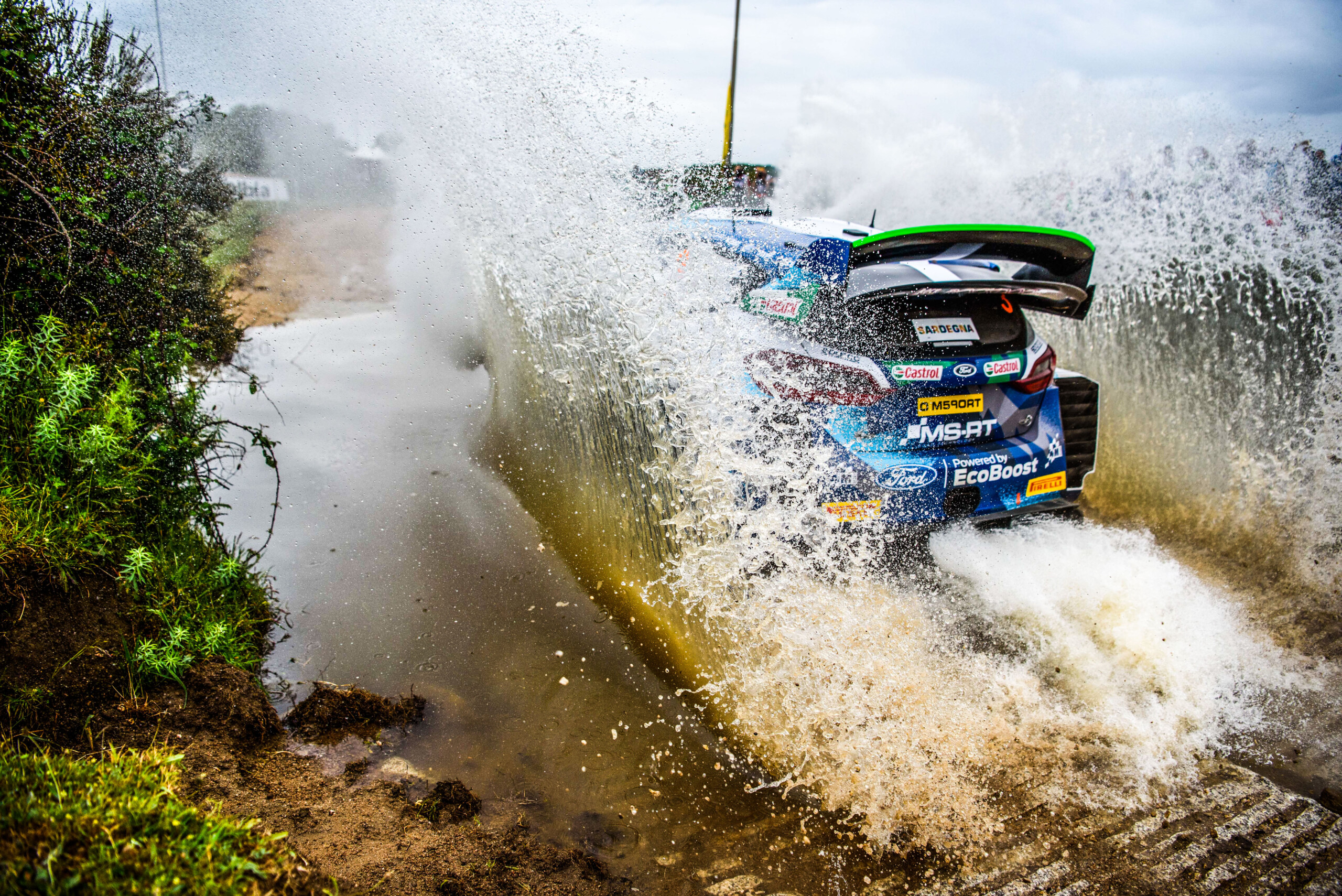 Gus Greensmith
"I was five when Colin McRae won the Safari for M-Sport and didn't know what rallying was. But it's obviously a cool thing he did and we've got the Safari Rally Focus that Colin won in in the main hall at M-Sport so every time I'm at M-Sport I pass the car. Clearly, it's a very fond memory for Malcolm and the team and it would be great to get another good result.
"I've asked Malcolm plenty of questions about the Safari, but it was obviously so different back then with open roads and very long stages. It's a very different challenge now and kind of new for the people of who have done it before. It's definitely a trip into the unknown for me – I've never even been to Africa – but I've been watching the organiser videos for quite a while. Usually, I watch them religiously to become more familiar with the stages because it helps me to write better pacenotes, but because the roads are so undefined it's been a different preparation for me. But I'm sure we'll find more definition when we get there.
"From what I've seen I don't think I can compare the Safari Rally to anything else I've done. But I have shown I can drive to the conditions when I need to, like when I won WRC2 on Monte-Carlo and in Turkey.
"We've certainly made some very good steps forward since Croatia. Chris is back in car on this rally and it will be helpful to have his knowledge. My aim for the remainder of the year is to be consistently in the top five and keep my pace going forward. There's no reason why that can't be possible."
Summary
New events are always interesting, as it levels the playing field. As you know, the crews will have to complete totally new stage notes throughout the recce days. Road position will be really key in this event. We just don't know how the stages will change, and with Seb Ogier opening the road could we see him on the podium on Sunday? There are so many unknowns about this, which makes it a very interesting event.
Ott Tanak will want to take victory after missing out on almost certain victory in the last two rounds. Who else could challenge for victory? Well, Dani Sordo always goes well on these kinds of events and could be right at the front. What about Elfyn? Well again if he can get comfortable, then he will certainly also be near the front. What about Kalle? Can he repeat his dad's podium from 19 years ago? That would be a story! It's just too hard to call and it will be fascinating to see how things pan out.
Here's Rich Millener's thoughts from last year's Autosport International Show, when I asked him about the returning event – "I think Safari realistically is going to be quite different from what people expect. I think a lot more of the European style event is likely. It won't be horrendously rough, it won't be huge great deep-water splashes, cars will look pretty much look as they are. If people are expecting snorkels and everything that goes with it, which is great but we have the reality of the costs of designing a one-off car and it's not feasible for anybody.
However, having said that all new stages, very different from what we've seen, it's quite sandy in places which is a different skill, fast and actually narrow in some places and if you go offline, there's big rocks and everything. The temptation to cut will be there, but the reality of cutting might not be so ideal and there is the wildlife, you know that you can't get away from wildlife, there's still going to be that gone are the days of the star helicopters and everything that went along with that because going to that level again would be like doing two rallies for the price of one.
We can't really afford it. It will be very interesting, we sent some people out to the candidate rally to try and understand what it's about, we know a little bit more, but all these new rallies are good for the drivers, because everyone's in the same boat, new stages and new pace notes. I don't think any of the drivers this year have been to any of these places, so that will be interesting. We'll just prepare in the normal way, testing is most difficult because we don't know the exact conditions you're going to get in Safari, so you don't know where you're going to test. We've got a few options in mind, and I think that will be a key part of doing well."
Enjoy the rally and pop back next week for my full stage by stage report!