This is a familiar sight. Formula One embarks on a double-header in Austria starting this weekend, as Red Bull return to their home Grand Prix.
Max Verstappen's victory in France last time out gives him a 12-point advantage as we approach the 4.3 kilometre circuit that also happens to provide some happy memories for F1 as a whole. Spielberg ended the drought of races during the ongoing Coronavirus pandemic, allowing fans around the world to enjoy cars going quickly in circles again. It hosted the first two races of 2020, and now returns to host the eighth and ninth races of a thus far remarkable 2021 season.
Red Bull have now won three consecutive races for the first time since 2013, and expectations that Mercedes were about to return to form in France were bulldozed by the Austrian team's victory and double-podium.
For what is really the first time since the arrival of the hybrid era, Mercedes find themselves in desperate need of a result. Red Bull are pushing them perhaps harder than anyone has been able to since 2014, and a short, technical track with little margin for error will likely suit Lewis Hamilton and Max Verstappen, meaning that we are set for a stunning couple of races.
And the Red Bull Ring is not devoid of overtaking spots, so the battle behind the front two teams should be an intense one. There remains ambiguity over Ferrari's sheer lack of pace in the French Grand Prix, with the Hard tyres refusing to switch on for either Carlos Sainz or Charles Leclerc, so keeping the rubber in check may just be another head-scratcher for the likes of McLaren, Alpine, Aston Martin and anyone else who plans to obtain third in the Constructors' standings come the end of the year.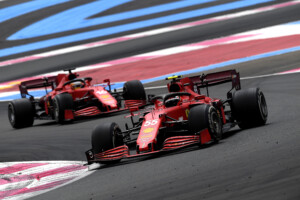 But that may not even have to be a factor. Thunderstorms, along with an orange weather warning, are anticipated this weekend in the Styrian mountains, so expect there to be some strategic and handling difficulty for the teams and drivers.
Mercedes need another bounce back, but they are going to have to achieve it in Red Bull's back yard. The next two weeks will be massive in the context of this year's world championship.