Paul Ricard hasn't been known for its classic races since re-joining the calendar in 2018, but thankfully this weekend's French GP put an end to that. Max Verstappen claimed Red Bull's third consecutive victory this season, overtaking Lewis Hamilton on the penultimate lap of the race, with Sergio Perez rounding out a great weekend for the Austrian team in third place. It was a result few would have predicted during the first stint of the race.
Luckily for Red Bull, this was another race where tyres were the talk of the town. Thankfully, random failures weren't on the agenda on Sunday afternoon, but the morning rain  – combined with higher tyre pressures to combat said failures –  meant the conventional one-stop strategy wasn't as sure of an option as it was expected to be. This lack of grip even caught Max out on lap one, as the Dutchman slid wide at the first corner, gifting the lead to his title rival.
This was the only mistake Max made all race, meaning he was able to capitalise on strategical errors from Mercedes. After Verstappen made his first stop, Mercedes decided not to react straight away, figuring they had enough of a margin to stay out one extra lap, and retain the lead on a fresher set of tyres. A combination of a lightning fast out lap from the Red Bull, and a slower than expected stop from Mercedes gave Verstappen the lead, and left the Brackley-based team's pitwall scratching their heads. It's not the first time Mercedes have lost out in the pits this season, with Red Bull consistently a few tenths quicker at tyre changes. Rarely has that small weakness made as big of a difference as it did on Sunday.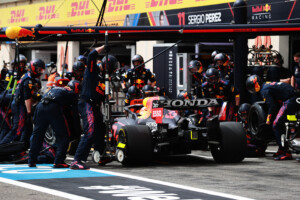 It became clear during the second stint that the hards were not going to last at even a semi-reasonable pace  – unless you had done an epically long first stint à la Perez and Lando Norris –  and that the two-stop might be your best shot of winning. Still, it was a huge risk for Red Bull to call the Dutchman in from the lead, and in doing so they left Mercedes' hands tied. Either pit, and resign yourself to losing the victory, or hold on for dear life and pray that the tyres would last to the end. Mercedes went all in on the latter option, when perhaps splitting the strategy might have been the best way to go. It was pretty clear from his expletive-laden messages what Valtteri Bottas wanted to do, delivering messages with the air of a man who doesn't expect to be hanging around the Silver Arrows too much longer.
The Finn's tyres were cooked, and as soon as he went deep into the Mistral chicane, there was almost an inevitability about the result. Who knows how much longer he'd have been able to hold off Verstappen without that mistake, but that could well be a key turning point when we look back at the championship in six months time. As could the decision to keep not pit Valtteri after he'd been passed by Sergio Perez, with Mercedes clearly gambling on the Mexican getting a penalty – and gaining them three extra points – rather than going for the fastest lap, and crucially taking one point off Verstappen.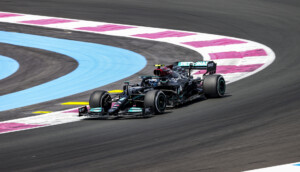 Further down the grid, there were some great drives that went under the radar. McLaren were clearly best of the rest, with Norris and Daniel Ricciardo both claiming top-10 finishes. Vettel and Alonso seemed to continue their recent run of form, both scoring multiple points. George Russell also put in a fantastic drive to take 12th, in a race with no retirements, a timely reminder of the young Brit's talents.
All the talk though was on the brilliant Red Bull strategy, which helped Verstappen extend his championship lead to twelve points over Hamilton. A double-header at their own circuit in Austria now awaits, and it is already starting to feel that if Mercedes do not find some pace soon, their quest for an eighth consecutive championship double will come up agonisingly short.