Remy Gardner dominated the 8th round of Moto2 at the Sachsenring in Germany to take third win in a row, increasing his lead at the top of the championship.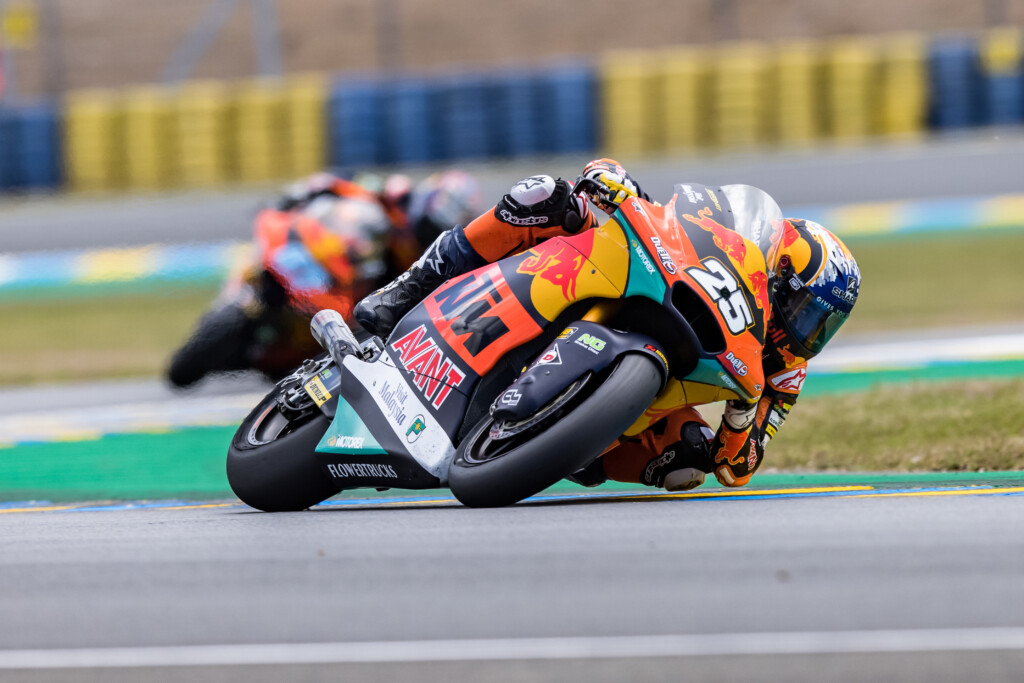 Heading into the weekend, Gardner on 139 points was only 11 points ahead of his teammate Raul Fernandez, with Italian Marco Bezzecchi 3rd on 101, and Britain's Sam Lowes 4th on 75.
The Sachsenring, at 2.28 miles, is a tight, twisty track, and the focus for the weekend was on tyre preservation. High temperatures on Friday and Saturday, with a slightly cooler temperature on race day also added to the tension, with the whole field on a hard compound on the front and a soft rear.
A blistering lap time of 1:23.397 in Q2 earned Raul Fernandez pole, pushing Di Giannantonio into 2nd, with Remy Gardner completing the front row. After a crash in Q2, Britain's Sam Lowes started on the 3rd row of the grid in 7th place.
Fernandez took the lead off the line, closely followed by Gardner. Di Giannantonio dropped back into 6th, and Xavi Vierge moved up from 5th on grid up into 3rd.
The opening laps seemed to be shaping up to be another battle between Fernandez and Gardner, as the two Ajo KTMs pulled away from the rest of the field, with a half second gap opening up behind them to Vierge.
On lap two, Gardner passed his teammate and took the lead, as Sam Lowes dropped back into 14th.
The Ajo's increased their lead with every lap – 2.5 secs ahead of third place on lap 3, and on lap 4 a gap of 3.8 secs.
Gardner settled into a rhythm putting in faster lap times, with Raul Fernandez pushing hard to stay on his tail, but on Lap 5 the rookie showed his lack of experience and lost the front end at turn 3, sliding into the gravel and out of the race.
Spain's Aron Canet, who started 10th on the grid, had worked his way up through the field and now moved up to second, starting to pull away from Bezzecchi.
Gardner, riding a lonely race, gradually stretched out his lead to 5 seconds ahead of Canet with Bezzecchi in 3rd.
On lap 21 Lowes moved up into 8th place, meanwhile Bezzecchi & Di Giannantonio swapped places in a battle for 3rd, with Bezzecchi eventually making it stick.
Gardner extended his lead to 6.5 secs over 2nd place Canet, who in turn was over 2 seconds ahead of Bezzecchi.
On lap 26 Honda Team Asia rookie Ai Ogura passed Xavi Vierge to move up into 5th, and both Ogura and Bezzecchi started to close in on Canet.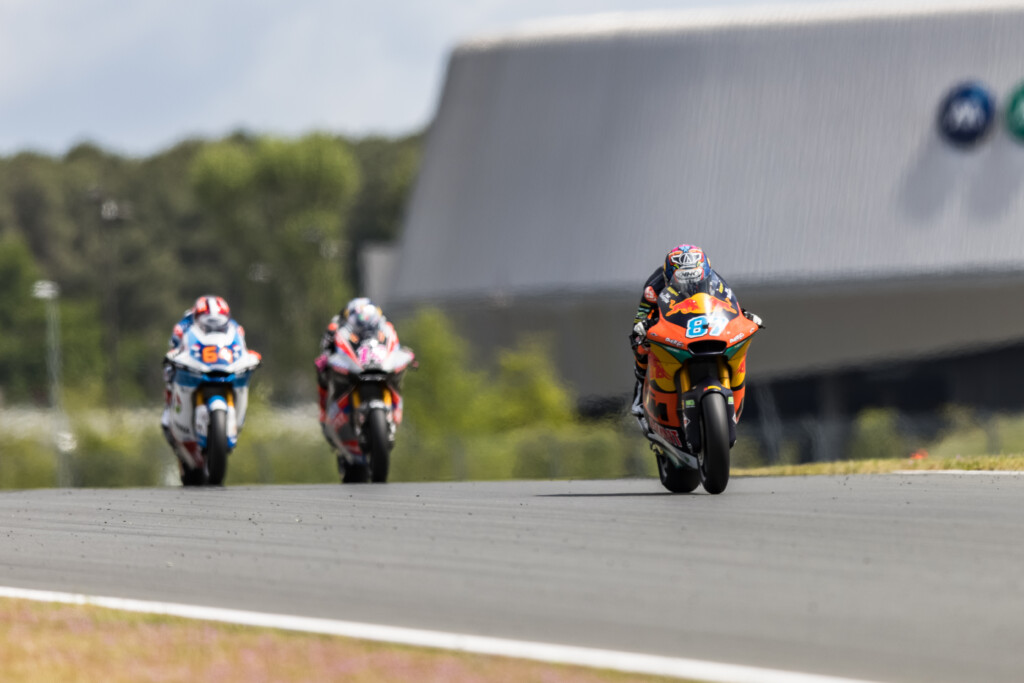 The last lap brought yet more surprises, with Vierge, running in 6th, crashing out on turn 1, followed by Joe Roberts at the same corner, and Ai Ogura out on turn 8. Gardner crossed the line comfortably ahead of Canet who held onto 2nd, with Bezzecchi in 3rd. Di Giannantonio claimed 4th, and after the incidents on the last lap Sam Lowes moved up to take 5th.
The gap at the top of the championship has now widened, with Gardner going into the next round at Assen 36 points clear of teammate Fernandez, who is now only 11 points ahead of Bezzecchi. Can Fernandez pull something out of the bag at the Dutch TT, or will Gardner make it four in a row and further increase his lead?
First fifteen riders:
1              Remy Gardner AUS – Red Bull Ajo KTM – 25 points
2              Arón Canet SPA – Aspar Team – 20
3              Marco Bezzecchi ITA – SKY Racing Team VR46 – 16
4              Fabio Di Giannantonio ITA – Federal Oil Gresini – 13
5              Sam Lowes BRI – Elf Marc VDS Racing Team – 11
6              Marcel Schrotter GER – Liqui Moly Intact – 10
7              Jorge Navarro SPA – MB Conveyors Speed Up – 9
8              Albert Arenas SPA – Inde Aspar Team – 8
9              Marcos Ramirez SPA – American Racing – 7
10           Cameron Beaubier USA – American Racing – 6
11           Nicolo Bulega ITA – Federal Oil Gresini Moto2 – 5
12           Alonso López SPA – Flexbox HP40 – 4
13           Bo Bendsneyer NED – Pertamina SAG – 3
14           Barry Baltus        BEL – NTS RW Racing GP – 2
15           Celestino Vietti ITA – SKY Racing Team VR46 – 1