After crashing out at the Grand Prix of the Americas and seeing his championship lead reduced to just nine points, all eyes were on Remy Gardner and his rookie teammate (and championship rival) Raul Fernandez as we moved into round 16 of the 2021 Moto2 season with a return to Misano.
But this is a season where we have learned to expect the unexpected. After a difficult qualifying in damp conditions, Raul started from 9th place on the grid and Gardner from 14th, his worst starting position of the season.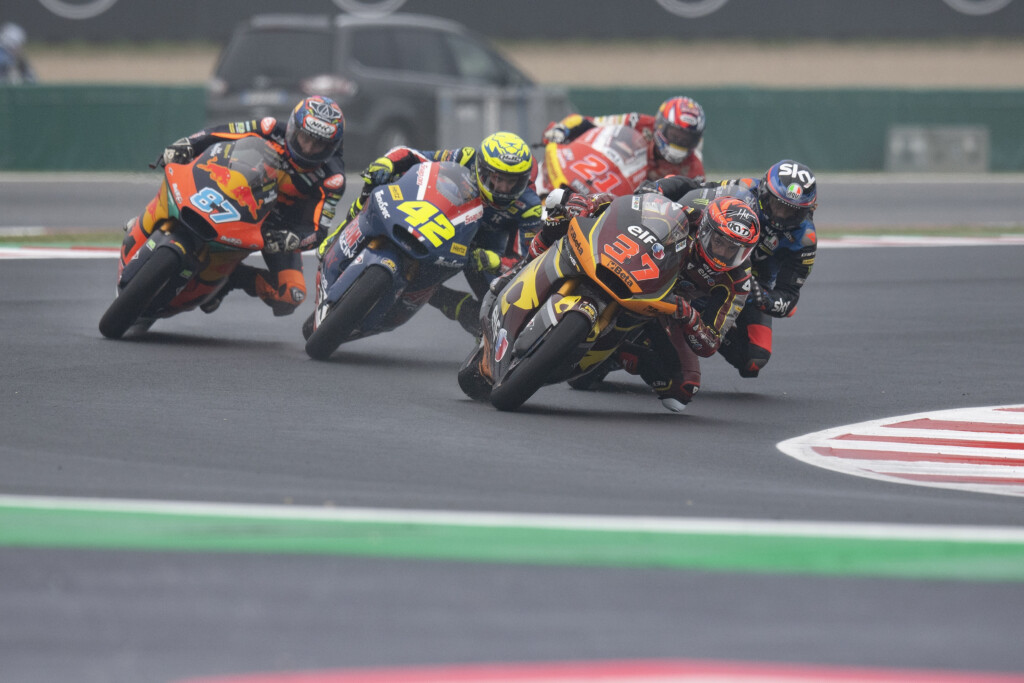 Fernandez quickly moved up the order to 2nd place by lap 6, but Gardner struggled to make progress, initially dropping back, then moving up to 8th by the start of lap 5.  His attempt at passing Somkiat Chantra forced the Honda Team Asia rider into the gravel, with Gardner being given a long lap penalty.
On Lap 15 Raul Fernandez's fortunes changed again – after running slightly wide and clipping the white line on turn 15, both bike and rider were sent cartwheeling into the gravel. Fortunately uninjured, Raul could only watch as Gardner crossed the line in 7th place, the championship lead stretching out once again to 18 points.
Instead it was a good day at the office for the Elf Marc VDS Racing Team, with Sam Lowes starting from pole and claiming the top spot on the podium. Teammate Augusto Fernandez received a long lap penalty before the race had even started, for riding slowly on the racing line during qualifying. Starting from 3rd on the grid, he took his penalty early, rejoined in 14th place, and worked his way back up to the top 4, eventually finishing in second.
Off the line Lowes held onto the lead after a brief challenge from his teammate, as behind him Aron Canet moved up past Jorge Navarro into 2nd and Augusto dropped back into 4th.
By the end of lap 1 Canet had taken the lead, until lap 4 when Navarro moved up to challenge, Canet forced him wide and Lowes was able to pass them both, and in the meantime Raul Fernandez moved up to 3rd.
Going into lap 6, Lowes had a lead of half a second, and started to stretch it out, as Raul Fernandez passed Canet to gain 2nd place. Lap 7 saw Raul close in on Lowes, as Gardner's attempted overtake of Chantra resulted in a long lap penalty. A prolonged battle with Augusto Fernandez saw Gardner struggle to maintain his pace and by lap 15 Augusto was running in 6th, Stefano Manzi 7th and Gardner 8th.
After Raul Fernandez' crash, Gardner took to the long lap loop, and rejoined in 7th place in front of Marco Bezzecchi.
On lap 18, Lowes ran wide allowing Canet to seize the opportunity to take the lead, but Lowes regained the place on lap 22 whilst fighting the front end, and Canet began to drop back almost immediately. On the last lap, Lowes led by a second over Canet, who was in turn half a second ahead of Augusto Fernandez. As they approached the chequered flag Augusto caught up to Canet to snatch 2nd.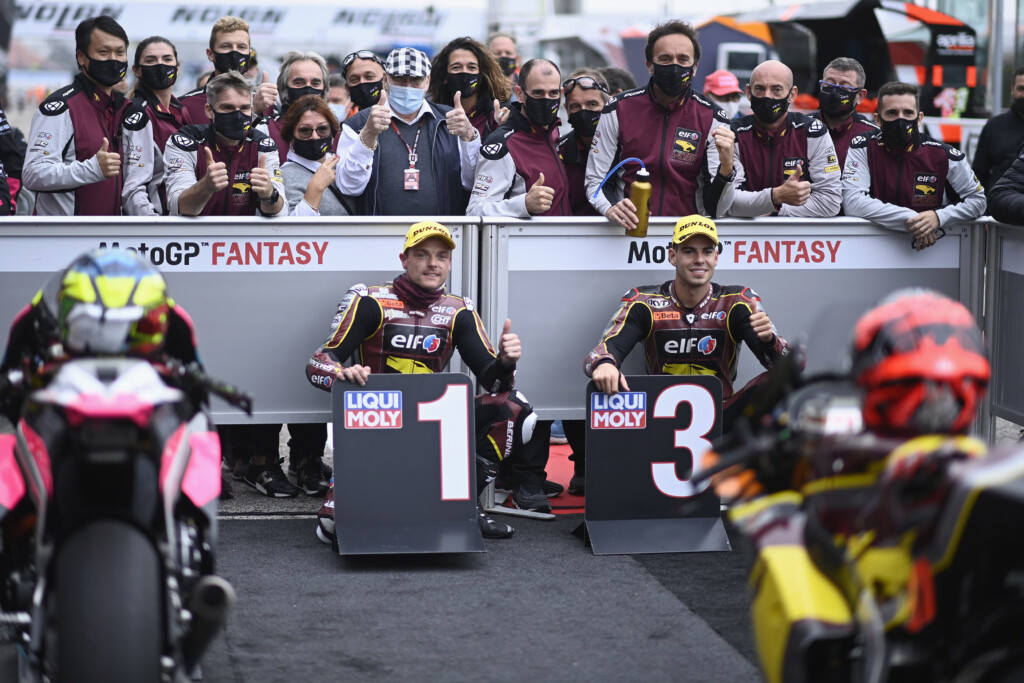 With only 2 rounds remaining, can Raul Fernandez fight back to take the championship crown in his rookie season? Or can Gardner recover his composure and increase his lead?
First fifteen riders:
1              Sam Lowes GBR  – Elf Marc VDS Racing Team – 25 points
2              Augusto Fernandez SPA – Elf Marc VDS Racing Team – 20
3              Aron Canet SPA  – Aspar Team Moto2 – 16
4              Celestino Vietti ITA – SKY Racing Team VR46 – 13
5              Jorge Navarro SPA – +EGO Speed Up – 11
6              Stefano Manzi ITA – Flexbox HP40 – 10
7              Remy Gardner AUS – Red Bull KTM Ajo – 9
8              Fabio Di Giannantonio ITA – Federal Oil Gresini Moto2 – 8
9              Ai Ogura JPN – IDEMITSU Honda Team Asia – 7
10           Marcos Ramirez SPA – American Racing – 6
11           Albert Arenas SPA – Aspar Team Moto2 – 5
12           Bo Bendsneyder NED – Pertamina Mandalika SAG Team – 4
13           Jake Dixon GBR – Petronas Sprinta Racing -3
14           Thomas Luthi SWI – Pertamina Mandalika SAG Team – 2
15           Marcel Schrotter GER – Liqui Moly Intact GP – 1