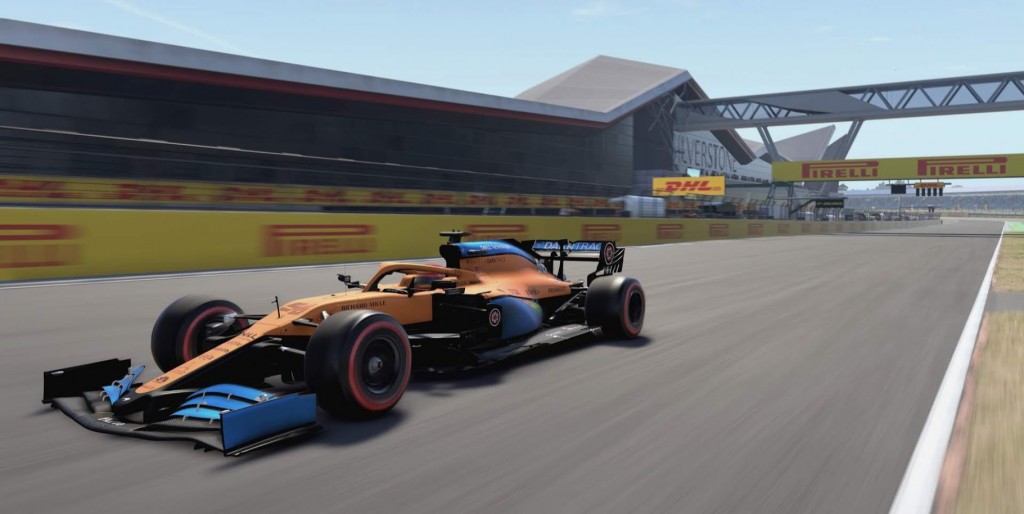 After last weekend's Virtual Grand Prix return at the Red Bull Ring, it was round two at Silverstone before the finale next weekend on the Interlagos circuit.
It was nine of the ten teams competing last weekend with Racing Point/Aston Martin electing to sit out, but despite coming perilously close to winning at the Austrian GP circuit with driver Stoffel Vandoorne, Mercedes chose to not compete in the second event.
The line-up for the event is as follows, with the driver competing in the main 50% distance race listed accordingly with the Formula 1 Esports driver doing the five-lap sprint race to determine their grid positions next to them in brackets:
Red Bull
Alex Albon (Marcel Kiefer)
Liam Lawson (Frederik Rasmussen)
McLaren
Benjamin 'Tiametmarduk' Daly (Josh Idowu)
Jimmy Broadbent (James Baldwin)
Alpine
Lucas 'Squeezie' Hauchard (Bence Szabó-Kónyi)
Aléthéa 'Theamusante' Boucq (Fabrizio Donoso)
Ferrari
Callum Ilott (Brendon Leigh)
Robert Shwartzman (Amos Laurito)
AlphaTauri
Luca Salvadori (Joni Törmälä)
Vitantonio Liuzzi (Manuel Biancolilla)
Alfa Romeo
Thibaut Courtois (Dani Bereznay)
Jack 'PieFace' McDermott (Simon Weigang)
Haas
Pietro Fittipaldi (Samuel Libeert)
Enzo Fittipaldi (Floris Wijers)
Williams
George Russell (Álvaro Carretón)
Nicholas Latifi (Alessio Di Capua)
Note: 2019 F1 Esports champion David Tonizza was meant to be qualifying the car for Robert Shwartzman but had to withdraw due to a foot injury, and Nicolas Longuet had to withdraw from qualifying the car for Squeezie due to unknown reasons.
Before the five-lap sprint was a one-shot qualifying for the Esports drivers, and it was Marcel Kiefer who came out on top in that session looking to seal that position in the feature race for Alex Albon.
The sprint race began and Ferrari's Brendon Leigh got up to third ahead of Floris Wijers whilst Kiefer held off Alessio Di Capua. Wijers spun heading into Village, whilst Leigh put an incredible move on Di Capua into The Loop and was now in second behind Kiefer.
Lap two and Haas' other driver Samuel Libeert had just passed McLaren's Josh Idowu and the Welshman wasn't taking it lying down, he tried a move heading into Village but suddenly had the Williams of Álvaro Carretón and the Alfa Romeo of Simon Weigang either side of him coming out of The Loop. He held off Weigang but Carretón held his ground going onto the Wellington straight and pulled off an outside move into Brooklands.
Back at the front, Leigh looked to be weighing up a move on the leading Kiefer. Lap four heading into Brooklands, the two-time champion pulls off the maneauver into the lead looking to get fellow Brit and Ferrari reserve driver Callum Ilott pole position for their home Virtual Grand Prix.
Kiefer had no answer to Leigh and so it was the Ferrari driver winning on his home track, meanwhile just behind them Alfa Romeo's Dani Bereznay pulled off a pass on Alessio Di Capua, who then proceeded to spin right at the end which plummeted him from at the very least fourth to what would become twelfth at the line.
Thanks to Leigh's efforts, Callum Ilott would start the feature race from pole ahead of Alex Albon, with the remainder of the top 10 consisting of Thibaut Courtois, Jimmy Broadbent, George Russell, PieFace, Vitantonio Liuzzi, Benjamin Daly, Pietro Fittipaldi and Squeezie. The previous Virtual Grand Prix winner Enzo Fittipaldi would have all the work to do as his sprint race teammate Floris Wijers couldn't improve his position after his first-lap spin, thus the younger Fittipaldi brother would start 16th and last on the grid.
Onto the all-important Virtual Grand Prix main race, 26 laps around Silverstone.
At the start, Ilott elected to start on softs whilst Albon was on mediums, so Ilott got away well whilst Albon held off the charging Courtois. McLaren's Jimmy Broadbent had a shocker, he had hardware issues as his racing wheel disconnected, undoing all the hard work by James Baldwin in the sprint race.
The other McLaren of fellow YouTube racing gamer Benjamin Daly spun coming through The Loop after potentially getting into contact with the Alfa Romeo of PieFace. So it was the worst possible start for the McLaren duo.
At the front, Ilott rocketed into an early lead and Albon was attempting to hold off a Real Madrid goalkeeper. Courtois was on the grippier softer tyres and seemed very eager to pass the two-time podium finisher, and subsequently used up a lot of his ERS in the process. He used it all to great effect though as he managed an outside move into Maggots! A stunning move. One that George Russell teased Albon about over their shared game chat.
Albon immediately attempted a move on Courtois heading into the Village-The Loop complex but it resulted in Russell getting the better of his childhood friend. Russell was now up to third, and a lap later once again on the Wellington straight with the help of DRS, he put a move on the Belgian goalkeeper who held his line, but relinquished the position after exiting Luffield. He then got immediately passed by Albon on the run up to Copse.
It was becoming increasingly clear that the fight was between Ilott, Russell and Albon. The Ferrari driver was on a different strategy and was trying to use up his softs in the first stint to get as big a gap on the other two who would then get the grippier tyres in the second stint.
Behind them though, the Haas drivers had gotten past Courtois. Enzo Fittipaldi inparticular benefited hugely from the first lap melee to get himself from last into a strong points paying position. His brother Pietro made inroads on Albon and attempted an audacious maneuver heading into Village but outbraked himself and the Red Bull driver got back past.
Further down the field, Benjamin Daly was holding off the advances of 2021 Formula 2 drivers Robert Shwartzman and Liam Lawson. First the Ferrari driver got through on the YouTuber and then Lawson attempted to follow but couldn't avoid smacking the rear of the McLaren, sending the Aussie into a half-spin.
Laps 9 and 10 saw the Fittipaldi brothers pitting in, both of whom ran the soft tyres so it was clear that longtime race leader Callum Ilott would be pitting soon. Surely enough, the following lap saw Ilott pitting as Albon pulled off an overtake on Russell just in time to take the lead.
Ilott rejoined behind the AlphaTauri pair of Liuzzi and Salvadori, but he made quick work of Liuzzi and put himself in relatively clear air to ensure he could have the gap to Albon and Russell when they both pitted. Speaking of Albon, he was the first of the leading group to pick up a three-second time penalty for track limit warnings, which would prove later on to be pivotal.
The Thai driver came into the pits on lap 14 to fit the softs, and just rejoined ahead of the Fittipaldi duo and behind Ilott. Russell followed suit the next lap and slotted in behind Albon who was just eating into Ilott's lead. Lap 17 and Albon managed to pull off an immense move on Ilott around the Abbey and Farm complex to run side by side with Ilott, held it on the outside through Village which turned to the inside of The Loop. He was now in the lead, but still had that three second penalty looming over him.
Later on in the lap, Russell caught Ilott but couldn't pass him on the Hangar straight even with DRS assistance, so attempted again on the Wellington straight and made it stick. It was now inevitably a straight battle between Albon and Russell for the win.
Lap 23, a few laps from home and football game streamer PieFace elected to pit for softs to go for a fastest lap attempt, which despite being on a controller when everyone else was using a wheel and pedals, he actually managed to do! But Alex Albon quickly took that back later on to earn the point for fastest lap.
Back at the front on the following lap, George Russell pulled the pin when he didn't have to, and overtook Albon for the lead. As long as Russell didn't get a corner cutting penalty, he could have sat behind Albon and still win but he wanted to win it on track too.
It wasn't long before Albon got it back, as with the usage of DRS on the Wellington straight on the last lap, he flew past Russell and brought it home first over the line. However of course on penalties, it meant that it was George Russell, the unofficial Virtual Grand Prix champion winning yet again. He won the last four Virtual Grand Prix races before the 2020 season got up and running, and made it five wins in his last five entries.
Joining Russell and Albon on the virtual podium was Callum Ilott, a valiant effort from who many believe to be deserving of a full time F1 seat. The top 10 were completed by Pietro and Enzo Fittipaldi, Liam Lawson, Nicholas Latifi, Robert Shwartzman, Benjamin Daly and Luca Salvadori.
In the team's standings, Haas still lead the way on 57 points from Ferrari with 42 and Red Bull on 39. Williams get off the mark on 31 whilst the absent Mercedes hold 22. Then at the tail end of the standings we have Alpine on 6, AlphaTauri 3, and finally McLaren and Alfa Romeo tying on 2 points. Their finishing positions will dictate which of the team's elected charities will net the most money from F1's £100,000 prize pool after next weekend's finale around the Interlagos circuit.
Be sure to tune in next Sunday at 6pm UK time to F1's official Twitch, YouTube and Facebook social media channels and potentially your country's F1 broadcasting channel to see who will come out on top in this Virtual Grand Prix series.