After Thursday's shakedown and the short first stage, SS1 Sottozero The Monza Legacy – 4.33 km we had Seb, Thierry and Ott as our top three. The championship leader was 2.7 seconds from the lead in fourth.
Friday
This day saw action across 74km of stages around the Monza race track and included some sections on the banking and the service roads and some of the carparks within the grounds of the track.
First up was SS2 Scorpion 1 – 13.43 km and the top three was Dani, Esapekka and Kalle. This led to some changes on the leaderboard, with Dani moving into the lead, Esapekka into second. Seb was now in third, with Kalle ahead of Elfyn who was fifth.
The teams were running 15-minute breaks between the stages with SS3 Scorpion 2 – 13.43 km run again. The top three fastest drivers were Esapekka, Dani and Thierry, and now the Esapekka was leading, with Dani now in second place and Andreas in a Skoda R5 in third overall! Championship rivals and teammate Seb and Elfyn held fourth and sixth respectively.
SS4 Cinturato 1 – 16.22 km, the first proper stage was won by Elfyn, with Esapekka second fastest and Dani matching the time set by the M-Sport driver. Seb and Elfyn both climbed up the standing into third and fourth positions.
SS5 Cinturato 2 – 16.22 km was taken by Seb, from Kalle and Elfyn. Esapekka was still leading from Dani, with Seb's pace bringing him closer to second overall. Sadly, Teemu was out of the rally after suffering an engine problem that could not be fixed.
The final stage of the day, SS6 PZero Grand Prix 1 – 10.31 km and Dani won the stage, beating Esapekka who was only sixth fastest with the result that the Finn was now in second place, with the Spaniard crew now taking the lead. Ott was third fastest and was catching Elfyn in the battle over fourth overall.
Day One
| | | | | |
| --- | --- | --- | --- | --- |
| 1 | D. Sordo | C. del Barrio | Hyundai i20 Coupe WRC | 53:29.3 |
| 2 | E. Lappi | J. Ferm | Ford Fiesta WRC | +1.0 |
| 3 | S. Ogier | J. Ingrassia | Toyota Yaris WRC | 12.0 |
| 4 | E. Evans | S. Martin | Toyota Yaris WRC | +17.1 |
| 5 | O. Tänak | M. Järveoja | Hyundai i20 Coupe WRC | +17.7 |
| 6 | K. Rovanperä | J. Halttunen | Toyota Yaris WRC | +24.8 |
Let's hear from the drivers at the end of Day One.
Hyundai Motorsport
Dani Sordo 1st
"Today was a really tough day but we end it on the top of the classification, which is positive. We had a good start with a stage win on the opening test, but we lost a bit of time in the muddy sections which didn't suit us as much. We tried to keep pushing to be at the front. Tomorrow, if it is as snowy as it currently seems, road position will be important to be further back and to see the cleaner lines. We made some important changes to the car to give me more confidence and improved handling, but in these conditions, it is never easy. We have had a good start but let's see what happens."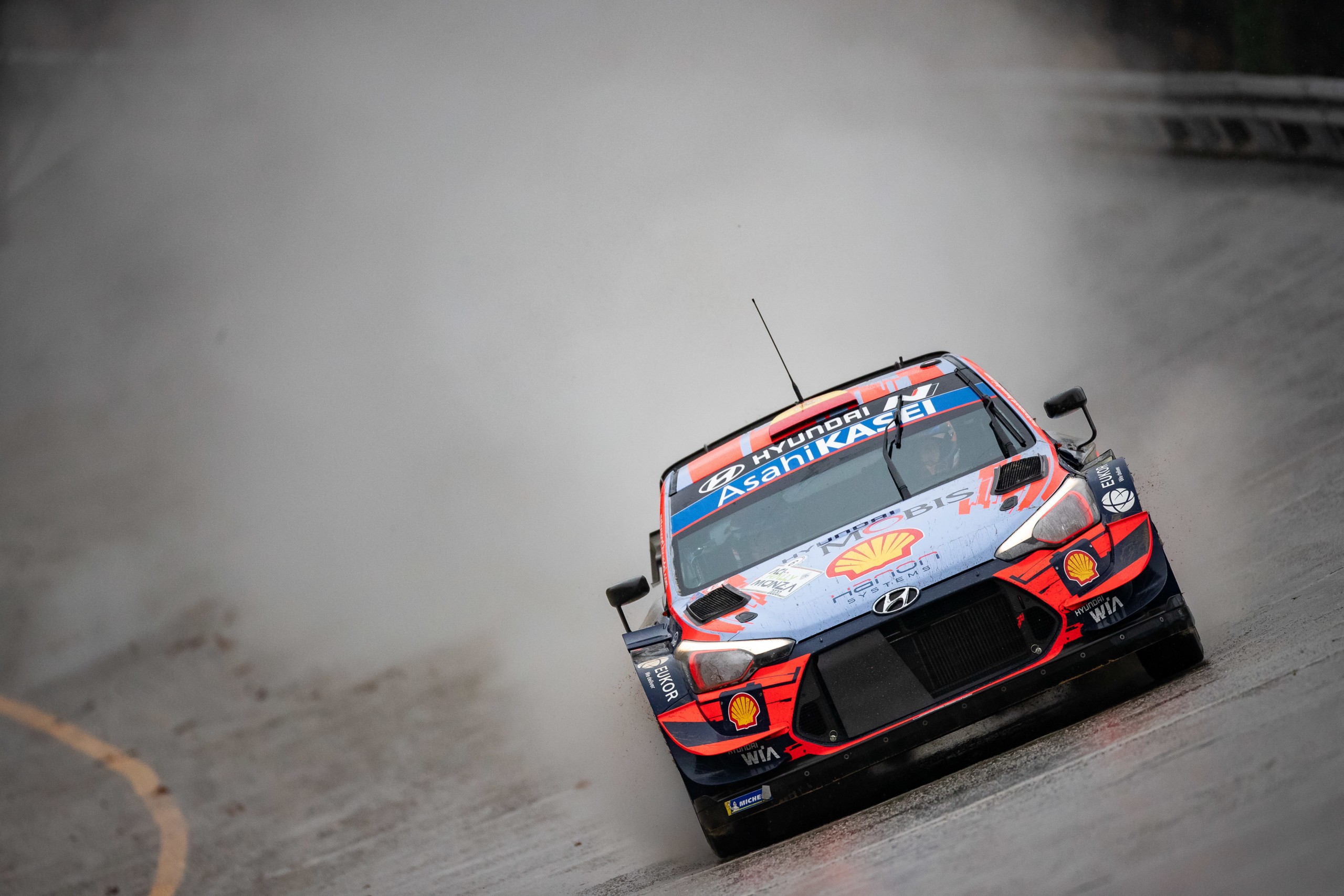 Ott Tänak 5th
"The conditions we have faced today have been unique and some of the toughest of the year. Driving on tarmac with some gravel section is tricky at the best of times but, in this weather, you can't imagine how demanding it is – especially with no gravel crew. We have had to read the road by ourselves, focusing on the surface to see where the grip would be. You have to be 100% on it to find the limit because if you push too much, there's always one place that can catch you out. We have made it through and had a clean run to end the day. There was a lot of rain and aquaplaning, so it was far from easy. During the day I found some improvements; now and then the feeling with the car has been nice. Tomorrow's stages might be even more difficult but if there's anything more interesting than what we've seen today, I want to see it!"
Thierry Neuville DNF
"It was not the end to the opening day that we wanted to have. After a mistake this morning, we were aiming to climb back up the ranking, pushing hard. We went too close to a concrete block in the chicane in SS4 (Cinturato), which damaged the suspension. We were losing time but the car was still driveable, the steering was OK and the rim and tyre too. Unfortunately, in the water splash, too much water got into the car and the engine stalled; we were not able to restart so had to stop the car where it was. I am really disappointed for the team that I wasn't able to do the job I should have done, but – as always – we keep our heads up and try to improve. The team is going to fix the car so we can continue tomorrow."
Toyota Gazoo Racing WRT
Sébastien Ogier 3rd
"It has been an eventful day for us. We had good pace but there were also some small mistakes and issues which cost us some time. However, the most important thing is that tonight we are still in the fight for the win and that's what matters. Tomorrow there is going to be even more room to make differences with our rivals with the very tricky conditions that await us in the mountains. Our road position should be good as well if there is fresh snow. Let's see what we can do."
Elfyn Evans 4th
"Overall, today's been reasonably OK. There's been no mistakes, and no time lost. Perhaps it was not spectacularly fast either, but I feel that in the difficult conditions it was important to strike a balance between going quickly and also not making mistakes. We've seen a lot of standing water, especially in the ruts throughout the second pass of the stages, so that's been tricky. It looks like we're going to have another very challenging day tomorrow. It's been winter conditions out on the the stages today but I believe it's changing hourly, so we have to wake up in the morning and see what awaits us."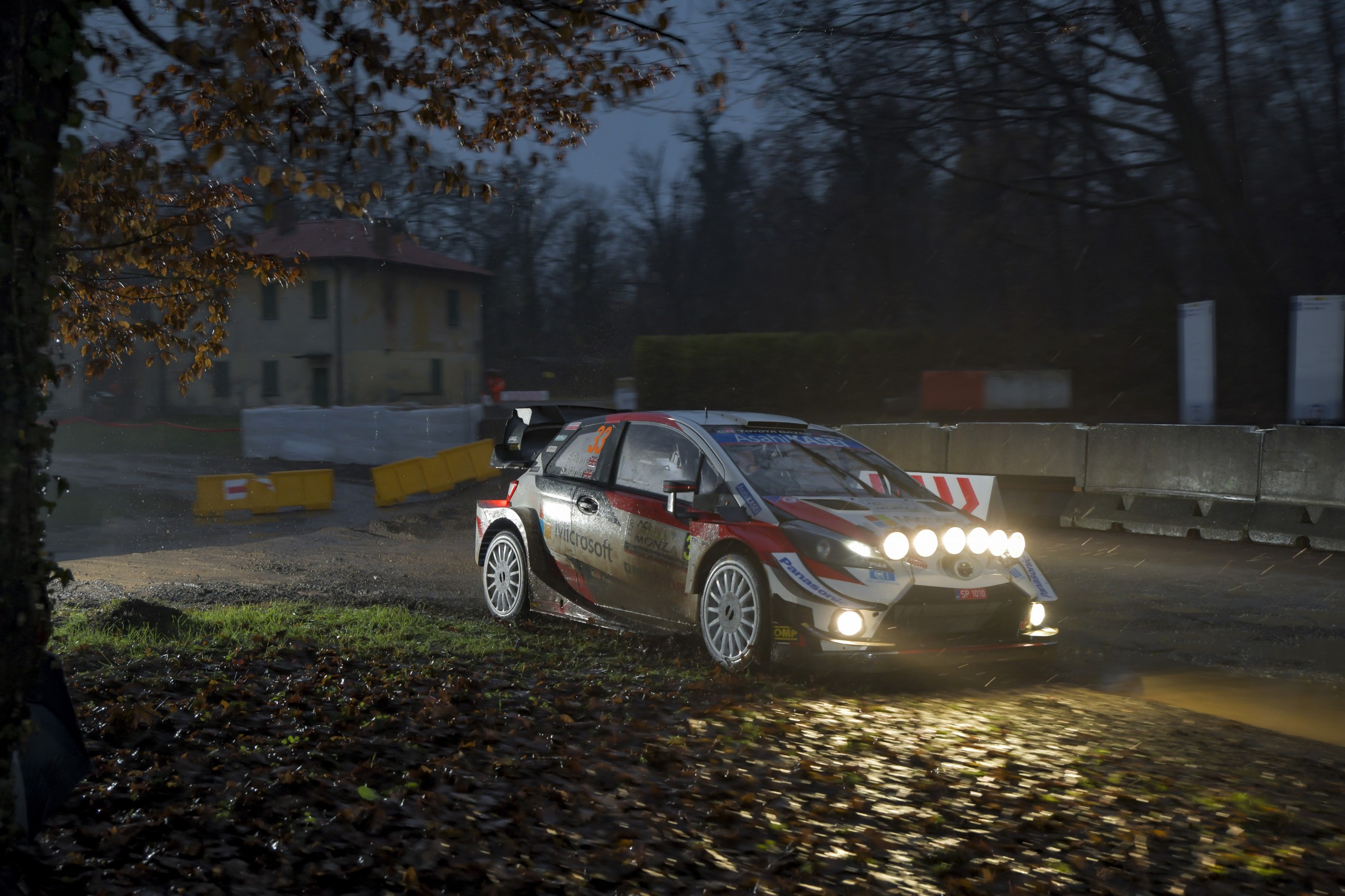 Kalle Rovanperä 6th
"I think the plan today was to drive without any big risks, and we didn't do any mistakes, basically. There was only one bad stage time on the second stage this morning where we lost a bit too much; otherwise, it was quite good. The conditions were extremely tricky with the standing water. In the afternoon it was starting to be really difficult, but we chose the snow tyre like many of the others and it worked really well. Tomorrow is going to be really tricky: I think we have to see the conditions in the morning and then we decide what we do in terms of tyre strategy."
M-Sport WRT
Esapekka Lappi 2nd
"It's been a very good day for us. It's been a while since we were in this position and it doesn't even matter that we're not leading at the end of the day – just to be here challenging for that lead is a really positive thing for the whole team. We have a good starting position for tomorrow, and we will definitely try and take back the lead. We have nothing to lose and I will try to do my best. We know that it will be a very tricky day, but normally I am quite good on snow so let's see what we can do."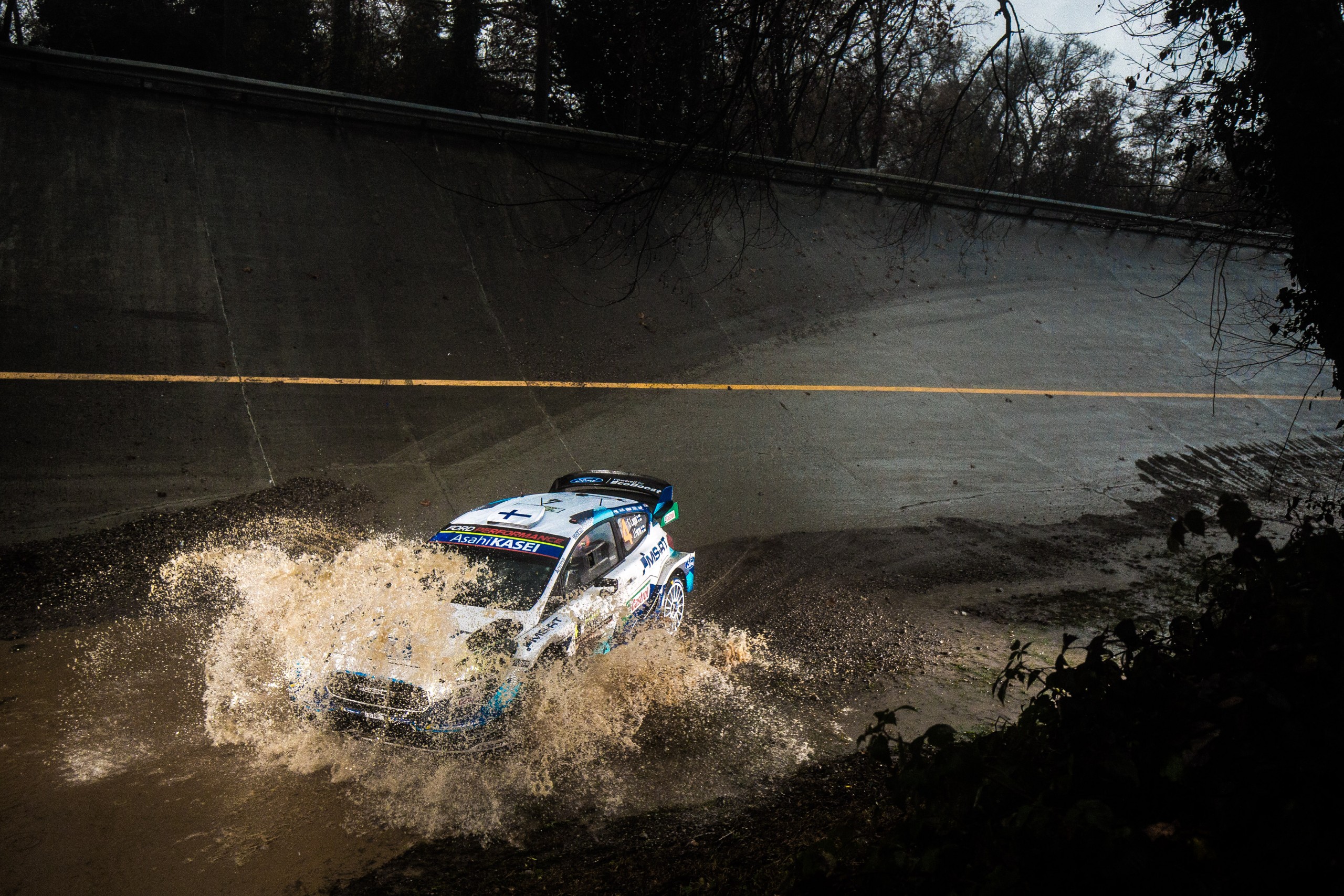 Teemu Suninen DNF
"I was struggling with the rhythm yesterday, but today started well and we had a really good feeling in the car. The first sector was quick, but after that we had an issue with the engine. I want to say thanks to the team who tried everything to try and fix it, but in the end it proved terminal and we had to retire. It's a real shame as I had a good rhythm this morning and looking at EP we could have been really strong here. Hopefully EP can continue as he is and bring home a good result for the team – we all deserve that after this tough year."
Gus Greensmith – Restart
"After a bit of a cautious start we made some set-up changes and it felt a lot better. Then nothing silly – I just went through a gate post and my wheel was too open. I tapped the inside post and it pulled the whole suspension. It was a bad outcome for a small mistake, but it is what it is and we'll aim to get back out there tomorrow."
Saturday
Seven stages awaited the crews on Saturday, with three in the morning and four in the afternoon, totalling 126km of action.
First car into SS7 Selvino 1 – 25.06 km was the restarting Gus Greensmith, but it was Kalle who when pushing on slid wide into a bank, and ended up facing the wrong way. He got his Yaris WRC turned round and completed the stage sixth fastest. The top three was Seb, Dani and Elfyn and this meant that Seb had now moved into the overall lead, pushing Dani and Esapekka down into second and third respectively. Elfyn was now just a couple of seconds behind the Finn.
SS8 Gerosa 1 – 11.09 km followed and Dani fought back to retake the lead as Seb was only eighth fastest, whilst Elfyn passed Esapekka for third overall. Elfyn was doing what he needed to do for the world championship by keeping Seb in sight.
Into SS9 Costa Valle Imagna 1 – 22.17 km and it was a stage victory for Elfyn, whilst Seb retook the lead from Dani. Ott was also moving up the leaderboard, as Esapekka dropped down into fifth place. In the battle for the manufacturer's championship, it was looking good for Toyota to regain the championship that Hyundai had won last year with Seb, Elfyn and Kalle in good positions.
The only thing to say about SS10 Selvino 2 – 25.06 km was that it was cancelled, but not before three cars had entered the stage. Gus, Ole Christian and Katsuka were all in the stage, but first Gus crashed, hitting the barrier has he came out of a right-hand corner, which sent the car over the road into the side of the hill and up, before it rolled onto its roof and then back across the road to the left and over the barrier. Ole Christian Veiby making his first start in a i20 WRC then came to the same part of the road and slammed into the barrier ripping the front nearside suspension and wheel from the car and sending the car spinning down the road, with it ending the up sideways across the road. It was at this point that Katsuka arrived on the scene and had to wait for the Hyundai to be moved out of the way before he continued to complete the stage. The rest of the crews completed the stage, but not at competition speed.
The SS11 Gerosa 2 – 11.09 km was where the championship suddenly was up in the air for Elfyn. The Welshman who had up till this moment completed every single stage so far this year had slid off the road. The snow had been coming down, and was settling on the road. As he approached the right hander he was on the left-hand side of the road and then the rear of the car stepped out as he went round the corner. He floored the throttle to get the car straightened up, but the car continued to slide sideways and then slid off the side of the road. There was no way back onto the road, and Elfyn climbed out the car grabbed his coat and headed back down the stage to warn his teammate and title rival.  Seb was next on the road and as he came to the section where Elfyn and Scott had slipped off the road to see the Welshman standing just before the section warning him about the conditions. Seb slowed enough to make it around, but it was close – He nearly didn't make it around. He completed the stage and now just need to finish the rally in the top three to be able to take his seventh world title. The stage was won by Umberto Scandola in his Hyundai i20 R5, with Seb second fastest and Ott in third.
The next stage, SS12 Costa Valle Imagna 2 – 22.17 km was cancelled. The snow had been coming down for about an hour and the organisers took the decision as Katsuka and Dan were waiting at the startline.
Therefore, it was time to head back to the Monza track and prepare for the final stage of the day which was using parts of the Monza Grand Prix track.
SS13 PZero Grand Prix 2 – 10.31 km was held in very wet conditions, with the rain coming down and Dani won the stage not only beating Katsuka, but also increased his slender margin over Ott to 4.3 seconds in their battle over the runner up spot. Katsuka's time stood for a long time, as he was first to complete the stage.
Classification after Day Two
| | | | | |
| --- | --- | --- | --- | --- |
| 1 | S. Ogier | J. Ingrassia | Toyota Yaris WRC | 1:47:47.2 |
| 2 | D. Sordo | C. del Barrio | Hyundai i20 Coupe WRC | +17.8 |
| 3 | O. Tänak | M. Järveoja | Hyundai i20 Coupe WRC | +22.1 |
| 4 | E. Lappi | J. Ferm | Ford Fiesta WRC | +38.2 |
| 5 | K. Rovanperä | J. Halttunen | Toyota Yaris WRC | +1:10.1 |
Let's hear from the drivers
Toyota Gazoo Racing
Sébastien Ogier 1st
"This was a very, very tricky day. The first loop was enjoyable actually: These mountain stages are very nice and when the conditions were fairly consistent with just a little bit of snow on top of the mountain, it was good fun. But this afternoon when the weather turned with much more rain and snow it was incredibly challenging and actually not really enjoyable to drive. It was just about surviving and trying to keep the car on the road. Where Elfyn went off, it could have happened to anybody. The grip change on this corner was just impossible to anticipate, honestly. In this moment I felt sorry for him, for sure. I would have enjoyed to fight until the end: It's always more fun that way, and it was looking good for the team in both championships. Now I have an opportunity to clinch a seventh title tomorrow and that's my target, and I try to finish the job tomorrow. It's never over until it's over."
Elfyn Evans DNF, Rally2
"The snow really came down in the afternoon and the conditions were difficult. The first stage was going quite OK and then the stage was stopped. Then in the second stage of the loop, we were having quite an OK run. But the snow started to fall and I basically just got caught out by a surface change underneath the snow that you couldn't see. I had it in my notes but ultimately the grip level change was far worse than I expected and there was no chance to stop for the next corner. Obviously, I'm feeling massively disappointed with the position we're in now. I'm also very sorry for the team, as it's a big blow to our hopes for the manufacturers' title. On the drivers' side it's not completely over for me: There's a glimmer of hope and obviously we'll keep fighting tomorrow. It's looking very unlikely now but we won't give up until the end."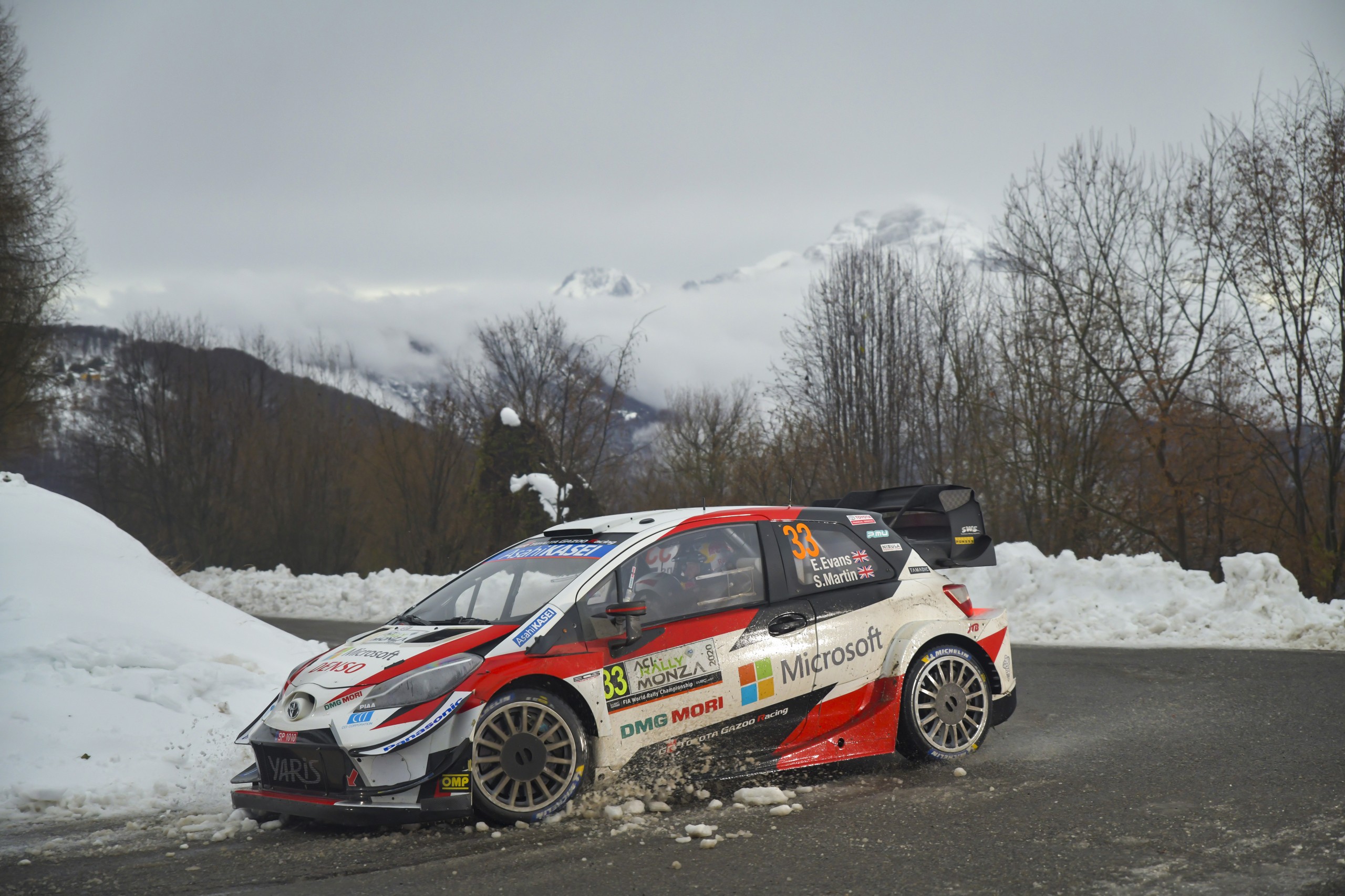 Kalle Rovanperä 5th
"It was a tricky day but I think that was the case for everybody. We had a lot of snow and slush and there were a few places that were the trickiest I've ever been in with a rally car. In the first stage this morning when we reached the slush section, I made a mistake in one corner and we hit the bank. There was no big damage to the car, but enough for it to be a bit more tricky to drive. The afternoon was really difficult I would say. When the snowfall came the road, conditions changed totally. We were a bit unlucky that the first stage of the loop was cancelled as we were setting a good time there. But it was just good that we got through it and we are here tonight. We are too far away to catch anyone in front tomorrow without something happening, but I will just try to bring home as many points as we can for the team."
Hyundai Motorsport
Dani Sordo 2nd
"It was another really difficult day. We expected it to be worse because when we saw the conditions yesterday it was already amazing. Honestly, we had one really bad stage today where we lost a bit of time. When the second loop started, I was at the back so perhaps we had worse conditions, but I can't complain. It was disappointing to see Elfyn and Scott retire in the stage, but I am thankful to them for warning us to slow down. The snow was tricky, and it was the right decision to cancel the afternoon stage (SS12). Tomorrow, we have our focus on trying to secure the manufacturers' title so we will try to drive safely; in these conditions it's too easy for something to happen. If we could go flat out but safely that would be nicest!"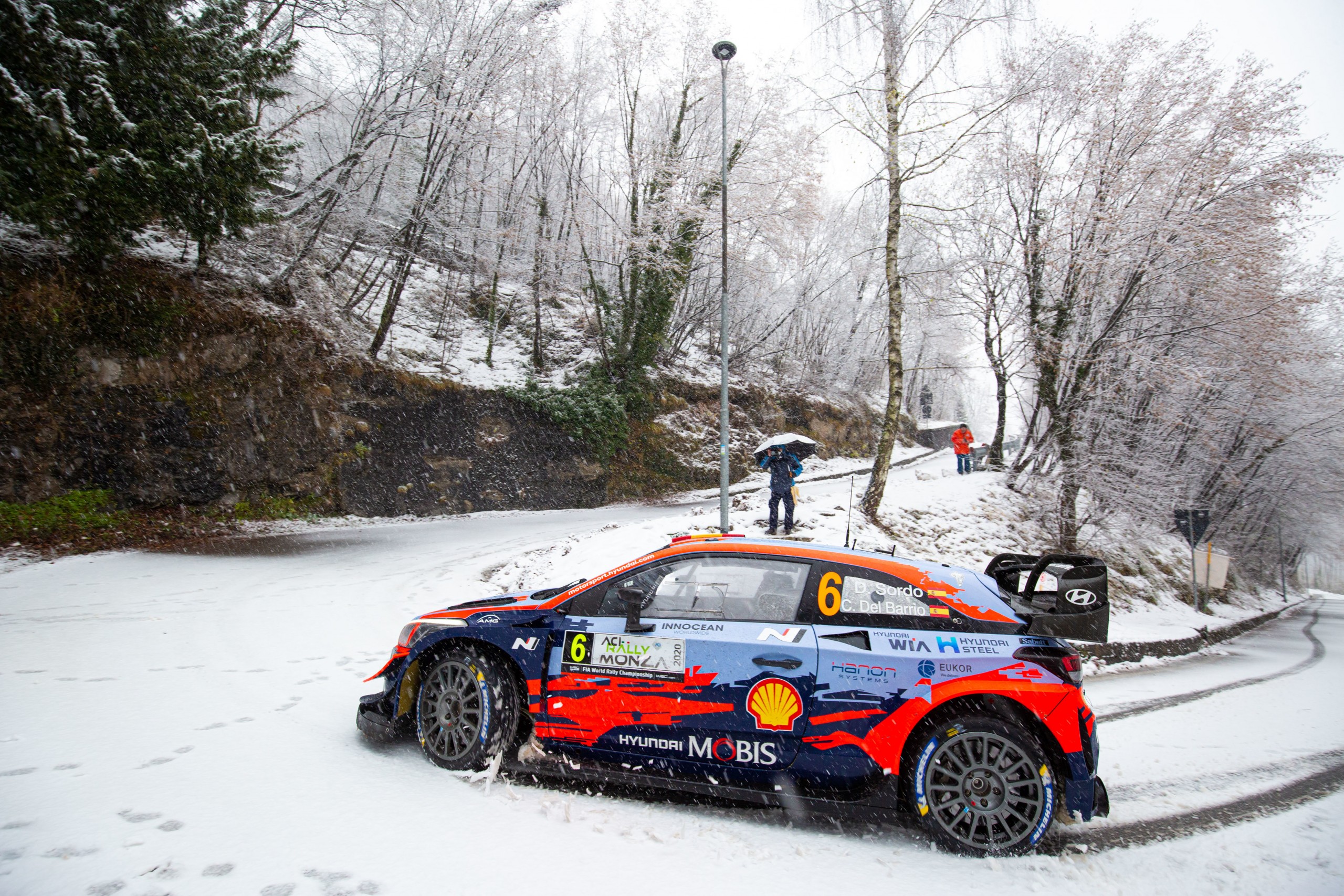 Ott Tänak 3rd
"This morning, I felt that things were easier than expected. The stages were a bit more consistent, but it was a very different story in the afternoon loop. All in all, it was something incredibly demanding. We were often not with the ideal tyres because we were expecting more rainy, wet conditions, but then – in the middle of the stage – suddenly there was white stuff on the ground. We had to discover this for the first time ourselves, which was far from straightforward. We made it through and the aim for tomorrow is to finish this rally cleanly."
M-Sport WRT
Esapekka Lappi 4th
"Things didn't go our way this afternoon and we were quite unlucky to be honest. For the first stage of the loop, I had the snow tyres on, and then it was cancelled. For the middle stage we had information that the stage was dry, and I took the snow tyres off. And for the last stage of the loop, I had the snow tyres on, and it was cancelled again.
"Still, I need to be happy with our performance. Our tyre choices have been good, even if the strategy wasn't perfect, and I've really enjoyed driving this car on Tarmac in the forests again.
"We're not too far away from the podium, but I realise 15 seconds is still quite a big gap at this level. Of course, the conditions will be tricky, but everyone already knows what to do and what tyres to choose as I've already taught them. But let's see, and I'll give it my best."
Gus Greensmith – DNF
"Once we got up to speed and into our rhythm things were going pretty well. But that changed this afternoon when we went from having good grip to pure aquaplaning on slush at 155kph. And with that transition of conditions at that speed, we were passengers.
"Thankfully both myself and Elliott are okay, but I'm just sorry for the team. It was such an immediate change in conditions that there was nothing I could do – but I'm still sorry for the guys and girls at M-Sport who have all been working so hard this year."
Sunday
Just three stages then to complete the event totalling 38km's.
The first stage, SS14 PZero Grand Prix 3 – 10.31 km would be taken by Seb, with Kalle and Ott second and third fastest, whilst Dani who was fifth fastest in the stage was passed by Ott for second overall. Elfyn finished the stage in tenth, and was in 35th overall. Katsuta was fourth quickest in the stage, setting a very good time.
The first run of SS15 Serraglio 1 – 14.97 km, which would also be the final stage was won by Dani Sordo going through 2.9 seconds faster than Ott and retook second overall. The Spanish duo were working well together! Elfyn came through with the fifth best time in a dress rehearsal for the final stage and gained three places on the leader board, now in 32nd place.
Into the final stage then of 2020, SS16 Serraglio 2 [Power Stage] – 14.97 km, and Elfyn set the benchmark 11:07.9. Other drivers came through and did not beat it, and then finally, Katsuta came through to beat Elfyn's time by 1.4 seconds. Ott emerged second fastest and this confirmed that Hyundai had won the manufacturer's title for the second year in a row. The final points scorers in the stage were Esapekka and Dani. Last to finish the stage was Seb and Julien who had a minor drama when their wipers stopped working, but they started working again just before the end of the stage and they completed with the seventh fastest time. They are the 2020 World Rally Champions, their seventh World Crown!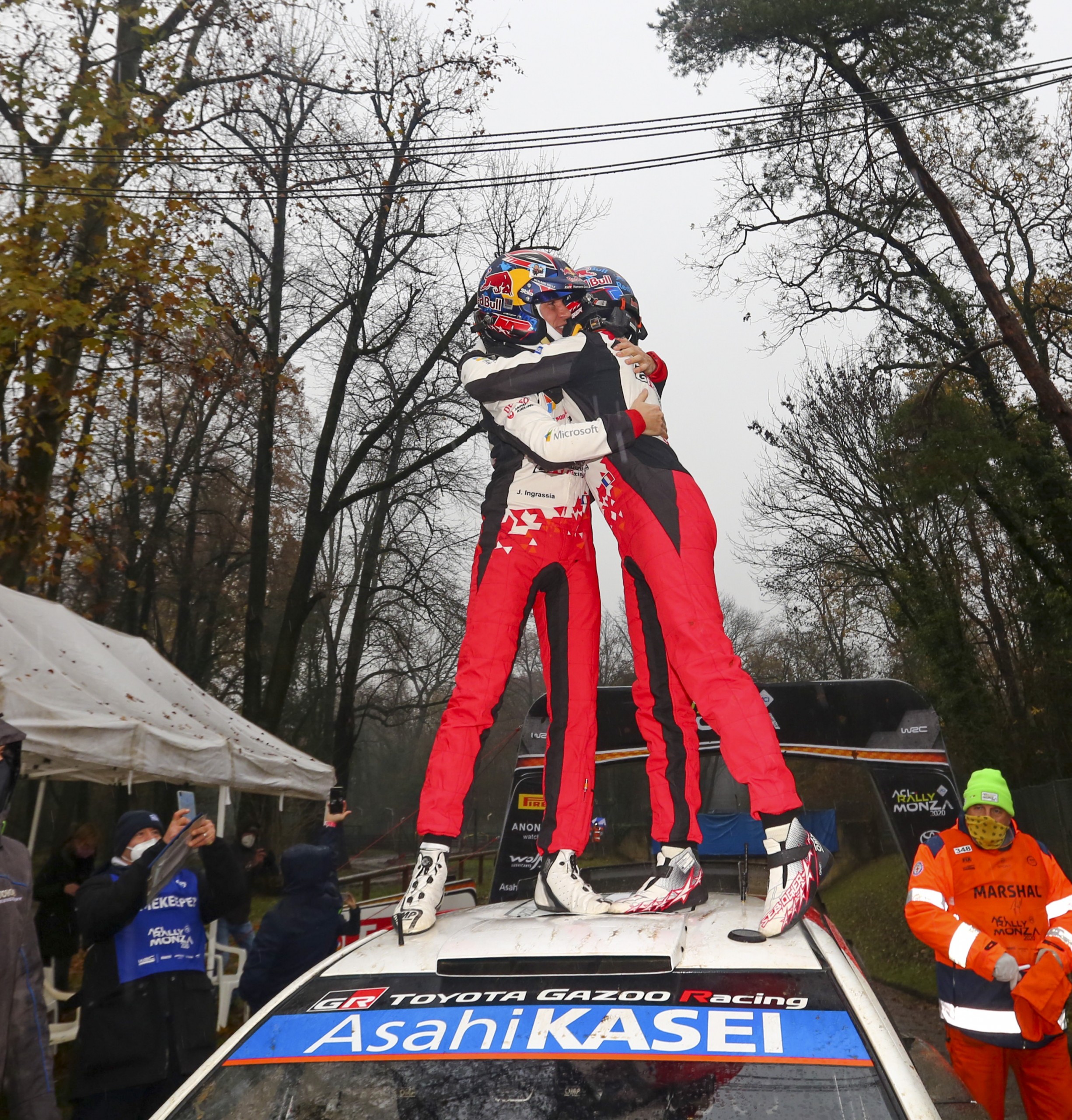 Final Overall Classification – Rally Monza
| | | | | |
| --- | --- | --- | --- | --- |
| 1 | S. Ogier | J. Ingrassia | Toyota Yaris WRC | 2:15:51.0 |
| 2 | O. Tänak | M. Järveoja | Hyundai i20 Coupe WRC | +13.9 |
| 3 | D. Sordo | C. del Barrio | Hyundai i20 Coupe WRC | +15.3 |
| 4 | E. Lappi | J. Ferm | Ford Fiesta WRC | +45.7 |
| 5 | K. Rovanperä | J. Halttunen | Toyota Yaris WRC | +1:11.1 |
| 6 | A. Mikkelsen | A. Jaeger | Škoda Fabia R5 | +3:56.2 |
| 7 | O. Solberg | A. Johnston | Škoda Fabia R5 | +4:12.1 |
| 8 | J. Huttunen | M. Lukka | Hyundai i20 R5 | +5:15.4 |
| 9 | M. Østberg | T. Eriksen | Citroën C3 R5 | +5:27.4 |
| 10 | P.Tidemand | P. Barth | Škoda Fabia R5 | +5:53.0 |
Let's hear from the drivers
Toyota Gazoo Racing WRT
Sébastien Ogier 1st
"For sure, this is a good day for us. It's been an incredible weekend and very, very challenging. This last stage was definitely one of the less enjoyable stages of my career. It was so rough, we were just trying to survive and not make mistakes. We knew coming here that the only thing we had to do was to win this rally. The start of the rally was very tight but we kept to our plan, we kept pushing and trying to keep the pressure on. What happened to Elfyn was significant for us and our title hopes. At the same time I felt for him and Scott, they did a great season. I feel the team would also have deserved to win the manufacturers' title; we fought as three drivers against five and came so close. But this seventh title for me is also a big achievement for the team and I couldn't have done it without them, so thank you to them and I'm looking forward already to this bonus season for my career in 2021."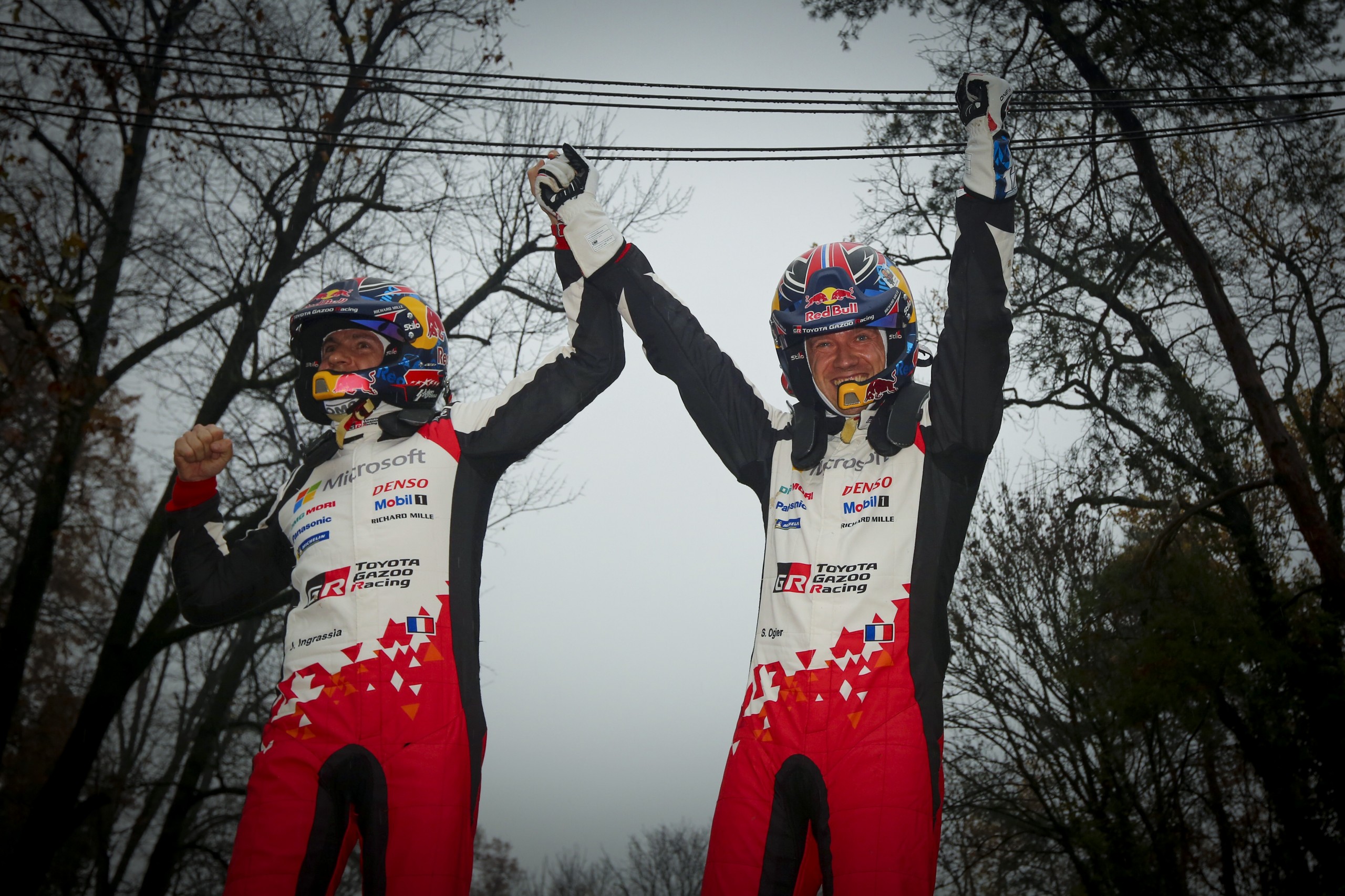 Elfyn Evans 29th
"Today it was obviously difficult to get going again after what happened yesterday. We were targeting the Power Stage and I think the pace was quite good but unfortunately, we managed to stall the car twice in quite extreme conditions. We still managed to get some points from there to make sure we were able to secure the position behind Seb in the championship – congratulations to him and to Julien. To finish the season in second place is obviously not what we wanted, but it's still not bad and a step forward on my previous seasons. I've really enjoyed my first year with TOYOTA GAZOO Racing and I'm sure with the motivation within the team we can continue to improve and be in better positions next year."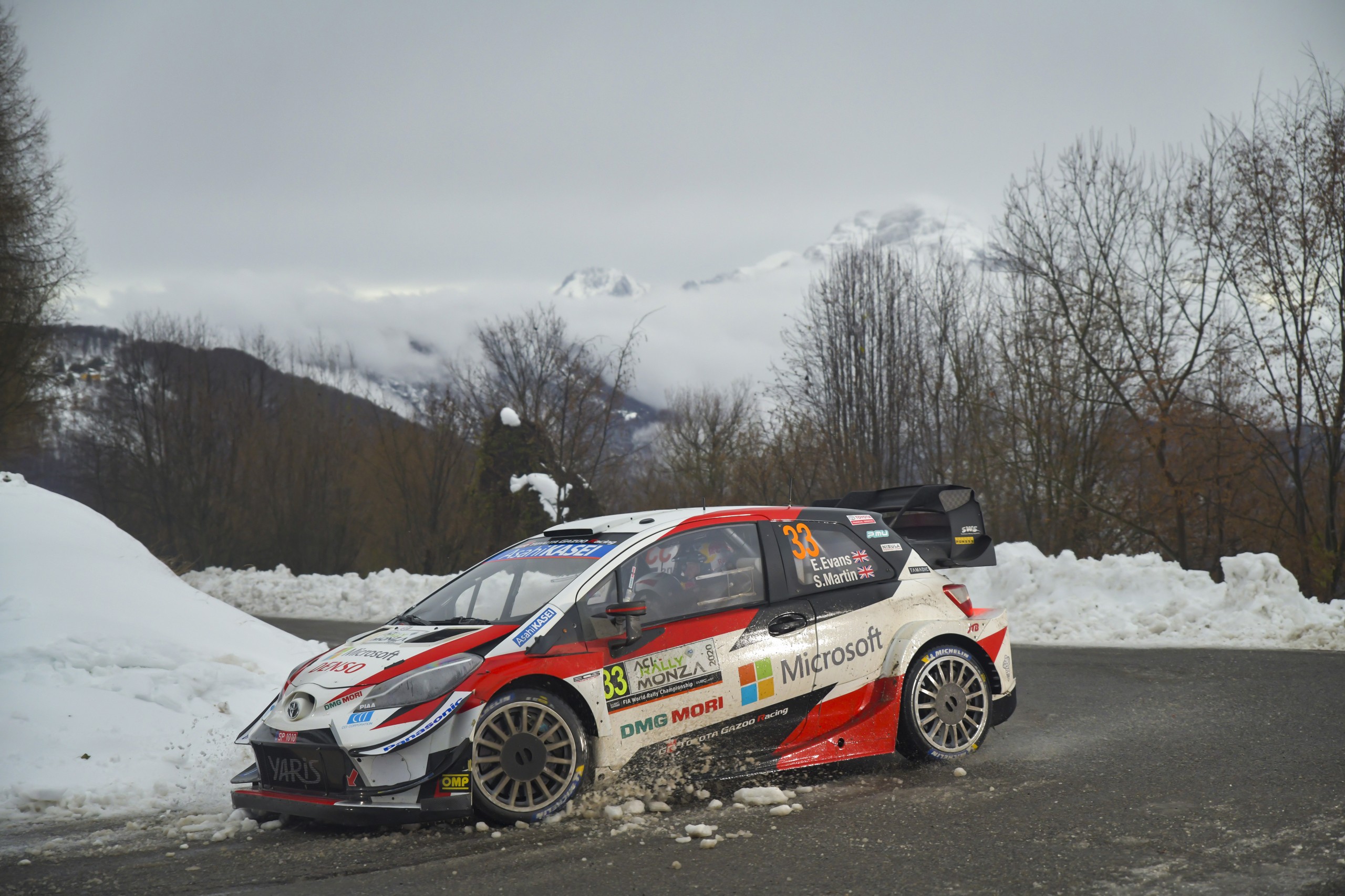 Kalle Rovanperä 5th
"It has been a really tricky weekend and today it was just about getting through. On the Power Stage I was really careful. It was really rough conditions on the gravel sections and it was good to get to the end and finish the rally. It has been quite a nice first season for me with a World Rally Car. I think we did quite well. We had some bad luck in some rallies, which is normal in rallying, and we had some really good weekends too. The main thing is that we had quite a consistent season and proved that we can be fast also. Big thanks to the team and congratulations to Seb and Julien."
Hyundai Motorsport
Ott Tänak 2nd
"Our first priority today was to ensure we finished the rally with Dani to make sure we cemented the manufacturers' title for Hyundai Motorsport. It has been a really difficult rally from the start; we have had to endure some complicated conditions, which continued on this morning's stages with tricky, rough roads. It was demanding but we achieved our target for the team, and it's an achievement we can now celebrate together."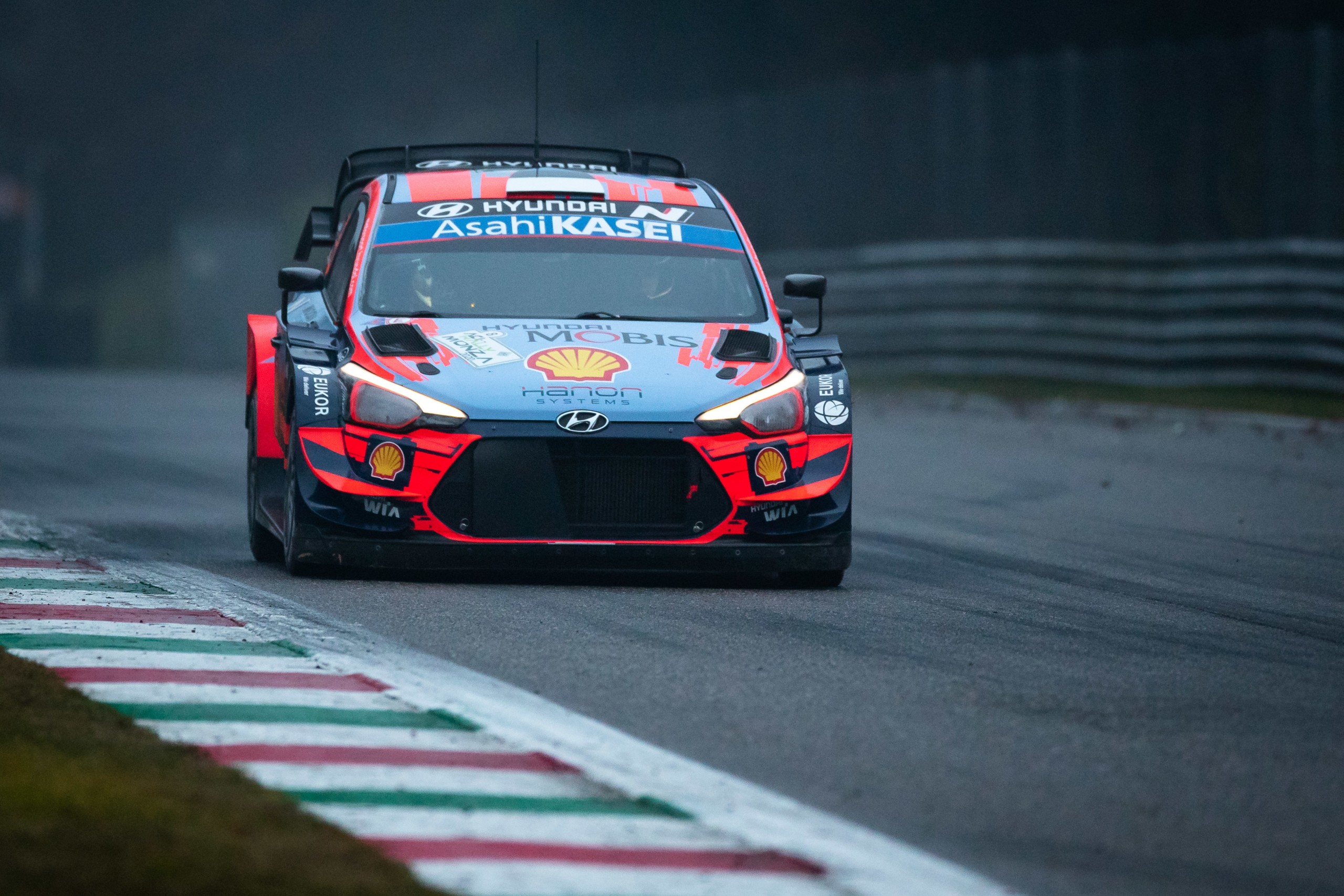 Dani Sordo 3rd
"The target all weekend has been to secure the result we needed for the manufacturers' championship. It has been an incredibly tricky event, but we have come through with another double podium result. For me, it wasn't important whether it was second or third; we just needed to get the combined result for the team, which we have done. This has been a hard-fought result, not just here in Monza but at all the events since Monte-Carlo. The team has pushed all the way and we can now share a second championship title together."
Thierry Neuville (DNF)
"A very special season comes to an end; it might not have been the championship that anyone expected at the beginning of the year due to the crisis, but we have achieved our goal to take our second manufacturers' title. This is a phenomenal result for everyone at Hyundai Motorsport and I am happy to be part of this winning team. The Monza weekend did not go to plan for me and Nicolas after our retirement on Friday, but in the end the title is confirmed. My thanks go to every team member for their hard work and dedication. It's time to celebrate!"
M-Sport WRT
Esapekka Lappi 4th
"This was a good weekend for us and we can be pleased with our performance. It was good to be back on Tarmac, and good to see that we can be competitive in these tricky conditions.
"Things didn't always go our way and we were quite unlucky at times, but I was very happy with my driving and we proved that we can be up there fighting at the top.
"A big thanks to everyone who has supported us throughout the year, and to the FIA, WRC Promotor and event organisers for ensuring we could finish the season and continue rallying in these difficult times."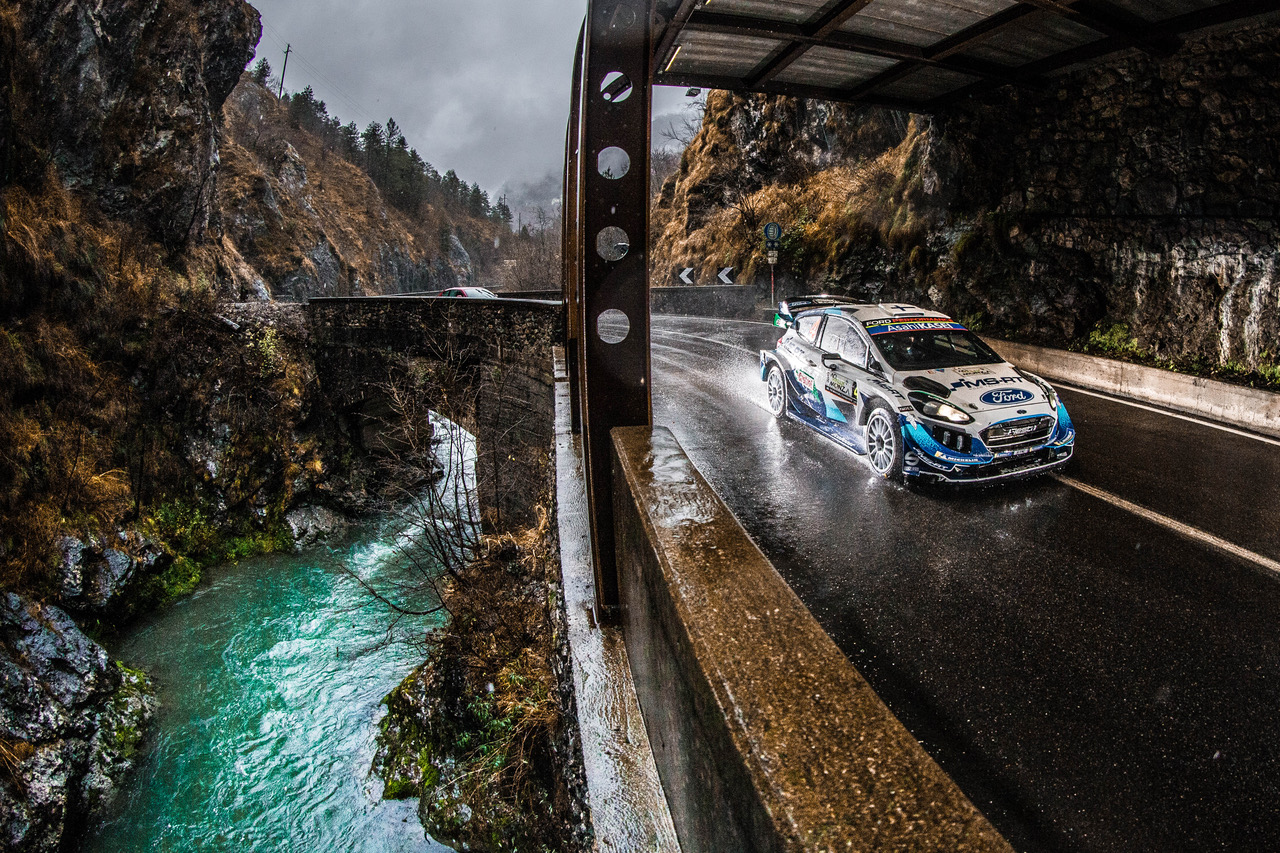 2020 FIA World Rally Championship for Drivers' Standings
After Round Seven
| | | |
| --- | --- | --- |
| 1 | S. Ogier | 122 |
| 2 | E. Evans | 114 |
| 3 | O. Tänak | 105 |
| 4 | T. Neuville | 87 |
| 5 | K. Rovanperä | 80 |
| 6 | E. Lappi | 52 |
| 7 | T. Suninen | 44 |
| 8 | D. Sordo | 42 |
| 9 | C. Breen | 25 |
| 10 | S.Loeb | 24 |
2020 FIA World Rally Championship for Manufacturers' Standings
After Round Seven
| | | |
| --- | --- | --- |
| 1 | Hyundai Shell Mobis World Rally Team | 241 |
| 2 | Toyota Gazoo Racing World Rally Team | 236 |
| 3 | M-Sport Ford World Rally Team | 129 |
| 4 | Hyundai 2C Competition | 8 |
Warren's Thoughts
Well, what an event! Where do I start to sum up? Let's start with Elfyn and Scott. Coming to this event as the championship leaders, they drove really well, and were making their way up the leaderboard when they slid off the road. Now what we saw from the Welshman was amazing sportsmanship when he ran up the road and warned Sébastien Ogier to slow down.
With Sébastien and Julien taking their seventh world title and with it coming with their third different manufacturer, they are cementing their status as true greats of the championship. Once Elfyn and Scott went off the road on Saturday, they just brought the car home. After all, they had already taken the lead. The other Toyota drivers certainly did well, with Kalle finishing a great season and Katsuta taking a stage victory right on the final stage of the year.
At Hyundai, Ott and Martin took a well-earned second place and maybe he could have challenged for victory. Dani and Carlos also drove a great event, leading at points and scoring another very good result with third place. In fact, without the penalty that he took for a problem on Friday he may well have taken second overall.
At M-Sport it was a rally to forget for two of their three drivers. Teemu retired early on with an engine problem, whilst Gus was an early retiree on Friday, but re-joined on Saturday, only to crash out one of the Saturday stages. Meanwhile, Esapekka drove really well, challenging at the top of the leader board. He was given the same penalty as Dani Sordo at the end of Friday, suffered some issues with tyre choices at key moments when the snow came down and he had changed the tyres just before the stage. Looks like he won't be getting a drive for 2021, which is a shame, as there is no doubt over his speed and consistency.
Look out soon for a 2020 Pit Crew WRC Pit Cast as we look back on this amazing season!