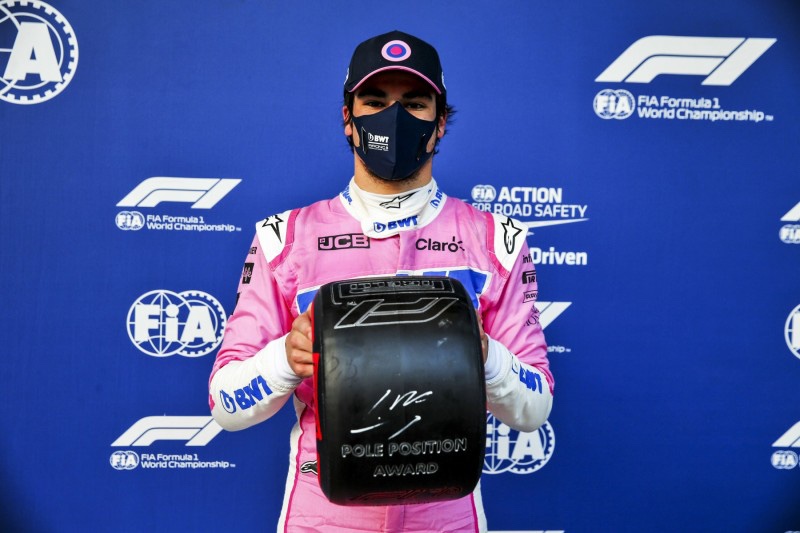 image courtesy of Pirelli Motorsports
Lance Stroll came out on top on Saturday afternoon at Istanbul Park where order was totally disrupted in one of the most chaotic qualifying sessions of the season. He became the first driver who isn't from the traditional top 3 teams to be on pole since Felipe Massa at Williams, a feat achieved all the way back in the first year of the turbo hybrid era in 2014.
Racing Point pulled off an unlikely masterstroke by sending out both of their cars on intermediates as opposed to the rest of the field who were on wets, setting them up for a brilliant race tomorrow. Both Perez and Stroll duly delivered lap after lap and it all paid off in the end with Stroll taking pole position and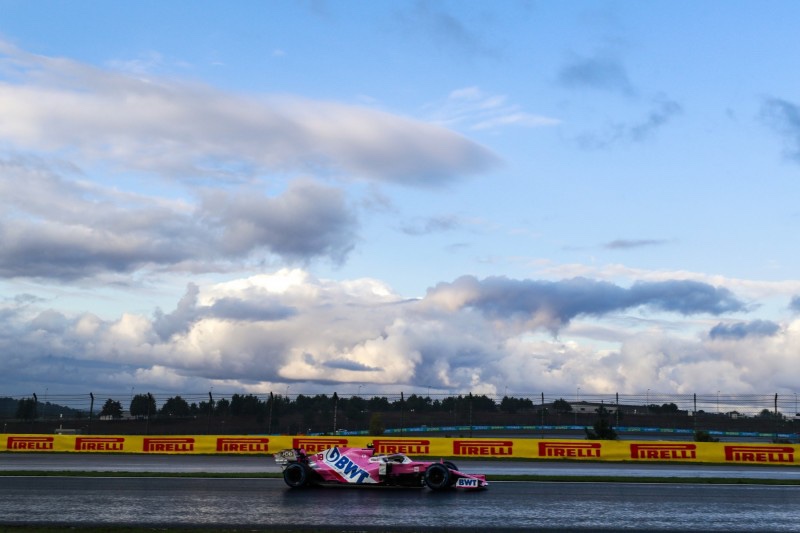 image courtesy of Pirelli Motorsports
Sergio Perez taking P3 on the grid.
In a qualifying session where it looked like Max Verstappen was certain of pole, Redbull's decision to mirror Racing Point and sticking intermediates on the Dutchman's car did not quite work out for them. To make matters worse, Verstappen was on his way to a provisional pole lap while the call was made, causing the driver to abandon his lap. In the end, the Redbull driver had to make do with P2, but will be more than fancying his chances for a victory tomorrow. His teammate Albon also had a really good qualifying session putting him at P4.
The track was heavily criticized as the practice sessions unfolded, especially by Mercedes driver Lewis Hamilton, who was quite unhappy with the things out there. Taking 17 out of 17 poles so far this season, it comes as a very big surprise that the German team could only manage P6 and P9 for Hamilton and Bottas respectively. Both their cars struggled to find grip throughout the weekend and a wet track only made matters worse. The championship equation for Hamilton becomes much simpler for Hamilton tomorrow, as he can be crowned champion if it stands this way.
Q1 started off as scheduled but had to be red flagged with 7 minutes to go thanks to heavy rain and it was a good 45 minute delay until the pitlane opened again. Lap times kept improving once the session restarted but the session had to be red flagged once again as Romain Grosjean in the Haas beached his car in the gravel and could not get it running again.
A little bit of controversy unfurled towards the end of Q1 when Nicolas Latifi also beached his car in the gravel and there were doubled waved yellows in the middle part of the track. Kevin Magnussen was seen complaining on the radio, alleging that a lot of drivers who made it past Q1 had not lifted their foot of the throttle as required in those conditions. The incident is set to be investigated and could change the line-up on the grid. This resulted in both Haas drivers Magnussen and Grosjean, Williams drivers George Russell and Latifi, Kvyat in the Alfa Tauri all getting knocked out in Q1.
Q2 was fairly straightforward on an otherwise chaotic session which saw both the Ferraris of Vettel and Leclerc get knocked out after yet another sub-par display, which continued their woes for the season. Both the McLarens were also out of Q2 which is a bit of a blow for the English team considering their competitors Renault and Racing Point had very good qualifying sessions. The team will line up with Land Norris at P11 and Carlos Sainz at P13 and will be playing catch up right from the start.
Pierre Gasly was another surprise name to not make it to Q3 considering his form throughout the season but the biggest result of Q2 ultimately belongs to Alfa Romeo, which saw both Kimi Raikkonen and Antionio Giovinazzi make it to Q3 while also beating both the works Ferraris in the process. The team will have a very good chance at grabbing some precious points towards the end of the season with Raikkonen starting P8 and Giovinazzi starting P10.
Renault produced an excellent qualifying result with Ricciardo at P5 and Ocon at P7, giving them a platform to get some crucial points in their bid to take the 3rd place in the constructors championship. Track limits were once again the topic of the session as several drivers kept having their times deleted throughout the session but ultimately, it did not prove costly for anyone which might not be the case for tomorrow.
A promising race seems to be on the cards with the track offering very less grip to the drivers and to make matters complicated, the weather might also have a say tomorrow. The magic number for Lewis Hamilton's 7th world championship is set to be '8' as he has to make sure that his teammate and only remaining championship rival Bottas does not outscore him by more than 8 points. If that does happen, the title would be decided in Bahrain, in a couple of weeks time.