Fernando Alonso is a double World Champion, the man who defeated Michael Schumacher, and a living legend of F1. However,  his career is in a constant decline, and that's his fault.
In 2001, a young Fernando Alonso came into F1, driving for a backmarker team with a rich history, called Minardi. This was the first F1 drive for a person whose career in karting and junior series was something special. Coming from a country with next to no history in this sport, he made a name for himself, proved himself, and made it to the 'big league'.
Right from the start, he showed his enormous talent, proving to the big teams that he would become a force to be reckoned with. He went on to become just that. For 2003 he joined Renault, the first time he raced for a good team, fighting for podiums and, in 2004, for wins too.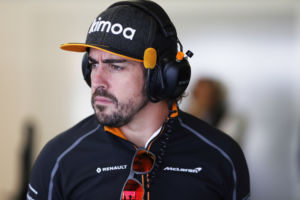 Then came 2005 and 2006, arguably his best years in the business. He beat Michael Schumacher with ease, as if the German were a rookie and not a seven-time world champion. He and Renault made sure they had no obstacles in their path and they pushed through, though not without some controversy.
In fact, Alonso's entire career is defined by controversy, either through his actions or for what he publicly (and unapologetically) proclaims. Even during his winning tenure with the French team, he was criticizing the FIA for its decisions – most famously at the Italian GP back in 2006 – or attacking Ferrari for no apparent reason. Ironically, he joined them in 2010.
This leads us to another big problem with Alonso: his mouth. As big as his talent may be, he is a man of a lot of words – most of them, unnecessary. He always thought he had the upper hand over everything because that's how he was taught to act by a certain Flavio Briatore.
The Italian former team boss is the perennial manager of Alonso and has had a big impact on the Spaniard's attitude since day one. He is a great leader of men, but his approach in F1 is somewhat controversial – especially after the 2008 'crashgate' scandal. This translates on Fernando's stand on things, on how he sees F1, and himself in it.
He may now be a veteran in F1, a man who has seen and done everything, but that attitude, the feeling that he can control the driver market or that he can knock on every door and have them open, is something that doesn't know age.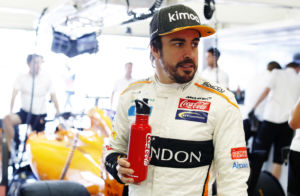 One bad choice after the other defined the second part of his career. His McLaren days in 2007 were the start of his fall, before the five-year tenure with Ferrari seal his fate as far as wins and championships are concerned.
The second stint at McLaren is the latest consequence of his decisions. He seems to be responsible for everything bad (and good) that has happened in his career. It's a great shame that he leaves F1 with just two championships and 32 wins, but that's what he could get with his personality, his character and the guidance he had.
This does not undermine his achievements, though. He must and will be remembered as one of the best to ever drive at an F1 track, but history will not be easy on him.
Dimitris Bizas
Featured image – Pirelli Media Site