Azerbaijan never ceases to amaze, I am unsure whether this beats 2017's race which was amazing to watch. Lady luck was on a few driver's side today, we'll look in deeper detail at who had it in the rating review. As per always the rating will be done in results order.
Lewis Hamilton – 7
Lady luck was most definitely on his side today, he took longer to turn the tyres on unlike Vettel who led early on. He made some uncharacteristic mistakes especially at the first corner flat spotting both tyres he told pit wall the tyres were finished so had no choice but to change strategy and pit. The pace on the fresher yellow softs was slow but then the safety car came into play. He was gifted the win with misfortune of others.
Kimi Raikkonen – 7
Kimi being Kimi, you wouldn't really remember he is a World Champion from 2007. He's being used to a certain extent as a clear number two driver to Vettel. It all went wrong on Saturday with Ferrari only bringing one set of super softs he had to make one lap count, he didn't do so. This forced him onto another strategy for Sunday. A silly collision on the first lap when he could of let off the throttle easily damaged his car, no penalty surprisingly, as others fell by the way side he took an unexpected second.
Sergio Perez – 9
Ever the opportunist, now the most successful Mexican driver in Formula 1 history and most successful at Baku in terms of podium finishes. Force India looked strong all weekend with their Mercedes grunt. Great pass on wounded Vettel along the straight. The catalyst the fourth placed team from 2017 need to push on this year?
Sebastian Vettel – 8
Go big or go home from the German, he took advantage of the safety car in Australia but this race it hindered him as we look at in a moment. A great flying lap for pole and early race from the quadruple champion. He pulled a clear lead out after the first safety car. He got a lacklustre restart from the second safety car and went for it on the brakes but with such a long straight they went cold, locked up and ran wide. He lost places rather than gaining, and dropped to P4, with then Perez getting him in the later laps due to his massive flat spot. The Ferrari was strongest all weekend, did he really have to go for it at the first attempt he had?
Carlos Sainz – 8
Flying the flag for Renault today for the first half of the race had they had the third best package. He got by the Red Bulls well and then pulled clear. When they got up to speed he kept up with them. He pitted early as started on the ultra softs and continued well to finish solidly in the points. Pretty much the reason why Renault 'loaned' the Spaniard from Red Bull this season.
Charles Leclerc – 9
The reason why Ferrari rate this driver highly was shown today as he scores his first World Championship points in P6. He did better than most turning on the super softs and had great pace from his impressive qualifying managing to keep Raikkonen at bay after the first restart. He would of still scored points even if others finished, he just got a few more as result. Great for the Sauber team to have points but more importantly a talent like Leclerc behind the wheel of one of their cars.
Fernando Alonso – 8
The character and grit that Alonso showed today was the reason why everyone rates him so highly. To begin with he got the McLaren round a near 2 minute lap with 2 wheels shod car into the pits with minimal damage. There was some to the floor of the car as a result but still managed to score decent points for the team. Good battle with fellow countryman Sainz today. Worth every penny to Mclaren once again.
Lance Stroll – 8
A happy hunting ground for the Canadian, after taking advantage of the 2017 race and scoring an unlikely podium, he scored his and the team's first points this season. Great confidence booster for him and the team. He had the pace with the Mercedes power and good racecraft to finish in the points.
Stoffel Vandoorne – 6
Stoffel was off colour this weekend, but took advantage of others to finish in the low end of the points but also once again Alonso was on average a few tenths quicker than him all weekend. He continues to pile pressure on himself regardless of a points finish today, Lando Norris is looking pretty nifty in Formula 2.
Brendan Hartley – 6
The Kiwi has scored his first point in Formula 1. He had a very unorthodox way of entering the sport last year and has taken him a while to adjust, some say he still is and was the fortunate today. Bad driving on Saturday as he didn't set a lap and his team mate nearly went flying over the top of him. He drove better on Sunday.
Marcus Ericcson – 6
Marcus was in the shadow of his team mate today, a collision on the first lap turn 2 restricted his performance. He received a penalty for the collision and was clearly at fault, no excuses. He flat spotted tyres which also ruined the strategy he was on halfway through the race. The car was good over the weekend which should give him confidence Bahrain can happen again.
Pierre Gasly – 7
He showed great racecraft on Sunday, and reactions on Saturday. He thought that he was going into the wall after coming across his team mate but managed to keep it away with lightning reactions. With yellows like his team mate he didn't set a representitve lap time. The race was different all be it he has nothing to show from it, he managed to get up as high as P7 in the race after carving through the field's destruction on lap 1. An out and out racer, battled with former rival Leclerc which was good to see. He was involved in a collision with Magnussen which prevented the attack for points as he had the pace.
Kevin Magnussen – 6
K-Mag was in the wars on Sunday after a tough qualifying. A short run to the 90 degree corners and being in the middle of the pack increases chances of collisions. He collided with Ericcson at turn 2 which ended his chance of a good finish at that stage. A further collision with Gasly after the second restart then ended his chance of points. Later reprimanded with 2 penalty points, 12 is the amount before a ban, at this current time he is on 8 in the 12 month period. Most dangerous driver Gasly has ever raced according to the Frenchman. An off colour performance to such a great start to the season.
Valterri Bottas – 8
He was on for a win with Mercedes but you could say poor marshalling and debris still scattered over the track resulted in his dramatic retirement. It was through no fault of his own. He managed the gap all race and was consistent, and midway was fastest driver. He made no mistakes throughout. Due to staying out longest he used the safety car to continue to lead. He then restarted well and pulled away but ran over debris which caused a dramatic puncture at around 180mph, forcing him to retire with only a handful of laps remaining. Great weekend but nothing to show for it, joy for one of the Silver Arrows but despair for the other.
Romain Grosjean – 5
Grosjean seemed to be in 2017 mood, very emotional and spins aplenty with one really silly. He was hindered by a gearbox problem in qualifying which resulted him starting last. He kept his nose clean driving through the mess and was on for good points. Every driver was struggling for tyre temperature. He tried to warm the tyres up behind the second safety car by weaving and too much the Frenchman hit the wall at slow speed, throwing away first points of the season ironically at the time putting Magnussen into the points. Bad day at the office.
Max Verstappen – 5
His fault or not but Max has now collided with other drivers 3 times in 4 races, beginning to remind me of the great Pastor Maldonado. He was playing with fire all race long with his team mate, great spacial awareness but sometimes a bit too aggressive with squeezes and double direction changes defending. He couldn't get the red walled super soft tyre switched on early in the race resulting in both Renault passing him. Battery issues may of slowed his pace but the issue between team mates was brewing all race long. Once more a retirement and hefty bill for Red Bull to pay.
Daniel Ricciardo – 5
The high of Shanghai two weeks ago to the despair of Baku. He struggled to get by his team mate as the over powered DRS with gusty winds helped him dramatically. Various occasions the driver supposedly best on the brakes had his car side by side with his team mate but only pulled it off a few laps prior to the pit stop. He had better pace than Max at a track he did great on last year. Multiple times he was on the outside centimetres from the wall and multiple lock ups. He lost out to the overcut but with the warmer rubber from far back he tried to get by but went straight into the back of his team mate. The worst thing you can do in motorsport! Red Bull blame both drivers which you can understand, but much like Vettel did he have to go for it? Plenty of laps were remaining. There is talk of Ricciardo going to Ferrari with contracts ending for various drivers, not the first time he colliding with his team mate maybe sway his mind to leave the Austrian outfit?
Nico Hulkenburg – 5
With how the race played out, Nico could of finally got on the podium! He still waits to taste the champagne after being close on multiple occasions. He lost the car on his own accord after getting by the poor paced Red Bulls. Renault looked like the fourth best car. He needs to keep concentration as with more mental races and no mistakes from the German, he could be that podium soon.
Esteban Ocon – 7
A passenger in his crash with Raikkonen, surprised that the Ferrari driver didn't receive a penalty. Strong qualifying and pace but nothing he could do on his short Sunday afternoon.
Sergey Sirotkin – 7
Best weekend for the Russian rookie, albeit the mistake into the wall in third practice. Qualified strongly and was unfortunate to be in the sandwich between drivers on the first lap which ended his race early. Extremely harsh that he has received a 3 place grid penalty for the next race in Spain.
Summary
So Hamilton got his win in Baku through some strong luck, whilst Vettel through his decision to go big at the restart lost points. Hamilton now leads the Championship for the first time this year. 
My driver of the day is a very tough decision, my toughest yet this year, and it'll go to Sergio Perez for his podium finish. It just shades Charles Leclerc's impressive points finish. Red Bull really need to look at the current situation, once more through collisions they have cars not finishing.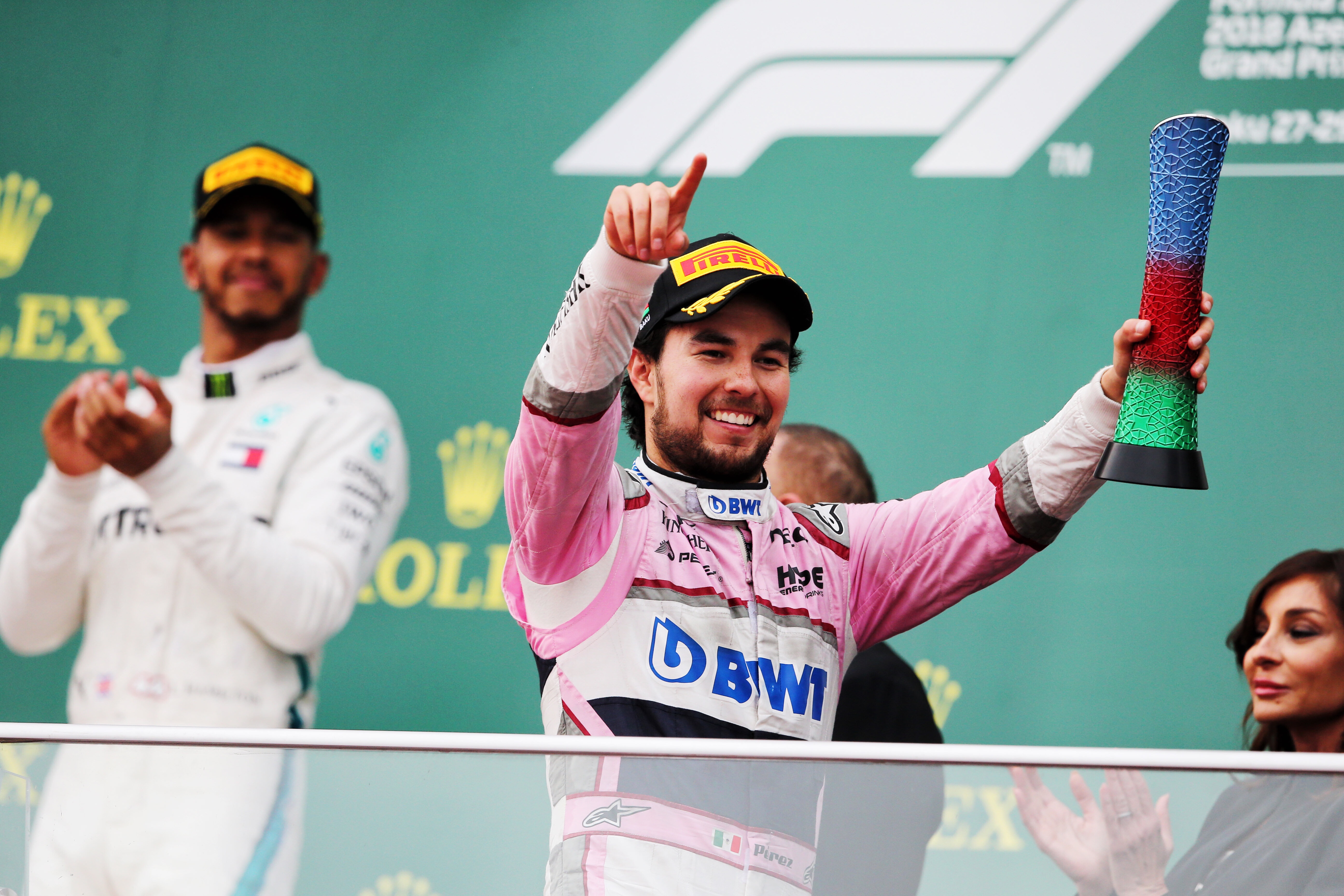 Cars tend to change quite dramatically at Barcelona and that is where the Formula 1 circus is next at. Will Red Bull kiss and make up or will the fire get bigger? Mclaren say big upgrade for Spain, will it work and push them forward? What upgrades will Mercedes have in store to catch up to Ferrari? We have to wait 2 weeks to find out.
?image courtesy of Sahara Force India. Fetured image courtesy of RedBull Content pool