Kush Maini and Linus Lundqvist took the spoils in Rounds five and six of the British F3 Championship at Rockingham Motor Speedway, after Tom Gamble's victory in Round four on Saturday.
Maini's win was dominant after good work in the opening laps after starting from fifth in the reverse grid race, eventually taking the chequered flag ahead of Nicolai Kjaergaard.
And the young Indian was keen to point out the potential of the car given to him by Lanan Racing.
"It was a really good race from us, we knew from pre-season running that we were going to be quick in the dry as we were P1 every session. Unfortunately last weekend and the start of this weekend has been very wet.
From the first lap I knew we could push it and at least get the fastest lap to start from pole. Thanks to the team for giving me a great car."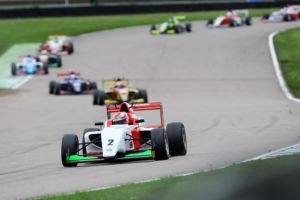 After dropping backwards at the start, Maini was keen to stay out of trouble before attacking on the first lap after tight opening three corners.
"I fell to seventh at turn one trying to keep my nose clean, Jamie (Chadwick) had a slow start and I got boxed in by Maldonado from the right, there were four or five close calls with my front wing on the first lap!
" I'm not sure whether they had less confidence or hadn't prepared as well as we had, but they seemed to lose their braking points, I kept to my braking points and got a couple of them around the outside, from there it was about keeping it on the black stuff.
The Lanan driver is in his first season in the British F3 championship after a spell in Italy, and says the traditional British weather was a factor in his decision to enter the series, and has high hopes for his debut season.
"I want to get more experience in the rain and (The climate) is actually one of the reasons I came here, to improve in the rain. To become the best you must practice in all conditions.
"We've shown that we are one of the best in the dry, so we're aiming to win the Championship."
Maini was left to rue a slow start to the final British F3 race of the day from pole position.
"We must improve and I need to improve at the starts because that was not the best. If you lose out at the start to guys that are on the pace, it's difficult to get the positions back.
"They got better heat into their tyres after the Safety Car, had to defend from behind. Overall I'm satisfied with P3. It's a lot of points towards the Championship."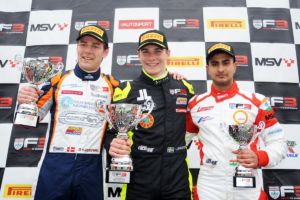 Lundqvist's victory came under more trying circumstances, as he got ahead of Maini and Kjaergaard at the start of an incident-filled Race three.
The race saw Saturday victor Gamble, Clement Novolak and Chia Wing Hoong disqualified for causing collisions, while Billy Monger, Jamie Chadwick, Jusuf Owega, Arvin Esmaeli and Pavan Ravishankar all retired due to contact.
"It was a tough race, I'll tell you that much but it was also a really enjoyable one too", Lundqvist began.
"Maybe the Safety Car helped us out a little, it may have helped me hold them off but we had good pace anyway so I could defend from Nicolai and Kush to the end."
The Swede took pride in taking victory under difficult circumstances as Kjaergaard was rarely more than half a second behind throughout the 14 lap distance.
"I'm very pleased with this one, it makes you feel better about the win if you've really had to work for it. It was a bunched up field, Nicolai at one stage had a really good run on me but I held him off, he really put a lot of pressure on me in the last two or three laps.
Lundqvist was quick to place importance on consistency in a season that has seen plenty of twists and turns already after just two race meetings.
"As you say it's been a really strong weekend for us, we had a podium in every race this weekend and I'm very pleased about that. It's a real confidence boost for me as a driver and us as a team. The target is to do more race weekends like this, this championship is about consistency and making sure the lowest score isn't that low.
We want to have every weekend like this one, fighting for podiums and race wins in each race and we'll be in a really good position come the end of the season."
The next three rounds of the British F3 Championship take place at the Snetterton 300 circuit in four weeks' time.