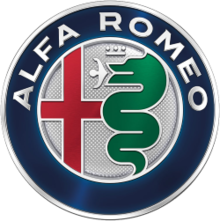 (c) Logo courtesy of and licensed to Alfa Romeo part of the Fiat Group
In my second The Factory feature I will take a look at Alfa Romeo. I can feel the confusion from you the reader now at the fact that this feature is supposed to concentrate on current constructors in the world of racing. Alfa Romeo aren't racing next year! Some cry – I wouldn't be so sure about that. Read on…..
It was in 1911 when Alfa Romeo first began to race competitively, the Targa Florio. Two years later they would finish second in the Parm-Paggio Berceto race with Nino Franchini.
During the 1920s and 1930s Alfa Romeo received success, Giuseppe Campari would win at Mugello in 1920 with Enzo Ferrari finishing second in the Targa Florio that year also. There was another Mugello win the following year with Campari at the wheel and in 1923 Ugo Sivocci won the Targa Florio.
Alfa Romeo wanted to press forward, they knew that they had to keep developing and improving to make their mark in the racing world and so in 1923 Vittorio Jano moved from Fiat to the factory to design their Grand Prix racing cars.
In 1925 they would win their first world title, the first AIACR World Manufacturers' Championship with wins at the European Grand Prix at Spa and the Italian Grand Prix at Monza.
The factory continued to be competitive moving into the 1930's, in 1932 Tazio Nuvolari and Rudolf Caracciola won five Grand Prix's between them, but it was in 1933 that Alfa Romeo would recall all its racing cars, close the factory doors and transferred all their assets, with the insistence of the Italian government, to Enzo Ferrari who was now running a privatised factory team called Scuderia Ferrari.
With the cars moved to Ferrari Louis Chiron went on to win the French Grand Prix in 1934 and the Alfa car won 18 or 35 races in Europe. The Silver Arrows were beginning to outclass Alfa Romeo but Nuvolari did hit back by beating the Germans in the own backyard at the Nurburgring in 1935.
Alfa Romeo commanded the Targa Florio, winning six times in a row during the 1930s and also taking the Mille Miglia, with the exception of 1931, every year from 1928 to 1938.
With their 8C 2300 car, Alfa Romeo would also win the 24 Hours of Le Mans from 1931 to 1934, moving them swiftly onto the sportscar scene.
They developed their sportscar programme in 1963, taking class wins in races and developed a new 90 degree V8 engine, designed by Carlo Chiti and this was to compete with the dominant Porsche team. They raced in the World Sportscar Championship from 1967 to 1977 taking two world titles (1975 and 1977).
As a Formula One constructor and engine supplier Alfa Romeo took two Drivers' Championships (1950 and 1951) and would compete in F1 from 1950 until 1988. As a constructor Alfa Romeo pulled out of Formula One at the end of 1951, after their second title, but would supply F1 teams during the 1960s, with their V8 engine run by McLaren and March during the 1970s. Brabham took Alfa Romeo engines from 1976 until 1979 and they also supplied Osella from 1983 until 1988.
They did re-enter Formula One as a constructor themselves from 1979 until 1985 and in 1987 had struck a deal to supply Ligier until Fiat took over Alfa Romeo and that contract fell through.
As a constructor, Alfa Romeo entered 110 races, winning 10. They attained 26 podiums, 12 pole positions and 14 fastest laps to go with their two world titles. Drivers to have raced for the team include, Nino Farina, Juan Manuel Fangio, Bruno Giacomelli, Mario Andretti, Andrea de Cesaris, Eddie Cheever and Riccardo Patrese.
The factory has had major success in Formula Three, Michele Alboreto for example won the European F3 title in a March-Alfa Romeo and from 1980 to 1984 they won four consecutive Italian F3 titles.
In 1989 Alfa Romeo entered IndyCar, the engine developed using the unraced Ferrari 637 indy car. They recorded no podiums, no poles and no race wins, eventually pulling out of IndyCar in 1991.
They skirted with rally, the Giulietta won the 1958 1000 Lakes Rally, they also went on to secure victories in the Elba and Costa Brava rallies in 1975 winning the Group 2 category in the WRC Tour de Corse. They produced the GTV6, one of the fastest Group A rally cars, but this was reclassified as a Group B by the FIA at the end of the 1986 and was less competitive.
It was in Touring Cars where Alfa Romeo found most of their success, taking numerous ETCC titles, Trans-Am Championships, BTCC, DTM and winning the Bathurst 12 Hour.
Now part of the Fiat group, there has been much talk over the last few years of an Alfa Romeo return to Formula One, but nothing concrete and no deal with the FIA was forged to see the marque return.
Alfa Romeo are now again competing in the new TCR Series where the Giulietta has taken race wins during the 2017 season.
It is, however, returning to touring cars for 2018, be it through a dealer team entry. An Alfa Romeo Giulietta will once again be on the British Touring Car grid next season with Handy Motorsport. The front-wheel drive Giulietta will be fitted with a BTCC TOCA engine in its first season, but a bespoke unit could be developed in the future. The last time Alfa Romeo appeared on the grid in BTCC was 2007. It is not a full factory entry but Alfa Romeo's 62 strong dealership network in the UK have been encouraged to support the project.
So we have an Alfa Romeo, semi-factory, car back on the grid for next season. It is hoped that this is just the beginning of a return to racing for this historic marque. 
"La meccanica delle emozioni" 
Alfa Romeo has won the following major victories and championships:
5 – World Championships (1925, 1950, 1951, 1975, 1977)
11 –  Mille Miglia (1928,1929,1930,1932,1933,1934,1935,1936,1937,1938,1947)
10 – Targa Florio (1923,1930,1931,1932,1933,1934,1935,1950,1971,1975)
4 – 24 Hours of Le Mans (1931, 1932, 1933, 1934)
17 – European Touring Car Championships (1966, 1967, 1969, 1971, 1972, 1976 (Divisions 1 and 2), 1977 (Divisions 1 and 3), 1982, 1983, 1984, 1985, 2001, 2002, 2003, 2004)
9 – Makes Championship
4 – Drivers' Championships
10 – Italian F3 Championships
10 – European F3 Championships (1980, 1981, 1982, 1983, 1984, 1985, 1986, 1987, 1989, 1990)
5 – European F3 Cups
7 – French F3 Championships (1981, 1983, 1984, 1985, 1987, 1988, 1989)
2 – German F3 Championships (1984, 1989)
3 – Giro Automobilistico d'Italia (1954, 1988, 1989)
2 – Trans-Am Championship (1966, 1970)
1 – Deutsche Tourenwagen Meisterschaft (DTM) (1993)
2 – British Touring Car Championship (BTCC) (1983, 1994)
5 – Spanish Touring Car Championship (1988, 1991, 1994, 1995, 1997)
2 – French Touring Car Championship (1983, 1984)
6 – Italian Superturismo Championship (1988, 1992, 1998, 1999, 2003, 2004)
7 – European Historical Gran Turismo Championships
4 – European Classic Touring Car Championships
3 – Bathurst Unique Fuel Championships 
Neil Simmons
Twitter: @world_racing