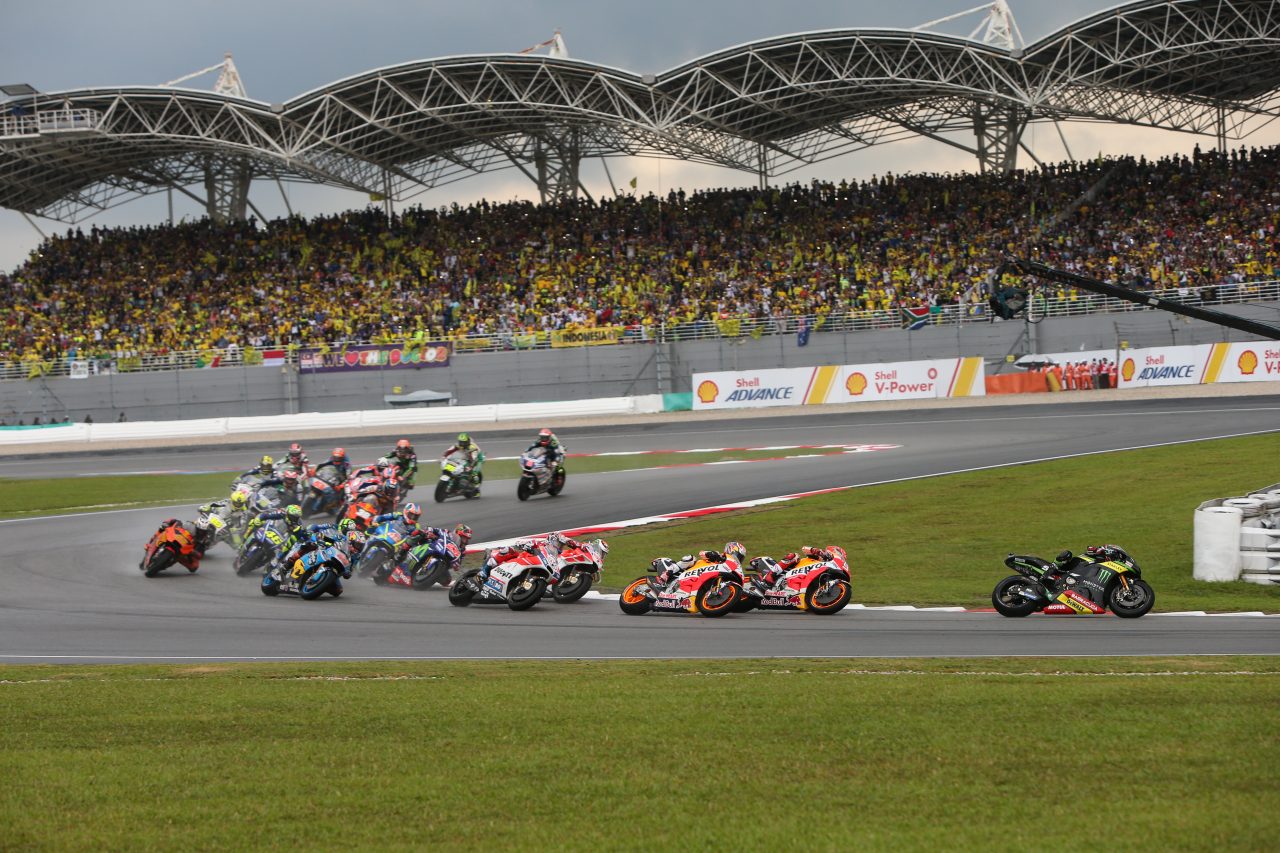 The final round beckons for MotoGP in 2017. A season that has seen five winners and one of the best head to head duals in years has arrived at the last setting. Valencia in Spain offers the 18th and crucial conclusive meeting of the year, with the chance to witness one of the most heroic battles in a last round Grand Finale. Marc Marquez needs 11th or better to win the championship, regardless of where challenger Andrea Dovizioso finishes. The Ducati rider in turn must win if he is to stand any hope of winning the championship, something that very few people had thought about prior to 2017. Will we see the expected result or will Valencia throw up one of the all-time greatest shocks in motorcycle racing history… again – remember 2006?
Marc Marquez is in control of the championship. He has been dynamite since winning in Germany, finishing either 1st or 2nd at each GP – with the exception of two races: Silverstone, when an engine fault literally blew his chances of winning and in Malaysia, last time out – where he was 4th. Those results mean that whilst Marquez is all but champion, he is exactly that. The championship is not yet sewed up and one mistake, like we saw with Valentino Rossi in 2006, sends it all tumbling away. By mistake, I mean that it doesn't have to be his own. Valencia has seen pile ups at turn 1, turn 2 and turn 14 before now, meaning it could be someone else's accident that brings him down. Equally, weather could play its part and give Marc an unexpected scare. Or, dare we say it, another mechanical? However, all things look in Marc's hands. Not only is he in control of the title race but he has great form in Valencia. In 2012, he won the Moto2 race from the back of the grid and he also won in MotoGP 2014, from 5th. He was 3rd in 2013, giving him his first premier class title, whilst he finished a close-run 2nd in 2016. Marc hasn't crashed at Valencia in the race since 2009 in the 125cc class, when he remounted and finished 17th. Can the run continue? He hasn't had back-to-back 4th place finishes since Silverstone and Misano last season but don't forget, 4th is more than good enough.
Andrea Dovizioso has put in a valiant effort in 2017, emerging from the pack as the only rider able to chase down Marc Marquez. A credible threat? Absolutely. He has beaten up Marc Marquez in last-lap, last-corner fights and has the potential to do that again this weekend. Is he a realistic threat? It all depends what you talk about. I personally believe that he can win the race, to become the first Ducati winner at the circuit since 2008, in the Stoner era. However, it is a mountain to climb to win the championship. Dovi can only do what he can do, he has to go out to the front and win the race. That will be his 'job done'. Similar to Valentino Rossi in 2015, where he did what he could and got to 4th, leaving it in the hands of the motorcycle Gods to see if he would become champion from there. Dovizioso has never won at the circuit before and his best result on a Ducati was in 2014, in 4th. If he does win, it will be his 7th win of the year, the most Ducati have had in GP since Casey Stoner, exactly 10 years ago. Can Dovi do it? Realistically no, theoretically yes. Having said that, remember 2006…
Maverick Vinales can't take 2nd in the championship now, having had a disaster in Malaysia which saw him languish in 9th. Vinales will be 3rd in the championship, as teammate Valentino Rossi cannot catch his new partner. Maverick will be looking to achieve Yamaha's first win in the 2nd half of the season, an astonishing statistic. The Yamaha rider has won at the Ricardo Tormo circuit before, in 2011 on a 125cc bike and in 2013, in Moto3 – the latter of which was a titanic scrap between himself and Rins for the championship.
Valentino Rossi heads to a circuit he absolutely despises. It was the scene of his big crash in 2005 during qualifying, forcing him to start 15th – he finished 3rd. In 2006, he crashed out, resulting in him losing the title and Nicky Hayden taking it. In 2007, a monumental crash in qualifying saw Rossi fracture his hand in three places. In 2011, he was taken out in a first corner pile up and in 2015, he started from the back of the grid in his quest to win the GP title – he didn't take his 10th crown. Rossi last won at the circuit in 2004. The last time Yamaha didn't win a race in the 2nd half of the season was in 2003, when they didn't win a race throughout the entire season.
Dani Pedrosa is 5th but has a chance of catching Valentino Rossi for 4th overall, which isn't actually unlikely. Pedrosa has great form at Valencia and is the only rider to have won races in all classes at the circuit. Three wins and four other podiums stand Dani in good stead for an assault on 4th in the championship this weekend. He was 3rd in 2015 – his most recent podium. His last win came in 2012, in dodgy weather conditions. Pedrosa has been on the podium at every race in Spain so far this year and if he makes it on the podium again, it'll be the first time since 2012 that he has achieved 4 Spanish podiums in as many Spanish races in one season.
Johann Zarco is already confirmed as top rookie in 2017 and will be wanting to give Tech 3 their first ever podium in Valencia – a previous best result was in 2011, with 4th for Britain's Cal Crutchlow. Johann Zarco himself has won at the track, last year in Moto2, after a thrilling battle with Franco Morbidelli in the early stages of the race. A Frenchman hasn't had back-to-back podiums in MotoGP since Regis Laconi at Ricardo Tormo and Phillip Island in 1999 – he was the last French winner, ironically at the Valencian GP. The last back-to-back podium for Tech 3 was at Assen and the Sachsenring, in 2013 with Cal Crutchlow.
Jorge Lorenzo's 2nd place ahead of Zarco in Malaysia keeps his hopes of a 6th place finish overall in the standings alive. The Spaniard hasn't had a great season but he could become the first ever Spanish winner on a Ducati in MotoGP. Lorenzo has won at Valencia on four occasions; 2010, 2013, 2015 and 2016. One truly incredible statistic is that Ducati haven't ever had a back-to-back 1-2 finish in Grand Prix.
Danilo Petrucci's heroic ride in Malaysia from the back to 6th demonstrated just how much of a top rider he is. Danilo Petrucci is a winner at the Ricardo Tormo circuit, back in 2009 in the European Superstock 600 class. His best result at the circuit in GP racing remains an 8th place in his rookie season, in 2012. For the last two seasons, he has finished in the same place he qualified in. Petrucci is 16 points behind Lorenzo in the championship, making it hard to catch him but not insurmountable.
Cal Crutchlow is 17 points further back in the championship. The top Brit has been a bit 'hit and miss' in 2017 and hasn't had a podium since Argentina, round two. Crutchlow crashed out of a safe 2nd place in the 2012 Valencian GP and has a best result of 4th at the circuit, in his rookie year in 2011. Crutchlow won the World Supersport race at the circuit in 2009 and qualified on pole for the World Superbike round there in 2010.
Jonas Folger still holds onto his 10th place in the championship but yet again is not flying the Tech 3 Yamaha flag or the Bundesflagge. He is replaced by Michael van der Mark, who is fresh off the back of a 4th place in WSBK at Losail. He was 16th in the last GP, at Sepang.
Suzuki slumped to yet another poor result in Malaysia, with no points on the board again. They have never had back-to-back no-point scoring finishes during their return to MotoGP. The last time they had back-to-back no-point scoring finishes as a two bike team was in 2003, with John Hopkins and Kenny Roberts Jr., at Le Mans and Mugello.
Aprilia will be racing in RED this weekend, a charity supported by the Gresini Team last season at the same event. Aleix Espargaro could mathematically finish in the top 10 but he would have to win. If he scores two points more than Scott Redding, then he may take 13th, however, Iannone is just 2 points behind Aleix. Teammate Sam Lowes will bow out of the team after Sunday's race, as he hopes to get third point-scoring ride of the year.
KTM made their return to premier class action at Valencia last season, where Mika Kallio suffered an electrical issue. The Austrian manufacturer will want a repeat of Sepang, where both bikes came home in the points for a 6th time this year and a 2nd consecutive GP. Kallio achieved a 1.32.092 in qualifying last year and that will almost certainly be surpassed this weekend if conditions remain dry.
The Aspar Ducati team head to Valencia with both riders having been on the podium there at some in their careers. Bautista was 2nd in the 250cc class in 2009 and Karel Abraham won the Moto2 race a year later. Both riders have also had top 5s in MotoGP, with Bautista 4th in 2012, having started from the pit lane and Abraham in 5th in 2011, after a battle for Rookie of the Year with Cal Crutchlow.
The Marc VDS outfit continue their resurgence to form, on Jack Miller's side anyway. The Australian was 8th in Malaysia, still nursing a broken leg. The Valencian GP will be his last race for Marc VDS, as he moves to Pramac Ducati. Tito Rabat hasn't scored a point since Phillip Island and will be looking to bow out of the team with a good result, as he moves to Avintia next season. Both riders have won a race in Valencia before; Miller in 2014 in Moto3 and Rabat in Moto2 in 2015.
Scott Redding will make his final appearance for Pramac Ducati this weekend, as he heads to Aprilia to replace Sam Lowes next season. Redding's best finish at the Ricardo Tormo circuit was 5th in 2010 and his best in the premier class was back in 2014, when he was 10th for Gresini Honda. It'll be the first time since 2014 that Redding hasn't had a podium in the season – if he doesn't get one this weekend.
Lastly, it will be the last premier class GP (for now) for Loris Baz and Hector Barbera, as they head to WSBK and Moto2 respectively. Baz has never scored a point in Valencia in GP, whilst Hector Barbera's best premier class result was 8th in 2010. The Spaniard has won in the 125cc class in 2004 and then in the 250cc class in 2009. Barbera hasn't had back-to-back point-scoring rides since Mugello and Catalunya, earlier in the year.
It is advantage Marquez at the head of the field, as he pursues title number six. Dovizioso hasn't won the MotoGP title before but it could all change on Sunday. One of the biggest climaxes to a season before, the 2017 Valencian Grand Prix is arguably the most important race in the history of Ducati in MotoGP. Yamaha will want to end the season on a high, having won the last two Valencian GPs. One thing that we must remember about MotoGP is this: the only thing predictable about MotoGP is that it is totally unpredictable – Charlie Cox, on many occasions.