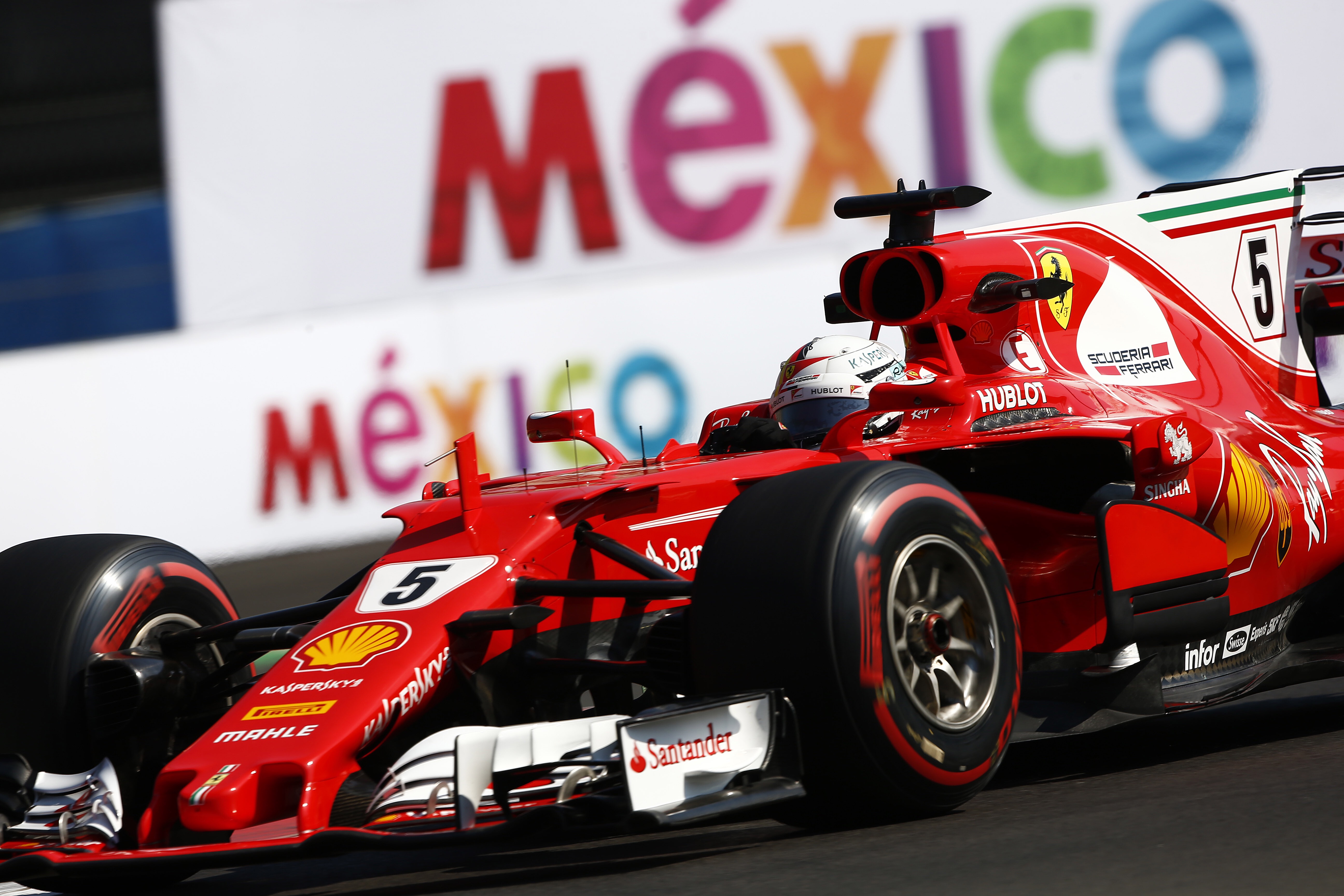 Image courtesy of Pirelli Motorsports
The twin themes for Qualifying are excitement and disappointment. On the excitement front, watching the shootout for P1 was thrilling. While it's certainly au courant to knock the current generation of power units, as the 2017 package hits high levels of development it's fantastic to see the track records falling. Autódromo Hermanos Rodríguez in its current incarnation may not have much of a history to compare against, but it's nonetheless exciting to see records fall.
On the disappointment front, the luckless Pierre Gasly of Scuderia Toro Rosso will be starting from the back after missing Qualifying due to a power unit change, and Brendon Hartley's promising start to qualifying was also cut short due to an engine failure of his own. Haas failed to perform to expectations, and even typical high performers Kimi Raikkonen and Daniel Ricciardo qualified below their proven potential. One can perhaps understand Ricciardo's slower pace in comparison to his teammate as Verstappen has a more advanced power unit, but it's still unusual to see him so far behind. McLaren continues to show how what could have been, and Williams continues in their inconsistent form.
Renault and Force India occupied the middle ground between the extremes. Their drivers all delivered competent performances, qualifying in the lower half of the top 10, but apart from the crowd's obvious love for Sergio 'Checo' Perez the highs and lows experienced by the other teams overshadowed their solid performance.
Q1:
It was no surprise to see Ferrari open with a strong performance on supersoft tyres, though while Sebastian Vettel finished the session in 4th his teammate Kimi Raikkonen fell to 7th, behind McLaren's Fernando Alonso and Force India's Sergio Perez.
While Mercedes was able to beat Ferrari, they did it on ultrasofts. While Mercedes' pace is generally undeniable, their need for the softer compounds this round shows that they're not as safe as they might be.
Red Bull's Max Verstappen topped the Ferrari times – also on supersofts. Hamilton's engine gremlins continued, with Hamilton reporting another engine cut during the latter half of the session. Regardless, his early time of 1:17.518 ensured he'd safely advance to Q2. His teammate Daniel Ricciardo completed the session in 10th.
Force India's Sergio Perez, the local favorite, put delivered a solid performance for his supporters the grandstands and occupied 6th.
McLaren's Fernando Alonso continued to demonstrate the sadly-unrealized potential of the car by climbing to 5th in the first half of Q1 following a forgettable series of practice sessions. The waning moments of Q1 showed Honda's return to form as Alonso reported no power and no turbo. Despite this, he still managed to deliver excellent sector times as the flag fell.
The flying laps after the chequered flag saw the usual last-minute excitement among the backmarkers. Alonso's teammate Stoffel Vandoorne climbed to 13th. Toro Rosso's resident Kiwi, the impressive Brendon Hartley, advanced, finishing the session in 14th. Williams' Lance Stroll rounded out the Q2 field in 15th. Sadly, Haas and Sauber both failed to put together enough performance to advance to Q2. Given the disparity between Sauber and Haas' power units, Haas' finishing behind Sauber is troubling.
Advancing to Q2: HAM BOT VER ALO PER RAI RIC HUL OCO SAI MAS VAN HAR STR
Excluded: ERI WEH MAG GRO GAS
Q2:
Records continued to have a very short lifespan due to the battle at the top of the timing chart, and ultrasofts are the order of the session among the frontrunners. Bottas rocketed to the top of the leaderboard with an opening time of 1:17.161 on ultrasofts, but was topped by Vettel with 1:17.058 (incidentally setting a new track record). Hamilton, disregarding any worries over his engine, put in a blistering new record time of 1:17.035 in turn.
Hartley's Toro Rosso let him down in the early stage of the session with a sadly-familiar puff of smoke echoing Gasly's FP3 misfortune. His radio message to the pit wall, "No power, no power," signaled the end of a promising day and bringing out a yellow.
The yellow flags caused Max Verstappen to back off a promising lap, but he recovered to set his own new record of 1:16.524. Vettel fought back and topped Hamilton, but wasn't able to unseat Verstappen.
Force India and Renault certainly took part in Q2, but apart from the crowd's cheering for Checo there wasn't much notable in their performance – but an unexciting advancement to Q3 is just as much an advancement to Q3 as an exciting one, and there's nothing wrong with that.
Williams continued to suffer from their ongoing inability to quite bring everything together, and elected to only run late in the session. The lower air pressure at altitude contributed to their woes thanks to the associated lack of downforce, and they weren't able to rise out of the drop zone.
While Vandoorne and Alonso did each put in an early lap, McLaren elected to not attempt to set times for Q2 to preserve tyres, and likely power units, for the race. After Alonso's excellent Q1 performance it's disappointing to see McLaren still making these decisions.
Advancing to Q3: VER VET HAM BOT RAI RIC SAI HUL OCO PER
Excluded: MAS STR HAR VAN ALO
Q3:
The crowd loves Checo, and their excitement seeing him in Q3 comes through.
The battle for pole didn't disappoint, and once again the boots of choice were ultrasofts. Bottas got a good start, but was forced to abort his early flying lap when he came up on a slower-moving Verstappen in the Foro Sol section. While Verstappen did move off to the left, Bottas wound up braking hard and locking up briefly before diving for the pits where he was to remain until the closing minutes of the session. The stewards announced an investigation into Verstappen for impeding Bottas, but in a move that will doubtless ease any sense of anti-Verstappen bias determined that no action was warranted.
Hamilton put in a valiant effort and sat briefly in P1 himself with a repsectable-but-not-unbeatable time of 1:16.934. The churn in P2 was entertaining, with Hulkenberg, Raikkonen, Sainz, and Ocon occupying the position in turn until Sebastian Vettel coaxed his SF70H, Gina, into delivering a lap of 1:16.833, pushing everyone ahead of Verstappen down a spot.
Verstappen responded with a fastest first and second sector, going on to set an excellent time of 1:16.574. For a moment it seemed that a record other than track time, namely youngest pole winner, might be broken, but this sadly wasn't to be.
After the mid-session lull, Bottas completed his flying lap with a 4th-place 1:16.958 shortly before the chequered flag fell. Hamilton was unable to improve his time.
After the flag fell, Vettel completed his own flying lap to set a new record with a time of 1:16.488, securing his 50th pole position. Verstappen was unable to improve his own time, taking second. Bottas's own final lap wasn't enough to improve his position.
As with Q2, the battle at the front overshadowed otherwise competent drives from Renault and Force India. And as with advancing to Q3, an unexciting top-10 starting position is just as much a top-10 as an exciting one. Ocon certainly had the best performance of the midfield, qualifying a surprising 6th ahead of Ricciardo.
As the dust settled on an exciting qualifying session, the grid prior to penalties was VET VER HAM BOT RAI ECO RIC HUL SAI PER MAS STR HAR ALO VAN ERI WEH MAG GRO GAS.
With Sebastian Vettel and Max Verstappen on the front row, one can only imagine the conversations in the Ferrari and Red Bull camps, hoping to avoid a repeat of the carnage at the start of the Singapore Grand Prix. Even though it's quite possible that we'll see the Drivers Championship locked up for Lewis Hamilton during the race session, it's still exciting to see Red Bull and Ferrari bringing the fight to Mercedes at this late stage of the season. Hamilton's engine gremlins certainly add an element of uncertainty, and Renault-powered teams will doubtless be keeping a wary eye on their engines following Toro Rosso's troubles.