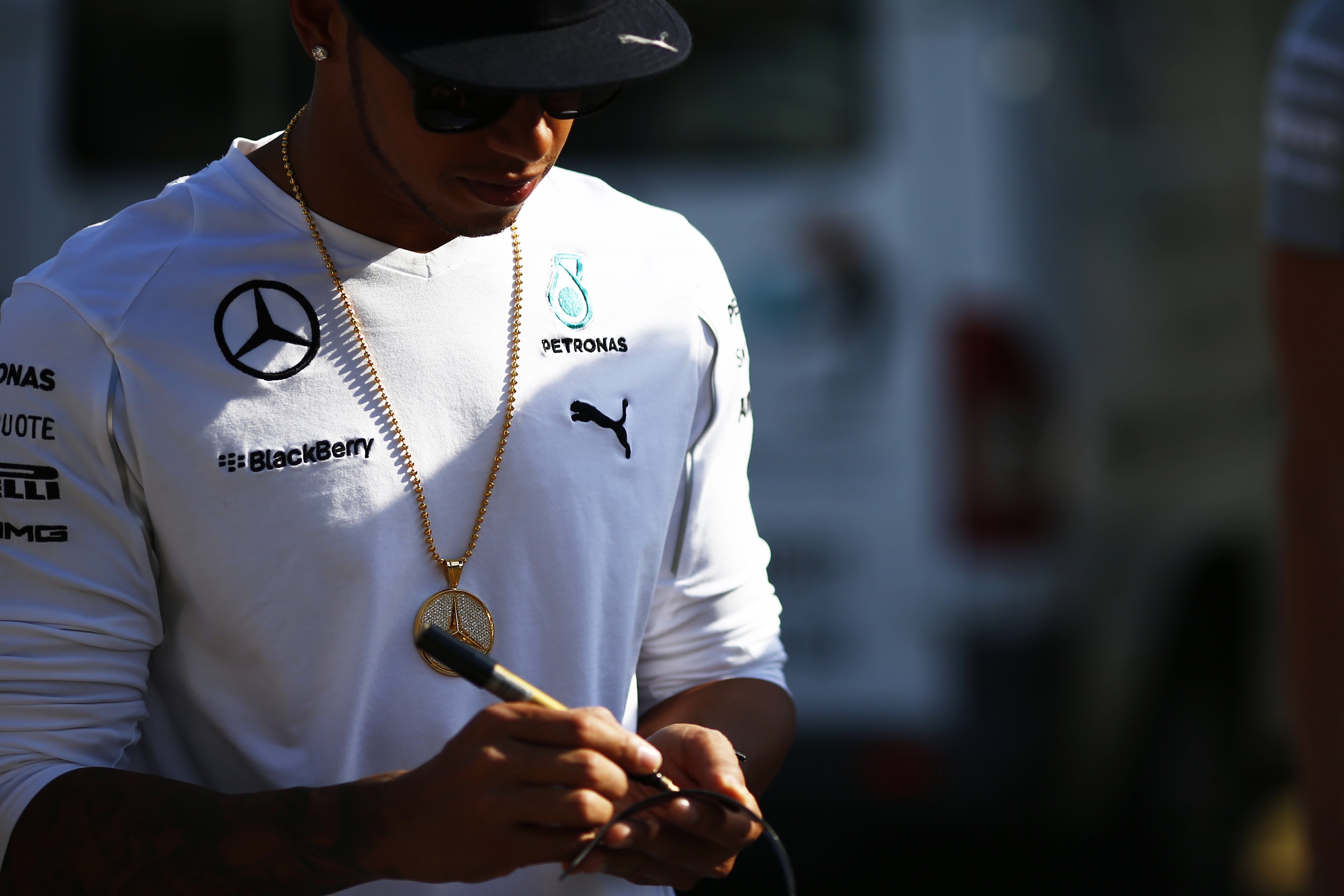 Image courtesy of Pirelli Motorsports (Andrew Home)
Going into Free Practice 3 the big question remains, "Will Lewis Hamilton claim his 4th Drivers Championship?"
High altitude and dust at Autodromo Hermanos Rodriguez makes life more difficult for the teams, and yesterday's struggles for grip underscore the challenges. A stiff headwind leading into Turn 1 made for a good deal of excitement as drivers entered the braking zone, and the lower temperatures made for a struggle getting supersoft tyres up to snuff.
The FIA has taken a more aggressive approach to track limits by putting additional measures in place to prevent drivers from gaining an advantage by playing fast and loose with the boundaries. Additional kerbing has been laid out to provide immediate consequences for running wide, with further markers being set up overnight at Turn 11. If drivers cut Turn 10, they'll need to drive through the markers to ensure they don't gain an advantage. The stewards will additionally remind the teams about certain corners of concern. Racing drivers are competitive in the same way that the ocean is damp, and curbing their natural tendencies to extract every advantage leads to stewarding being a thankless job at times. It's thus important that they enforce the rules consistently.
From the session, Scuderia Toro Rosso's Pierre Gasly will face an uphill fight in tomorrow's race, his FP3 (and later Qualifying) literally vanishing in a puff of smoke due to a mechanical failure after two laps. With only 10 laps completed yesterday due to an engine issue, and two today, he's desperately short of real-world track time. Simulator time and study are important tools, but there's no substitute for getting actual miles in the car.
After losing the Super Formula championship by half a point when the race he skipped Austin for was cancelled due to Typhoon Lan, it feels like Gasly can't win for losing. We hope his luck improves for the remainder of the weekend! With the Honda power supply deal looming next year, the cynical response would be to say, "Get used to it, kid."
On the other side of the Baby Bulls' garage, Brendon Hartley put in another quiet, workmanlike performance to finish the session in 11th. Hartley continues to demonstrate his skill, and Toro Rosso wouldn't go amiss with him on the roster in 2018.
Mercedes AMG Petronas' Valtteri Bottas seems to be finding his form again, setting a track record of 1:17.681 on ultrasofts near the midpoint of the session, only to top it with 1:17.537 moments later. Though his record wasn't to stand, being topped by Ferrari, Red Bull, and his teammate Lewis Hamilton, Autodromo Hermanos Rodriguez is just the sort of circuit Bottas enjoys, so here's hoping for a good show from him both during Qualifying and the race.
Championship leader Lewis Hamilton spent much of the session lurking near the top of the timesheet, but reported engine issues during the middle portion of the session. Happily for Lewis, the response from the pit wall was that it was something that'd just require a calibration adjustment. Hamilton himself went on to sit briefly atop the timings with a momentary record of 1:17.118
Despite being the overall favorites for pace thus far, Red Bull's Max Verstappen faced some struggles getting his supersoft tyres into shape. The first sector caused him particular trouble, and given Pirelli's skittishness about lowering tyre pressure the main option to put more heat and grip on the front will be aero. Of course, Verstappen's first sector times weren't exactly bad, so one is left wondering if he simply got placebo changes. Whatever they did to resolve it, it seemed to work as Max went on to top Bottas' and Vettel's and Hamilton's top fastest times to finish the session with the new track record of 1:17.113.
Scuderia Ferrari concentrated much of their session on the supersoft compound, but when they switched to ultrasofts their true pace shone through. Sebastian Vettel briefly topped the timing sheets, with a lap time of 1:17.230. Barring quality gremlins, Ferrari will be a force to contend with tomorrow.
Local boy Sergio Perez of Force India ran an uneventful session, finishing in 7th just ahead of his teammate Esteban Ocon. Should Force India conclusively lock up 4th in the Constructors Championship, 'Best Name in F1' winner Otmar Szafnauer has said that the drivers will be free to race again. Here's wishing the team a solid weekend so we can enjoy the Perez-Ocon rivalry in the final events of the season. They've certainly done a good job of reining it in for the team, and it'd be great to see them unleashed.
Though it is of course difficult to generalize from practice performance, there should be an exciting battle at the front of the pack between Red Bull, Ferrari, and Mercedes. Onward to Qualifying!