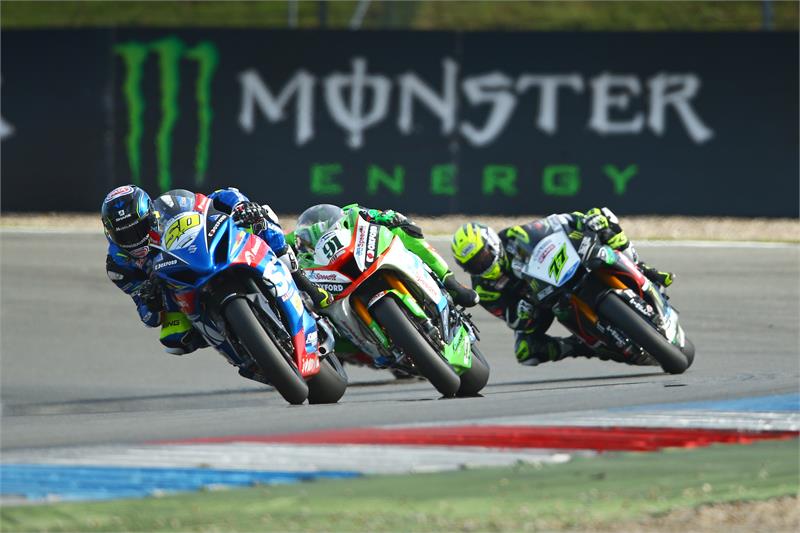 There was a lot to draw out of the BSB round at Assen over the weekend. Although I could've spent all week analysing each result, that would be tedious and probably boring for you to read. Here are some of my top observations across the weekend. This is What We Learnt.
The Suzuki is coming good at a good point
Sylvain Guintoli took Suzuki's first British Superbike race win in three years. The last time a Suzuki won was in the hands of Josh Waters in tricky conditions, at Brands Hatch. A new swing-arm for this weekend has proved to be beneficial and that, coinciding with Guintoli's stunning history at Assen, has taken the new GSX-R Suzuki to its first win on Pirelli tyres. It is amazing how one part can make so much difference. Whether or not Guintoli can be as competitive at Brands Hatch is yet to be discovered but we finally know that the Suzuki can win races. Watch this space for 2018 – even if Guintoli may not be there.
Leon Haslam's consistency is beginning to get worrying
A win and a third for Leon Haslam meant that he extended his lead in the championship, up to 32 points. Despite not finishing any races at Silverstone, the 'Pocket Rocket' has looked the most threatening rider in the field. In the last six races he has finished, Haslam has been on the podium in all of them. Had he finished races at Silverstone, then we could've been talking about Leon Haslam looking absolutely on the money for his first ever BSB title. Then again, he isn't far off now. He could mathematically win the championship in race one at Brands Hatch – then again, he could also be closed right in. It is anyone's title.
Bradley Ray really is the business
Lydd's Bradley Ray took yet another double top-ten this weekend. In a sensational rookie year, Ray has already taken a podium and started from the front row, however, his results have been brilliant all season too. A 6th in race one whilst running with the leaders and a 10th in race two after suffering a duff tyre, are more-than good results. He extends his run of point-scoring rides to nine now, of which the last seven have been in the top ten. The sun is shining on young Ray.
Status Quo sees no Movin' On
Many riders have already confirmed their intentions for the 2018 British Superbike season. The Paul Bird Motorsport Ducati team have confirmed Shane Byrne and Glenn Irwin for next season and just before Assen, Pete Extance's JG Speedfit Bournemouth Kawasaki team announced they would retain the services of Leon Haslam and Luke Mossey. Jake Dixon was also confirmed to remain at RAF Regular and Reserve Kawasaki, run by Lee Hardy. During the Assen weekend, Christian Iddon was confirmed at Tyco BMW for another year. All this movement almost ends speculation about a complete change at Honda Racing UK, although Anvil Yamaha and McAMS Yamaha are still keeping quiet.
My own opinion suggests that the reason some riders are announcing their plans is because they are staying where they are. This means a simple re-signing causes less potential upset than signing a new rider for next season, especially with the season still live. The ones that we await news on suggests to me that at least one change will come in the remaining teams. Whether or not Andy Reid will stay at Tyco is unclear, due to his injury. Rumour has it that he has signed but the recovery period for his broken leg is vague.
A step up may not be so easy after all
We saw three National Superstock 1000 riders step up to BSB this weekend. Danny Buchan and Josh Elliott were replacement riders at FS-3 Kawasaki and Tyco BMW respectively, whereas Richard Cooper was a wildcard in the Hawk Racing Bennett's Suzuki outfit.
Buchan crashed in race one and didn't make it out for race two – the Basildon Bullet endured a tricky weekend with mechanical gremlins prior to race-day. This means that the FS-3 Kawasaki team haven't scored a point since Snetterton, way back at the start of July.
Josh Elliott suffered on race day, after a stellar qualifying placed him 7th. He finished 19 in race one, after being sat up early on. In race two, he finished last, just shy of 45 seconds off the pace. Elliott looks almost certain to re-join Steve Buckenham's Morello Kawasaki team next season, in a bid to take his 2nd National Superstock 1000 title.
Richard Cooper was more successful, finishing 13th in race one and 11th in race two. Cooper, racing in a splendid retro Suzuki livery, showed signs that he may have a lot of confidence – especially after his successful 2nd half of the year, in which he has kept Danny Buchan honest. Maybe his results over the weekend have given him confidence and therefore, some psychological advantage going into the last round at Brands. It should be a great season finale in the National Superstock 1000 class.
Shaun Winfield is one tough b*****d
Finally, Shaun Winfield gets my effort of the day. A massive accident on Friday left Swadlincote's finest in a lot of pain for the rest of the weekend. Despite being lapped in race one, Winfield set a fastest lap of 1.42.642, not shabby at all considering he was being taken for a precautionary x-ray to his chest and left middle finger on Friday. Without doubt a stellar job, even if he didn't finish race two. Well done.
Image by: Suzuki GB