The final day then and a day with almost 78km's over six stages. The startlist looked like this – Breen, Solberg, Greensmith, Loubet, Lappi, Fourmaux, Katsuta, Neuville, Tänak, Evans, Rovanperä.
We started with SS19 Tartu Vald 1 – 6.56 km and the top three was Kalle, Elfyn and Adrien. The Frenchman was quicker than Takamoto and reduced the gap a little. The was huge drama for his teammate, Pierre-Louis who struck a rock hidden at the edge of a left-hand bend and broke the front left suspension on his Puma. He made it to the end of the stage, but having looked at the damage, they decided to retire. A big shame for the young Frenchman and also M-Sport.
Onto SS20 Kanepi 1 – 16.48 km, a more normal stage flowing through the countryside and Ott plus the overall leader Kalle set the same time, whilst Takamoto was third fastest. Gus sadly retired with transmission failure at the end of the stage, giving further trouble for M-Sport Ford. The other two Hyundai's both went off at different parts of the stage, but made it to the end of the stage.
Next up was SS21 Kambja 1 – 15.95 km and Craig once again was the early pacesetter, before his time was beaten first by Ott, then Elfyn came through next and went fastest, before Kalle came through and beat Elfyn's time. Both the Hyundai's had spins again in this one, the car just not liking the lack of grip. The battle between Andreas and Teemu was continuing, the gap closing another second or so as Teemu was the fastest WRC2 runner.
We had a new stage winner in SS22 Tartu Vald 2 – 6.56 km with Esapekka winning from Adrien and Ott. Elfyn and Kalle were fourth and fifth fastest the gap between them now 40 seconds. Other drivers were preparing for the second run in the stage, when rerun as the powerstage. Craig felt it went well, whilst Thierry was saving the tyres for a big push later.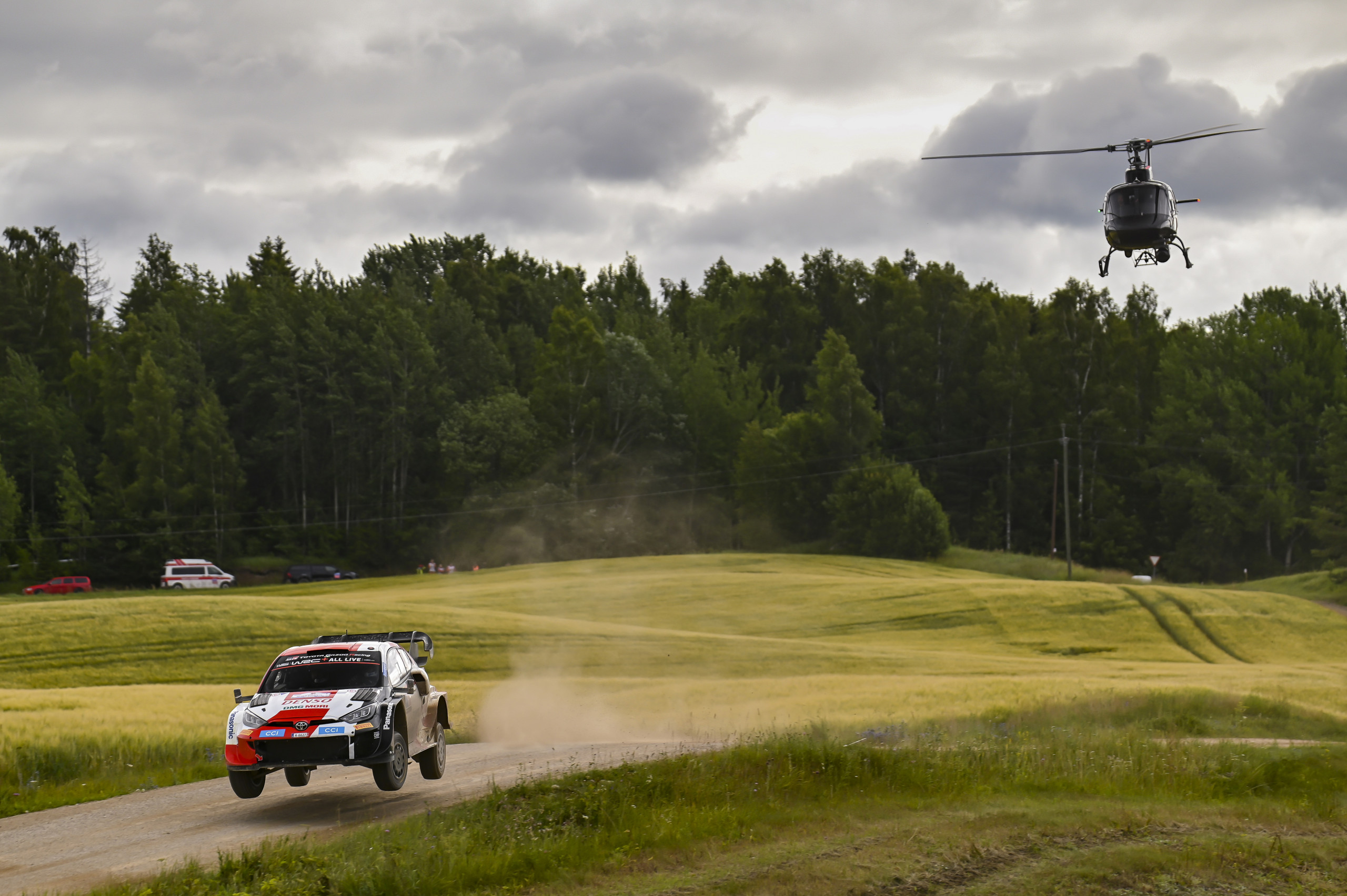 Esapekka also won SS23 Kanepi 2 – 16.48 km from Oliver and Takamoto. It was a great time from Oliver, given that the car cut out during the stage when his centre console became detached! Elliott managed to get it back in position, and keeping the time loss to a minimum. There was a huge time difference between the top three and the later crews completing the stage almost 40 seconds slower. Elfyn took a small amount of time out of Kalle and the gap was now 38.4 seconds.
The final stage then, SS24 Kambja 2 [Power Stage] – 15.95 km and the startlist was changed once again, with the top four WRC2 drivers starting the stage first – Mikkelsen (WRC2), Suninen (WRC2), Lindholm (WRC2), Huttunen (WRC2), Breen, Solberg, Lappi, Fourmaux, Katsuta, Neuville, Tänak, Evans, Rovanperä. Andreas had a really good run, setting a great time that none of the other WRC2 crews could beat. Teemu could not, as he suddenly started getting a misfire with the engine in his i20 and he lost a huge bit of time. Mind you, the weather closed in on stage in time for Jari Huttunen to have to driver through the whole stage and meant he was a full minute slower than Andreas. Craig was next in, but could not beat the time either. Now Esapekka did have a good clean stage, with no rain and, but was still not able to beat Andreas either. Oliver went off and Adrien just tiptoed his way through the stage, ultimately losing a position to Lappi as well. The rain kept moving around, and some had a clear run, but the conditions were still extremely difficult and finally we had just two crew left to go. Elfyn and Kalle, and Andreas remained the fastest still in the stage. The sun had completely come out, meaning that these conditions were the best since Andreas came through. There was till some standing water, but as these two made their way through they were setting new green sectors through the splits. Andreas' time was finally beaten by Elfyn by just 2.2 seconds, but then came the charging Finns…. Each split was faster and faster, and they were really on a charge out there, and when they crossed the line, they'd gone fastest by 22.5 seconds over Elfyn just in this single stage. What a drive they had done, taking thirteen stage wins and their seventh career victory. Just unbelievable and incredible.
Let's take a look at the top ten and hear from the drivers.
Final Overall Classification – Rally Estonia
| | | | | |
| --- | --- | --- | --- | --- |
| 1 | K. Rovanperä | J. Halttunen | Toyota GR Yaris Rally1 | 2:54:29.0 |
| 2 | E. Evans | S. Martin | Toyota GR Yaris Rally1 | +1:00.9 |
| 3 | O. Tänak | M. Järveoja | Hyundai i20 N Rally1 | +1:55.7 |
| 4 | T. Neuville | M. Wydaeghe | Hyundai i20 N Rally1 | +3:53.3 |
| 5 | T. Katsuta | A. Johnston | Toyota GR Yaris Rally1 | +4:13.4 |
| 6 | E. Lappi | J. Ferm | Toyota GR Yaris Rally1 | +4:49.1 |
| 7 | A. Fourmaux | A. Coria | Ford Puma Rally1 | +5:09.2 |
| 8 | A. Mikkelsen | T. Eriksen | Škoda Fabia Evo | +11:01.8 |
| 9 | T. Suninen | M. Markkula | Hyundai i20 N Rally2 | +11:27.1 |
| 10 | E. Lindholm | R. Hämäläinen | Škoda Fabia Evo | +13:04.8 |
Toyota Gazoo Racing WRT
Kalle Rovanperä (1st)
"It's another amazing result this weekend. Opening the road on Friday morning it was hard to match Elfyn's pace, but after that we could fight really well. The final day was not so easy to manage, it was longer than normal and a big battle with the weather. To get such huge rain on the last stages was quite tough, but on the Power Stage I still did a big push. I knew that in this weather you can make a difference and I just tried to push a bit while trying to still be a bit safe. I was enjoying the driving and the time was clearly good. It's nice to get this victory before Rally Finland and hopefully we can do a good job there also."
Elfyn Evans (2nd)
"It's a bit of a relief to finish the rally after some really difficult conditions in the last couple of stages. Today was all about getting through and securing our second place. In the Power Stage I didn't take any risks but it was good to get some points from there as well. The biggest positive is another one-two finish for the team which is great. From our side it was a step forward especially from where we were last year on this rally. Congratulations to Kalle: He was very fast, just as he was last year. I take my hat off to him and we'll try again next time!"
Esapekka Lappi (6th)
"What a final day. It was a lot of kilometres today for a Sunday which was quite nice, and we had a good rhythm today. I had a better flow and I was a bit braver, which helped me to drive faster but it was also coming more naturally. Then we had really tricky conditions, especially on the last one which was definitely the craziest stage I have ever done. It was just horrible with the ruts all full of water. It's been a great weekend for the team and not a bad one overall for us. We had pretty decent pace throughout, so without the problem yesterday the result would have been OK, and it's good preparation for Rally Finland."
Hyundai Motorsport
Ott Tänak (3rd)
"For the first time in my life, I have not been competitive in Estonia, so that's a bit frustrating. It's unfortunately the situation we are in, we did everything we could, but third place feels disappointing. The real positive is the number of kilometres we have been able to complete across all three cars. We now need to evaluate our next steps in terms of development. The Estonian fans have shown that they are passionate and full of support, so I am thankful to them for that; it's just a shame we weren't competitive."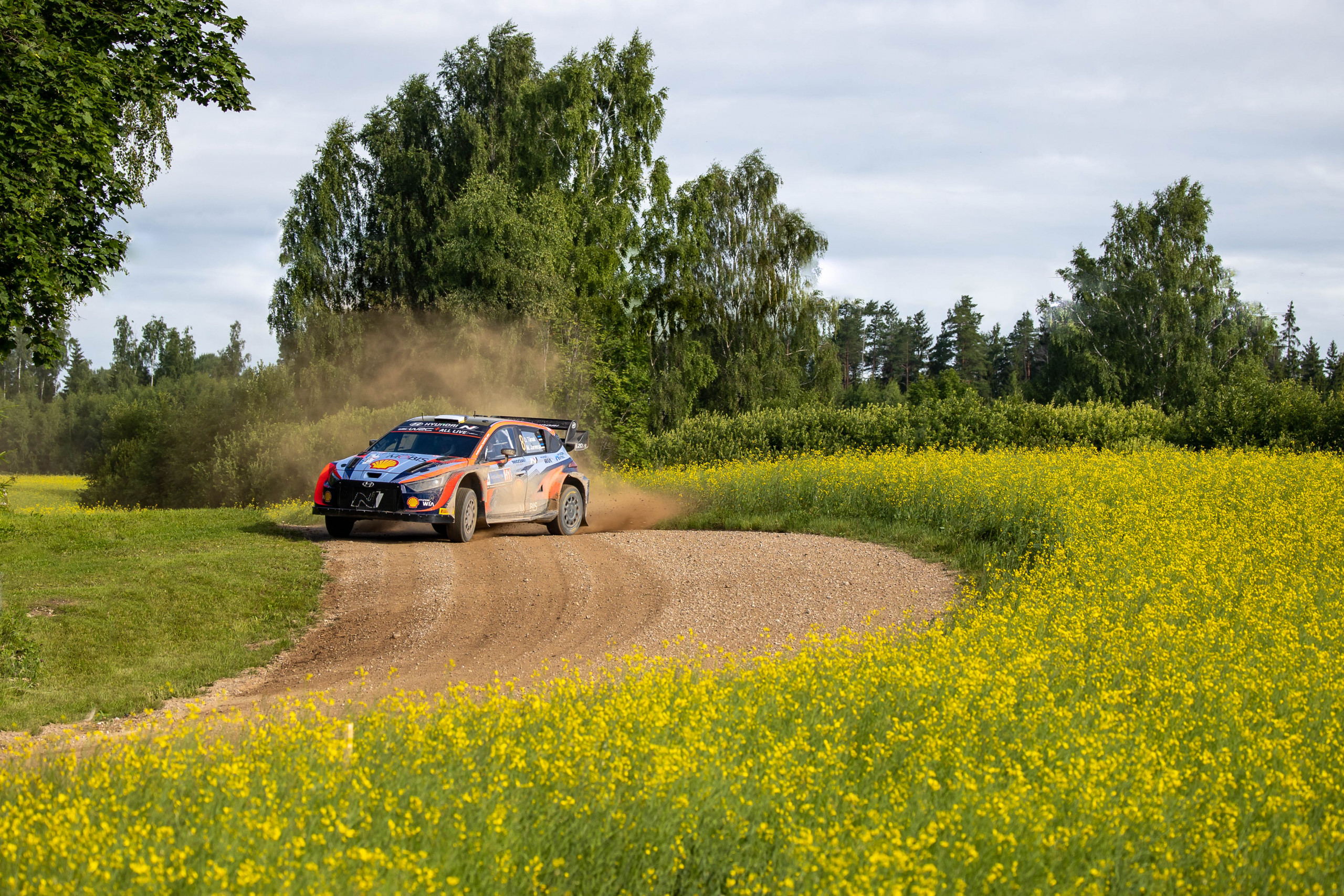 Thierry Neuville (4th)
"It has been a tough and challenging weekend for us. I haven't felt comfortable in the car, and it just didn't work out. Lots of things came together, and even the Power Stage today didn't go well, with zero visibility – I couldn't see anything right from the start. Somehow, we were able to come away with fourth position, which is really the best we could have expected in this event. Our competitors were very strong, and Ott was driving really well. To finish behind our team-mate in this rally was all that we could do. We stay positive, continue fighting and there's always hope for improvements."
Oliver Solberg (13th)
"The conditions in the Power Stage were absolutely crazy, so much rain and standing water! It was a mission to stay on the road, but we made it to the end of what has been a very long and tough weekend. It has been difficult to build the confidence in the car needed for these stages and conditions. The team has done all it could to help me, and we have tried a lot of things. The mechanics have worked hard to prepare the car and it's been a challenging event for them as well. We showed some signs of promise on Saturday afternoon but have a lot of work to do to get to the proper level.
M-Sport Ford WRT
Adrien Fourmaux (7th)
"I would say it was a really strong rally for me, my first one in Estonia with a top-level rally car against drivers with a lot of experience. I can be really happy with the pace we've shown to be able to fight for fifth position.
"It has been an interesting rally, it's nice to build some confidence on this kind of surface, which has been tricky with the rain as well! The weather has been crazy throughout the weekend, especially in the last stage where unfortunately we lost sixth position, but I will definitely be taking the positives from this rally."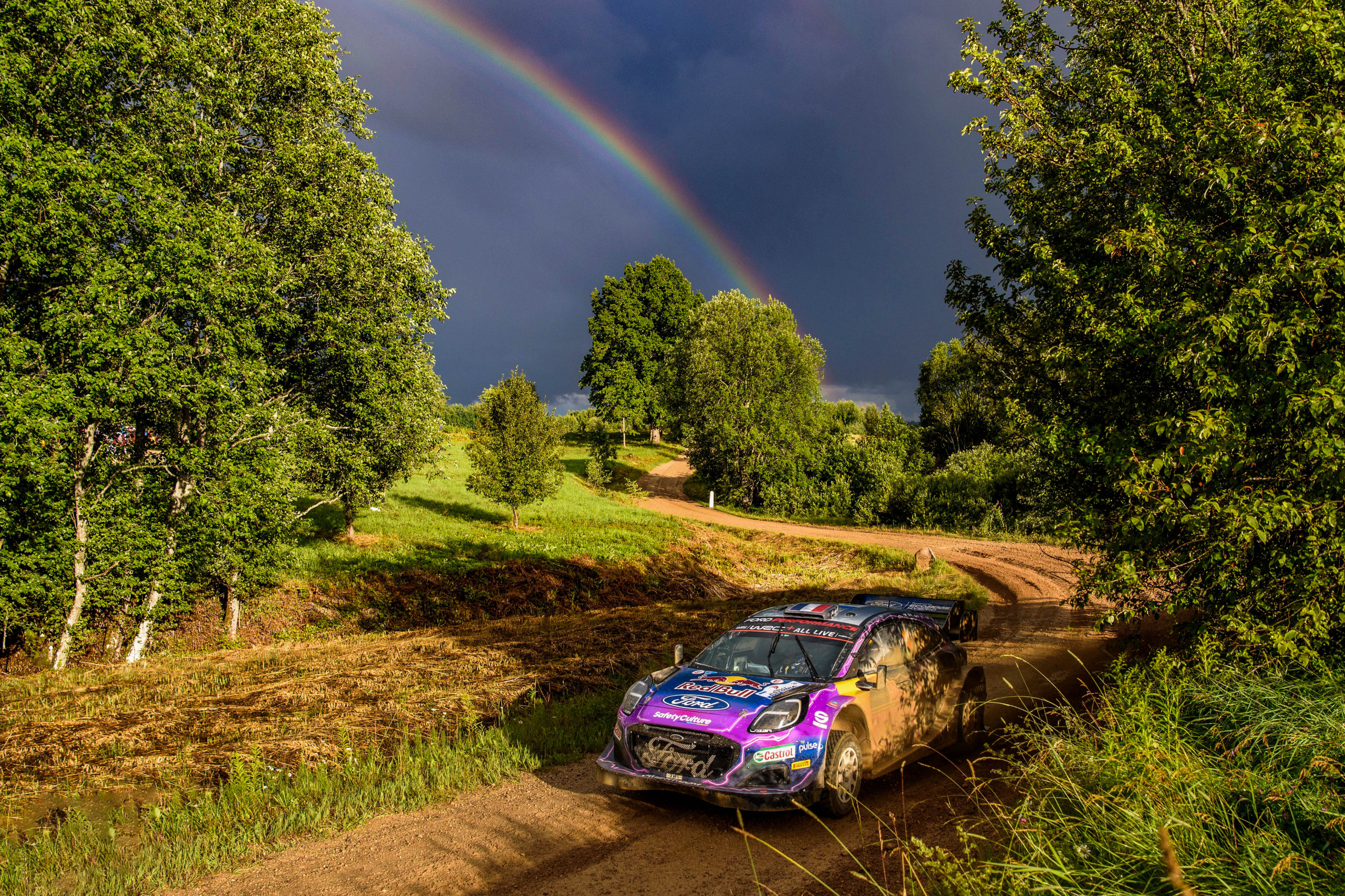 Craig Breen (30th)
"Bit of a difficult weekend, honestly. Already from Friday, things were going against us. The speed was really good, the car is working well and I felt in a good rhythm.
"Today we tried to push for some points on the power stage, but we got caught right in the middle of the storm. No points for us today, but bring on Finland in a couple of weeks' time. The car feels great and hopefully we can get a good result there."
Pierre-Louis Loubet, retired Sunday
"I don't know what to say, I just made a stupid mistake today. On Friday when we lost sixth place, we had been in a good position, so it was shame to lose time on that last stage. I was uncomfortable throughout the rest of the weekend after that.
"This morning, I was more focused on the next corner than the previous one, I was thinking about the next one because it was a corner I didn't like. It's all on me, and it's a mistake I won't be making again because on this event you can't get away with it."
Gus Greensmith, retired Sunday
"A tricky weekend – Friday didn't start great but became much better in the afternoon. The plan for Saturday was to fight for sixth, but we had a puncture quite early on, so the day was mainly just about learning.
"There were a few things we wanted to try for Sunday, just to make some small improvements for Finland, but we had a problem with the driveshaft, so we had to retire the car for the day."
Jari Huttunen (4th in WRC2)
"It was a difficult weekend. In the special stages we had the fastest times, which is great, but in some of the other stages we struggled.
"We are both looking forward to Finland, but that is another challenge of course. For sure it won't be easy, but it will be different at least."
2022 FIA World Rally Championship for Drivers'
After round seven
| | | |
| --- | --- | --- |
| 1 | K. Rovanperä | 175 |
| 2 | T. Neuville | 92 |
| 3 | E. Evans | 79 |
| 4 | O. Tänak | 77 |
| 5 | T. Katsuta | 73 |
| 6 | C. Breen | 60 |
| 7 | S. Loeb | 35 |
| 8 | S. Ogier | 34 |
| 9 | D. Sordo | 34 |
| 10 | G. Greensmith | 28 |
| 11 | E. Lappi | 27 |
| 12 | A. Mikkelsen | 19 |
| 13 | P. Loubet | 18 |
| 14 | O. Solberg | 9 |
2022 FIA World Rally Championship for Manufacturers'
After round seven
| | | |
| --- | --- | --- |
| 1 | Toyota Gazoo Racing World Rally Team | 298 |
| 2 | Hyundai Shell Mobis World Rally Team | 211 |
| 3 | M-Sport Ford World Rally Team | 157 |
| 4 | Toyota Gazoo Racing World Rally Team NG | 80 |
Summary
Well, what an incredible performance from Kalle and Jonne throughout the weekend. To open the stages throughout Friday and still take victory is a remarkable feat, particularly given that it is meant to be a handicap. They are rewriting what is possible with their drives to victory, and I suspect into would take a huge amount of change in fortunes for them not to take their first championship this year.
In any other year, Elfyn's amazing pace to take six stage wins throughout this rally would have meant that he and Scott would have won this rally. Second place is still their best result on this event to date, and it is a great drive. They will reset and go again in Finland, the place of their last win.
Finally, Ott and Martin. They drove a good rally with a difficult car, making the best of it. He was clearly very disappointed with third and will hope that there are better things in Finland next month. When they get the car working as they want it to, they will be right in the battle at the front.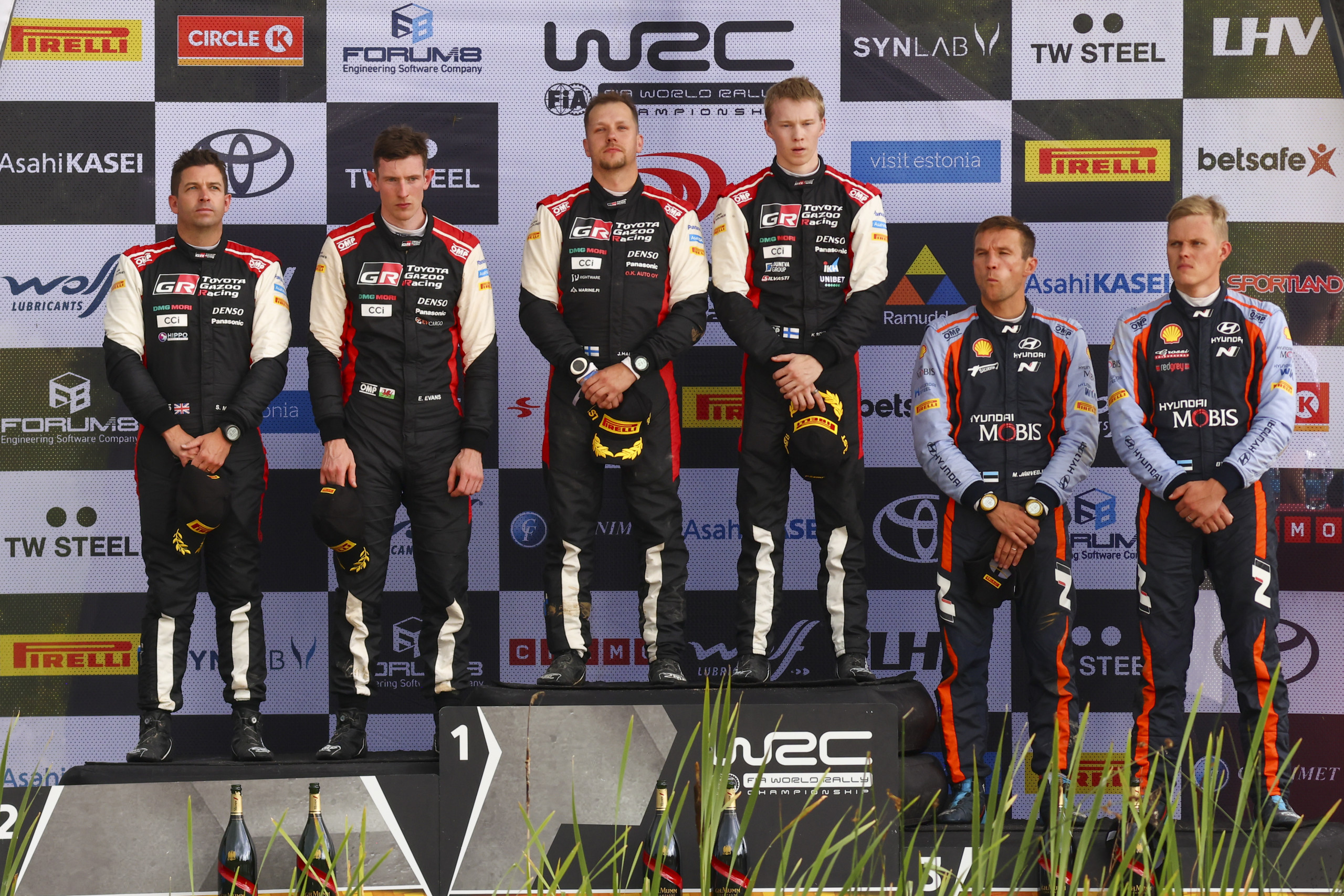 Next up in Rally Finland over the weekend of the 4th to 7th of August. It will be spectacular!