Time for the third round then if this seasons championship and just like last season, Kalle Rovanpera is leading the championship coming into this event. This season's rally has 291km over 20 stages. Thierry is second in the championship standings following a good result in Sweden back in February. Gus Greensmith is the leading M-Sport Ford full time driver holding fourth in the standings, although Seb Loeb holds third following his victory in Rallye Monte Carlo.
One driver not having a good start to the season, Elfyn following two bad results for the Welshman in Monte and Sweden, will be looking at this rally as a reset to his championship challenge. He and Seb Ogier battled for victory right till the end last year, and the Frenchman took the win. However, Elfyn has always shown very good pace on sealed surfaces and will definitely be targeting victory.
Another driver targeting a better result will be Ott Tanak, who just like his former Welsh teammate has not had a good start to the season, and I suspect will also be targeting a win.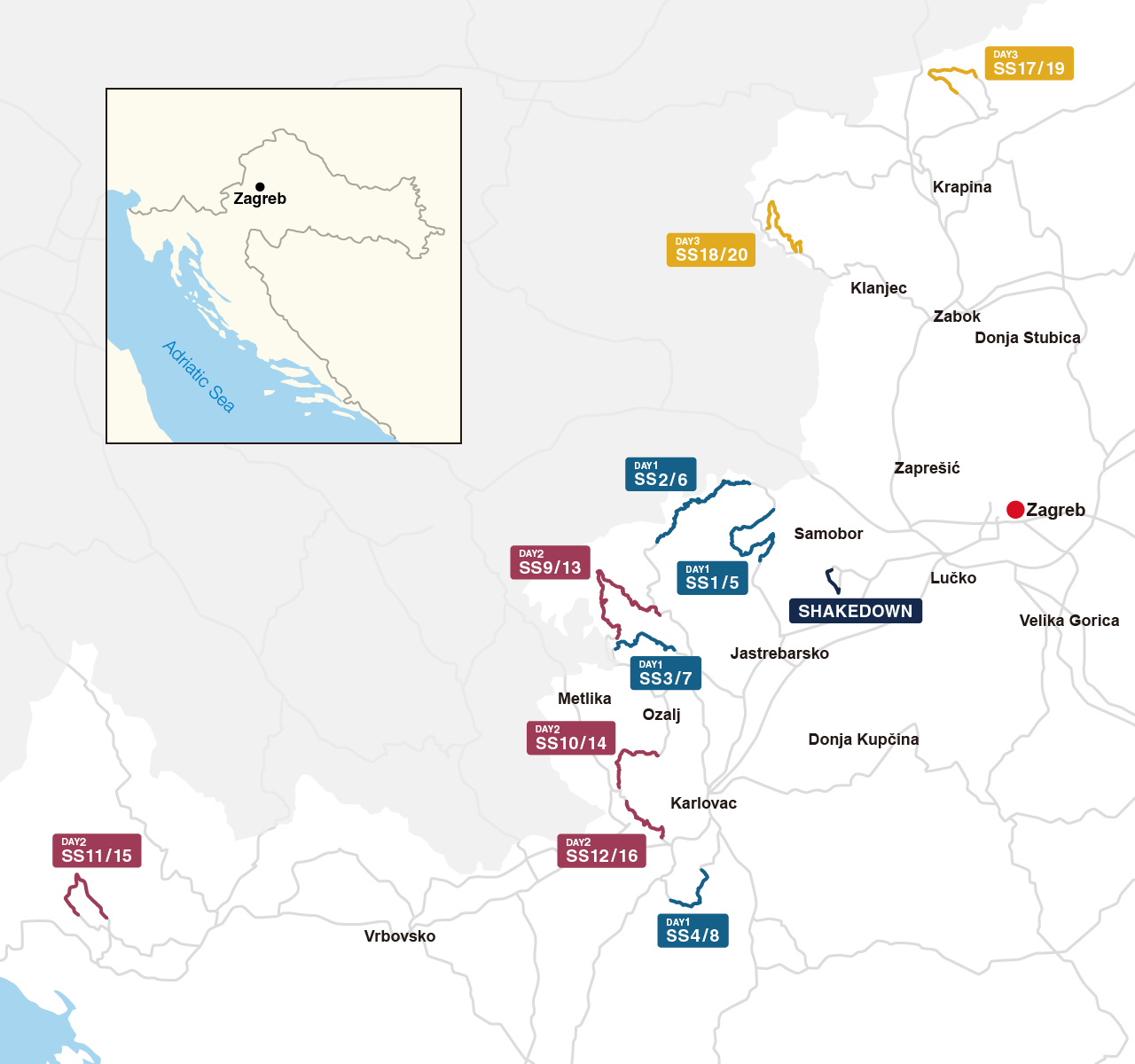 Croatia Rally begins on Friday with two loops of Mali Lipovec – Grdanjci (19.20km), Stojdraga – Gornja Vas (20.77km), Krašić – Vrškovac (11.11km) and Pećurkovo Brdo – Mrežnički Novaki (9.11km), covering a total distance of 120.38km
The itinerary on Saturday contains a further eight stages, as the crews twice tackle Kostanjevac – Petruš Vrh (23.76km), Jaškovo – Mali Modruš Potok (10.10km), Platak (15.85km) and Vinski Vrh – Duga Resa (8.78km)
Two passes each of Trakošćan – Vrbno (13.15km) and Zagorska Sela – Kumrovec (14.09km) make up Sunday's schedule, with the second run of the latter acting as the rally's Power Stage.
Let's hear from the drivers.
Toyota Gazoo Racing WRT
Kalle Rovanperä
"I have been waiting to get back in the car for Croatia and that's always a good sign! We've only had two rallies but it's always nice to have some good points in the beginning of the season. We are in the same situation as last year leading the championship going to Croatia and hopefully, we can do better there this time around. It will be a big challenge for us because we didn't get to experience most of the stages last year, but we have been in this situation before with less experience than our rivals and I will do my best to manage. The feeling in the test was positive and I think there has been really good progress with the car. Hopefully it will go well on the event too."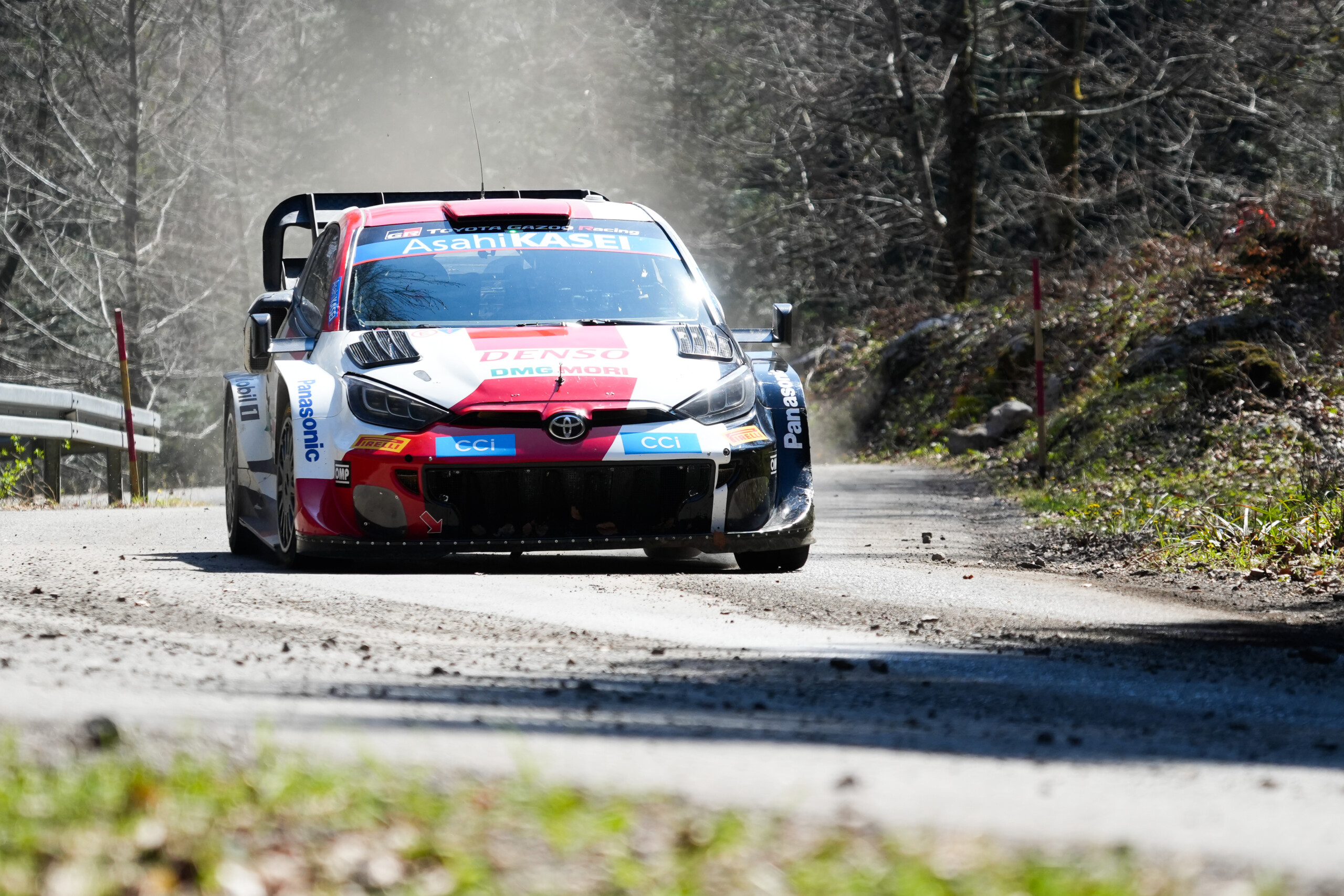 Esapekka Lappi
"Sweden was a great start to our season sharing the car with Seb. I hope I can take the confidence from there, but that was in conditions I know well and something I'm comfortable with, while Croatia will be a completely new rally for me. But I'm still really looking forward to what we could do there. The car felt really good in the test. It had been a while since I had driven on asphalt and it's crazy how impressive the grip is on this surface. You can also really appreciate how much extra power we have from the hybrid. It was a bit like a Finnish road with a lot of crests and jumps, which is not so common on asphalt and pretty fun. There's also a lot of dirt on the roads and managing that is something I want to be better at. I want to perform well and have a clean rally and I'm sure we can do it."
Elfyn Evans
"It's been quite a long break since the last rally so it's been good to get back in the car for some testing and to get ready for Croatia. For me it has not been the start to the year that we wanted by a long way and we need to look forward and focus on performing in the coming events. Croatia is not an easy rally but it was a good one for us last year and hopefully we can have a strong run again. There are some things from last year that we have tried to learn from so that we have a car that's suited to all of the different conditions. On our test we had a particularly slippery road that's similar to what we'll face on the rally, and that was a good place to work through some options."
Hyundai Motorsport
Thierry Neuville
"Croatia Rally is a very challenging event as the grip is quite low and the profile of the stages is very demanding. There's lots of blind corners, crests, jumps and cutting, and the roads can be quite dirty as well as being very narrow. Last year we were lucky with the weather and the conditions were quite dry, but it was still quite cold. There are definitely a lot of challenges we are going to face again in potentially tricky conditions, especially with these new cars, but it is a surface I feel very comfortable on. It is a rally I enjoyed a lot last year and I am looking forward to it."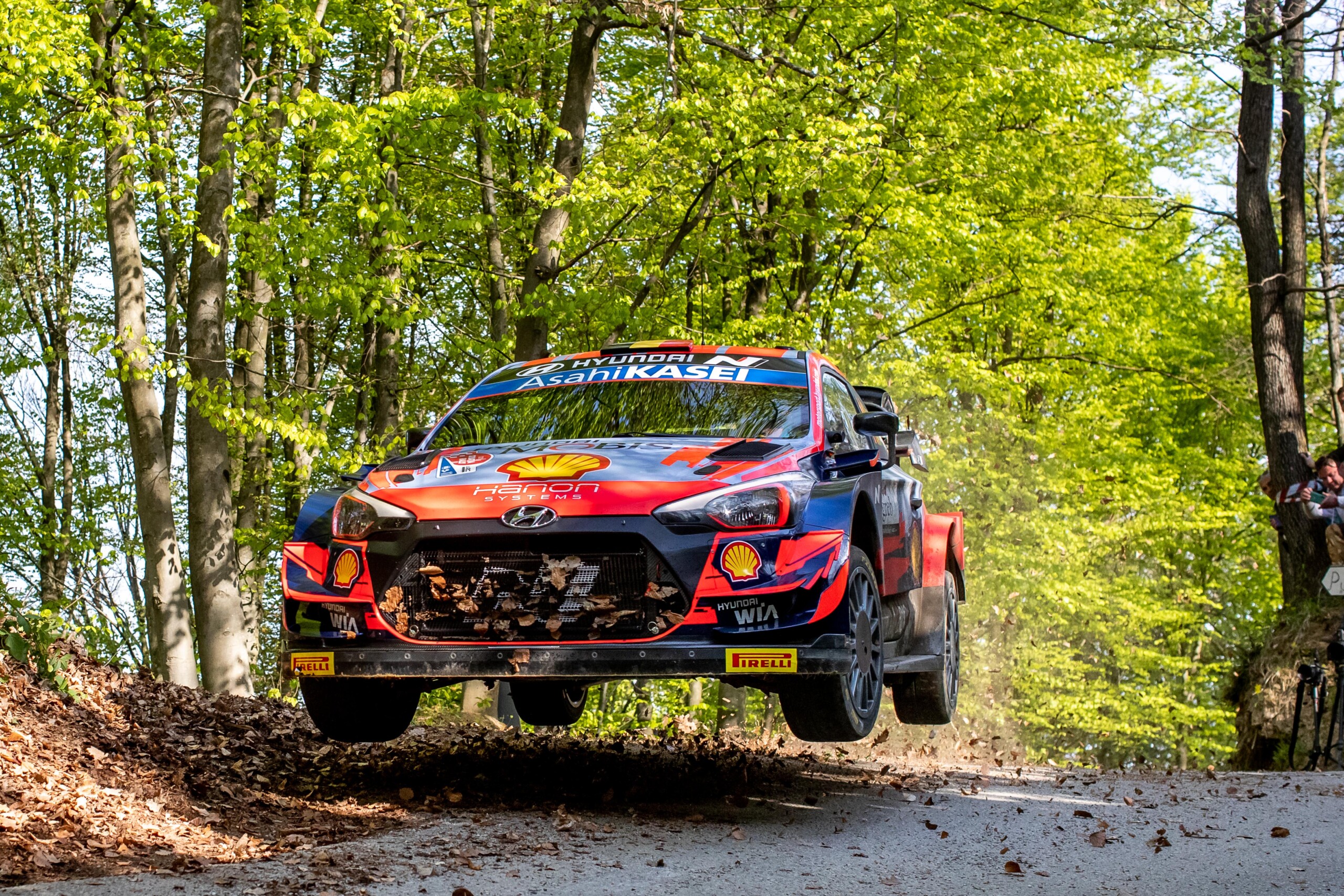 Ott Tänak
"Competing at Croatia Rally for the first-time last year was a bit more demanding than we expected as the tarmac there is very different – it looks good but the grip is very low. The surface changes and the general characteristics of the roads also make it quite challenging to drive, with lots of crests and jumps that you normally don't have too much on tarmac. It was a big job to manage in 2021 but we expect it will be a lot more fun this year now that we have experience and know what to expect from the event."
Oliver Solberg
"Croatia Rally looked like a fantastic event last year. It is very exciting for me to go there for the first time– it's a beautiful country and I think it will be a fantastic tarmac rally, although I know it is very tricky. The roads don't have a lot of grip, but personally I like a bit of slippery tarmac, so that makes me happy. My expectations for the event are difficult to set as unlike my team-mates, I haven't driven there before. For me it will be about getting lots of experience and not as much about pace. We will just drive and have fun and see where we end up."
M-Sport Ford WRT
Craig Breen
"I'm really looking forward to Croatia, it's a rally I really enjoy. Tarmac rallying is actually what I prefer, so to get back out in Croatia is going to be great. We had a really good test last week, I found a really good feeling with the car and I was happy with everything, so let's see if we can bring on the pace that we showed in Monte, our last part-Tarmac rally.
"It should be a good event – if not tough – but the stages are similar to last year, there are some new ones, but most are relatively the same. So we're looking forward to it, and let's hope that together as a team we can do a good job and bring home some good points."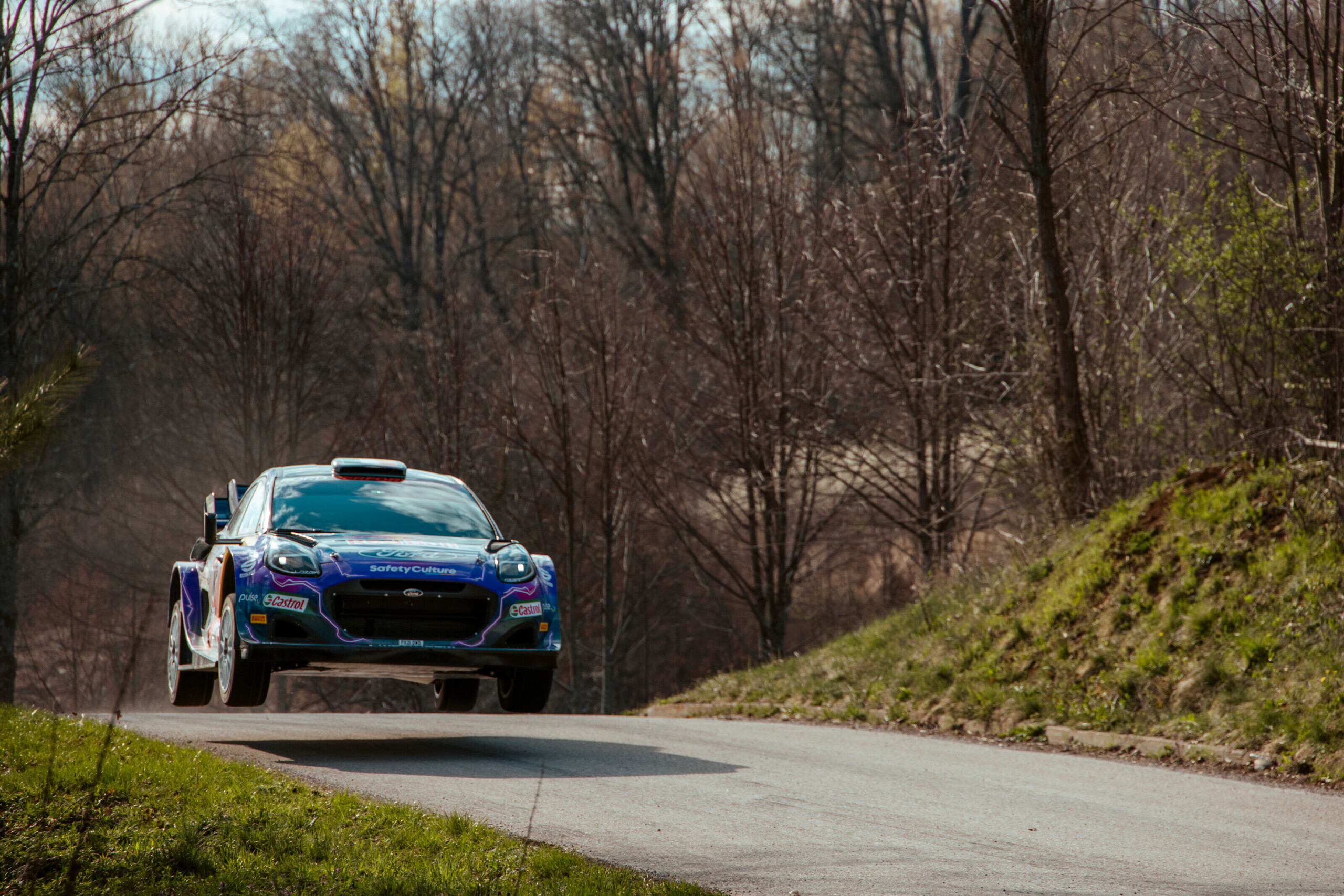 Gus Greensmith
"After the team's performance in Monte-Carlo, on what was a very dry version of the rally, we're feeling very confident going into Croatia, and I think the pre-event test has validated that. We started on a very similar surface to Monaco, and the car immediately felt so alive. It's just such an impressive car on Tarmac so we're feeling very good, I'm very excited for this rally. It's been a long time away so we're looking forward to getting going."
Adrien Fourmaux
"Last year I started my first event in a WRC car in Croatia, so it feels like we have come full circle now after a full year. We're very happy to be going back to Croatia, where I managed to get a good result last year, and to get back out on asphalt before a long line of gravel events is going to be great. I think we're really going to enjoy it, it's a tricky rally with lots of different grip levels, but it's a great rally to do because you have so much variety between the stages.
"The team gave a strong performance on asphalt at the beginning of the season, so we hope to be in a strong position after that. I'm looking forward to the event, and it marks the first time I've competed twice on the same event in a WRC car, so I'm pretty happy about that as well."
Pierre-Louis Loubet
"I'm really happy to be going back to Croatia and to be joining the M-Sport team. We did a pre-event test with the team a few weeks ago, as well as a rally in Belgium, and everything was working really well and the feeling in the car is nice. I hope I will be able to do my best for the team this week in my first rally, we're going to take this one step-by-step and try our best to be competitive. We'll see you there!"
Jari Huttunen, WRC2 Driver
"This year is my first time competing in Croatia, so I'm not really sure what to expect, but I've watched some footage and the conditions look nice. This will be my fourth event with the M-Sport team, starting in Monza last year, and so far, is it going well and the car feels good. Hopefully we will be somewhere in the top three, but the aim will be to maintain a consistent pace over the weekend."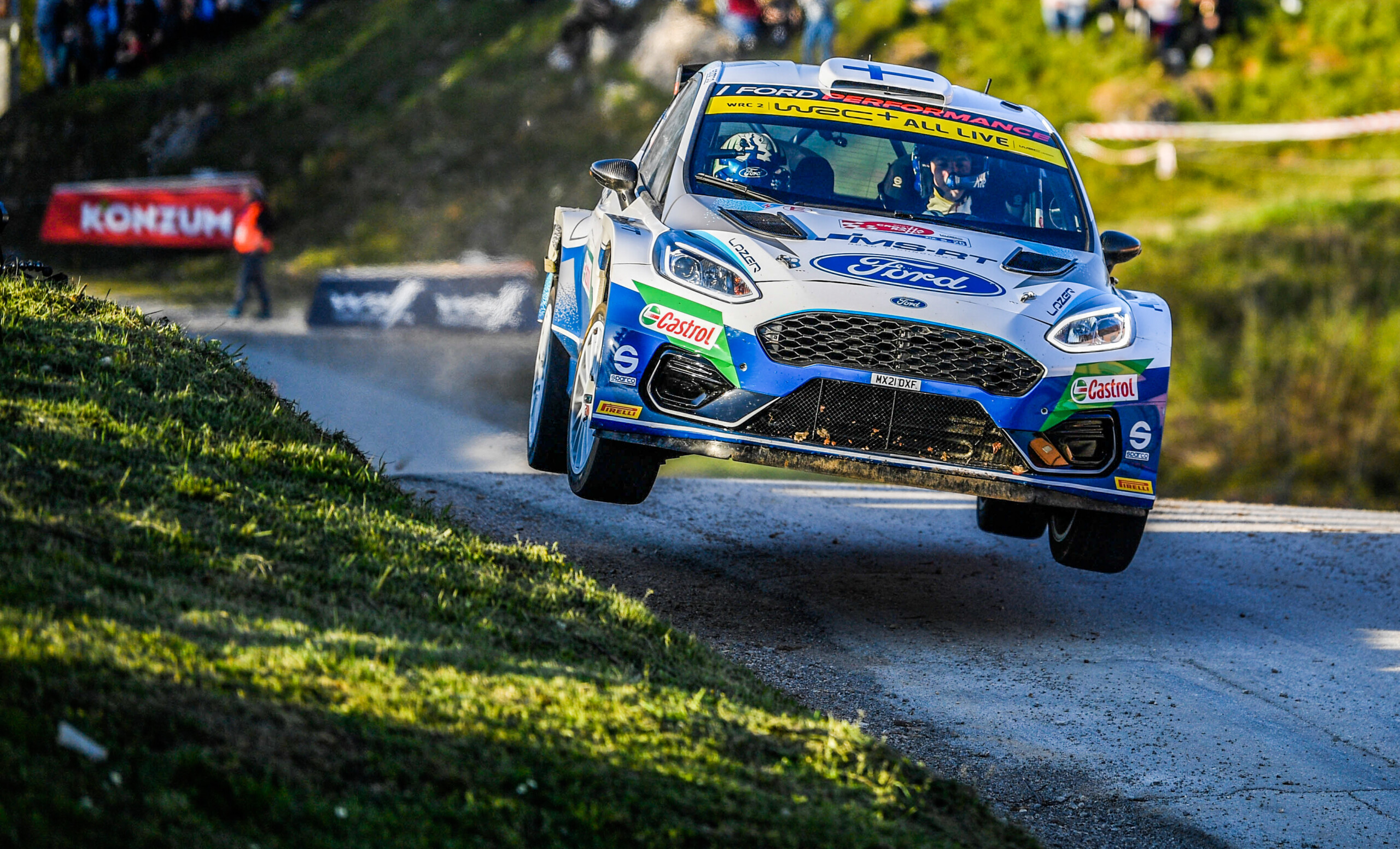 Summary
Well, we are all set for round three of this year's championship. Can Hyundai take victory with either Thierry or Ott, or will we see M-Sport or Toyota take victory this weekend? If M-Sport take victory, then we will have a new winner, as none of their drivers have taken victory yet. Shakedown takes place on Thursday morning!
Enjoy the rally!