The second day then, with 97km's over nine stages. The startlist looked like this – Breen, Solberg, Loubet, Greensmith, Katsuta, Fourmaux, Neuville, Lappi, Tänak, Evans, Rovanperä. Craig returned under the restart rules of SuperRally and would open the road therefore.
The first one then, SS10 Elva 1 – 11.73 km and it would start well with Elfyn going fastest by 6 tenths of a second over Kalle, with Ott a further 8 tenths back. The Finn said that it was a bad stage and Elfyn said that the grip was a bit inconsistent, yet somehow, they were fastest of them all. Two of the youngsters Takamoto and Adrien were battling over sixth, with the Frenchman holding an advantage of just 1.6 seconds over the Toyota Challenge driver.
Into SS11 Mäeküla 1 – 10.27 km and normal service resumed with Kalle going fastest from Elfyn and yes, Ott third. Craig was putting a very good performance together, enjoying the stage and just 1.1 seconds slower than Thierry, the M-Sport Ford driver going sixth fastest. In the WRC2 category, Teemu and Andreas were going well the top two drivers in the field and they set the exact same time in this stage. There was rain in this one, but it didn't affect the drivers too much.
The third stage of the day then, SS12 Otepää 1 – 17.08 km and once again the top three were Kalle, Elfyn and Ott. Craig had held the early benchmark before being knocked off the top spot, showing great pace indeed and taking fourth fastest in the end. There were some position changes though, with Takamoto going past two cars and into fifth overall and his teammate Esapekka had a tyre off the rim after a landing in the stage. Gus had the same problem and they were now in seventh and ninth overall respectively. Thierry also gained a place, moving into fourth place.
The final stage of the morning loop then, SS13 Neeruti 1 – 7.60 km and once again Craig set the early benchmark before Elfyn and Kalle came through. The stage winner? Well, it was the Finn who now increased his lead over Elfyn to 19.1 seconds.
After the service break, SS14 Elva 2 – 11.73 km was once again taken by Kalle from Elfyn and Ott. These three were giving a masterclass on how to set great pace, without going to close to disaster. In the WRC2 class, Teemu was faster than Andreas again, just keeping the gap between them to 13 or so seconds, whilst Emil took the best time.
We had a swap around between Elfyn and Ott in SS15 Mäekülä 2 – 10.27 km, with Ott second fastest from Elfyn who was third, whilst Kalle took yet another stage win, his fifth of the day. Amazing stuff!
Normal service resumed on SS16 Otepää 2 – 17.08 km, with the fastest three being Kalle, Elfyn and Ott. The Finns lead was now 29.4 seconds. Amazing stuff and really given that he'd opened the road throughout Friday, what incredible consistency.
Just two left then with SS17 Neeruti 2 – 7.60 km getting some rain falling after Oliver Solberg had finished. The crews came through and could not knock the Swede off the top, but eventually Elfyn and Kalle came through and went faster pushing him down to third fastest, while they took the two top spots, the Finn edging Elfyn by just a tenth! In the WRC2 class, Marco Bulacia was fastest from Emil and Andreas.
The final stage then, SS18 Toyota Tartu 2 – 1.66 km and we had a new stage winner, with Adrien fastest from Oliver and Ott! In fact, Elfyn set an identical time as the Estonian, but it was good to see a different top two for sure!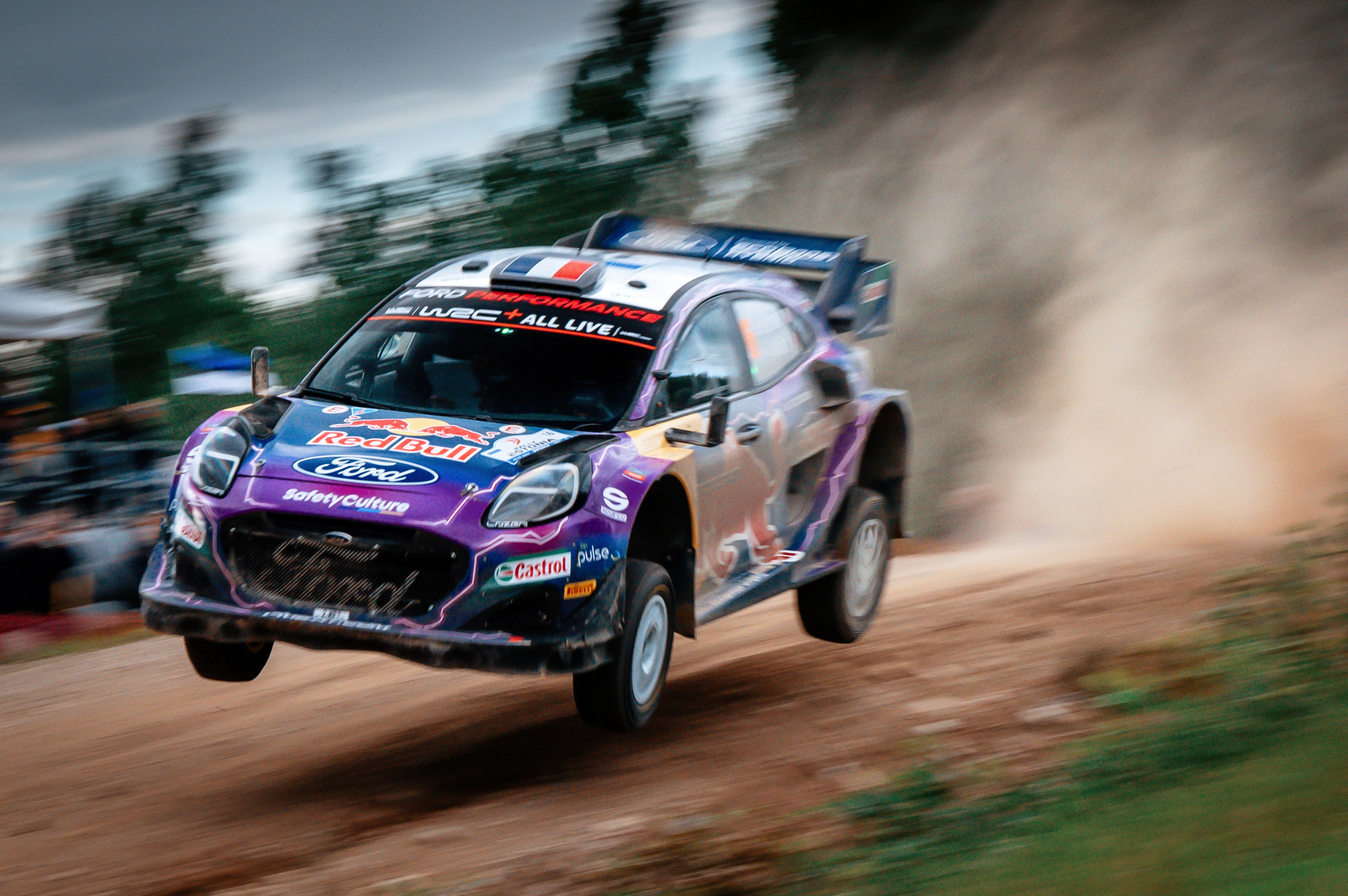 Let's take a look at the top ten and hear from the drivers.
Classification after Day Two
| | | | | |
| --- | --- | --- | --- | --- |
| 1 | K. Rovanperä | J. Halttunen | Toyota GR Yaris Rally1 | 2:06:12.4 |
| 2 | E. Evans | S. Martin | Toyota GR Yaris Rally1 | +29.5 |
| 3 | O. Tänak | M. Järveoja | Hyundai i20 N Rally1 | +1:11.9 |
| 4 | T. Neuville | M. Wydaeghe | Hyundai i20 N Rally1 | +2:20.2 |
| 5 | T. Katsuta | A. Johnston | Toyota GR Yaris Rally1 | +3:41.3 |
| 6 | A. Fourmaux | A. Coria | Ford Puma Rally1 | +3:54.7 |
| 7 | E. Lappi | J. Ferm | Toyota GR Yaris Rally1 | +4:34.5 |
| 8 | P. Loubet | V. Landais | Ford Puma Rally1 | +6:11.8 |
| 9 | G. Greensmith | J. Andersson | Ford Puma Rally1 | +7:19.7 |
Toyota Gazoo Racing WRT
Kalle Rovanperä (1st)
"I enjoyed today a lot. To begin with this morning, I felt there was not so much grip, but then we changed the setup a bit and we started to have really good times. Every stage we were gaining a bit more time, and pushing hard but not with too much risk. Everything felt in control. Whenever we've had tricky low-grip conditions this year it seems that I'm able to drive well and still push quite hard and this has been nice. Tomorrow is a long day still, so we need to keep a good pace with no mistakes."
Elfyn Evans (2nd)
"It's been a good day behind the wheel, even if we're not ending it where we wanted to be. But Kalle's been really strong and I had no answer to him today. He's been a slight step ahead all the time and now he's built up quite an advantage over us. The positive thing is that we're a big step ahead of where I was on this rally last year when I really struggled, and it's great to be in a one-two position for the team. But there's still a long way to go tomorrow and it's not easy with the ruts and the conditions out there."
Esapekka Lappi (7th)
"It's not been the easiest day. It felt good on the second stage this morning and then on the next one we had the tyre come off the rim when we were landing from a jump. We were landing a bit sideways but I think it was bad luck and part of the game. It came very early in the stage so there was no chance to continue without stopping to change it, and we lost a lot of time. After that it was tricky to find the right rhythm for the driving but there were still some good stage times, even though it's not worth risking a stupid mistake now in this position."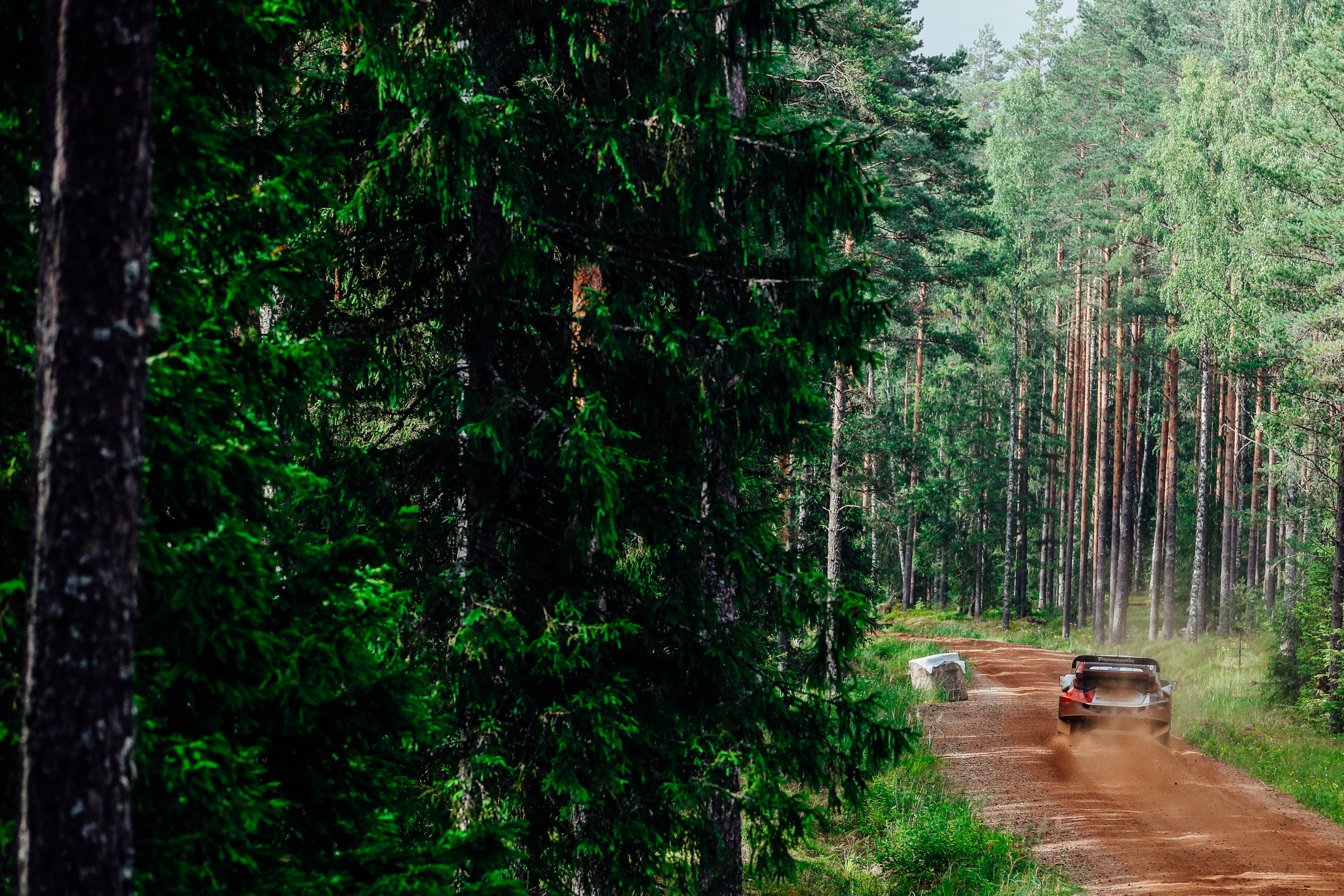 Hyundai Motorsport
Ott Tänak (3rd)
"It has been a smooth day with no dramas. We have been discovering a bit more with the car and making some good steps, so from that point of view it has been a productive day. We have been doing all we can to find a positive way forward, looking at lot for the next rally in Finland. There are definitely areas we have found to improve; the potential is there. We need more development on the car, for sure, but it's been encouraging. There's only one day remaining and nothing really to push for in terms of our position but the rally itself is still quite interesting – the conditions are constantly changing, and we need to stay focused."
Thierry Neuville (4th)
"We have faced another day of tricky and changing conditions. Somehow, on the rhythm we have been driving, we have been having fun with no real pressure. We moved up to fourth place after Esapekka's puncture this morning, and from there we could only continue in the same way without taking any risks. You need to keep concentrated and basically have a clean, smooth drive through the stages. We used the opportunity to test a few different things on the car, but overall, it's been about making it through safely. We have seen that we struggle in certain situations, which we need to work on, but it's all good preparation for Rally Finland where we hope to make a step forward."
Oliver Solberg (19th)
"Things have been getting better today. We have been able to push and set some fast split times. I am getting increasingly confident in the car. I just need more mileage. I have never done this type of road in the WRC, nor in this car. I was a bit annoyed yesterday, but I realised I just need to drive and get used to it. We had a huge moment in SS16 after bottoming out in a rut, sideways over a jump – this is proper rallying! I was happy to set some top-four times this afternoon, improving our pace despite not pushing too hard. We will keep working and making progress."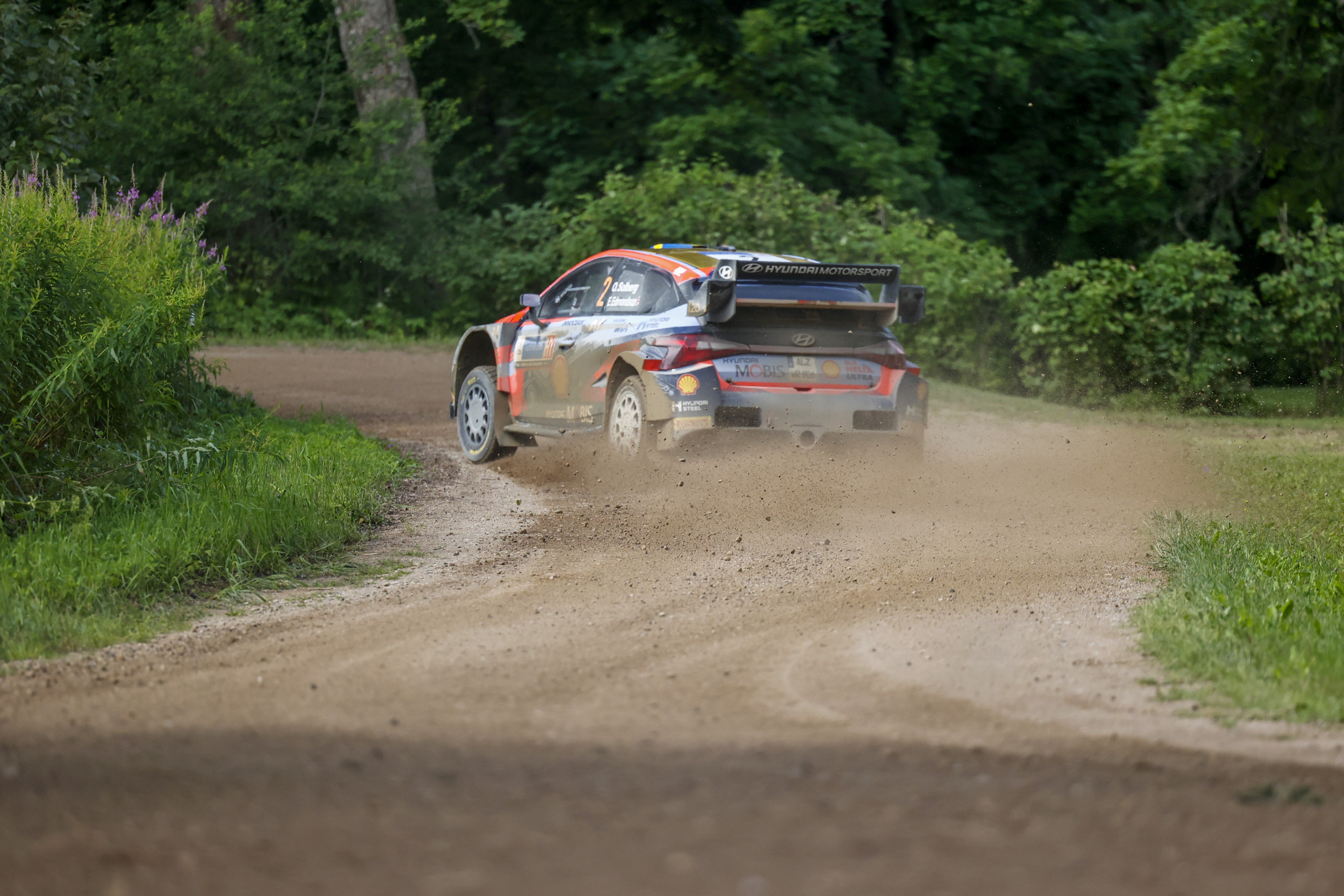 Tomorrow (Sunday)
With almost 78km's over six stages still to run, there is still a big challenge ahead for the crews, especially given that there is no service break, so the day is as tough as any other day. Kalle is in a great position to extend his lead in the championship, and also Toyota will increase their lead over Hyundai as well, should it all finish as it stands. However, this is motorsport and anything can happen, so let's wait and see.