After Thursday's evening stage, we had Craig in the lead from Kalle and Elfyn. Moving into Friday, the first full day of stages, the startlist looked like this – Rovanperä, Neuville, Tänak, Breen, Katsuta, Evans, Greensmith, Loubet, Lappi, Solberg, Fourmaux. The crews faced just under 140km's over the eight stages, with a service break between the two loops.
First up came SS2 Peipisääre 1 – 24.35 km and after Ott set the early pace, Elfyn came through with the fastest time moving into the overall lead, with Kalle holding second and Ott third. The early leader, Craig was fourth fastest, but as he got a penalty as well, fell down to fifth overall. The penalty was for not using electric mode in the HEV zone. Ott also got the same penalty.
Next up was SS3 Mustvee 1 – 17.09 km and we had the same top three, with Elfyn taking a second stage win from Ott and Kalle. The Welshman's lead over his teammate was now 12.6 seconds. Further down the leaderboard, there was a swap in positions with Adrien moving ahead of Oliver, the Frenchman now into seventh overall. Meanwhile, Thierry was really struggling in the stages, only setting the fifth best time and now over 22 seconds from the leader.
Onto SS4 Raanitsa 1 – 21.45 km and Elfyn made it three in this one winning the stage from Kalle and Ott again. There was drama for Craig though who went off the road when setting a very good pace and unfortunately, he broke the steering and he was out for the day. A big shame for the leading M-Sport Ford driver, who was showing good pace before this. Everyone behind moved up a place, but the biggest gainer was Takamoto who jumped up four positions and into seventh overall.
The last stage then before the service break, SS5 Vastsemõisa 1 – 6.70 km and once again it was Elfyn fastest from Kalle and Ott and they remained the top three overall as well. In the WRC2 class, Emil held the lead from Andreas and Teemu. Hayden and John were making good progress, finishing the stages and gaining good knowledge about their i20rally2 out there.
After the break, Elfyn won SS6 Peipisääre 2 – 24.35 km from Kalle and Ott again, these three were really dominating the top places. Thierry dropped another place falling behind Esapekka and into fifth overall, and further down the positions Pierre-Louis moved up moved ahead of Takamoto and into seventh place.
The rain arrived in SS7 Mustvee 2 – 17.09 km and the top three were the same, but with Kalle now winning the stage from Ott and Elfyn. Running first on the road was an advantage, and the Finns made the most of it, reducing the gap to their teammate to just 14 seconds.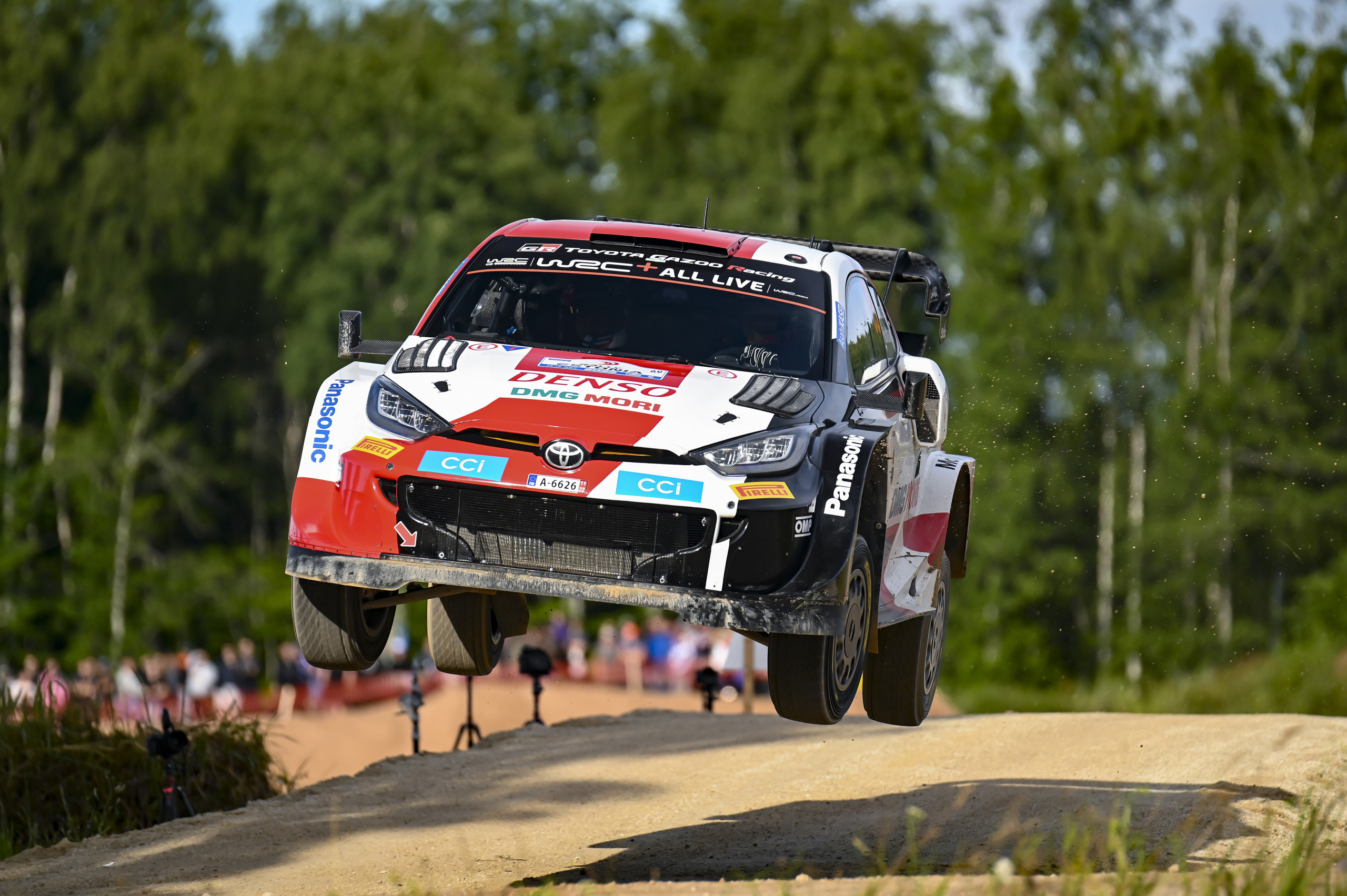 Just two more stages then and SS8 Raanitsa 2 – 21.45 km was taken by Kalle, now taking his stage wins to two, whilst Elfyn was second and Esapekka third. The gap between the Toyota teammates was just 10.9 seconds. The rain was really changing things out on the stages with the lead change happening in WRC2 as well. Andreas took the lead from Emil who fell from the lead to fourth in class.
The final stage of the day then, SS9 Vastsemõisa 2 – 6.70 km and Kalle had the best of the conditions, running first and setting the pace good enough to win the stage from Thierry and Adrien! It was a big mix up for sure! Meanwhile, the other two Puma crews had huge moments, sliding wide. Gus kept going, but Pierre-Louis ended up on his side and lost about two minutes and fell to ninth overall. Adrien, Takamoto and Gus all moved up one place each, now holding the three positions ahead of the Frenchman.
Here is the top ten and the views of the drivers.
Classification after Day One
| | | | | |
| --- | --- | --- | --- | --- |
| 1 | K. Rovanperä | J. Halttunen | Toyota GR Yaris Rally1 | 1:16:19.7 |
| 2 | E. Evans | S. Martin | Toyota GR Yaris Rally1 | +11.7 |
| 3 | O. Tänak | M. Järveoja | Hyundai i20 N Rally1 | +44.3 |
| 4 | E. Lappi | J. Ferm | Toyota GR Yaris Rally1 | +1:05.9 |
| 5 | T. Neuville | M. Wydaeghe | Hyundai i20 N Rally1 | +1:12.9 |
| 6 | A. Fourmaux | A. Coria | Ford Puma Rally1 | +2:08.1 |
| 7 | T. Katsuta | A. Johnston | Toyota GR Yaris Rally1 | +2:10.9 |
| 8 | G. Greensmith | J. Andersson | Ford Puma Rally1 | +2:29.4 |
| 9 | P. Loubet | V. Landais | Ford Puma Rally1 | +3:59.0 |
Toyota Gazoo Racing WRT
Kalle Rovanperä (1st)
"This morning the conditions were quite dry so there was a lot of cleaning for us, but I think we managed quite well and we didn't lose too much time. Then in the afternoon the rain came and it was quite tricky, but we had some good times. In the last one it was heavy rain and I knew it was not going to get any better for the guys behind, so I pushed a lot and we could get the lead. Elfyn has been really fast the whole day, and now that we will be close together in the road order, we will try to do our best to fight, but we also need to think about the points for the championship."
Elfyn Evans (2nd)
"It's not been a bad day. This morning was very good, I was happy with the feeling inside the car and everything was working really well. This afternoon it was a bit more difficult with the conditions changing all the time, so it was hard to be perfect and easy to be a little bit too careful at times. We had very bad conditions in the last one, which was obviously less than ideal for us. But there's a long way to go and it's all to play for still, so let's see what tomorrow brings."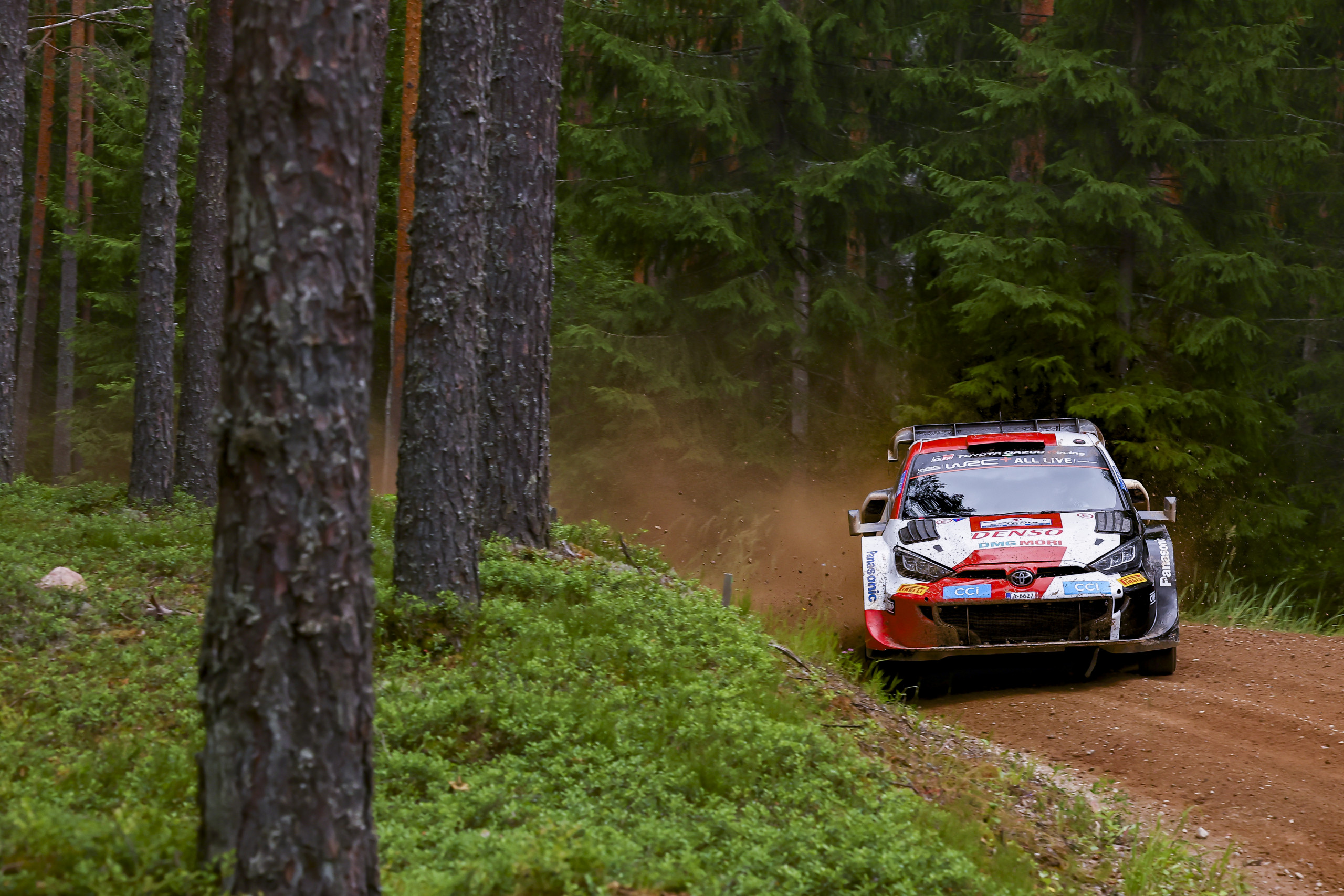 Esapekka Lappi (4th)
"We lost a bit of time this morning because of a small issue with the brakes, which were not giving me the confidence that you need on this rally. But I think we managed that quite well and were still in a good position, and once the team could fix it in the midday service the times were better in the afternoon. We were maybe a bit unlucky sometimes with the rain showers but rallying is an outdoor sport so we can't complain! I think we're about where we expected to be, in a position to be there if something happens in front."
Hyundai Motorsport
Ott Tänak (3rd)
"Conditions were constant in the morning, but that was the opposite of what we faced this afternoon with demanding, inconsistent roads. There was water here and there, some dry places and it was just a lot more difficult. The issue in the final stage wasn't as dramatic as it looked; a pipe came off from the windscreen heater and we had no visibility. The weather was tough anyway, so it was probably better not to see what was happening outside. Hopefully, we've been able to learn something in these circumstances and can take that forward. It's important for us to get as much information from the car as we can. We are still in the competition and remain fully committed. Normally, I'd like to be competitive in Estonia; sadly, it's not really happening so far this year but as we've seen today anything can change, so it's not over yet."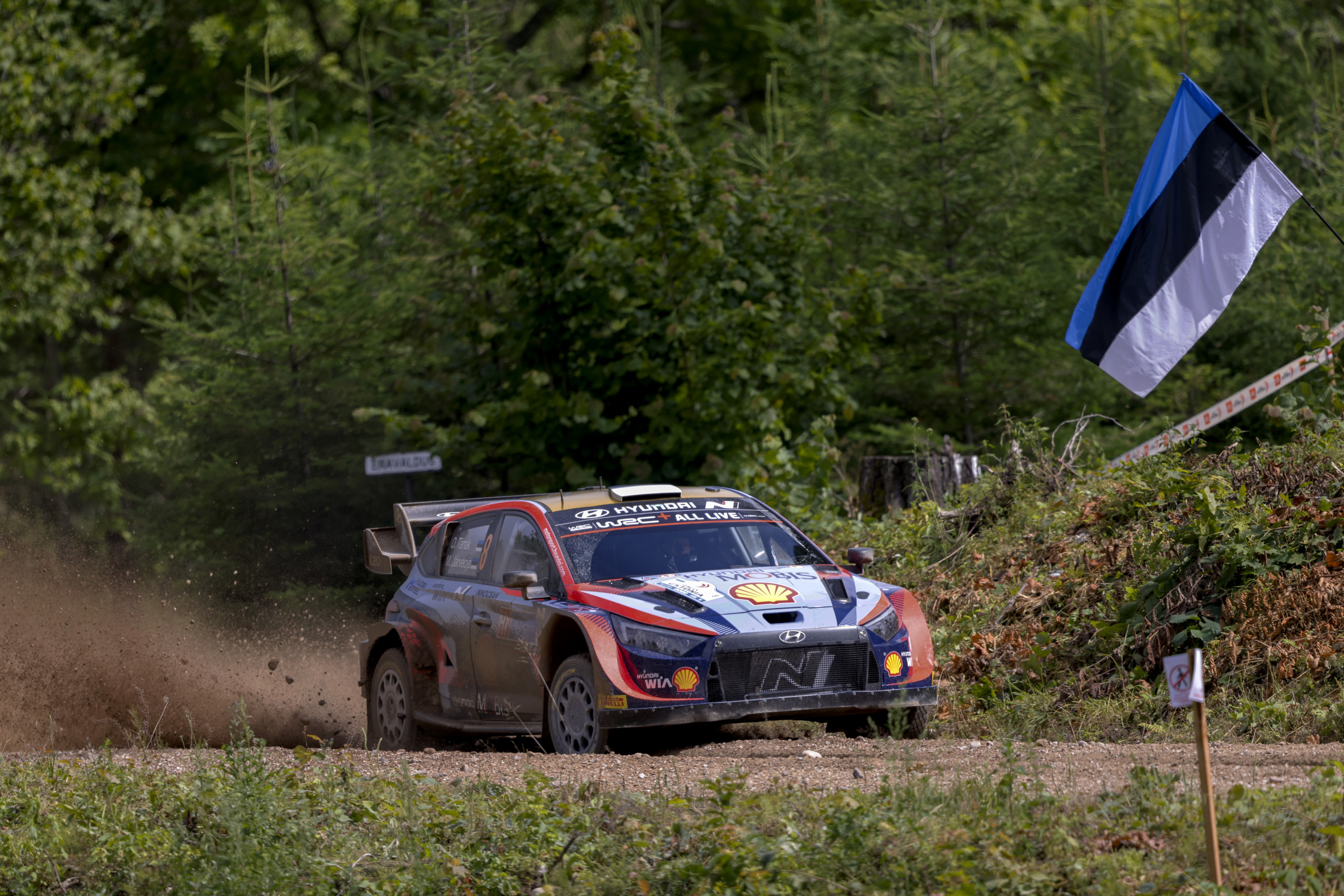 Thierry Neuville (5th)
"At the end of today, things are pretty much as we expected. We knew it was going to be a tough one for us. Generally, my target throughout the day was to improve the handling of the car. I wasn't 100% confident but I was able to drive with good speed, set some good split times in some stages and have some fun in the tricky conditions. We had mixed feelings about the morning loop, the first two stages went well, but after that we went wrong with the set-up to try and find something to suit these very narrow sections. We arrived at midday service in fourth and wanted to keep that position. Unfortunately, we weren't able to, but we are just seven seconds away. This is a special event; I don't want to put my rear wheels in the ditches when I don't know what's there; instead, we try to stay out of trouble and hope for another clean day tomorrow. The weather forecast certainly looks interesting."
Oliver Solberg (27th)
"We've made it to the end of the day at Rally Estonia, but it's fair to say things have not gone to plan so far. After a tough morning where we really struggled to find any grip, we had a puncture on the first stage this afternoon, then touched a big rock in a corner on the stage after and the power steering broke. We tried to fix it but couldn't and lost a lot of minutes with time penalties and fighting the issue through the next stages. I can tell you it's not easy driving these cars without power steering! But we're still here, so let's try and stay positive, go again tomorrow, and hope for better."
Tomorrow (Saturday)
The second day will see the crews tackle 95km's over nine stages. Can Kalle keep the lead, or will we see Elfyn or Ott move into the lead? One thing is for sure; The drama is not over.