The first day of the 70th running of Rally Finland saw almost 90km over six stages. The startlist looked like this – Ogier, Evans, Neuville, Rovanperä, Tänak, Katsuta, Breen, Fourmaux, Greensmith, Lappi. It was great to see the 2017 winner back in a Yaris WRC!
The short first stage, SS1 Harju 1 – 2.31 km saw Takamoto with his new co-driver Aaron Johnston set the fastest time from Thierry and Esapekka. Only 1.9 seconds covered the top nine positions as well. It was game one! Quickest of the M-Sport drivers was Adrien with a top five time as well! Mads led the WRC2 category from Jari and Nikolay, whilst Emil was leading WRC3 from Pepe and Teemu.
Into SS2 Ässämäki 1 – 12.31 km then, the first long stage and Takamoto had a huge moment in the stage with a 360 spin. He managed to keep it out of the scenery and finished the stage with the tenth best time. Craig set the fastest time from Ott and Elfyn and now just 1.8 seconds covered the top three as they all moved up a place and were now the top three overall. Esapekka, Thierry, Adrien and Seb all dropped down the leaderboard.
Ott won the following stage, SS3 Sahloinen – Moksi 1 – 21.37 km from Craig and Esapekka. The Finn's pace took him into third overall as well, deposing Elfyn down to fourth. Championship leader, Seb, was not having a good day though, with him only eighth best time and holding seventh overall. After Takamoto's moment earlier, he was now making his way back up the leaderboard and was now ahead of both Gus and Adrien and holding eighth place.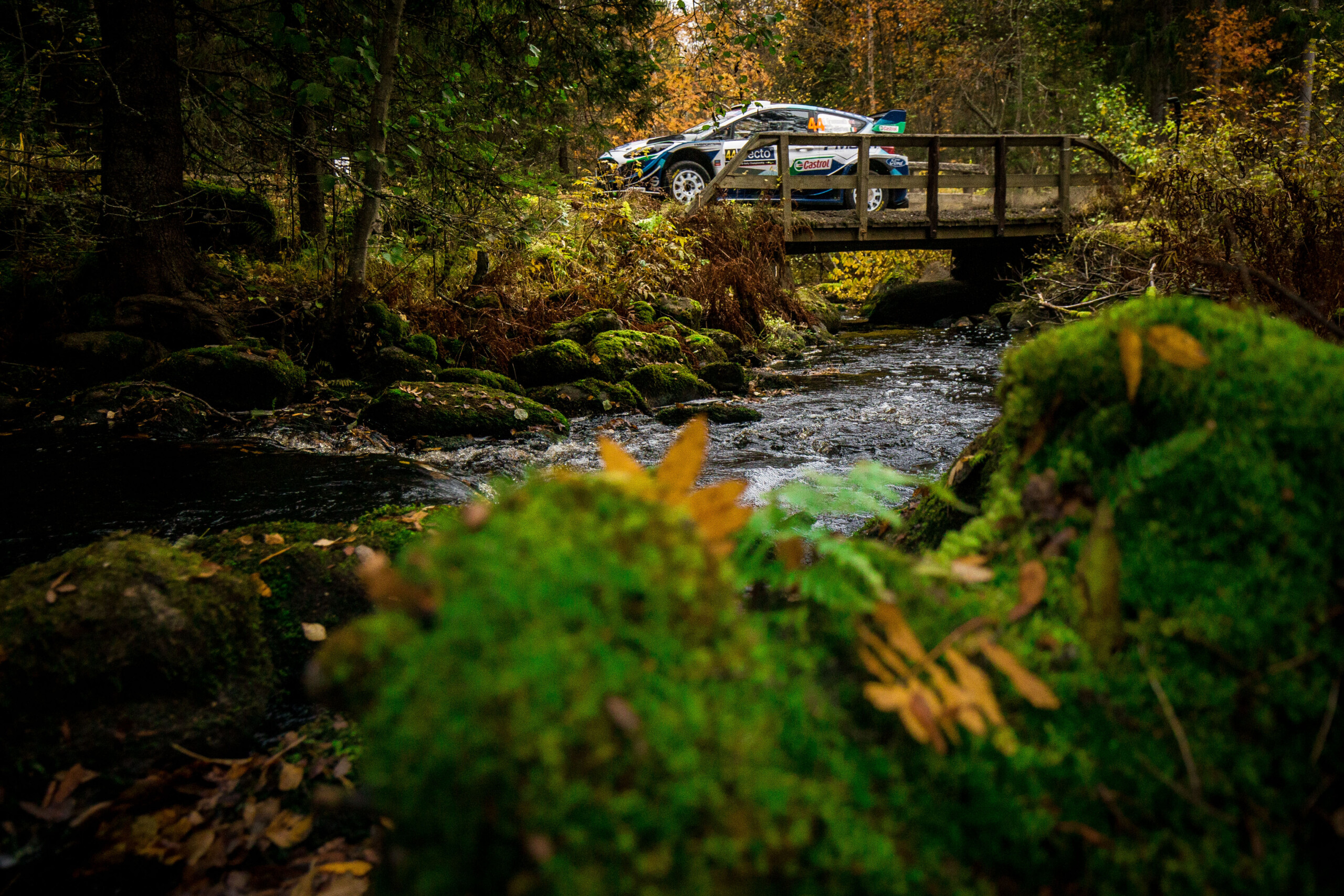 The first afternoon stage, SS4 Ässämäki 2 – 12.31 km after the tyre fitting zone saw Ott win the stage from Kalle and Craig. The Estonian still held the lead from his teammate, but there was a change for third place with Elfyn passing Esapekka after the Finn was only sixth fastest. It certainly wasn't over though, as the top six was covered by just 9.7 seconds.
We had a new stage winner with Craig winning SS5 Sahloinen – Moksi 2 – 21.37 km from Kalle and Ott. The Irishman's time cut the gap to Ott to just 1.5 seconds. Meanwhile Kalle and Esapekka had just moved ahead of Elfyn into third and fourth respectively. In WRC2 Nikolay was fastest from Teemu and Mads. The Russian's time took him ahead of Teemu and into second place in the category.
The final stage then of the day SS6 Oittila – 19.75 km, and this started just as the sun was starting to set as well. Elfyn was fastest from Esapekka and Craig. The Welshman's time took him back ahead of Esapekka and into third, but the big moment was for Craig who jumped into the lead after Ott was just sixth fastest in the stage. The Irishman's pace meant that he now had a lead of 2.8 seconds. The drama of the night stage had paid off as well, with the top five now covered by just 7.9 seconds. Everything had closed up at the end of the day.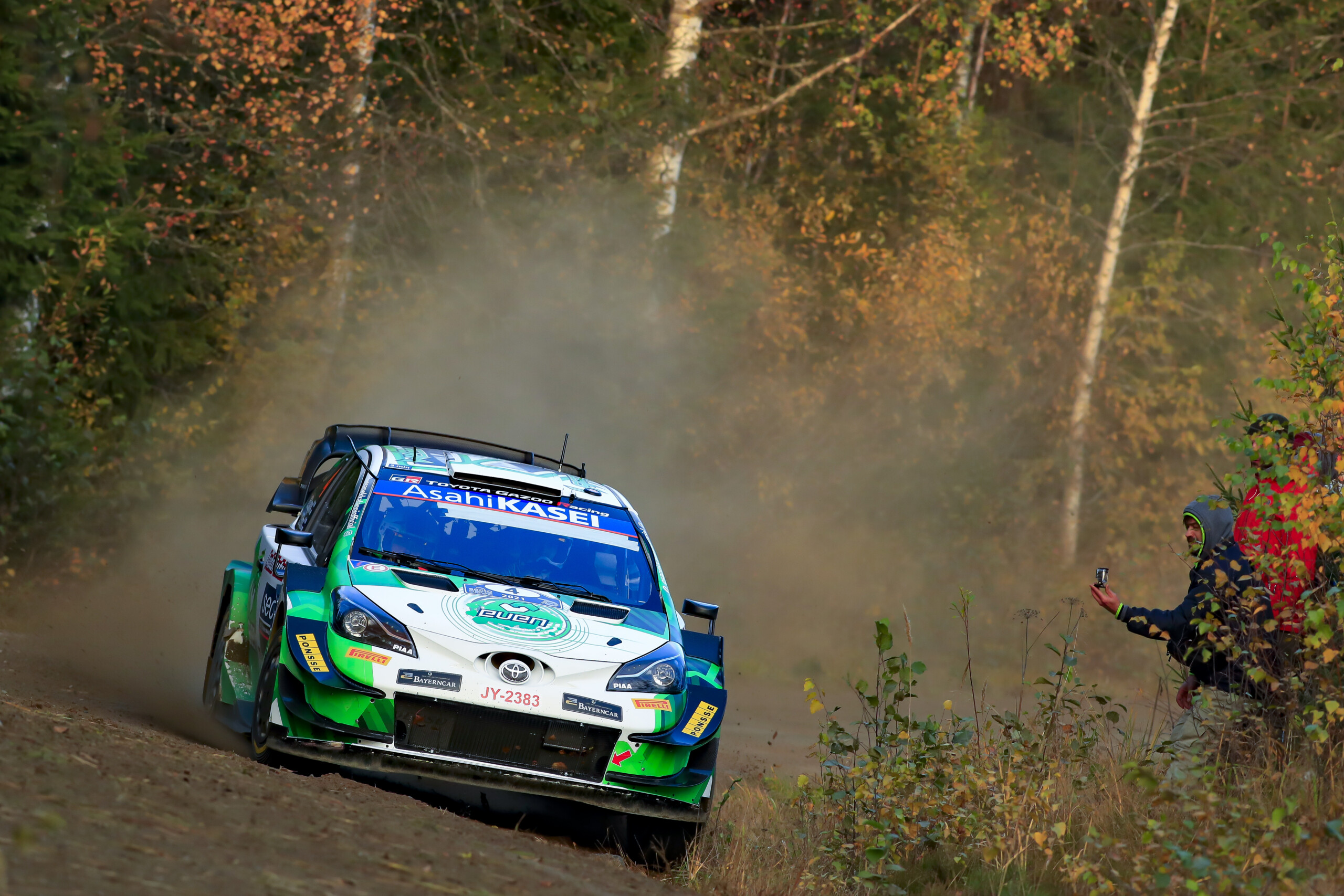 Classification after Day One
| | | | | |
| --- | --- | --- | --- | --- |
| 1 | C. Breen | P. Nagle | Hyundai i20 Coupe WRC | 43:51.3 |
| 2 | O. Tänak | M. Järveoja | Hyundai i20 Coupe WRC | +2.8 |
| 3 | E. Evans | S. Martin | Toyota Yaris WRC | +6.1 |
| 4 | E. Lappi | J. Ferm | Toyota Yaris WRC | +6.7 |
| 5 | K. Rovanperä | J. Halttunen | Toyota Yaris WRC | +7.9 |
| 6 | T. Neuville | M. Wydaeghe | Hyundai i20 Coupe WRC | +31.3 |
| 7 | S. Ogier | J. Ingrassia | Toyota Yaris WRC | +33.6 |
| 8 | T. Katsuta | A. Johnston | Toyota Yaris WRC | +46.9 |
| 9 | G. Greensmith | C. Patterson | Ford Fiesta WRC | +1:20.6 |
| 10 | A. Fourmaux | A. Coria | Ford Fiesta WRC | +1:48.9 |
Let's hear from the drivers
Hyundai Motorsport
Craig Breen (1st)
"It sounds pretty good to be rally leader this evening. We have had an amazing day and I've enjoyed every second of it. The stages are really nice, and especially the final one in the dark. I have always questioned what Finland would be like in night conditions and now we know – absolutely incredible! The later runners were a bit more in darkness, and I actually had some moments at the start. We lost a bit of rhythm, missed a couple of junctions but nothing terrible; I enjoyed the last part inside the forest, and it was nice to see the time at the end. I think everyone is going to find a little something extra tomorrow, so we'll try to take any opportunity that comes our way."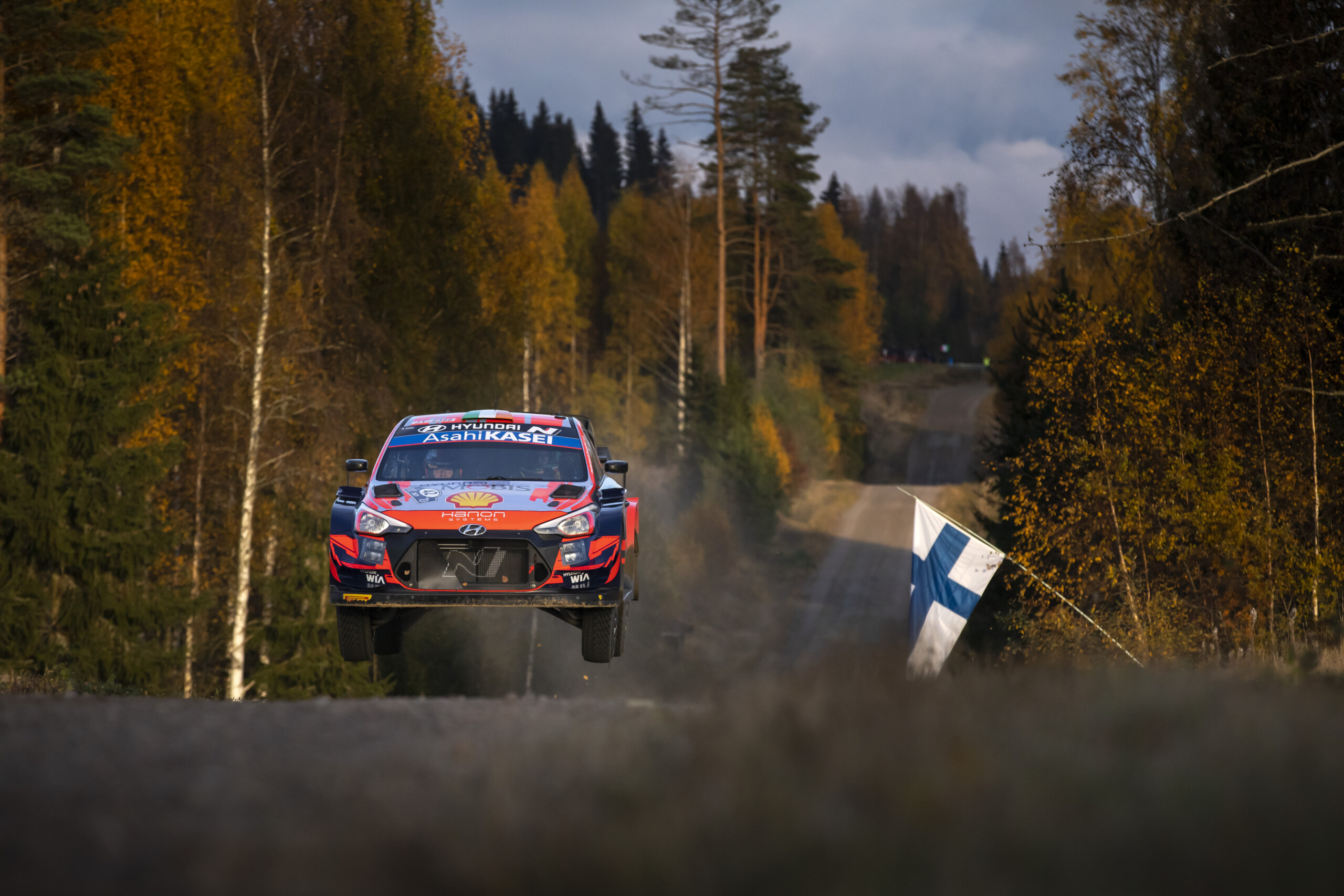 Ott Tänak (2nd)
"It has been a surprisingly good day and very consistent. On the small narrow roads, we were a bit handicapped and lost a lot, but on the fast and flowing parts we were on the pace. The improvements in the car on these fast roads are down to the efforts of the team, who have been working hard; they've done their job well and the performance here is better than it has been for them in the past. My pre-event test was not fully representative, so I had to make some changes to the car to find some confidence. Thankfully, it was a better direction. Tomorrow, we have some tough stages and a long loop, so it's definitely going to be the big day of the weekend."
Thierry Neuville (6th)
"From our side, the day was going quite ok, and we were in the fight up to the final night stage. I struggled to see the road at the end in the darkening conditions. I was quite fast in the first two splits, but the last section was very challenging, and I couldn't commit as I would have liked. Up to that point, I had a good rhythm in the car and could push, so if we can pick up that level of performance tomorrow then we'll see what we can do. Nothing is lost yet. We have to try and do the best we can to close the gap and if not, then we'll try to keep our position and enjoy the stages."
Toyota Gazoo Racing WRT
Elfyn Evans (3rd)
"I'm relatively happy with how it went out there today. The feeling has generally been good in the car. There are some areas where I've struggled a little bit more and we still need to work on, but overall, I've enjoyed the day. We obviously had a strong time in the final stage; it's never easy driving in the dark and especially at these speeds, but the pacenotes were working quite well and I just went with the rhythm. Tomorrow's a massive day with four rather different stages, and two of them are brand new. It's close now in the top five, and anything can still happen, so we have to keep doing our best and see what comes."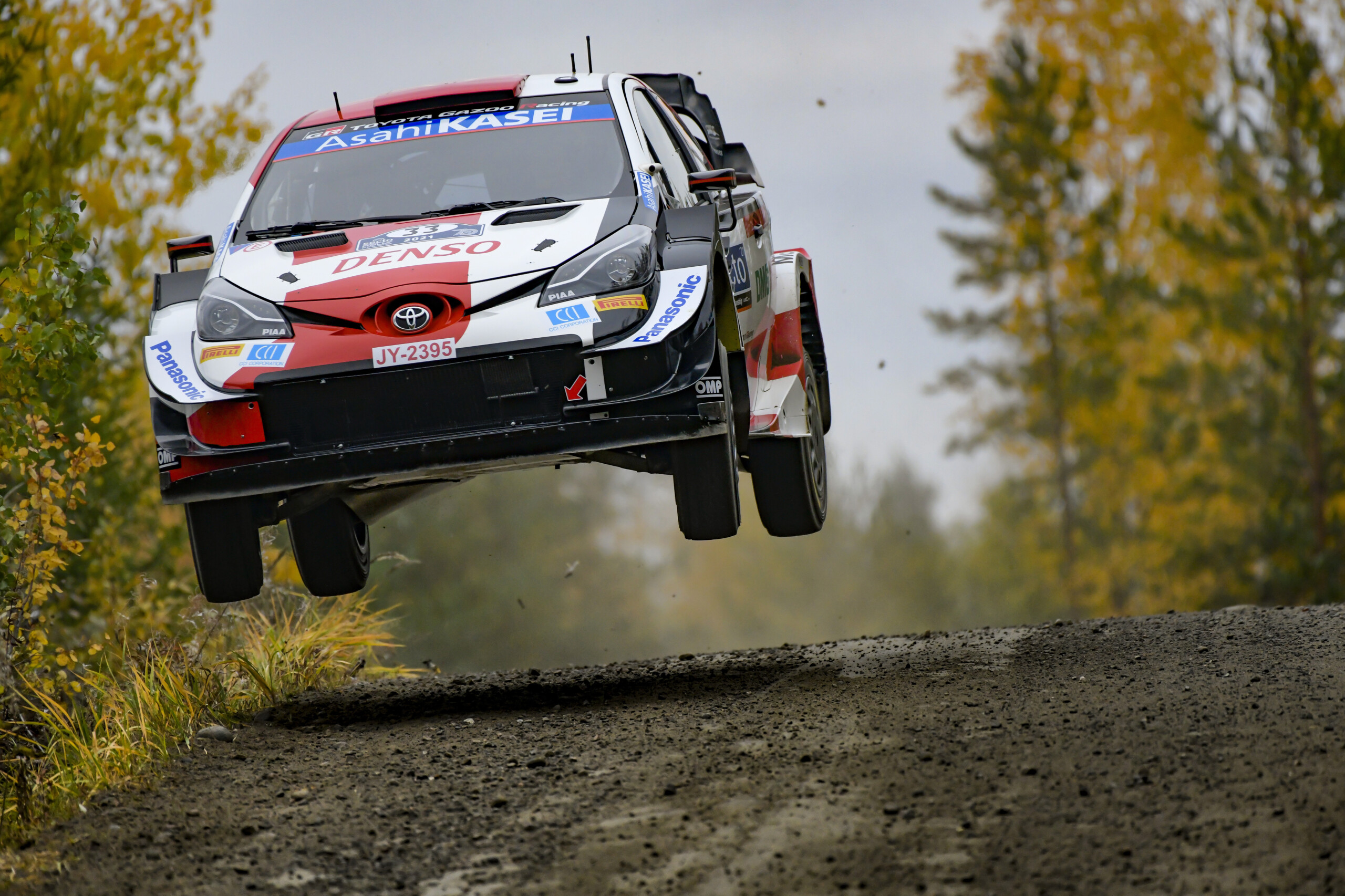 Kalle Rovanperä (5th)
"It has been a really demanding day with tough conditions and a lot of new pacenotes. I think it was a difficult day for everybody with the grip level, which was really low. For us the first pass was not easy but we will try to improve the setup for that for tomorrow, and the times were better on the second pass. It is really close and everything is still open. Of course, after pushing really hard the whole day you would prefer the time gap to be the other way around, but we will try to do something about that tomorrow."
Sébastien Ogier (7th)
"It was not a great day for me today. We were hoping for better. There should be at least three cars in front of us tomorrow, so hopefully that will be better for us, but we need to understand exactly why we had no pace today. For sure, part of the time loss today was down to road position but that was not the only reason. I have to understand if I was just too slow or if there is something we can do with the car setup. The grip was not fantastic but I still enjoyed the driving, so I was surprised to be losing so much. The night stage I was expecting to be very challenging but actually this one went better than I expected; our lights were working well there."
Tomorrow
Day two sees the longest day of the rally with 151km over nine stages. Pop back at the end of tomorrow for the full day's report. Can Craig stay in the lead, or will we see Ott and Kalle move into the lead? One thing is for sure. It will be an amazing day.