Friday
There were with a total of 135.34km over eight stages to complete on Friday. The startlist looked like this – Ogier, Evans, Neuville, Rovanperä, Tänak, Katsuta, Breen, Greensmith, Fourmaux, Loubet.
The first stage, SS1 Reninge – Vleteren 1 – 15.00 km then and Ott was fastest from Thierry and Craig giving us a Hyundai 1-2-3 and the three were separated by less than 3 seconds. Elfyn was the closest challenger in fourth. What was interesting was that opening the road didn't seem to provide the cleanest road. The two M-Sport crews held eighth and ninth, with Adrien ahead of the Englishman.
There was a change in the lead in SS2 Westouter – Boeschepe 1 – 19.60 km, with Craig going fastest from Thierry and Elfyn. Ott could only manage the fifth best time and dropped to third. There were just seven tenths of a second between the top two! Further down Adrien passed Takamoto for seventh place after going 3.2 seconds faster than the Japanese driver.
Craig continued his great drive, winning SS3 Kemmelberg 1 – 23.62 km from his Belgian teammate and increasing his lead to 1.6 seconds. Elfyn was third fastest in the stage and closed the gap to third placed Ott to just four tenths of a second. Seb suffered a puncture and was only sixth. There was huge drama for Adrien and Renard who suffered a huge crash. They'd slid wide on a left hander and as the road dropped away the car took off and pirouetted in the air before then colliding with a post on the left where the car came to a stop. They were out for the day, and also for the remaining days as well.
The last stage then before the lunchtime service break and it was a first stage win of the weekend for Thierry in SS4 Zonnebeke 1 – 9.45 km with Craig only managing the fourth best time as well. The Belgian had now taken the lead. Ott was second and Elfyn again third. The gap between first and second was just four tenths of a second as well.
It was a 1-2-3 for the Hyundai team in SS5 Reninge – Vleteren 2 – 15.00 km with Thierry leading Craig and Ott. Kalle matched Ott's time, whilst Elfyn was just a further 2 tenths back and continued to hold fourth overall and only one second behind Ott in their battle over the final podium position continued.
Into SS6 Westouter – Boeschepe 2 – 19.60 km and Thierry was fastest again from Craig and Seb finally finding some pace after service. Elfyn was slower than Ott and this meant that the gap opened up a little in their fight for third place. We lost Gus in this stage though after going off the road and ending up in one of the big ditches at the side. The car was undamaged, but they could not get it out and their day was done.
So, to SS7 Kemmelberg 2 – 23.62 km and what turned out to be the final stage of the day. Thierry was fastest from Seb and Kalle. The Belgian's pace meant that he'd opened up a lead now over Craig of 7.6 seconds. There was a change on the leaderboard with Kalle moving ahead of his teammate Elfyn into fourth place, but there were only eight tenths between them.
The final stage of the day, set to run as the sun set, was cancelled for safety reasons.
Classification after Day One
| | | | | |
| --- | --- | --- | --- | --- |
| 1 | T. Neuville | M. Wydaeghe | Hyundai i20 Coupe WRC | 1:04:27.0 |
| 2 | C. Breen | P. Nagle | Hyundai i20 Coupe WRC | +7.6 |
| 3 | O. Tänak | M. Järveoja | Hyundai i20 Coupe WRC | +31.2 |
| 4 | K. Rovanperä | J. Halttunen | Toyota Yaris WRC | +32.6 |
| 5 | E. Evans | S. Martin | Toyota Yaris WRC | +33.4 |
| 6 | S. Ogier | J. Ingrassia | Toyota Yaris WRC | +39.4 |
| 7 | T. Katsuta | K. Williams | Toyota Yaris WRC | +1:24.5 |
| 8 | P.L Loubet | F. Haut-Labourdette | Hyundai i20 Coupe WRC | +2:50.0 |
Let's hear from the drivers
Hyundai Motorsport
Thierry Neuville (1st)
"We knew if we had a clean run today that we could be among the fastest. Of course, experience counts for a lot and the car has been working well, but it's good to be leading at the end of the first day. We have tried to keep a good rhythm without taking risks and everything went smoothly. The target for the afternoon was to have another clean run. I was able to drive a bit faster because the pace notes had been checked and the gravel crew had done a good job, so I felt comfortable to push a bit and extend the lead. We got up to seven seconds during three stages which was great; I would have loved to have done the final stage with all those spectators but unfortunately the stage had to be cancelled. So far, it has been a great team effort, and we have some tough challenges ahead of us tomorrow."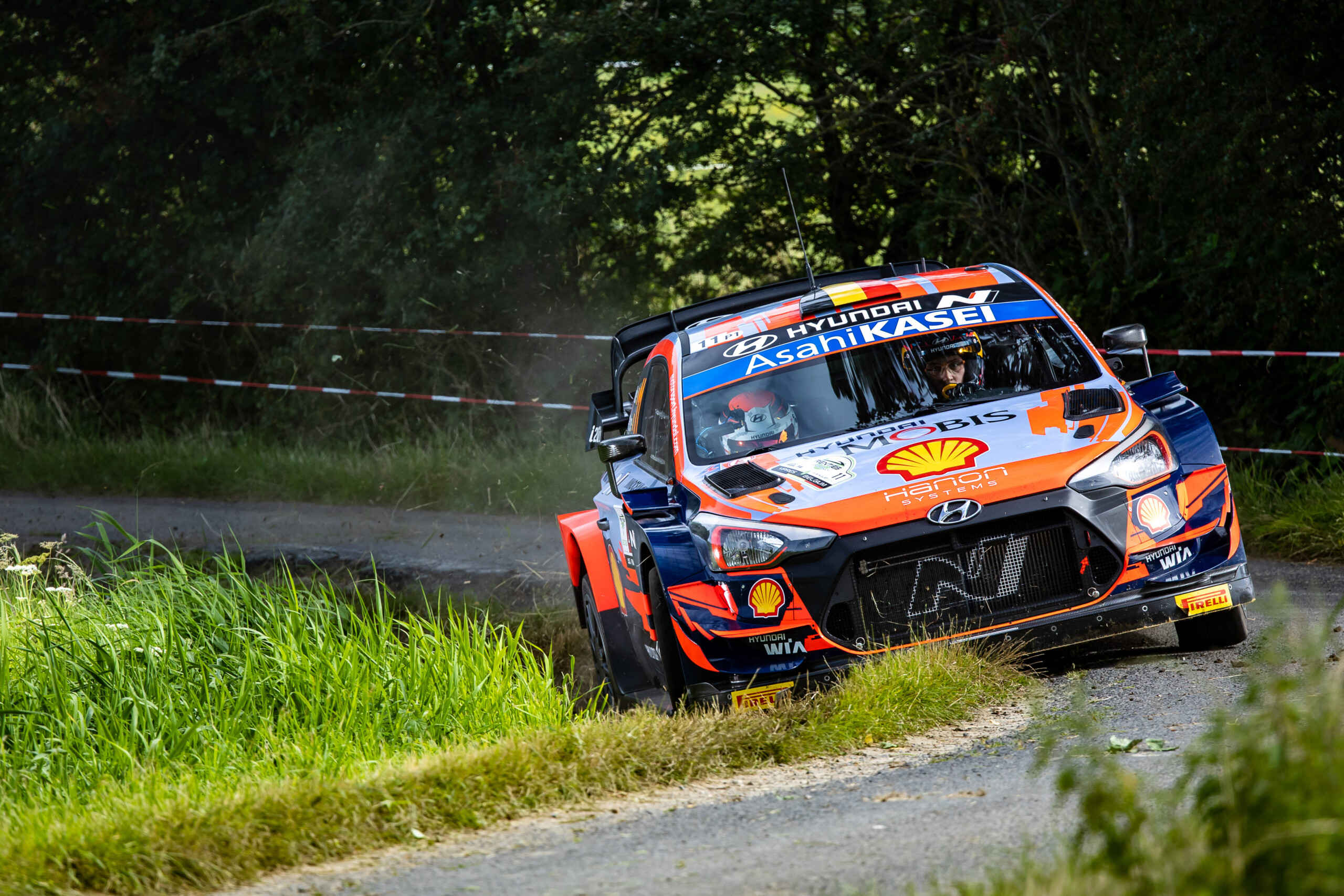 Craig Breen (2nd)
"Honestly, I am really happy and have to be pleased with how the day has gone. The car has been feeling fantastic, and Paul is doing a great job as always. It's nice to get back the feeling on tarmac; Croatia was a struggle, but the car here fits me like a glove. The first three stages this morning went well. I lost time on the fourth one as I took some references from the R5 car, which didn't work, but it was a brilliant loop. Two fastest times and we led the rally. The gap to the lead went out a bit this afternoon but we knew it would be a challenge to match Thierry here; to be seven seconds behind after 135km isn't terrible. The conditions on the second loop were tricky but I still enjoyed it and it'll be another interesting day tomorrow – after I've had a cup of tea and some sleep!"
Ott Tänak (3rd)
"It is certainly a challenge to be competing at Ypres Rally for the first time, but I am happy to be here. We had a clean morning loop; there was a lot of dirt on the road already, sometimes more than I expected. The car was working well, but it was slippery in places, so we were careful. The long stages were quite demanding and on occasions it was difficult to know where you need to drive and find the grip. At times, the experience is definitely missing but we were learning step by step and the feeling was not so bad. In the afternoon, we were a bit low on boost but apart from that it was enjoyable to drive. Let's see what tomorrow brings, with more new stages for us. It has been close, so for sure tomorrow we'd like to do a bit better."
Toyota Gazoo Racing WRT
Kalle Rovanperä (4th)
"Today has been quite demanding with tricky conditions all the time, as we expected. I don't have so many kilometres on asphalt in this car or with these tyres, and it can be tricky to know the grip level on these stages because it's changing a lot. I found it easier this evening now that I knew more about the conditions, so I could push a bit more but without taking too much risk and it was quite enjoyable in the car. I could match my team-mates quite well, and the fight is quite hard now for the podium."
Elfyn Evans (5th)
"It has not been an easy start to the rally. With changing grip levels and a mix of different surfaces it's difficult to find confidence. Some sections felt pretty good, but in some sections I struggled to be fully at one with it. I think we got through the first loop quite OK, trying our best to keep in touch with the leaders. This evening I had a pretty good feeling in the car to be honest, but the times seemed to be not as competitive, so we need to understand why that was and try to be better tomorrow morning."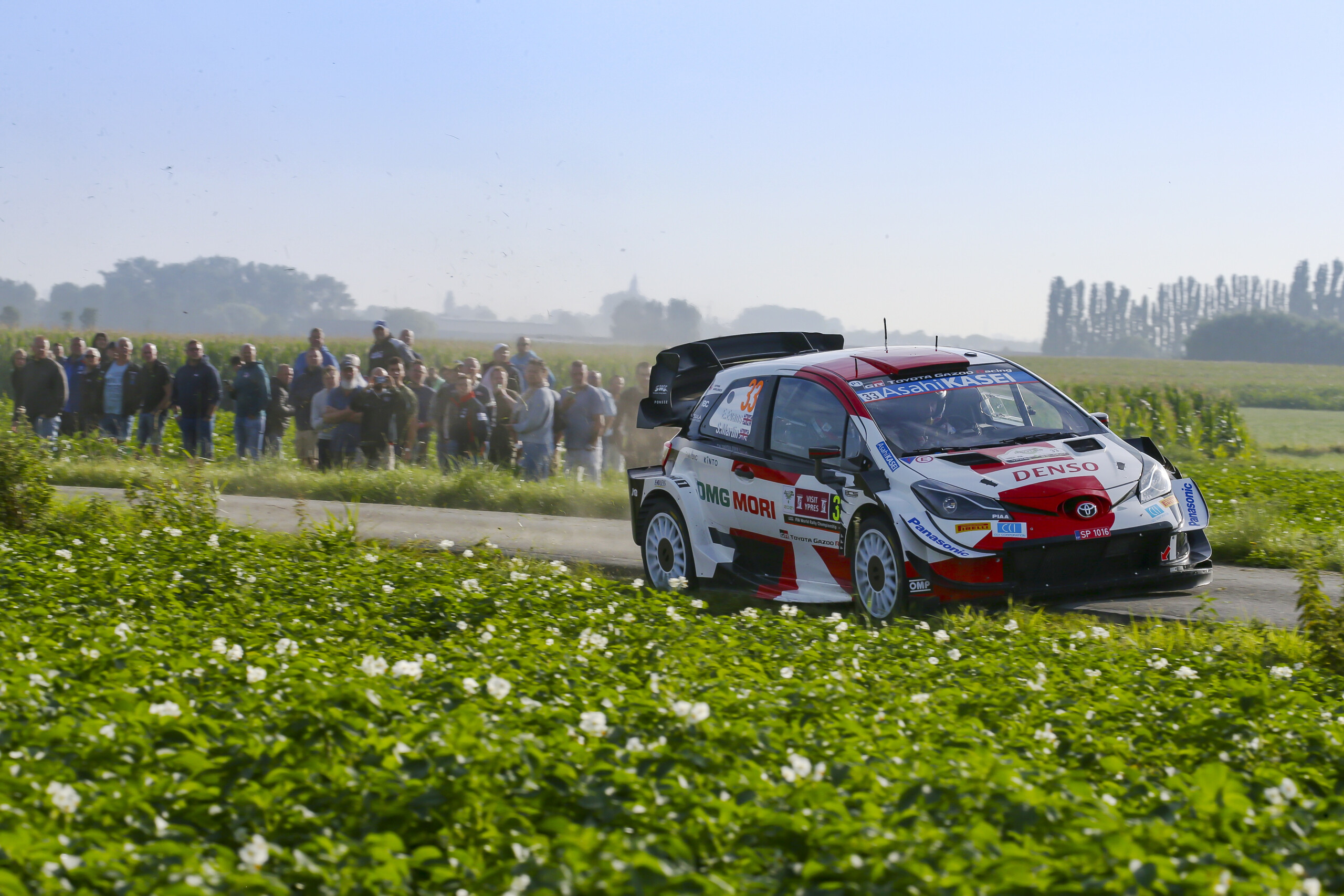 Sébastien Ogier (6th)
"It was not an ideal start for us today. In the first loop the pace was not great. It was difficult to find grip running first on the road, and I really didn't expect the dust to play as much of a role as it did. On top of that there was some room for improvement in the setup. In the second loop it was going in the right direction. It's not perfect yet but we made some steps in the setup which made me feel more and more confident. I still have some ideas for tomorrow to hopefully make another step forward. Now we have to focus on that fight for the podium."
M-Sport Ford WRT
Gus Greensmith (DNF, SuperRally)
"This event is completely unique and we made a few setup changes with each passing stage to get more comfortable. Things were feeling better and better and I felt increasingly confident in the car but sadly the day ended too soon and it will be back to the drawing board tonight and to try to take as much experience as we can through the weekend."
Adrien Fourmaux (DNF)
"We have a small headache and some pain in the legs and my foot but basically all okay. Honestly, it was just the corner tightening but it was still flat, it said in the pacenote that it was flat corner but there was a bit of dirt and we just oversteered a little bit and then just hit something in the ditch and the car was gone.
"It's nearly my home rally of course and it's a big disappointment with so many friends and family here but for sure it's also the downside of this sport that this sort of thing can happen. There is always something to learn and for sure we have to analyse a little bit more. It's a shame we were just 500 metres from the end of the stage but we will have a lot to learn."
Teemu Suninen (DNF, SuperRally)
"Basically, the day was going quite well, in the morning we were showing good pace and it felt like we had good pace and good feeling in the car. The roads were tricky with people before us cutting corners and that's a big feature of this rally with the dirt on the road and we were just coming through the last stage and I lost the rear, went in a ditch and grass blocked the radiator so we had to stop after the final stage."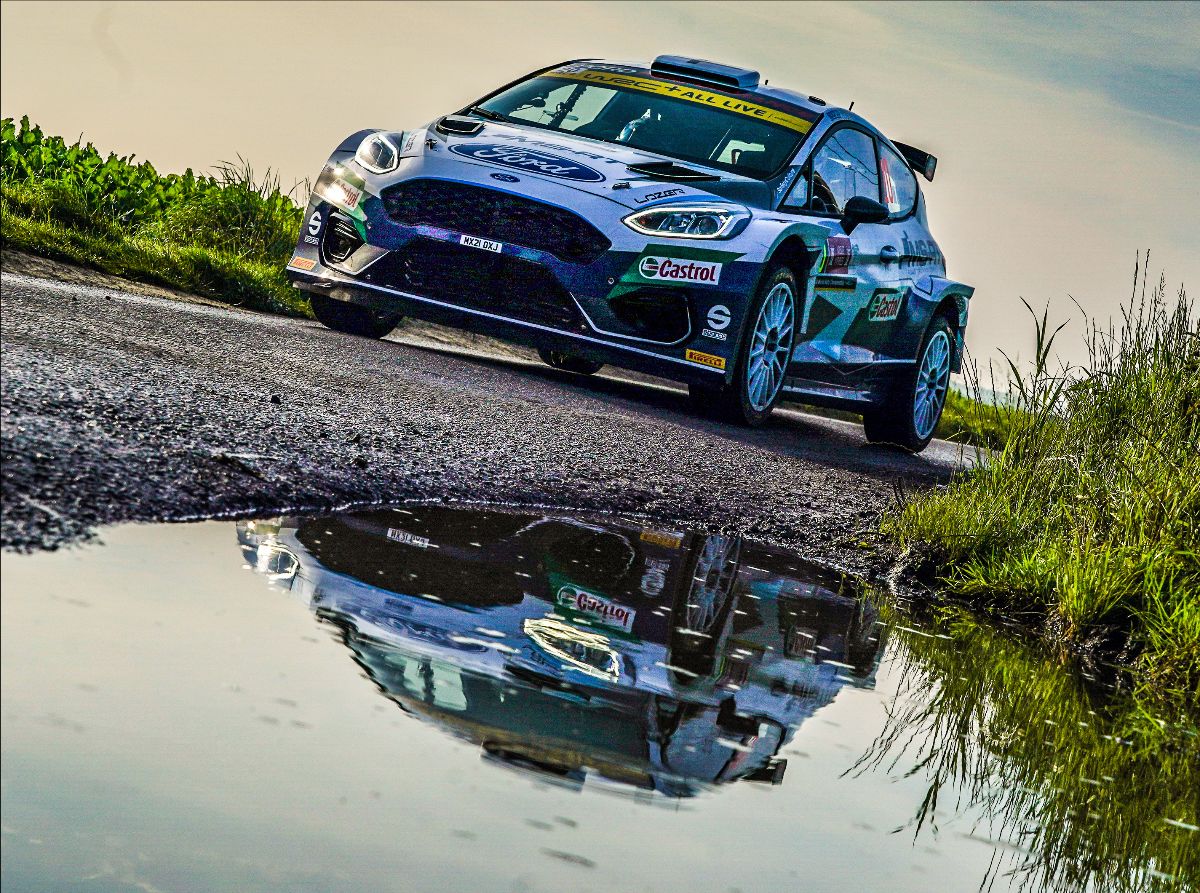 Tom Kristensson (DNF)
"This rally started very well for us and we were encouraged by the way that we were able to build our pace through the day. The stages were very enjoyable and we were building a good feeling but sadly the final stage was so dirty when so many cars had been through and I just lost the front end of the car, I'm sorry for me and for the team when it was going so well."
Saturday
With 119.92 over eight stages, what would day two hold for the crews? Well, the startlist looked like this – Greensmith, Loubet, Katsuta, Ogier, Evans, Rovanperä, Tänak, Breen, Neuville.
Into SS9 Hollebeke 1 – 25.86 km and it was a good start for Craig who was fastest from Elfyn and Thierry. Ott had to stop and change a tyre, and then re-joined in front of Craig, who was briefly behind, before Ott moved over for his teammate. Unfortunately, Pierre-Louis slid out into a ditch, just like Gus on Friday. Some spectators attempted to help get the car out, but this did not work.
Craig was also fastest again in SS10 Dikkebus 1 – 12.49 km from Thierry and Seb. The Belgian's lead was now just 3.5 seconds. There was huge drama though for one of the Toyota's. Takamoto lost control of his Yaris on some bumps and spun across the road and ended up colliding with a post at the side of the road, before coming to a rest on the left-hand side. They were out for the day and the event.
Elfyn won SS11 Watou 1 – 13.62 km from Thierry and Craig, thus allowing the Welshman to increase the gap to his younger Finnish teammate in their battle over the final podium position. In the WRC2 category, Oliver who was driving the new i20 Rally2 in competition, was suffering with power steering failure and really struggling through the stage. Never-the-less, he was holding the lead of the category after Teemu and Jari both suffered problems.
The final morning stage, SS12 Mesen – Middelhoek 1 – 7.99 km and Thierry was fastest from Kalle and Craig. Gus continued to have issues with his intercom, but was still setting good times, going seventh fastest in the stage.
After the lunchtime service, Seb won SS13 Hollebeke 2 – 25.86 km from Elfyn and Craig. Thierry was fourth and lost 1.8 seconds of his lead to Craig, but the gap remained a healthy five seconds. Elfyn also increased the gap to Kalle and the gaps between the three Toyota drivers closed up a little with less than 10 seconds between them. In the WRC2 category, Teemu retired from the rally after the engine in his Fiesta overheated.
Thierry returned to the top of the timesheets with the fastest time in SS14 Dikkebus 2 – 12.49 km with Seb and Craig second and third fastest. Seb was now just 2.5 from Kalle whilst Elfyn was further down in the stage times, only going sixth fastest and now the gap was just 6.6 seconds between the three of them.
Seb won SS15 Watou 2 – 13.62 km from Elfyn and Thierry. The Frenchman's pace lifted him ahead of Kalle into fourth place and the gap between them all three Toyota drivers was just 5.8 seconds! Further down the leaderboard, there was a good battle between the WRC3 top two! Seb Bedoret driving a Skoda Fabia and Yohan Rossel in a C3 Rally2 were only separated by 2.4 seconds and holding seventh and eighth overall as well.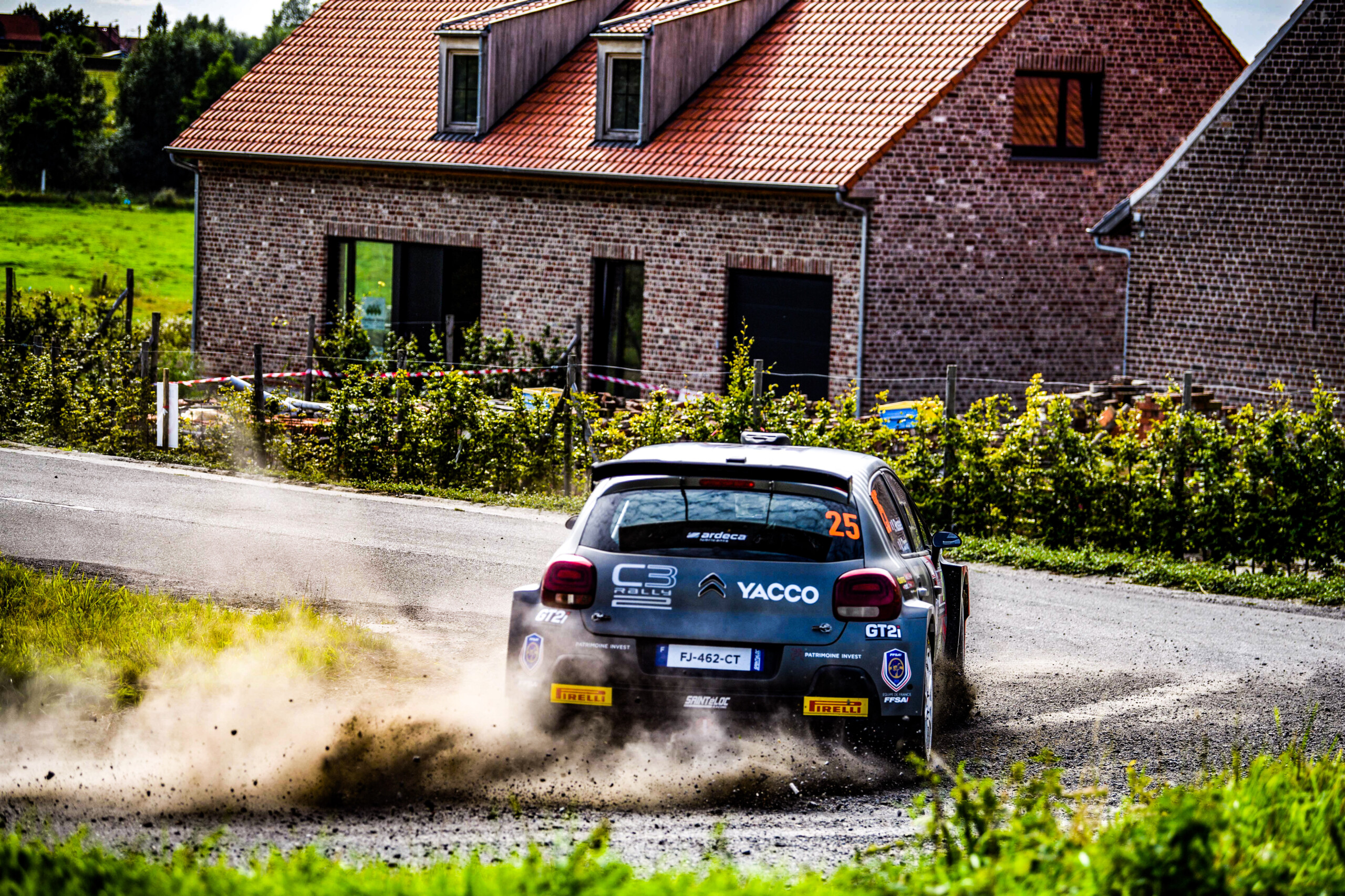 The final stage then of the day, SS16 Mesen – Middelhoek 2 – 7.99 km won by Thierry from Kalle and Ott and Kalle's pace took him back ahead of Seb into fourth place. Thierry now held a ten second lead over Craig who was fifth fastest. In the WRC3 category, Johan was tenth and closed the gap to Seb to just nine tenths of a second in their battle for seventh overall.
Classification after Day Two
| | | | | |
| --- | --- | --- | --- | --- |
| 1 | T. Neuville | M. Wydaeghe | Hyundai i20 Coupe WRC | 2:06:18.8 |
| 2 | C. Breen | P. Nagle | Hyundai i20 Coupe WRC | +10.1 |
| 3 | E. Evans | S. Martin | Toyota Yaris WRC | +42.4 |
| 4 | K. Rovanperä | J. Halttunen | Toyota Yaris WRC | +45.7 |
| 5 | S. Ogier | J. Ingrassia | Toyota Yaris WRC | +46.7 |
| 6 | O. Tänak | M. Järveoja | Hyundai i20 Coupe WRC | +3:55.2 |
Let's hear from the drivers
Hyundai Motorsport
Thierry Neuville (1st)
"We have had another controlled, trouble-free day and we can only be satisfied. We have stayed away from punctures and any other issues, as well as setting some more fastest times. The only moment we had was when I went straight at a junction but, even then, we only lost half a second. I decided to take a good but steady rhythm and keep things under control. The handling of the car has been nice, and I've been enjoying our home event. We have now completed a big part of the rally, managed very well by us, but I am conscious that we have another day to go. They will be very different to the stages we've had so far, so nothing is done yet. We have to be clever, but I hope we can have a nice day."
Craig Breen (2nd)
"It's been a very nice day from start to finish. We have tried to make no mistakes, and I am happy that I have found a rhythm that I can manage; it's not only being on the pace but also being able to control it. I am super happy with the performance we've shown; we've taken another good step forward. I've had a nice feeling from the car, and it's important for us to have two cars in a 1-2. Spa tomorrow may not have many kilometres but there will be room for mistakes. We have to protect our positions, which would be a great boost for the championship."
Ott Tänak (6th)
"We have had another day of new stages to us, so it's been important to get through and to get the knowledge. That's really been the best that we could achieve at the moment. Unfortunately, we picked up a puncture on the opening run. As we had 10kms to go, we decided to stop to change the tyre in the stage, which lost us time. This is a new event for us, so it has been crucial to learn this rally; we can see how demanding it is and how many surprises there are. The stages are nice, especially with the higher grip on the second loop."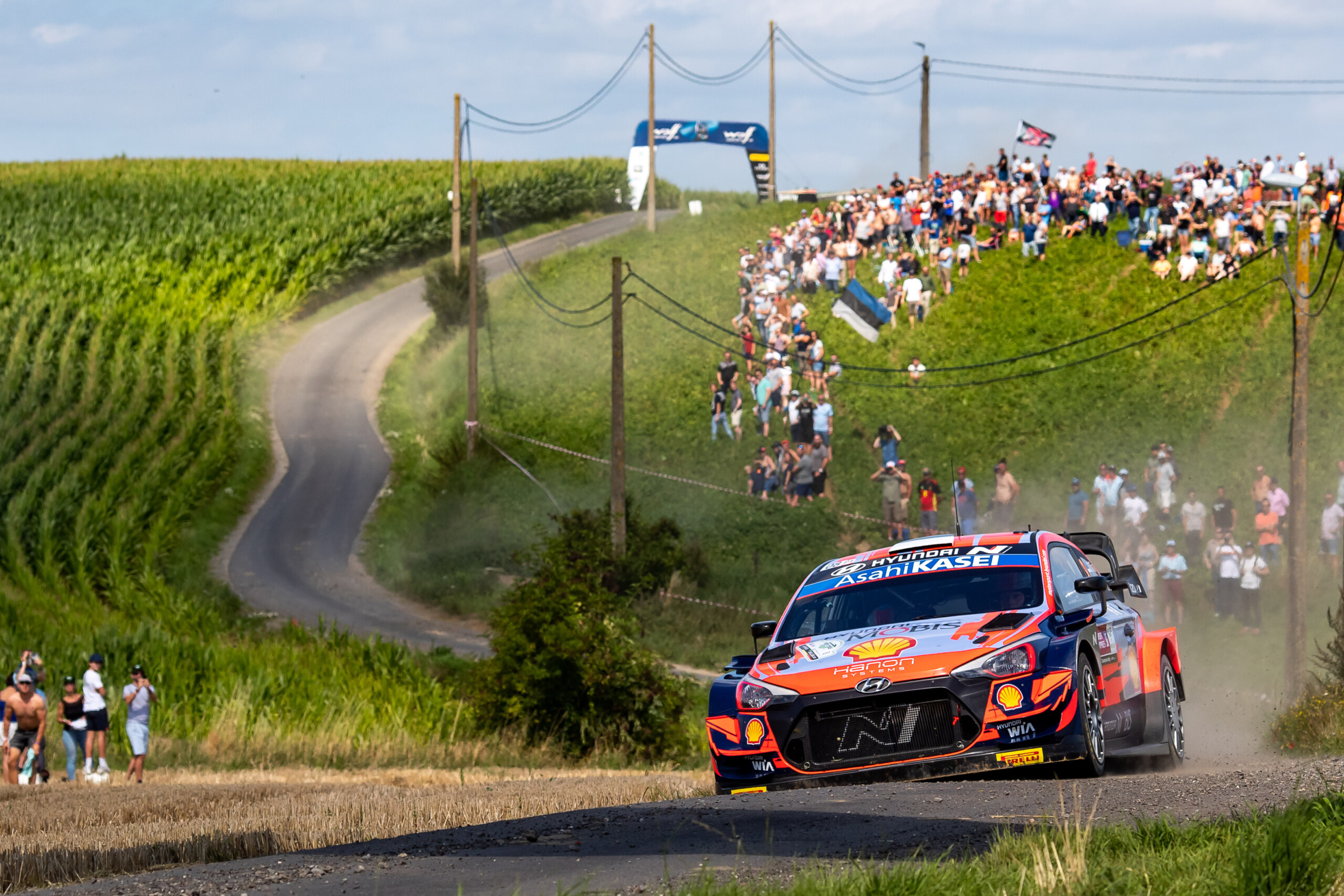 Toyota Gazoo Racing WRT
Elfyn Evans (3rd)
"This morning was a bit better than yesterday and everything was working quite OK, but it's been a bit up and down since then. Overall, I would say we have made some steps forward from yesterday. In the shorter stages we lost some time and that's not ideal, but it means we have a close fight for tomorrow. I'm looking forward to giving it our all. Both stages have a real mix of character within them with a lot of things going on, so we need to have a car setup that will work everywhere."
Kalle Rovanperä (4th)
"Today has been really nice. I think in some places it was a bit more dirty in some places from the cuts with a lot of loose gravel on the road, and that's one area I still need to learn more about, because when it's clean like on the last stage we have really good pace. With our lack of experience, I'm really happy that we have been able to match our team-mates and it has been really tight between us. Tomorrow is going to be interesting because the stages are a different style, and it's going to be nice to drive on the track at Spa."
Sébastien Ogier (5th)
"Today for me it was a little bit the same trend as yesterday. The grip has been very low on the first pass of the stages, but surprisingly it is much higher on the second pass. Then I can carry much more speed into the corners and enjoy it. It's a shame that we lose so much on the first pass, but at least we are still in the fight. 4.3 seconds is not that much, so tomorrow we have to try to drive well and see where we end up."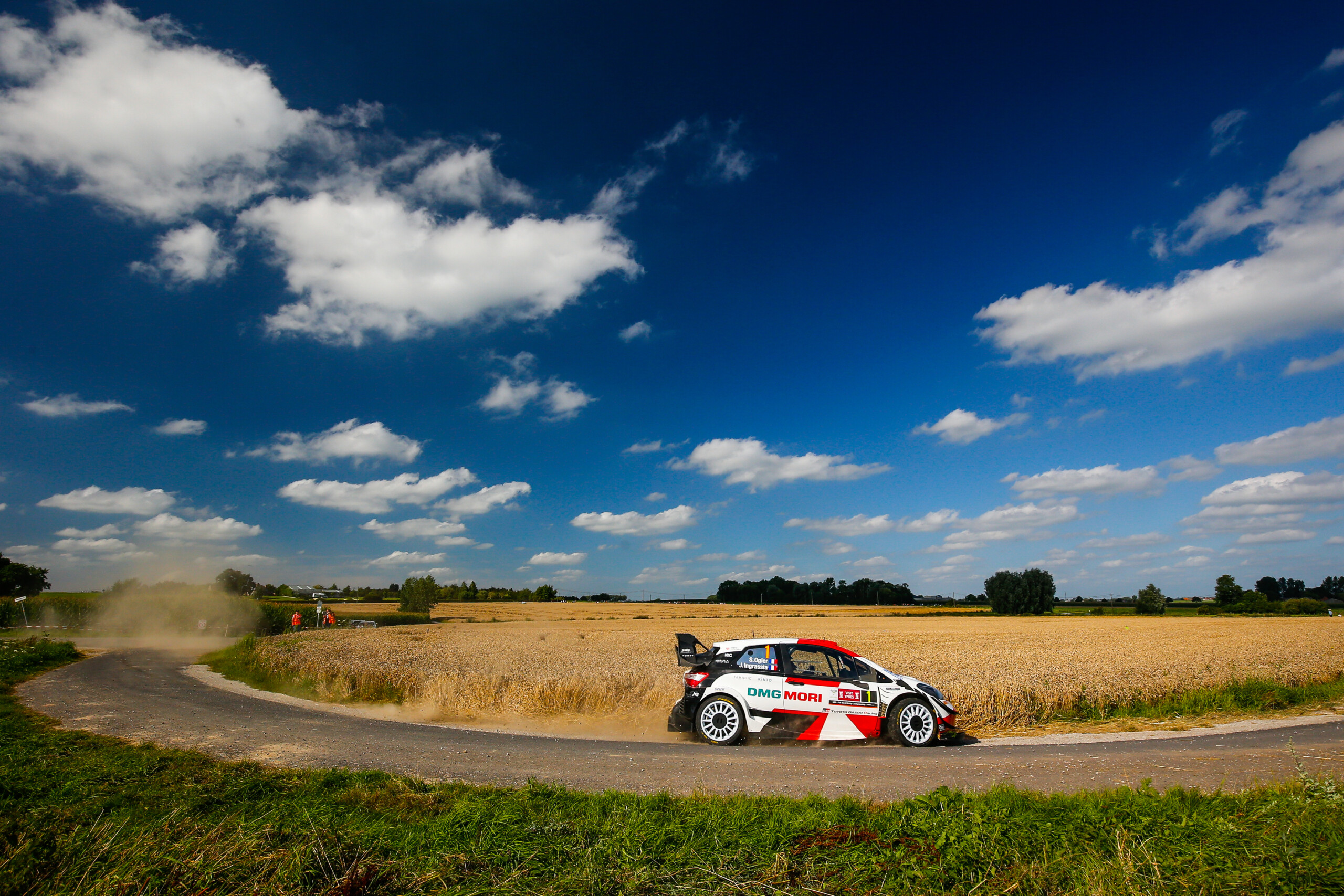 M-Sport Ford WRT
Gus Greensmith (61st)
"We needed a strong day after the disappointment of going off the road yesterday and I've done everything I can today to learn what I can about the stages and the rally. It really has a character unlike anything we've seen in the WRC before. We had one or two electrical issues through the day, which made it hard to be as fully committed as I would have liked to be because the challenge is enormous. There's no room for error and for anyone who hasn't competed here before it's really a learning process, and there have been some encouraging signs of progress through the day."
Teemu Suninen (DNF)
"We quickly found a very good feeling with the Ford Fiesta Rally2 this morning and from this we had the confidence to push. We were able to set fastest times once again and prove how fast the car is, but unfortunately there was still some damage in the engine from where we overheated yesterday. The car began overheating again and the fan broke, with the result that we had to stop rather than cause more damage."
Sunday
The final day then and a long 300km drive to the Spa-Francorchamps track for a total of 40.52km over four stages. The startlist looked like this – Loubet, Greensmith, Tänak, Ogier, Rovanperä, Evans, Breen, Neuville.
The first stage then, SS17 Stavelot 1 – 9.05 km, which started away from the track and then joined the track at the end of the Kemmel straight and then followed the track to the Stavelot corner. Kalle was fastest from Ott and Thierry. The young Finns pace halved the gap between him and Elfyn as he bid to take third from his Welsh teammate. In the WRC3 category there was a change in the lead as Yohan passed Seb after finishing the stage 5.6 seconds faster.
Into SS18 Francorchamps 1 – 11.21 km which again started outside the track, then saw the cars arrive at the track via a roundabout and then enter the paddock under the start finish straight, before going the wrong way up the pit entry and joining the track at the final corner before heading round la Source and plunging down Raidillon and into the first part of l'Eau Rouge and then finishing the stage at the rally cross track. Ott took the stage win from Kalle and Craig. The Finn passed Elfyn for third overall after the Welshman was only sixth in the stage.
The second run of SS19 Stavelot 2 – 9.05 km saw Ott win from Thierry and Kalle. Elfyn lost another 1.1 seconds to Kalle and he would need a big stage win in the power stage to overcome the five second lead that Kalle now had over him. In the WRC3 category, Yohan now held a good lead of over thirty seconds and held seventh overall as well.
The final stage then, SS20 Francorchamps 2 [Power Stage] – 11.21 km and the top five was Ott, Seb, Thierry, Kalle and Elfyn. Thierry secured his first victory of the year and with it his first win with his new co-driver Martijn, and also on home soil too! What a great performance from the pairing, which brings them back into the battle for the championship.
Final Overall Classification – Ypres Rally Belgium
| | | | | |
| --- | --- | --- | --- | --- |
| 1 | T. Neuville | M. Wydaeghe | Hyundai i20 Coupe WRC | 2:30:24.2 |
| 2 | C. Breen | P. Nagle | Hyundai i20 Coupe WRC | +30.7 |
| 3 | K. Rovanperä | J. Halttunen | Toyota Yaris WRC | +43.1 |
| 4 | E. Evans | S. Martin | Toyota Yaris WRC | +49.6 |
| 5 | S. Ogier | J. Ingrassia | Toyota Yaris WRC | +55.8 |
| 6 | O. Tänak | M. Järveoja | Hyundai i20 Coupe WRC | +3.46.5 |
| 7 | Y. Rossel | A. Coria | Citroën C3 R5 | +12:14.9 |
| 8 | P. Cracco | J. Vermeulen | Škoda Fabia Evo Rally2 | +13:05.9 |
| 9 | F. Kreim | F. Christian | Volkwagen Polo GTI | +13:13.8 |
| 10 | V. Verschueren | F. Cuvelier | Volkwagen Polo GTI | +13:31.1 |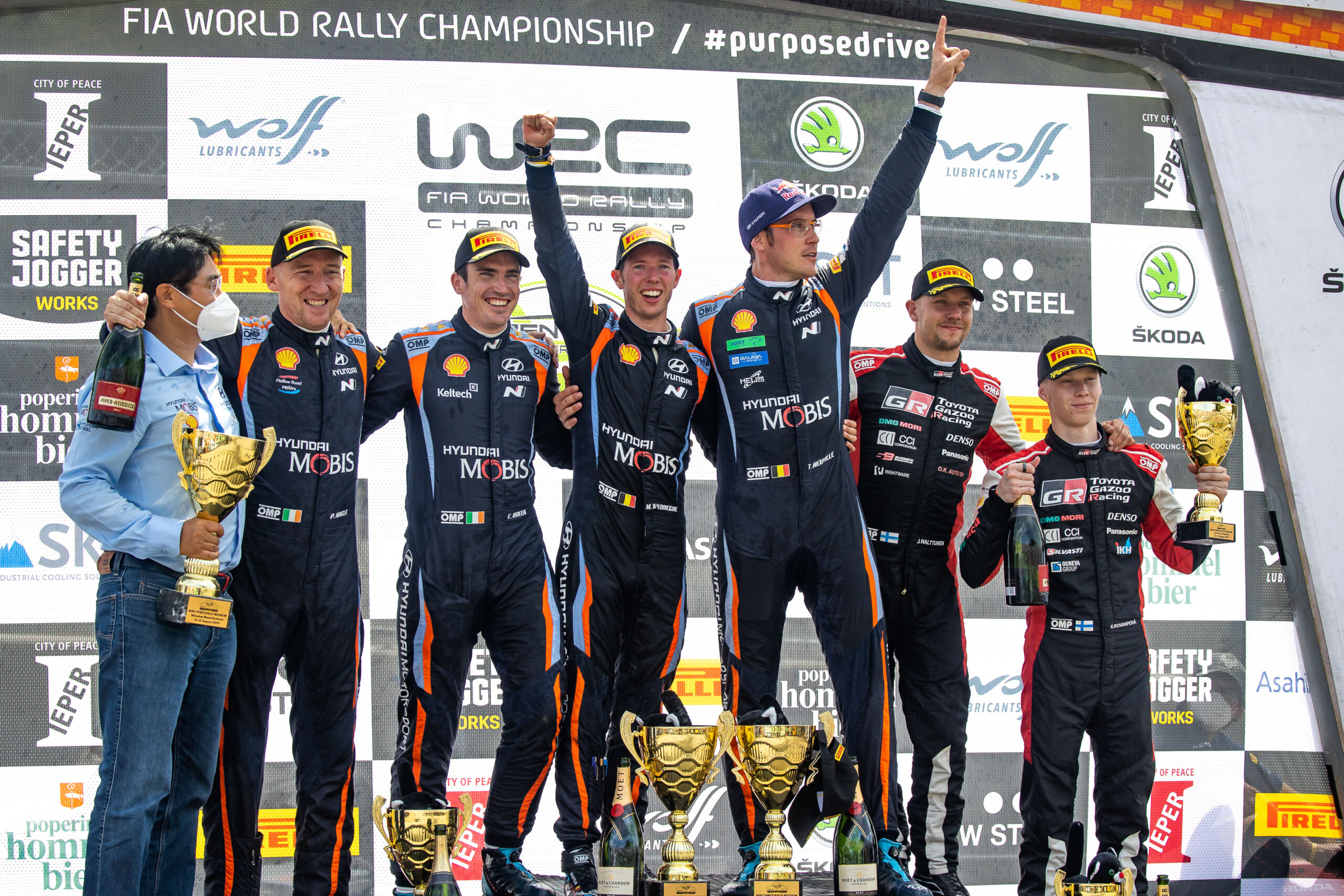 Let's hear from the drivers then!
Hyundai Motorsport
Thierry Neuville (1st)
"We had a lot of pressure coming here but to be honest I have felt confident, comfortable, relaxed and in control all weekend. We were able to rely fully on the team and the car, which worked perfectly. It has been a pleasure to get this first win together with Martijn. It has been a long time coming, but it feels even better now. We knew we had to deliver here, not just because it is our home event but because of the need to score big points for the championships. It was really special to do that final stage at the nicest circuit in the world, just 15km from my hometown, with friends and family cheering us on and to be able to do some celebratory donuts. A fantastic weekend and a result to savour!"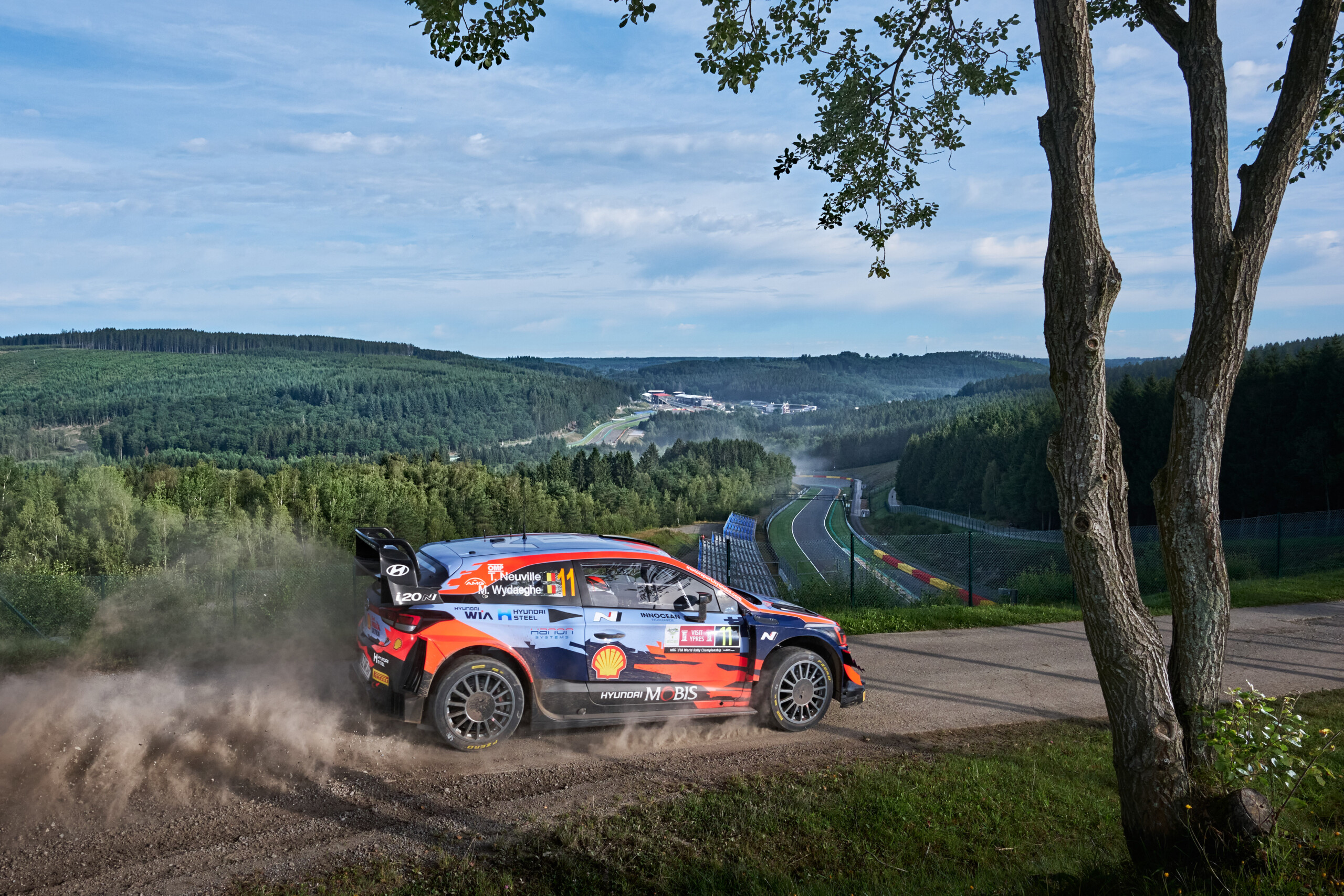 Craig Breen (2nd)
"To finish second here at Ypres as part of a Hyundai 1-2 result means a lot. Sometimes, there's a lot of space in between our events, so we can struggle to get into a rhythm but two events in a row with two podiums is amazing. It definitely gives me more confidence going forward. We have all the ingredients around us to perform to this standard; it's a pleasure and an honour to drive a car like this. Thanks to everyone in the team, my gravel crew, everyone in service, and to Paul; we've had a great package this weekend, and it's been a lot of fun."
Ott Tänak (6th)
"This has been a great, challenging event and a really good addition to the WRC calendar. Nobody has really been able to challenge Thierry and Martijn this weekend – congratulations to them – but now we have seen and experience the roads, we'll be ready when we come back. It is a unique tarmac event, unlike any other; we can't really compare it to Croatia or Catalunya, so it's been important to learn it first-hand. All in all, while we haven't got the result we wanted, it has been a successful event for the team, so we have some positives."
Jari Huttunen (1st in WRC2)
"I am pleased that we made it safely to the end of Ypres Rally Belgium and to take the first victory with the Hyundai i20 N Rally2.  They say, 'to finish first, you first have to finish' and that was the name of the game this weekend. I am sad for Oliver and Aaron that they were not able to start this morning. It was not the perfect weekend for us, but luckily, we made it through after we lost six-and-a-half minutes due to three separate punctures. This is an important result for everyone at Hyundai Motorsport Customer Racing after a huge amount of preparation work to get the car rally ready. The starting point for this new car compared to the previous one is high, and we know where we can make some improvements easily."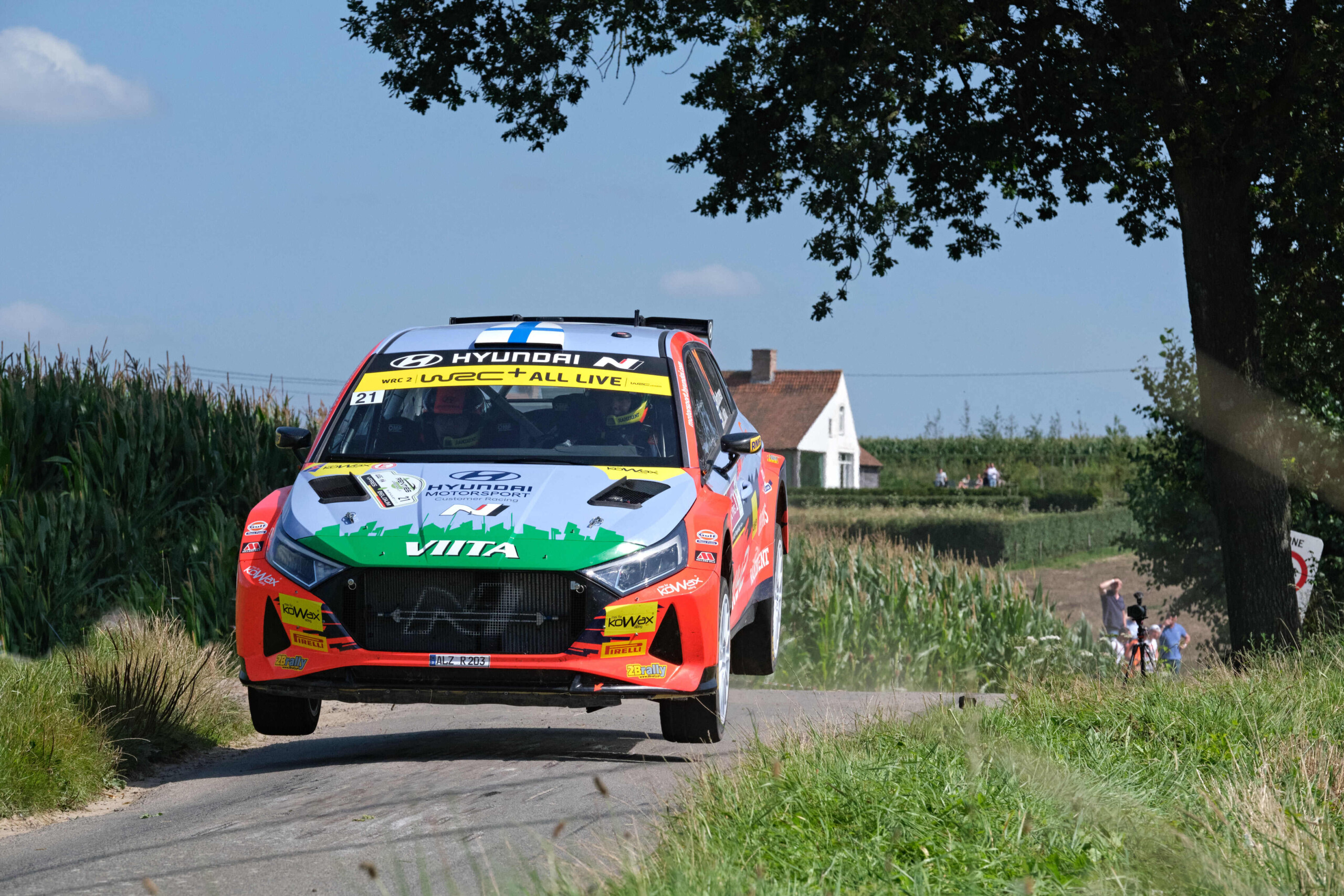 Oliver Solberg (DNF)
"It is disappointing not to take the win in WRC 2, especially after leading for so long and battling so hard yesterday. The car just stopped in parc fermé this morning due to an electrical issue. Aaron and I worked on it, and did everything we could, but that was the end. Fortunately, our team-mate Jari was in second place behind us, so he could bring the win home. Everybody at Hyundai Motorsport Customer Racing has worked so hard for this moment, they deserve the victory. During our time in the car, there were some of the issues you would associate with a car so young, but I think we all know what's going to be possible with this car. It has a really good future."
Toyota Gazoo Racing WRT
Kalle Rovanperä (3rd)
"The final day here in Belgium was really nice. It was one of the tightest fights I have been in on a Sunday and to compete with your team-mates is always interesting. The stages around Spa were maybe a little bit easier for me, a bit closer to what I have driven before on other rallies and therefore a bit easier for me to get up to the pace, but it was still quite tricky. I'm really happy with this result. The two drivers in front had a lot of experience of this rally and you could see in the times on Friday that nobody could match them. I think that for us to be able to match the rest with our lack of experience and finish on the podium is really good."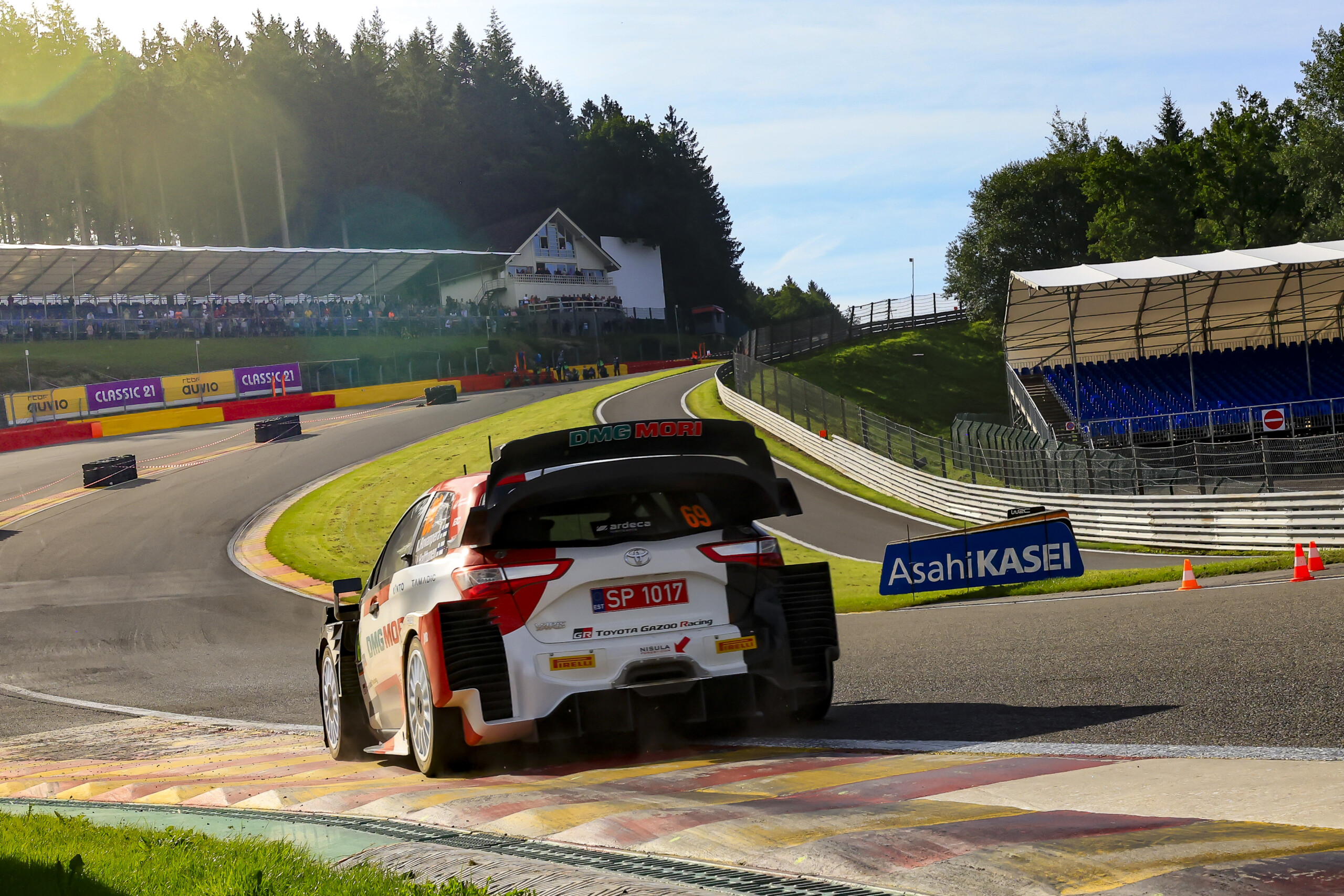 Elfyn Evans (4th)
"Today was unfortunately the worst day of the rally for us. It just didn't really click from the outset this morning. We were pushing at points but lost a bit with a few mistakes and it just wasn't our day today. Kalle had a strong day and a great result for him. Overall, it has been a bit of a frustrating weekend, and the potential was there to do a little bit better than we did. I think we had very good performance at points and in certain conditions, but we didn't manage to back that up throughout all the stages. Now we obviously have to look forward to the next one and try to be better.
Sébastien Ogier (5th)
"I was looking forward to an exciting final day with a nice battle for the podium with our team-mates, but after three or four kilometres of the first stage this morning we picked up a puncture. I know why this time: I hit a small rock that I didn't notice out of the line, and that was the end of the fight for us. After that moment we focused on the Power Stage. We didn't manage to win it but still we got second place, with four extra points. Thanks to that we come out of this weekend leading the championship by one point more than before, so it's not that negative."
Takamoto Katsuta (DNF)
"This was a very difficult and demanding rally. The grip level is very hard to predict and, in some sections, it is more difficult because of the gravel brought onto the road. I needed to take it step-by-step, and on Friday I was learning many things and gaining new experience. On Saturday I wanted to try and push a bit more in some sections to try and get a better feeling with the driving, but unfortunately, we crashed in SS10. It was in a high-speed but narrow section near the start of the stage. There were some bumps and when the car landed in the compression I couldn't turn as easily and we went wide into the ditch. In this rally you can't make this kind of mistake. It was a big crash but luckily, we were both OK. I am very sorry for the team. It was a shame but it is part of the learning and I will try to come back stronger."
M-Sport Ford WRT
Gus Greensmith (47th)
"It wasn't a good weekend for sure. It was my mistake on Friday that really took us out of contention this time. It was hard to find a rhythm after that and I wasn't really where I wanted to be but that can often be the case when you are not in a fight with anyone. We learned a significant amount about this rally and we got the car home in one piece. Thank you to the team as ever for their hard work, they always do the best they can."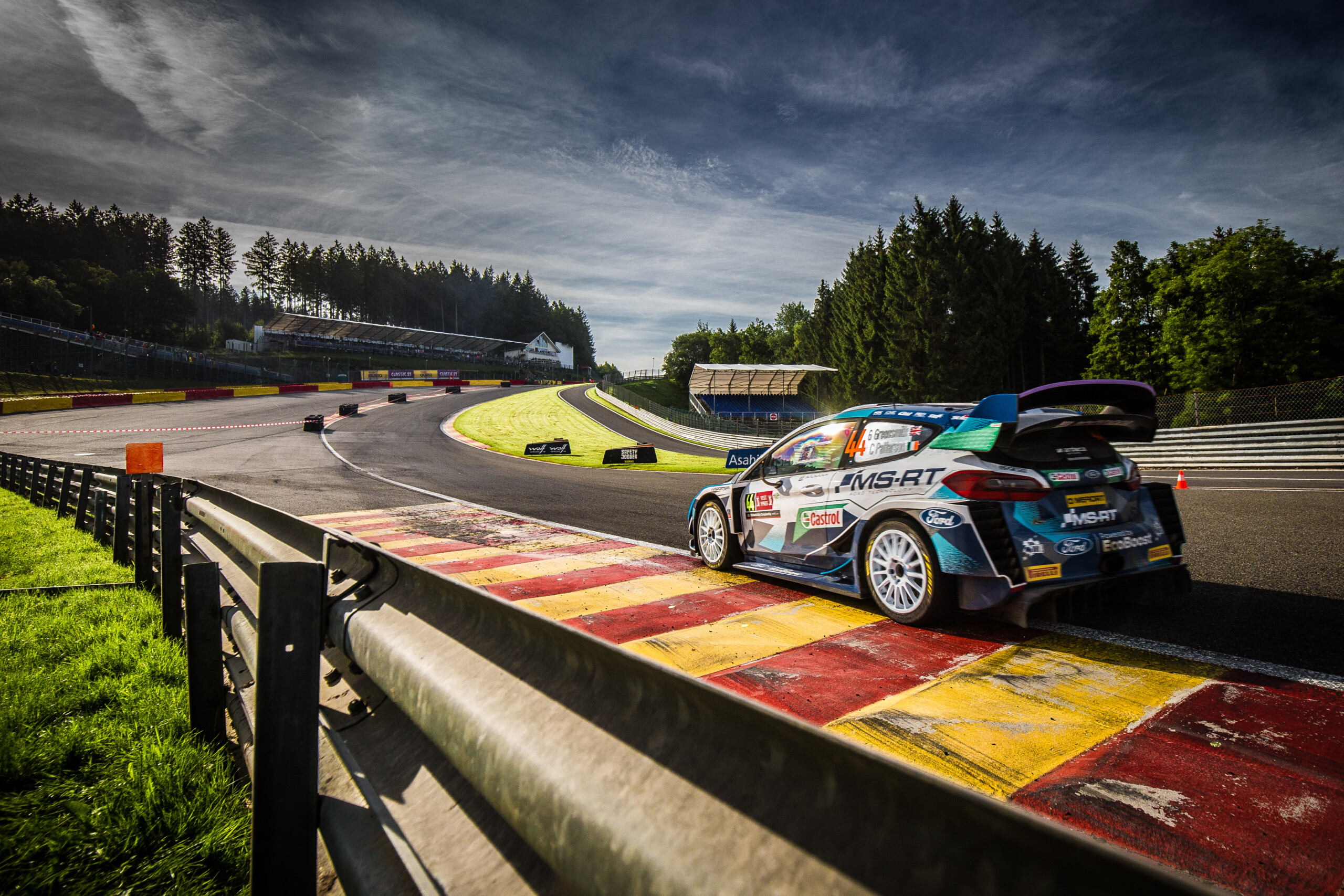 2021 FIA World Rally Championship for Drivers' Standings
After Round Eight
| | | |
| --- | --- | --- |
| 1 | S. Ogier | 162 |
| 2 | E. Evans | 124 |
| 3 | T. Neuville | 124 |
| 4 | K. Rovanperä | 99 |
| 5 | O. Tänak | 87 |
| 6 | T. Katsuta | 66 |
| 7 | C. Breen | 60 |
| 8 | G. Greensmith | 34 |
| 9 | D. Sordo | 31 |
| 10 | A. Fourmaux | 30 |
2021 FIA World Rally Championship for Manufacturers' Standings
After round 8
| | | |
| --- | --- | --- |
| 1 | Toyota Gazoo Racing World Rally Team | 348 |
| 2 | Hyundai Shell Mobis World Rally Team | 307 |
| 3 | M-Sport Ford World Rally Team | 135 |
| 4 | Hyundai 2C Competition | 36 |
My Thoughts
Well, what a rally! What was clear from this was local knowledge and previous experience went a huge way in helping be competitive on these unique stages. That is why Thierry and Craig had such a dominant 1-2 for Hyundai.
Thierry and Martijn's first victory together has long been coming, particularly after their drive in the Safari Rally where they had a lead of almost a minute before their problem that took them out. It was a brilliant drive and a well-deserved win for the pairing and has brought them back into the championship battle as they are now equal on points with Elfyn and Scott.
Craig and Paul's second podium in a row was a just result for them during their part season with Hyundai. They have won this event in the past, and I suspect their lack of seat time held them back from victory. Never-the-less their drive was fantastic and the question now is when will they get an opportunity to have a full season in the championship?
The final podium place went to Kalle and Jonne. It was really close between the three Toyota drivers and the battle between them all was really close. As a result, the battle ended up being for the final step on the podium. The young Finns came off the back of their first victory last time out with another very good and consistent drive.
Looking at Elfyn and Scott drive, there were moments of pace including some stage wins, and this was to be expected given that the Welshman knows how to be fast on tarmac. Its fair to say that it was a shame that he lost the third place to Kalle with just two stages left on Sunday. In regards to their championship challenge, they need to take a win next time out in the Acropolis Rally and all they have to do is look back at their win in Turkey last year to know that it is possible.
For Seb and Julien they realised that the win was not going to happen and therefore drove a consistent rally to fifth place and with the points from their finishing position and the power stage they actually outscored Elfyn and Scott and increased their championship lead.
Looking at the drive from Gus and Chris in their Fiesta, after they went out early on, they came back and at least finished the rally to take away some good and useful experience for the future. For Adrien and Renaud, they were going pretty well before their big crash that took them out of the event. Still, they will be looking forward to their next event when they are back in the car for Rally Acropolis.
Takamoto and Keaton suffered an even bigger accident, if that's actually possible. They suffered a big impact which took the rear hatch off their Yaris. The crew were actually given a fine after they didn't press the okay button within the allowed minute that is given after a crash. Now I understand why the rules are there, but given the impact that they had, and I think it's a pretty harsh penalty and have a 2000 Euro fine to pay.
Final mention has to go to Jon Armstrong and Phil Hall who took a really good win in the Junior WRC.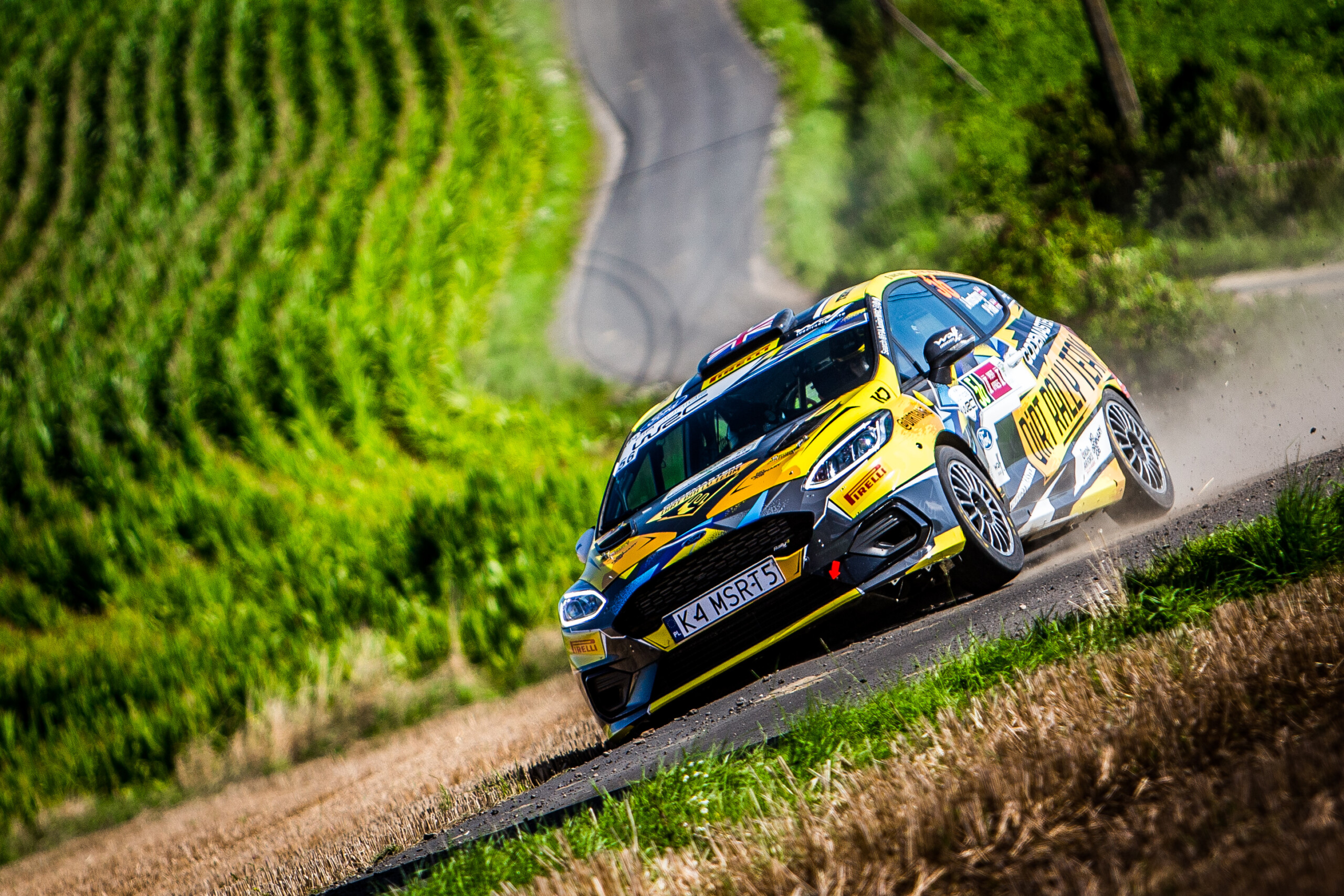 Jon Armstrong (1st Junior WRC)
"It's been a really good weekend all round we didn't know what it was going to be like this weekend because the rally is new for the majority of driver in Junior WRC. Thankfully we were really fast out of the blocks we pulled a big lead on day one. Then the rest of the rally we have been trying to manage that. It's just been very difficult today especially. When you start to try and go slow it's hard to keep a rhythm and concentrate but it's fantastic to win and good for the championship."
Next event is The Acropolis Rally Greece, held over the 9th to the 12th of September and the first time in eight years that the championship will visit the country. Pop back in the days before to check out my preview.