By now you may well have read the previous articles revisiting blogs I wrote during TT2013 when my best friends brother competed at the TT for the first time with his sidecar outfit. As practice week played out, there were incidents (racing and non racing) and bad weather to contend with, meaning that competitors had not had anywhere near enough of the anticipated practice time. As a result, the decision was taken to run Saturday as expended practice and run the Sidecar race, and carry the Superbike race over to Sunday as the forecast was being much kinder. This was the first time there had been racing on the Sunday since 2005. Here's what I wrote…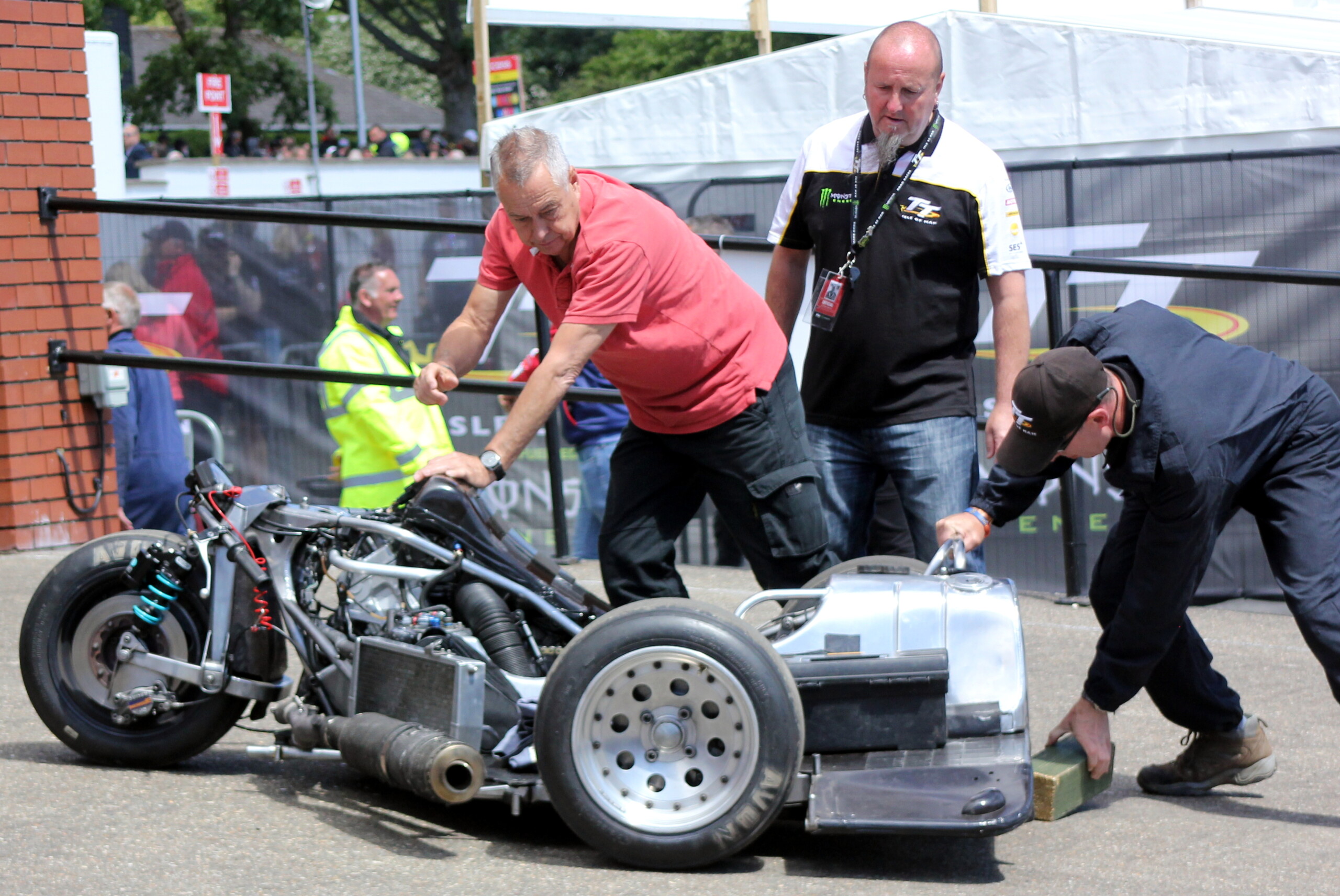 Saturday, with all the drama during the week, the decision was taken to postpone the Superbike race until Sunday, so Saturday would comprise of the first sidecar race and some additional practice for the solos. Once again I headed up to Kirk Michael before the roads closed, to be greeted by a bacon sandwich and a brew. This probably explains why I get a bit lazy about going out to watch the racing – I mean why get stuck on a mountain when there are facilities like this at my disposal?!
Bestie had one of her brothers and his wife over – his first visit to a TT since the early 80's, and her first ever. We did what we always do with first timers to the house and stood her in the gateway so that when the bikes appeared they look almost like they are coming straight at you. It is possibly a bit mean, but it makes us laugh a lot to see their reactions…!! I watched the practice session, and seeing the speed and determination meant my appetite for racing was well and truly whetted. Josh Brookes is doing so well for a newcomer, and I really like the look of the Milwaukee Yamahas. It's hard to know who will be on the podium – it is not just about the pace, but the reliability of the machines. The Superbikes have 6 laps to survive, and the other solos must get round four. So many times we've seen leaders retire with mechanical issues, so it really could be anybody's race.
However, I was a little distracted as at 12.30 Sidecar race one was due to start, and that would mean our boys would be out there for their first ever 3 lap race on the Mountain Course. After last night's bizarre happenings, the outfit got recovered (when they pulled up at the Mitre, there was water leaking) and the team had worked long into the night to fit a new radiator. The first piece of good news was that the bike had gone through scrutineering with no problem at all (more of those sighs of relief!). The time came, and we listened to them starting off.
Dave Molyneux, with his passenger Patrick Farrance, had to be a favourite as he has taken his place on the top step 16 times. Tim Reeves and Dan Sayle were also looking for the win that has so far eluded the World Champion, and then were others in the mix in the form of the Birchall brothers and Holden & Winkle (and I still snigger when I hear their name after an unfortunate radio presenter once announced 'the driver's Holden the passenger's Winkle…!!) to name but a couple. The battle played out, and although we were aware of the race going on at the front as Tim Reeves edged out in front, we were more interested in what was going on further back in the field. We had radio tuning issues, so there was lots of running inside to check the live timings on the computer, and then back out again to watch them through. The race played out not quite as expected, with the Birchalls leading at Glen Helen on the first lap, Reeves/Sayle in second, Harrison/Aylott third and surprisingly Moly/Farrance were fifth, behind Holden and Winkle. As happens on this course, things do not always work out as planned.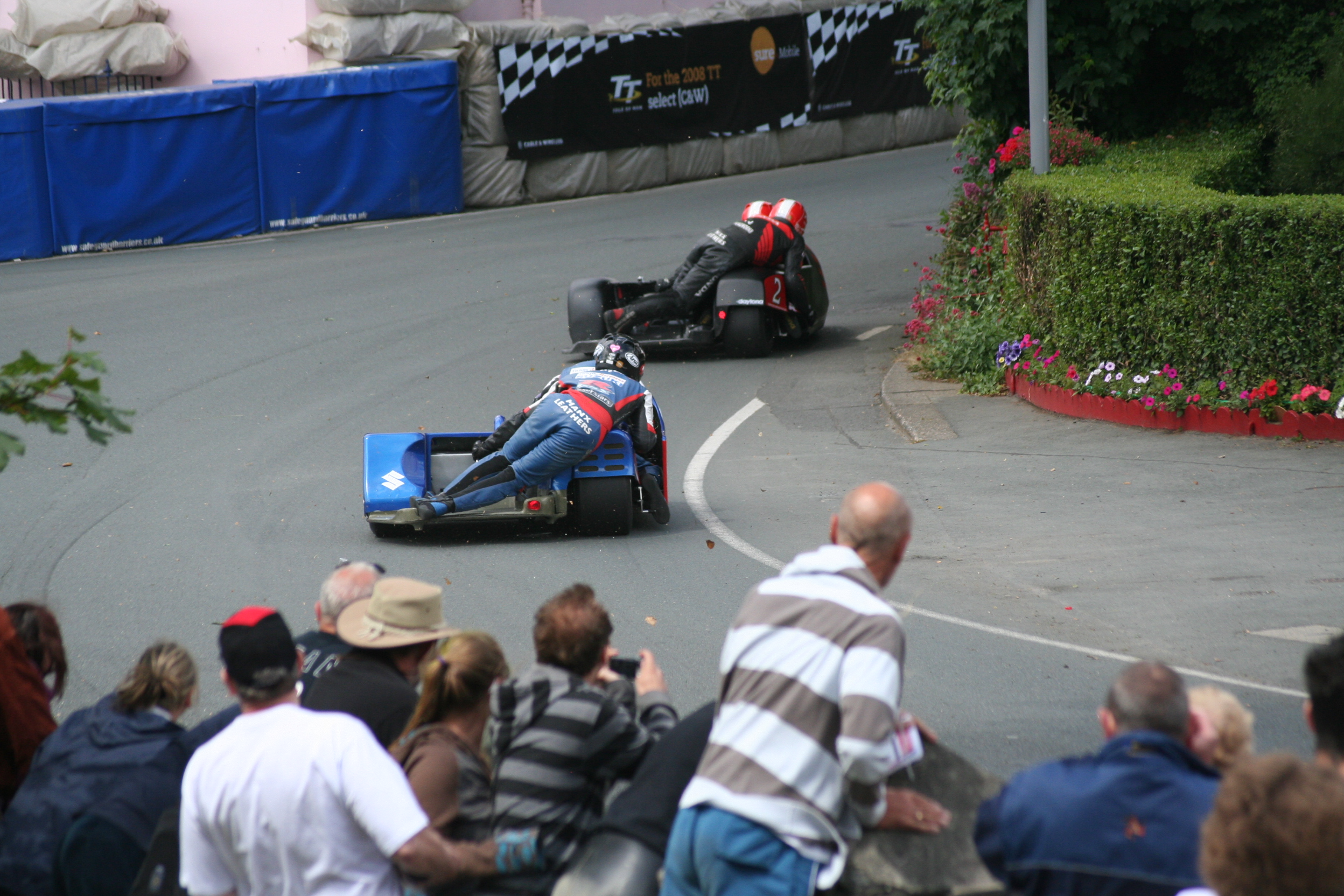 The Birchalls were forced out of the race with a puncture sustained in an overtaking manoeuvre as they tried to pass Reeves/Sayle on the road, pulling up at Creg Ny Baa. Eventually, it was Reeves and Sayle who got the win, making Reeves the first World Champion to do so since Jock Taylor in 1981. It also made Sayle the joint most successful passenger in history by matching the 8 wins of Rick Long. Conrad Harrison and Mike Aylott came home in second place and Dave Molyneux and Patrick Farrance completed the top three. Our boys completed their 3 laps in one hour and 14 minutes and made us all very proud. Although they were physically worn out after the race, they were both absolutely delighted. They are now amongst those special people who can say they have been to the Isle of Man and completed a TT race. They are now looking forward to Wednesday when they get to do it all over again, and I predict that this will be another real battle at the top too…
Following the race there was more practice for solos, rounded off with the TT Zero. Not everyone is a fan – they are kind of the marmite of the racing world. It is interesting to see how things have improved since their first appearance at the TT though, when it was a major achievement to finish a lap. Now they are competing to break the 110mph lap.
Sunday Sunday was all about the Superbikes. It would be hard to split the Dunlops, McGuinness, Martin, Anstey, Donald, Cummins, Johnson et al. Eyes were also on Josh Brookes, as he set out in his first actual race on the Island. The racing was delayed, eventually setting off at 3pm. It was to be a 6 lap battle, and to celebrate the 30th Anniversary of Joey Dunlop's first win on a Honda, McGuinness donned replica leathers based on those worn by Joey at his final TT in 2000, and the Fireblade carried the red and black Joey Dunlop/Honda Britain livery.
We had a houseful, and a fab spread of food (which is almost as important as  the bikes!) so there were a few 'newbies' to entertain us with their reactions as the bikes flew past us. After all these years it is still heart stopping at times. There were a few 'moments' for us this year – a couple of foot off pegs, and a couple of major wobbles when the line wasn't quite right. There is a stone wall with a covering of greenery just up the road, and the racing line sees the guys who know it well practically brush it with their shoulder. There were many times during Sunday's race where we had sharp intake of breath moments as they looked like they were right in it, and it's those sorts of things that you only get when you experience it in person.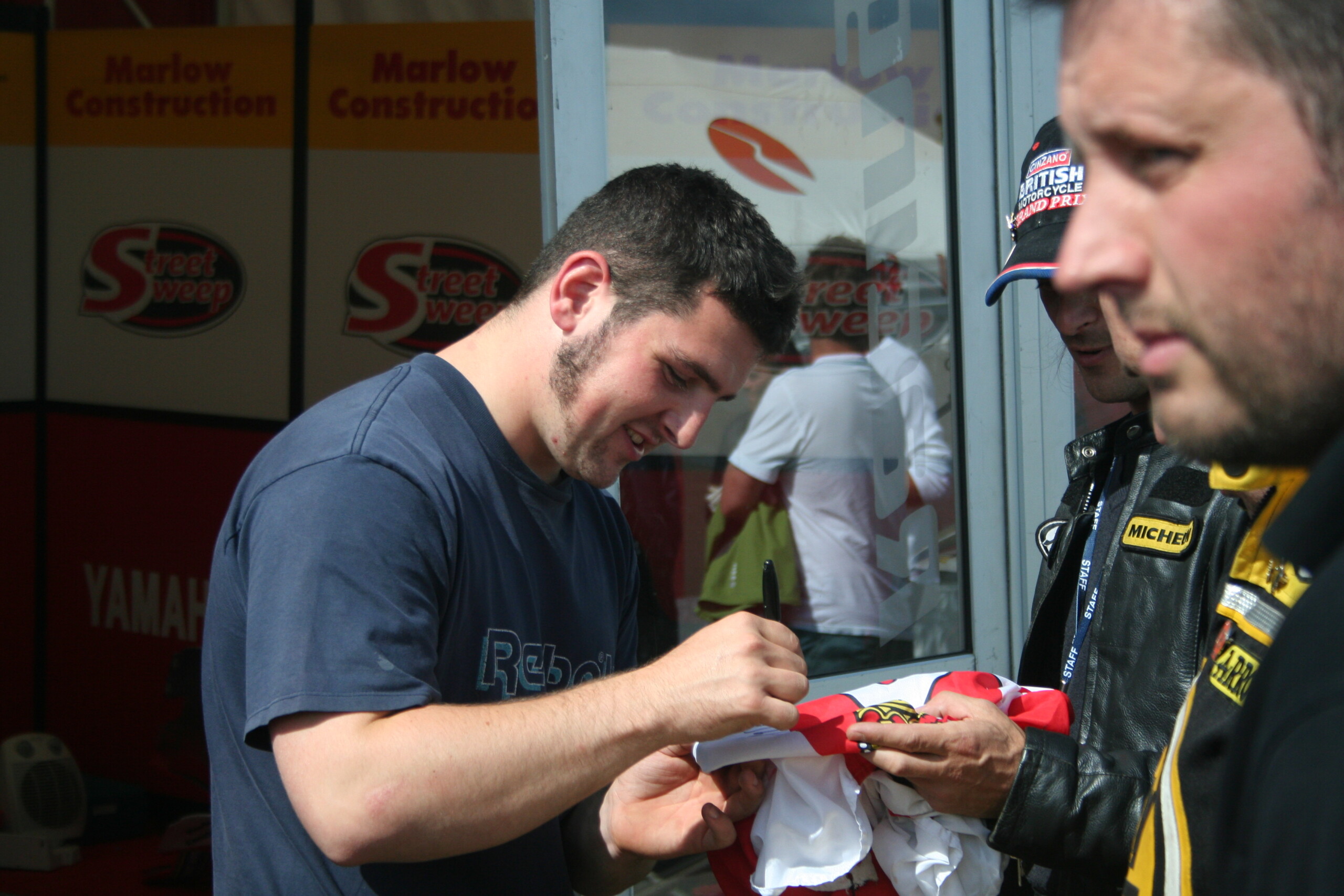 Eventually the race was won by Michael Dunlop. Fitting, given he was also on a Honda and it's the anniversary of Joeys win too. The young man is looking fit and well, and seems to have matured, so it will be interesting to see how the rest of the week plays out for him….